Didi Gregorius needs Tommy John surgery. Neither the New York Yankees nor their fans should panic about their top-end shortstop. 
The New York Yankees' offseason started not with a bang, but with a limp.
During Friday's press conference with manager Aaron Boone and GM Brian Cashman, it was reported shortstop Didi Gregorius needed Tommy John surgery on his throwing elbow.
Aaron Boone says he thinks there's a good chance Didi will play "the bulk" of the 2019 season. Yankees will know more about the timeline after the surgery. https://t.co/9RjSx0Up6d

— David Adler (@_dadler) October 12, 2018
Gregorius, 28, had another career season with the Yankees in 2018. He hit .268 and set a new career high with 27 home runs with 86 RBI. He dealt with heel and wrist injuries late in the season but was able to come back and hit .235 in the playoffs. Gregorius also once again served as the team's hype guy in the clubhouse, with his post-victory tweets becoming a regularity.
Now, New York has to prepare for the possibility Gregorius may not be around for much of 2019. That's a big loss no matter how you slice it and the idea of Sir Didi being gone is a scary one.
However, even if Didi Gregorius misses extended time, the Yankees nor their fans should panic because addressing the shortstop's absence could wind up being an easy fix.
How long is he out?
Now, before we go any further, let's quickly revisit Gregorius' injury. He needs Tommy John surgery on his right elbow and could miss significant time next year.
Now, most Yankees fans will remember second baseman Gleyber Torres having the same surgery last summer and being ready for Spring Training. That's because, for position players, the recovery time isn't the usual 12-18 months like it would be for a pitcher. Initially, this would seem to spell out good news for Gregorius.
Except there's a catch.
Torres' injury was to his non-throwing left elbow, not his right. Naturally, his recovery time was shorter. There really isn't much of a set precedent for position players who need the operation on their throwing arms. Sure, a handful of catchers have had it, but that position requires just as much throwing like a pitcher and not a good example.
A better example would be former Yankees outfielder Xavier Nady, who had the surgery on his right elbow in July 2009 and was ready for Opening Day with the Chicago Cubs in 2010. That gives cause for optimism for Didi but again, nothing will be set in stone until after he has the operation.
Thus, suppose if Didi Gregorius is ruled out for 2019? What do the Yankees do? Do they break the bank to sign Manny Machado in free agency? Does Cashman make a trade?
Fortunately, there's a better solution than either.
Home cooking
Believe it or not, the Yankees already have a high-caliber player who can play shortstop in Gregorius' absence and his name is Gleyber Torres. Though the team's primary second baseman, he is a natural shortstop and was actually playing third base at the time of his own elbow injury.
Thus, if Gregorius is out for 2019, why don't the Yankees just stick Torres at shortstop? He definitely comes cheaper than Machado and wouldn't force the team to make a trade. In an extended Gregorius absence, New York could certainly do worse than Torres.
But wait, there's a question. What about second base? Who takes over while Torres mans shortstop? Well, there are several options. The Yankees could always re-sign Neil Walker, who could bounce back in 2019 after getting in a full Spring Training. However, a better option would be to do some home cooking and form a platoon.
Tyler Wade, another rebound candidate, would play against righties and add great contact hitting and speed to the lineup. His struggles in April can be traced back to a nasty case of the flu, and he showed his full potential when he hit .333 in July. Wade is also just approaching his 24th birthday and hit .310 with 26 steals at Triple-A Scranton/Wilkes-Barre in 2017. He only hit .255 there last year but again, the flu held him back.
Against lefties, Ronald "Toe" Torreyes would step in and also serve as a utility infielder. We already know he brings a lot in terms of clubhouse energy, so that void would already be filled while Didi Gregorius recovers.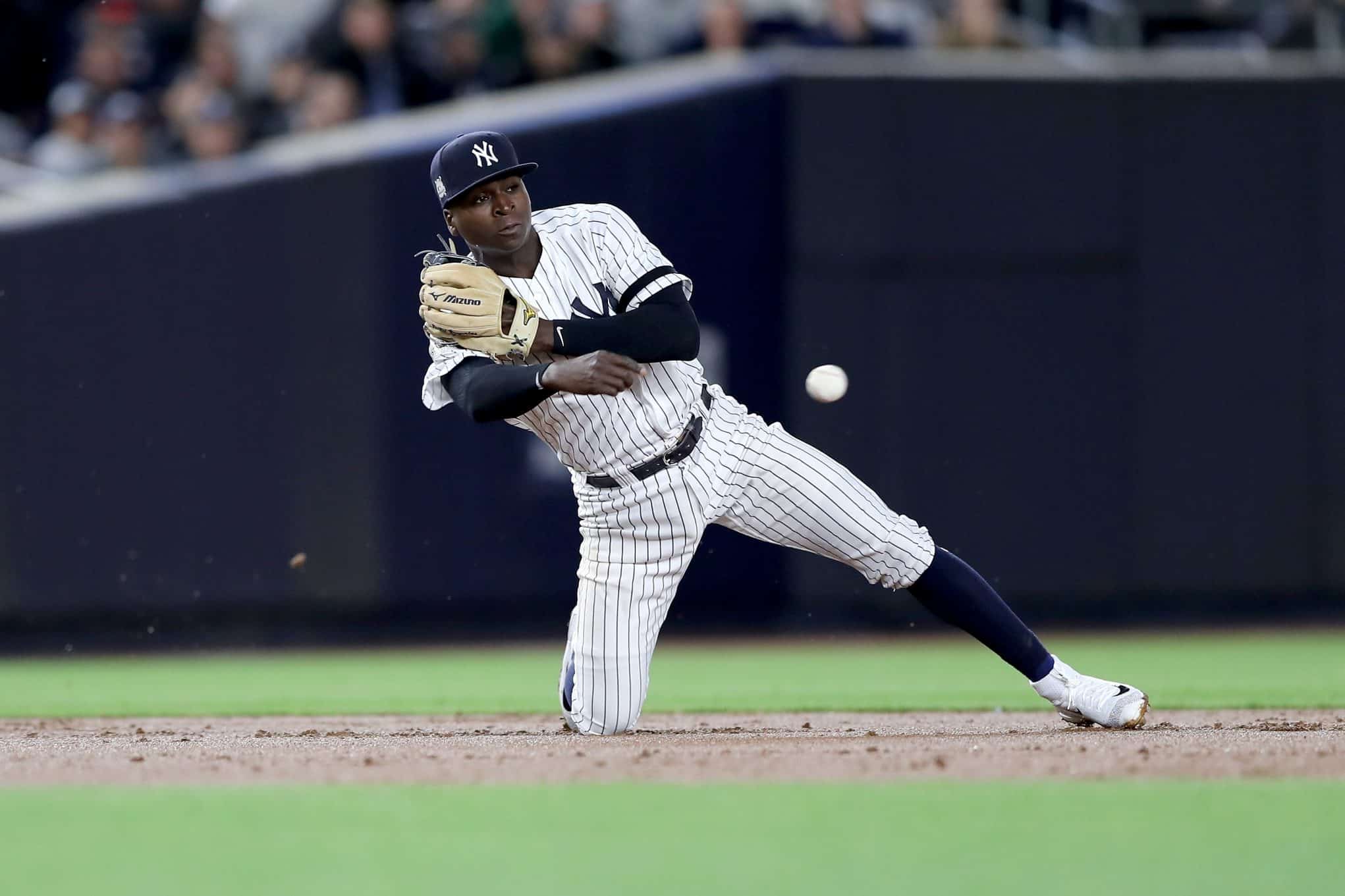 Playing the long game
Finally, the Yankees should not panic over Gregorius needing Tommy John surgery because it puts them in a better position to re-sign him. Remember when the team had Nathan Eovaldi in 2016? He needed Tommy John midway through that season and was ruled out for 2017. Despite that, the Tampa Bay Rays signed him to a two-year contract knowing full well he'd miss a year.
Fast forward to 2018 and Eovaldi used his recovery time to learn the cutter and reinvent himself as a pitcher. The Rays traded him to the Boston Red Sox in July and landed top prospect Jalen Beeks. Eovaldi, meanwhile, shut down his former team in Game 3 of the American League Division Series this year.
Now, what does this have to do with Didi Gregorius? Well, 2019 is his final year of arbitration and he turns 29 right before Spring Training. What's to stop Cashman from signing him to a long-term, team-friendly, backloaded contract that buys out that last arbitration year?
Think about it. Gregorius would have plenty of time to get his elbow back in top shape. Meanwhile, the Yankees would already have the holes in the infield plugged with options already on the roster. This prevents the risk of overpaying Machado after non-tendering Gregorius and also lets New York keep prospects.
Final thoughts
Again, this is not exactly how the New York Yankees are going to address Didi Gregorius' injury. Cashman said during his press conference today that the conversations on how to do so haven't even taken place yet.
Brian Cashman says it's too early to say if #Yankees will go internal or external to replace Didi Gregorius at SS as he recovers from TJ.

Externally, obviously Manny Machado is a FA. Internally, Cash says Gleyber Torres is "by far the best player for consideration that we have."

— David Adler (@_dadler) October 12, 2018
But what we do know is this. The New York Yankees had a great team in 2018 that won 100 games with many key players either injured or not producing on a consistently high level. The team chemistry is already excellent. This group of players supports each other. Why risk upsetting the apple cart by signing a free agent or making a trade and thus moving on from Gregorius who, as was mentioned before, is the team's hype man? Any money that would be spent on Machado is better spent on pitching and the front office must know that.
Make no mistake. The New York Yankees can let Didi Gregorius take his time with his recovery and use internal options to fill the void left by him. A plan won't be set in motion until after his surgery, but the solution is clear.
It makes more sense for the Yankees to try and win with what they have instead of looking elsewhere. Doing otherwise would risk losing Gregorius, and that's a risk too big to take.