Through the ups and the downs, I've been a New York Yankees fan for 25 years. It's been quite the wild ride.
Memories are strange. People recall things differently and insist that their version, not someone else's, is correct. When it comes to baseball, this truism multiplies by ten.
The 2018 season has wrapped up. On my end, it's the end of my 25th year of New York Yankees fandom. From witnessing history to getting dumped at games, I'm a millionaire when it comes to baseball memories.
And as we prepare ourselves for the upcoming AL Wild Card, the memories of the last 25 years are flooding back. A lot has changed since then. I'm a married man in my thirties instead of a hyperactive child. My father, Louis Benjamin, the architect of my fandom, is now gone. I'm sure I'll be a father at some point, and I'll be sure to share just how much this game means to me with my child.
Fandom is fickle. It is loving. It is one of the most tumultuous relationships any fan worth their weight in gold will have.
I, for one, would not trade this ride for anything in the world.
A family divided
I come from a family of baseball fans, but am the odd man out. You see, my mother's side of the family are all die-hard New York Mets fans. She herself is a very casual baseball fan, often picking random Yankees players she likes and cheering for them. To this day, she hasn't forgiven the team for letting Hideki Matsui walk in free agency. He was the World Series MVP, she says, and should have been rewarded accordingly. It didn't matter that his knees were slowing him down.
My father, on the other hand, came from a long line of Yankees fans. Except, he too was a very casual fan and didn't follow the team religiously. If anything, he saw how much my siblings and I enjoyed the game, and found his joy in baseball through us.
The point I'm trying to make is that living with my mom after my parents divorced when I was two, I became a Mets fan by default. I knew both teams existed but was told by my aunts, uncles, and cousins that the Mets were my team. The Yankees were bad. There was no reason why. The Mets were simply better.
That all changed on a September afternoon in 1993. I was going to my first baseball game but it wasn't in Flushing. Rather, it would be in the Bronx at Yankee Stadium. New York was taking on the Cleveland Indians that day, and I knew whose side I was on. Go Tribe.
As far as I was concerned, at age seven, I was in enemy territory. That meant rooting for Cleveland, and damn the result.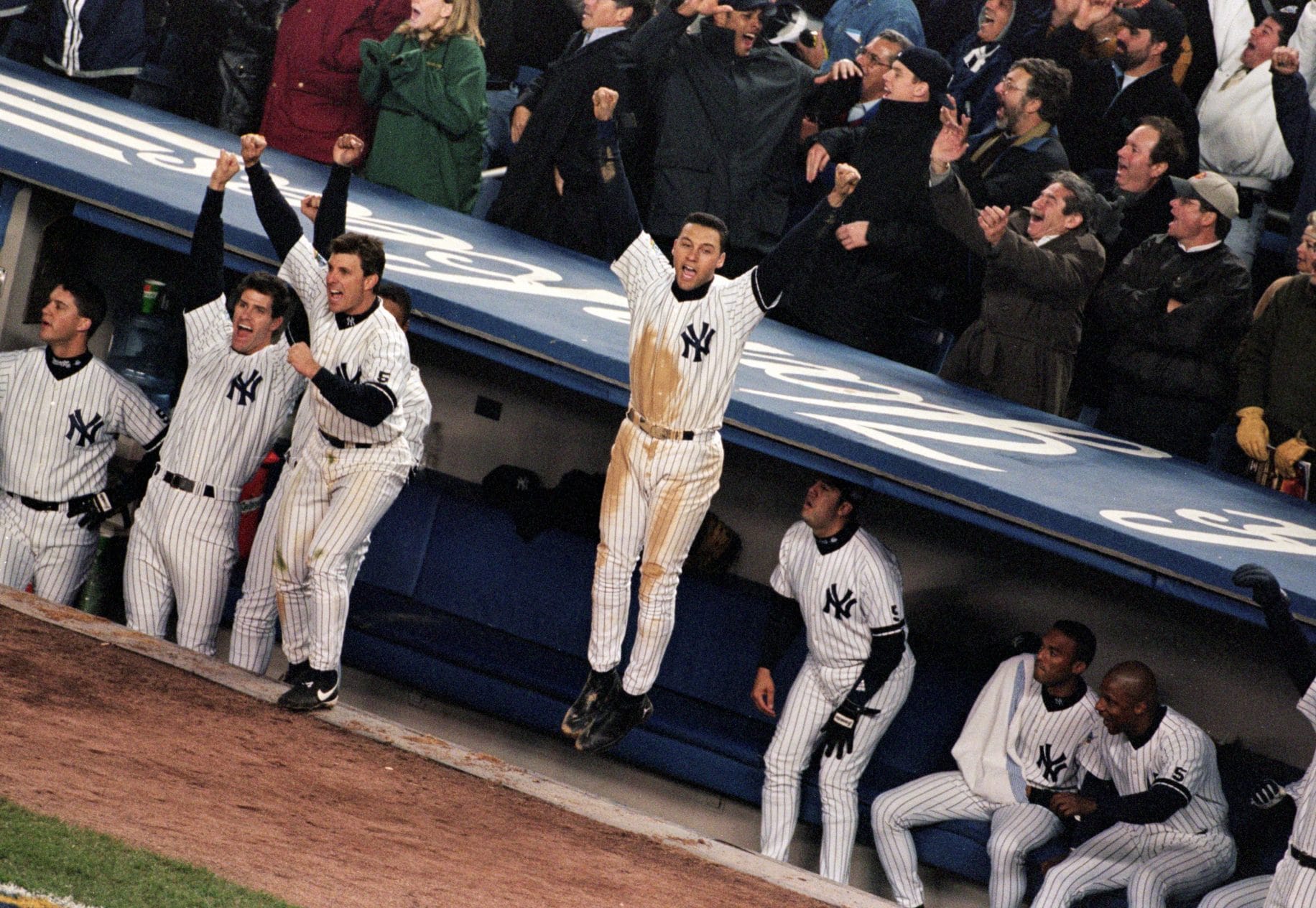 Baseball magic
Sept. 4, 1993. Labor Day weekend in New York City. I remember the day as overcast, but warm enough that I didn't need a sweater.
This is where memory becomes an interesting thing. I remember distinctly going to the game with my dad, except there's no way that could have happened. The game was on a Saturday, and he was an observant Jew. He wouldn't have handled money that day, let alone taken the train from the city into the Bronx. Knowing him, he would have gotten up for a quick breakfast and shower before getting dressed for synagogue. His afternoon would consist of chatting with friends, maybe taking a long nap. No matter what the circumstances, he would have not been at the stadium.
So, though I remember him being there, maybe I went with an uncle and cousin. Maybe it was a friend and their father. All I know is I was so excited about the experience that my dad and I talked about this one game for months after it happened. Thus, for the sake of this story, we're going to bend reality just a bit and say my dad was there with me.
The first thing I remember about Yankee Stadium was the smell. Looking back on it, the aroma was an eclectic mix of peanut shells, popcorn salt, hot dog grease, and beer. I have no issues with the new Yankee Stadium that opened in 2009, as I feel the general vibe is still there. However, the new house has yet to replicate the smell and just isn't the same.
We got to our seats and then I learned about that day's starting pitcher, Jim Abbott. He was born without a right hand, my dad said, and still pitches instead of feeling sorry for himself. I immediately thought Abbott was cool because not only was he a lefty like me, but he played baseball with just one hand! The game had my attention, and perfectly.
The game
Though I wasn't aware then, the New York Yankees were still in the thick of the playoff race on that day. The Indians, however, were in sixth place and ready to play spoiler. This was before the Wild Card, mind you. The two division leaders from each league would just battle it out in the LCS, and next came the World Series. For the Yankees, every game counted at this point.
Most of the game is a blur except for a few moments. I remember the roar of the crowd when what looked like a simple RBI single from Dion James turned into a four-base error. I remember Tag Team's "Whoomp! (There It Is)" playing after Randy Velarde's solo home run.
Most important of all, I remember Carlos Baerga grounding out to Velarde to end the game. I had been told in the seventh inning, "Jim Abbott is throwing a no-hitter. Don't say anything," my first awareness of superstition in sports.
After that final out, it was official. No disrespect to my Mets family, but the Yankees were my team. Forever, and always.
A great ride
The rest, as they say, is history. Or, in this case, baseball history. As lucky as I was to witness a no-hitter as my first baseball game, it wasn't the last time. I was in attendance three years later, when Dwight "Doc" Gooden continued his redemption story with a no-hitter against the Seattle Mariners. I still have the Beanie Baby from David Wells' perfect game. I remember choking on my meal at a local pizzeria when Derek Jeter dove headfirst into the stands.
And for all the highs, there were the lows. At age 17 I was not only dumped via text message while at a game, but I also had to watch my beloved New York Yankees get no-hit by six different Astros pitchers. I watched them lose both the 2001 and 2003 World Series. Even worse, I watched them blow a 3-0 series lead in the 2004 ALCS to the hated Boston Red Sox.
Oh, and let's not forget the awful signings like Jaret Wright, Carl Pavano, and Jacoby Ellsbury. The mark of a great fan is cursing your team as much as you cheer it. In my case, I've probably cursed the Yankees more than my fair share of times. If I'm not singing the team's praises, I'm storming around my house saying I want to put Neil Walker through a wall.
Final thoughts
But that's the beauty of baseball. You're not so much born into the fandom of a particular team, but of the game in general. You either love it or are indifferent to it. It's hard to find anyone who truly hates baseball.
My journey isn't unlike any other fan's, but it still means something to me. Were it not for that one Saturday afternoon in 1993, I don't know what my path would have been. Maybe my first game would have been at Shea Stadium and I'd be one of millions of long-suffering Mets fans. Maybe watching the Mets lose would have turned me off to baseball and I would have focused my energy elsewhere.
It's because of my deep love for the New York Yankees that I dove into baseball headfirst. I started paying attention to the stats on my baseball cards instead of just the names and teams. I read every baseball book I could find. Years later, at age 13, I read Jeff Pearlman's article on Atlanta Braves closer John Rocker and knew I wanted to cover the sport for a living.
And here I am today, having spent the last eight years writing about the sport I love the most. It hasn't been easy, but I wouldn't have done anything any other way. Baseball is love. Baseball is passion. In my case, thanks to a very patient wife and family, baseball is life.
All because at age seven, I took a trip to Yankee Stadium. The New York Yankees lit a fire in me. Some of my greatest memories involve them in some way, be it watching a game with my grandfather and dad or just witnessing a great game at the Stadium.
I guess what I'm trying to say is as much as the Yankees need their fans, we equally need them. They aren't perfect, but always find a way to be there for us. Long story short, I have one thing left to say.
Thanks for the memories, New York Yankees, and thanks in advance for those that haven't happened yet!