Buckle up, New York Yankees fans. The AL Wild Card game at Yankee Stadium could be a little wilder than usual in 2018.

When the New York Yankees and Oakland A's clash to determine the AL Wild Card winner, the ratcheted up intensity of the elimination game could expose weaknesses and boil over emotions on both sides.
These two teams have limited experience with each other this year—just a three-game set at The Stadium in May and another in Oakland during the first week of September. In a contest this important, they'll be able to make a whole season's worth of history in just one way too important game.
Just how nuts will this game get? Here are three distinct possibilities, each one crazier than the last.
There might be an opener
Thanks to the 2018 Tampa Bay Rays, sabermetricians everywhere are taking a serious look at using a reliever to open games and then turning to a starter/long man to eat up the middle innings. That way the starter doesn't necessarily need to be in the game for a dangerous third time through the opposing lineup.
Some have suggested the Yankees and A's should think about using the opener strategy in the Wild Card game. Oakland is more likely to open with a reliever than the Yankees are, but it's still an intriguing idea for both teams.
David Cone posted a Twitter poll to see who fans want to start the game for New York, including Chad Green as an opener. More than 2,000 people picked Green.
Who should the #yankees start in the Wild Card game?

— David Cone (@dcone36) September 27, 2018
In an appearance on "The Michael Kay Show," Aaron Boone indicated that he will use one of his top three starters to begin the game. However, he did say he would "consider" turning to the bullpen at the first sign of trouble.
The Yankees did a test run of a bullpen game against Tampa, successfully using eight pitchers to secure a 4-1 victory over the Rays. The efficacy of such a game plan is questionable, though, as some of the Yankees featured relievers have been inconsistent this year.
Oakland might be the team to actually use an opener. CBS Sports reporter Matt Snyder pointed out that while Mike Fiers is probably the A's best option, in innings four through six he has let hitters tag him for a .517 slugging percentage.
The A's are famous for their analytics-driven approach to the game, and it wouldn't be a huge surprise if they used an opener to make the most of Fiers or their other option, Edwin Jackson.
It could be a passed-ball party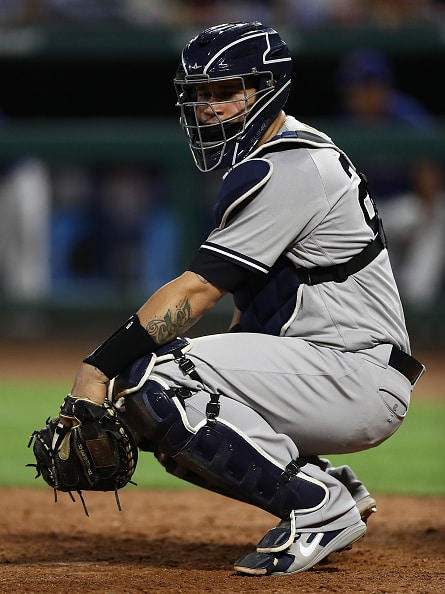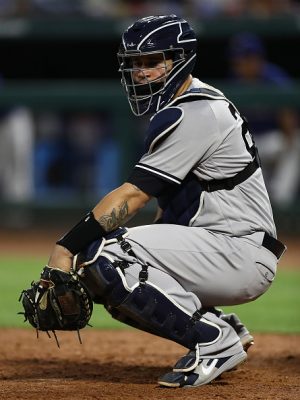 There are some pitchers on the Yankees' staff that are hard for any catcher to handle, such as Aroldis Chapman, Zach Britton, and Dellin Betances. If Boone does indeed empty the bullpen, throw Gary Sanchez into the mix, and unadulterated madness could follow.
The Yankees' hard-hitting backstop leads the Majors with 18 passed balls, despite having played catcher in only 74 games.
Sanchez seems to have a particular problem handling Luis Severino, who is still an option to start the Wild Card game.
Yankees fans have tried to forget the battery mates' disaster of a start in Oakland earlier in September, highlighted by two passed balls and two wild pitches in one inning.
But on Oct. 3 the memories will come flooding back.
The career failures behind the plate are stacking up for Sanchez. He knows that if another of his passed balls leads to the Yankees going home early, the media and fans are going to make his offseason a living hell.
That's enough pressure to bring any mere mortal to his knees—or not, in Sanchez's case. If Sanchez responds poorly to the situation, the Yankees could be in for a meltdown of Ankielian proportions.
After a five wild pitch inning the 2000 NLDS, Ankiel completely lost it as a pitcher. According to the Washington Post's Jake Russell, Ankiel needed vodka to get through his next start, and he eventually had to work his way back to the Majors as an outfielder.
A showing like Ankiel's could similarly spell the end of Sanchez's time as a catcher. Let's just hope he doesn't resort to getting his drink on before games, too.
Imagine Sanchez four or five beers deep trying to block breaking balls in the dirt. That won't go well.
There may be an all-out brawl
If copycat openers, emptied out bullpens and passed balls aren't enough for you, what about the possibility of a bench-clearing ruckus?
Whether or not the A's use an opener, the Yankees are likely to face Mike Fiers, the A's best starting pitcher down the stretch. That means another confrontation between Fiers and Giancarlo Stanton.
The Stanton-Fiers saga all started back in 2014 when a Fiers pitch smashed into Stanton's face, sending him to the hospital and knocking him out for the rest of the season. Stanton has worn a helmet with a face mask ever since.
The two faced off again this year, when Fiers was a member of the Detroit Tigers. Fiers hit Stanton again, nearly prompting a melee between the two squads.
When Stanton got the perfect revenge by hitting a home run off Fiers later in the game, he made sure to flip his bat and point back at the pitcher after crossing the plate.
Fiers wasn't pleased with Stanton's actions, per Mlive.com's Evan Woodbery.
"I understand that he's pissed, but the way he handled it was kind of childish. He's going to act how he's going to act, but it kind of shows his character."
Those are fighting words.
They met again later in the season without incident, but now is the chance for true revenge, as one of the two will see their season come to a disappointing end. Who knows, the A's might even instruct Fiers to throw in on Stanton to try and bait him into an ejection.
While an elimination game needs no hype, these extra layers of intrigue make every pitch of this year's American League matchup can't-miss television.