#21. Mississippi State (3-1)
Last Week: L 28-7 @ #16 Kentucky
Top Performer: DE Montez Sweat (6 tackles, 1.5 sacks)
This Week: Saturday vs. Florida (6:00 p.m., ESPN)
Such is the state of college football that rainy losses in Lexington aren't cause for panic, but the Bulldogs need to recover from the upset loss with the Gators visiting this weekend.
#22. Michigan State (2-1)
Last Week: W 35-21 @ Indiana
Top Performer: LB Andrew Dowell (9 tackles, 2 sacks)
This Week: Saturday vs. Central Michigan (12:00 p.m., FS1)
Back in contention after recovering from a shocking early loss, the Spartans get a chance to work out their kinks against a directional in-state opponent before Big Ten play truly gets rolling.
#23. Texas Tech (3-1)
Last Week: W 31-17 vs. Oklahoma State
Top Performer: RB Demarcus Felton (14 carries, 130 yards, 2 TD)
This Week: Saturday vs. #12 West Virginia (12:00 p.m., ESPN2)
Even in the NFL, with the emergence of Patrick Mahomes in Kansas City, everything's coming up Lubbock, and the Red Raiders have another big chance to shut down an undefeated conference foe in what should be a high-scoring thriller.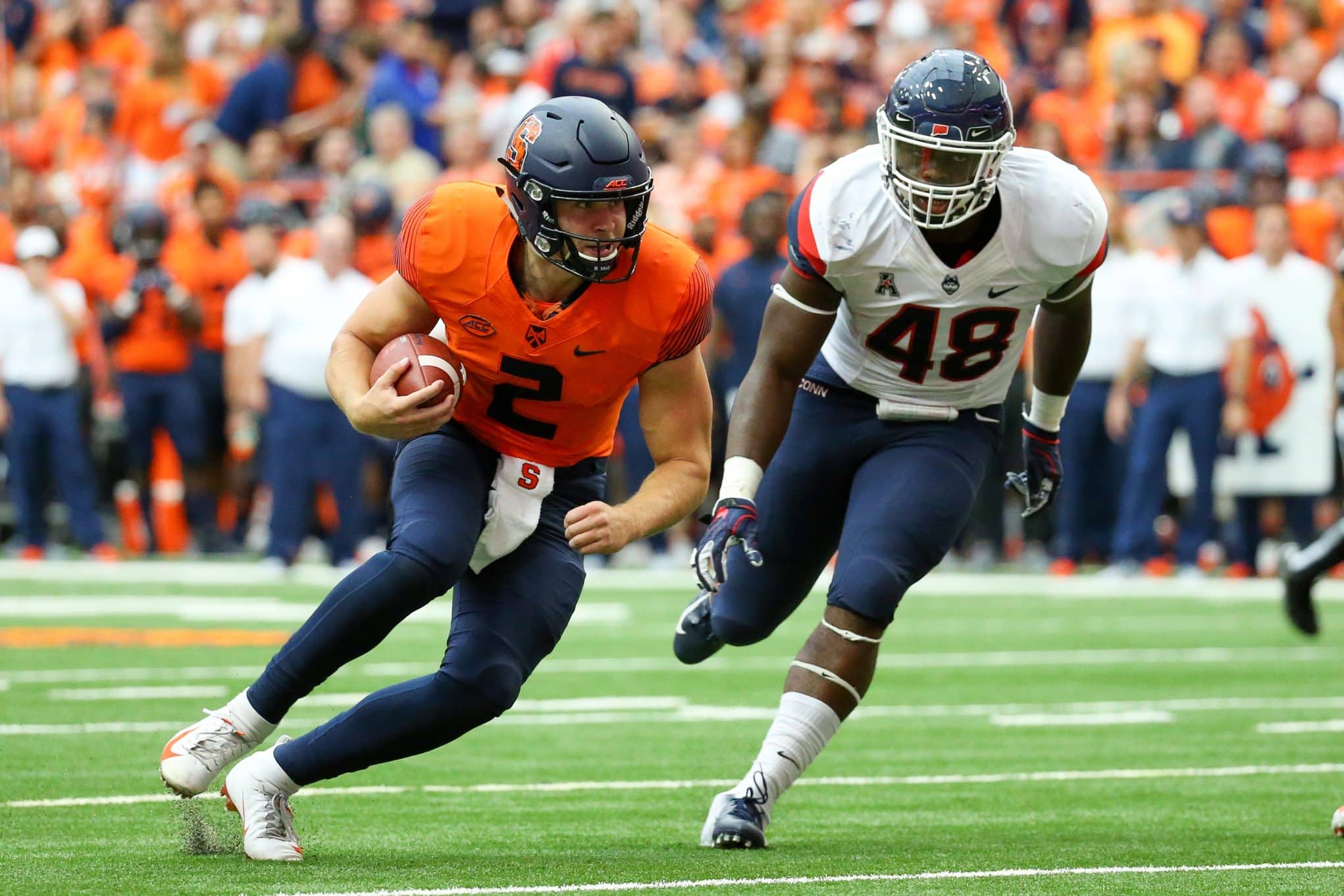 #24. Syracuse (4-0)
Last Week: W 51-21 vs. Connecticut
Top Performer: QB Eric Dungey (21-27, 286 yards, 16 carries, 77 yards, 5 total TD)
This Week: Saturday @ #2 Clemson (12:00 p.m., ABC)
If the Orange can pull off the seemingly impossible and upset a championship contending Clemson team for the second straight season, the power balance in the ACC could shift north to Central New York.
#25. BYU (3-1)
Last Week: W 30-3 vs. McNeese State
Top Performer: DL Corbin Kaufusi (5 tackles, 1 sack)
This Week: Saturday @ #10 Washington (8:30 p.m., Fox)
The independent Cougars, already owners of a win over a top ten opponent, also have experience in triumphs against the PAC-12, including a season-opening victory in Arizona.
Also Receiving Votes: South Florida, California, Buffalo, Virginia Tech, North Texas