Zach Britton is interested in staying with the New York Yankees. Brian Cashman and management should pay attention and get it done. 
Zach Britton may be a free agent at season's end, but the current New York Yankees' southpaw has an idea of where he'd like to end up for the start of the 2019 campaign.
Per an earlier report from Brendan Kuty of NJ.com, Britton would "definitely love to be back" with the Yankees in 2019.
Britton, 30, was acquired from the Baltimore Orioles for two minor leaguers back in July. He came to New York following four-plus years of success as the Orioles' closer, having posted 139 saves in the Charm City. On top of being a solid strikeout pitcher, his power sinker induced a lot of ground balls. His career groundball rate (GB%) sits at 65.4 percent, an unbelievable mark.
While it's great that Britton is interested in re-signing, it's hard to find a quality fit for him in The Bronx. Teams will want to sign him as a closer, but would he turn that down simply to stay in New York? Let's dig a little deeper and find out.
An odd fit
There's no doubt the New York Yankees bullpen is a lot stronger with Zach Britton in it. He's posted a 3.13 ERA and two saves since putting on the pinstripes entering play on Monday. Yes, his control has been touch and go a lot this season, but remember he is coming off surgery on his Achilles tendon.
Britton also dealt with lingering forearm tightness in 2017, which also affected his control. He also isn't a particularly hard thrower and only has a career K/9 of 7.4. He sort of goes against what the Yankees look for in building a relief corps.
For example, take the following pitchers: Chad Green, Dellin Betances, David Robertson and Aroldis Chapman. The average K/9 between those four is 13.32. Britton, on the other hand, pitches to contact. He only has a career K/9 of 7.39.
The front office clearly thinks highly of Britton. I mean, they did trade for him. Still, there's no denying he's a bit of an odd duck in a group full of strikeout artists. If he is retained, it would be something of a departure from how New York has built its bullpen in recent years.
A crowded bullpen
It's also unclear just what Zach Britton's role would be if he returned in 2019. Keeping him means letting Robertson walk in free agency, which is fine, but Robertson has served the Yankees well. On top of striking hitters out and serving as a sometimes closer, the man is great at stranding runners. He has stranded 79.2 percent of runners left on base for his career and has earned the nickname "Houdini" for working out of jams.
Britton is no slouch in that department either, having stranded 73.1 percent of runners, but Robertson's reputation speaks for itself. On that front, barely anyone can touch him.
The Yankees also have Betances to handle setup duties in the eighth inning, and his 2.15 ERA in that frame says he won't be moving any time soon. Throw in Chapman and the $15 million he is owed next year, and potentially $30 million over the next two, and the bullpen becomes even more crowded.
The closer money
The biggest issue regarding Britton is, of course, money. He's earning $12 million in 2018. His closing experience suggests he could make upwards of $15 million a year, and teams needing a closer could be willing to pay.
But let's pump the brakes for a second. Suppose Britton does agree to take a pay cut to stay with the Yankees. Assuming Robertson walks and Betances stays on, Britton could be relegated to seventh inning duties once again. That's quite the downgrade from closing.
Still, if Britton is willing to take less money and the Yankees are interested, why not pull the trigger?
A modest proposal
We're finally at the good part, folks. The Yankees would be incredibly smart to re-sign Zach Britton, although it requires making some extra moves this offseason. Buckle up, because this could be a Mad Max level of bumpy.
The key to convincing Britton to stay lies with Betances. Great as he is at striking guys out, he's unpredictable. He's either lights-out brilliant or allowing runners to reach base in multiple ways, mostly walks and hit batsmen thanks to his control deserting him at times.
Now, consider that Betances is earning $5.1 million this season. As he enters his final year of arbitration, he'll want a significant raise. Not only that, but Betances could easily be a closer on a team besides the Yankees. Don't forget, he and the front office sparred a couple of years ago over whether he deserved closer money.
2019 also marks the final year of Chapman's contract before he can opt out. Assuming he does, Betances seems like the natural successor. The problem is on top of owning a career ERA of 3.69 in the ninth inning, he falters in the last month of the season. For his career, Betances owns a 4.09 ERA in September and October. In the playoffs, that number balloons to 4.76.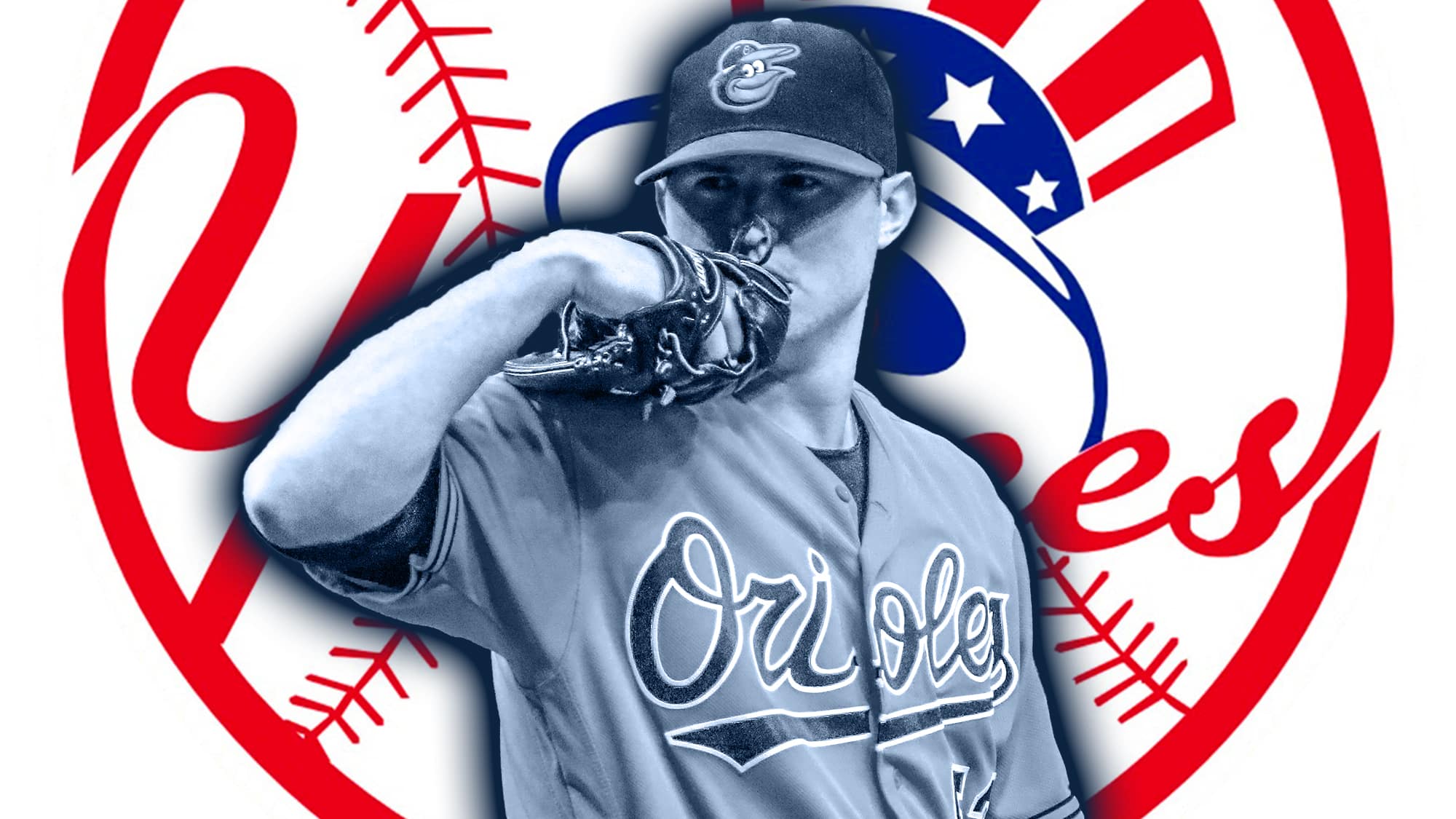 The verdict: Britton's big bucks
Given New York's propensity for analytics, there's no reason to believe Betances will be promoted to closer. Rather, what Brian Cashman should do is the following. First, Betances has to be traded to a closer-needy team for prospects. There has to be at least one team that'd be willing to pay that price.
Next, Robertson is re-signed to a two-year contract. That's perfectly fair, especially given he'll turn 34 years old in April. This allows the Yankees to keep a natural stopper in a bridge role, not to mention someone who can close a game in an emergency.
That leaves Zach Britton as the primary setup man, and here's how the Yankees will pull this off. Cashman will give Britton a three-year, $36 million contract. That's a lot of money to commit to Britton, given his recent control issues, but here's the catch. Britton will be able to opt out of the deal after each of the first two years. It's the exact same contract Cashman gave Rafael Soriano back in 2011, albeit with an extra $1 million.
This satisfies both parties fully. Britton gets to stay with a team he enjoys playing on and treats his family right, and also allows him to plan for his future if he feels he's better suited as a closer. Throw in New York's incredible bullpen depth on all fronts, and this works out for everybody even if Britton opts out of the deal.
Final thoughts
Zach Britton can be a great long-term fit in The Bronx. It's just a matter of looking at some deeper numbers and making moves accordingly. Losing Betances may irk some fans, but it's the best long-term move in the long run.
The long and short of it is with the Yankees playing in the hard-hitting AL East, Britton's ability to induce ground balls is a welcome addition to the bullpen. If the team wants to win, they'll keep him around.