With the playoffs swiftly approaching, it is becoming incredibly clear that the New York Yankees are not built for the playoffs.
The Bronx is a breeding ground for negativity, especially when it comes to its own team. The New York Yankees have faced their fair share of praise this season but have also run into intense negativity when they don't do their job.
As of late, it all seems to be negative. That attitude has been brewing lately but has come to a head with the Bombers going 4-6 in their last 10 games.
91 wins is a great accomplishment for this team. As of Sept. 16 of last year, the Yankees had 82 victories on the season. And they still went on to be a huge threat in the postseason.
The 2018 team is nothing like the 2017 team. There's a whole lot missing, even though they have far more wins than they did last year. However, 2017 was a season full of magic, epic comebacks and dominating opponents. 2018? Not so much.
Currently, the Yankees are clinging on to the first Wild Card slot but with the surging Oakland A's and even hotter Tampa Bay Rays breathing down their necks, things aren't looking too great. In fact, they probably won't make it past the Wild Card game. Let's take a look as to why that will be the case.
Bullpen Woes
Last season, the bullpen was the biggest strength for the New York Yankees. This year? They hardly can be trusted.
While the 'pen doesn't look massively different from last season, it seems that those superstars are far too inconsistent this season. Chad Green was a monster out of the 'pen last year but has struggled in 2018. Even though he recently turned it around, he has outings that make you question if you want him in the game in high-pressure situations.
Dellin Betances, David Robertson and quite a few others just don't seem to have it this season. They used to be able to shut down any opponent. Now, it seems like you might be better off ending the game after six innings so the bullpen won't have to make an appearance.
Since the All-Star break alone, the bullpen has a 4.23 ERA since sporting a 2.69 ERA in the first half of the season. In that first half, the Yankees entered the All-Star break 29 games over .500. Since then, they have compiled a record of 29-25, just four games over .500.
How many games have the Yankees been ahead only to have a reliever come in and blow it? While it isn't all their fault, they certainly play a huge role in some of the recent heart-wrenching losses.
If the bullpen can't figure it out, the Yankees have no shot at breezing through the Wild Card game. The second the game turns to the bullpen, the Yankees' chances of coming out with a victory are fading fast.
RISP Fails
Sure, the home runs are awesome and the Yankees are dominating the home run game across the entire league. However, their performance with runners in scoring position is an entirely different story.
With RISP, the Yankees are batting a cool .249. To put that into perspective, the Oakland A's, the Yankees' potential opponent on Oct. 3, are batting .262 with runners in scoring position. The Boston Red Sox are .292 hitters in the same situation.
What about leaving runners on base in general? The Yankees are notorious for stranding teammates on the base paths and over the past six games, they've left 45 runners on base. That includes a game in Minnesota where they left 14 runners on base, as well as two straight games stranding 10 runners.
While home runs are a huge part of their game, it's far more important to start converting when runners are in scoring position. That's exactly what other teams do and if the Yankees can't find a way to get it done, they are doomed from the start.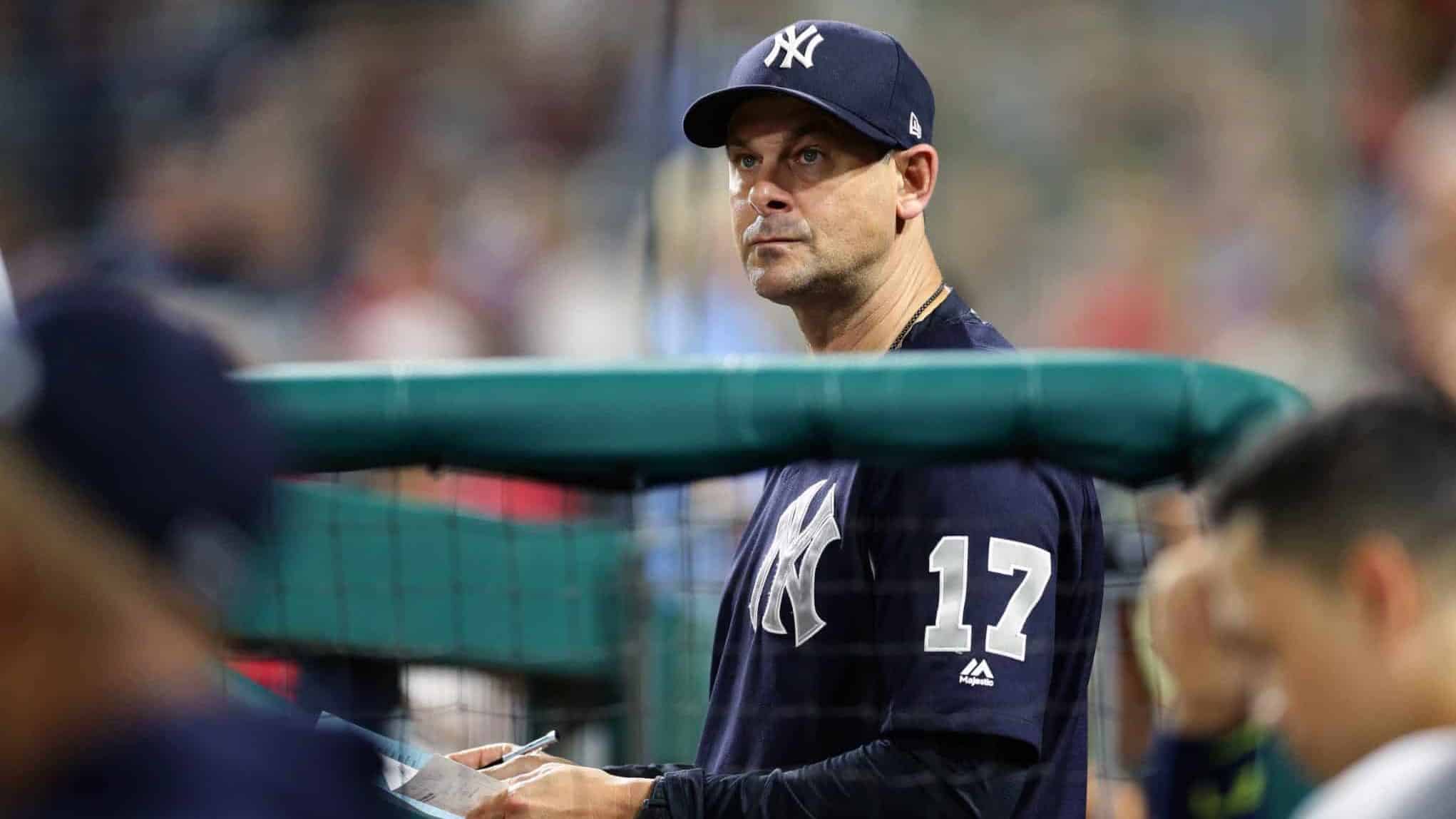 Aaron Boone ... kind of
Fans don't hesitate in raising the pitchforks against Aaron Boone. Sometimes, that reaction is warranted. Other times, it is completely out of line.
At this point in the season, Aaron Boone has done nothing for this team. Sure, he's managed the games but he hasn't provided any spark, any urgency. In fact, he seems fine when the Yankees are behind.
The mentality of the entire team starts with their leader and Aaron Boone doesn't seem to be motivating his team at all. In fact, in several postgame interviews, Boone has made comments about how there is still plenty of time left in the season.
Newsflash dude, but there are only 13 games remaining on the season. While the Yankees have a playoff spot, there is no guarantee they will remain in the top two of the Wild Card race come Sept. 30. With the Oakland A's right behind them, the Yankees need this urgency now more than ever before. And Aaron Boone lacks that.
The Wild Card game is designed to be a high-pressure situation for all parties involved. If the Yankees go in flat, like they've been looking as of late, their successful season will all be for naught.
They need that fire going into a one-game playoff and Boone has been lacking that fire all season long. He can't seem to pump up his team and the sense of urgency is not there.
Aaron Boone is a great guy but his job is to inspire and motivate his team. He's not getting that done.
The Wild Card game is approaching rapidly and the New York Yankees are not going to make it past Game 163. The truth hurts, doesn't it?
… so does watching this team limp into October.