For the New York Yankees, ensuring a dominant Aroldis Chapman returns for the postseason is more important than getting Aaron Judge back.
In a perfect world, the New York Yankees would have both Aroldis Chapman and Aaron Judge healthy and performing at their best, but each has been out via injury. While the slugger returned on Saturday, he is, surprisingly, not he priority.
If Aaron Boone had to choose just one of them to get back for the postseason, the smart choice would be his All-Star closer.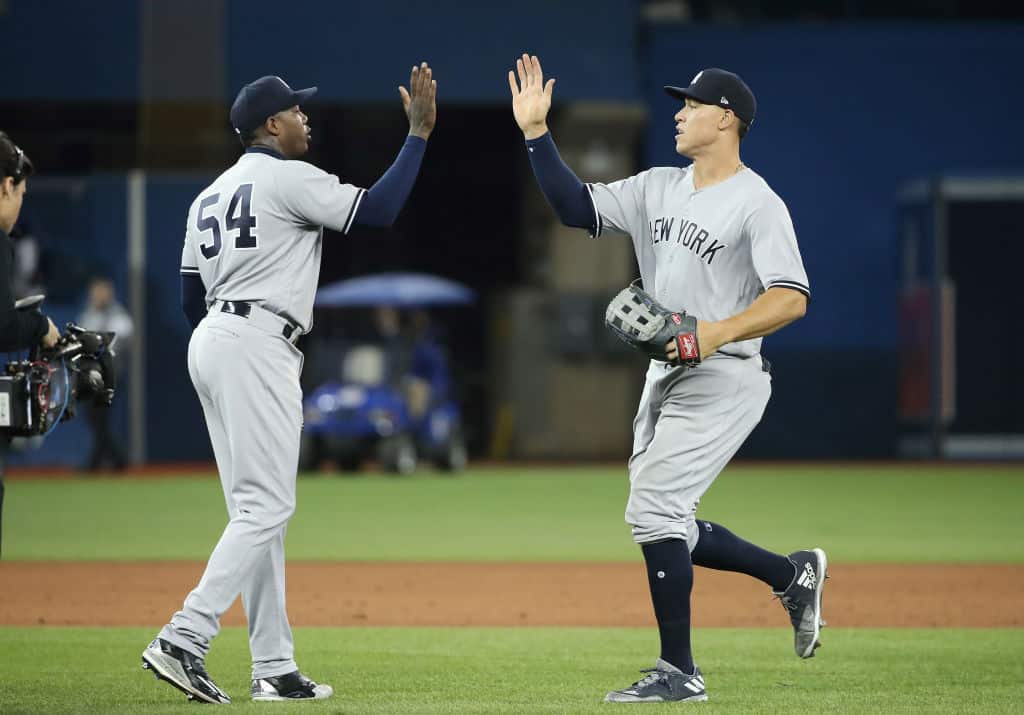 Yes, Chapman has given Yankees fans plenty of reasons to curse and throw beers at their TVs during his time in pinstripes. He's no Mariano Rivera. But then again, who is?
However, when he is on top of his game, The Missile is virtually unhittable, and his ninth-inning role is the one job the team can't find a suitable replacement for.
The lineup is better without Judge than the bullpen is without Chapman
The Judge-less lineup
It's not that the Yankees aren't feeling the pain of Judge's absence.
In fact, they were almost no-hit by Jake Odorizzi on Wednesday night against the Minnesota Twins. Judge provides massive power and protection for whoever hits in front of him, making holding his lineup hit-less a much more daunting task.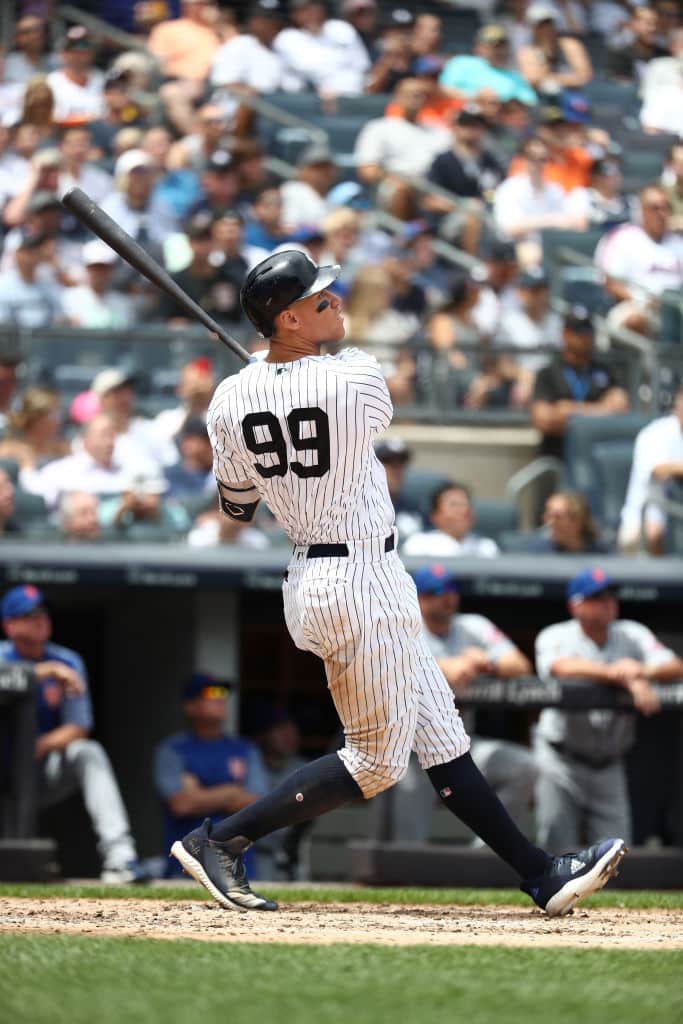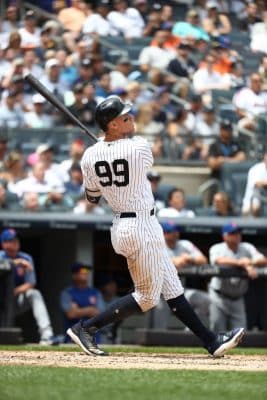 Still, the Yankees have a stacked lineup that has done a decent job of picking up the slack for Judge while he's been slowly recovering from his fractured right wrist.
Judge missed the whole month of August. During that time, the Yankees' offense put up 5.1 runs a game, not a significant difference from the 5.2 runs per contest they were scoring when Judge got hurt.
They also averaged 1.7 home runs a game in August. Their best month was May when the lineup mashed 1.8 bombs per game.
All that production came without Andrew McCutchen, who joined the team in September, and Gary Sanchez, who was out with a groin injury for all of August.
Even without Judge, the Yankees can field a lineup with 20+ home run power from the leadoff spot all the way down to two deep into the bench, with Neil Walker and Greg Bird.
The Missile-less bullpen
The bullpen without Chapman is a different story.
On paper, they should be fine. They have ex-closers in Zach Britton and David Robertson, as well as two guys with closer-like stuff in Chad Green and Dellin Betances.
The problem is that none of them have stepped up and proven they can handle the ninth inning while Chapman rehabs his knee.
Britton should be the backup closer, but he's having an awful year. His 3.71 ERA is astronomical for a reliever, and he's allowed 46 baserunners in 34 innings via base hit, walk, or hit batsman.
Green only has one save in five career chances, and Robertson also has four blown saves this year.
The biggest letdown is Betances.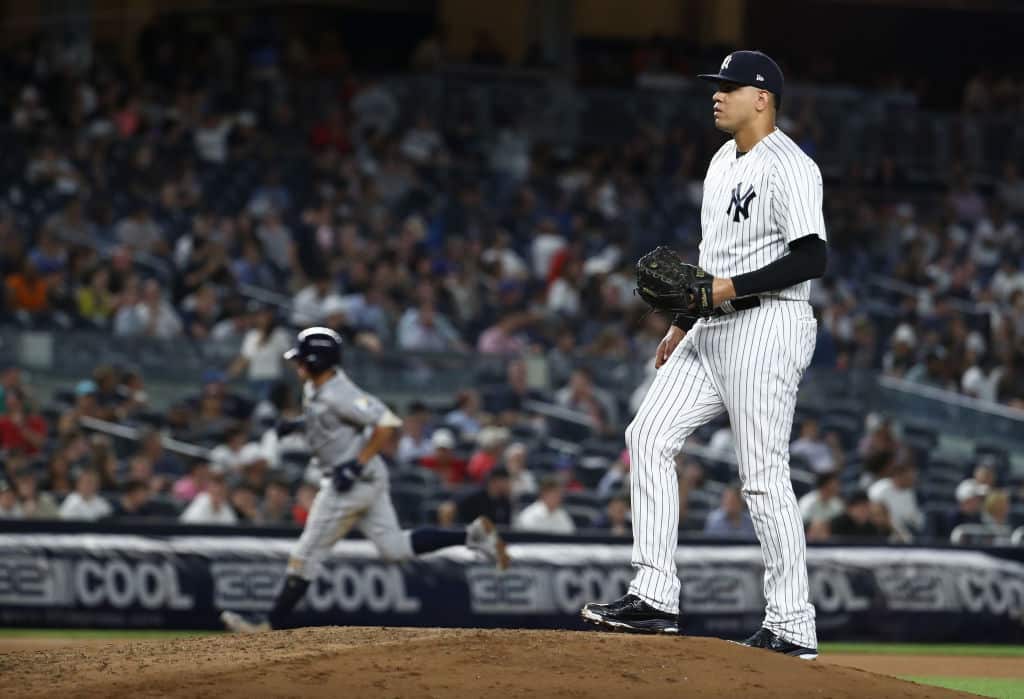 Ever since Betances became a reliever, he's looked like a closer in the making. However, when he got the chance in 2017, his electric fastball and unhittable slider became irrelevant as he lost the strike zone.
Betances seemed to be back to his dominant self for the bulk of 2018. He only gave up 3 runs in a 38.2-inning stretch from May 12 to August 28.
He picked up a one-out save on Aug. 25 with a four-run lead yet when his first real test came, he immediately reverted. With the Yankees up 7-5 on August 30 against the Tigers, he surrendered a 2-run home run to tie, immediately followed up by a solo shot for the lead and an eventual Detroit win.
He's now blown 18 of his 53-career save opportunities, good for a 33 percent fail rate. Betances is just not closer material.
Chapman is more valuable in October
If the Yankees' offense weren't so loaded, that statement might not be true. The lineup is just fine, though.
If the Yankees are going to win this fall, it will be because the rest of the pitching staff somehow got the ball to Chapman with a lead intact. Even if Judge is back and provides a few game-winning runs, it's the bullpen that has to finish the job.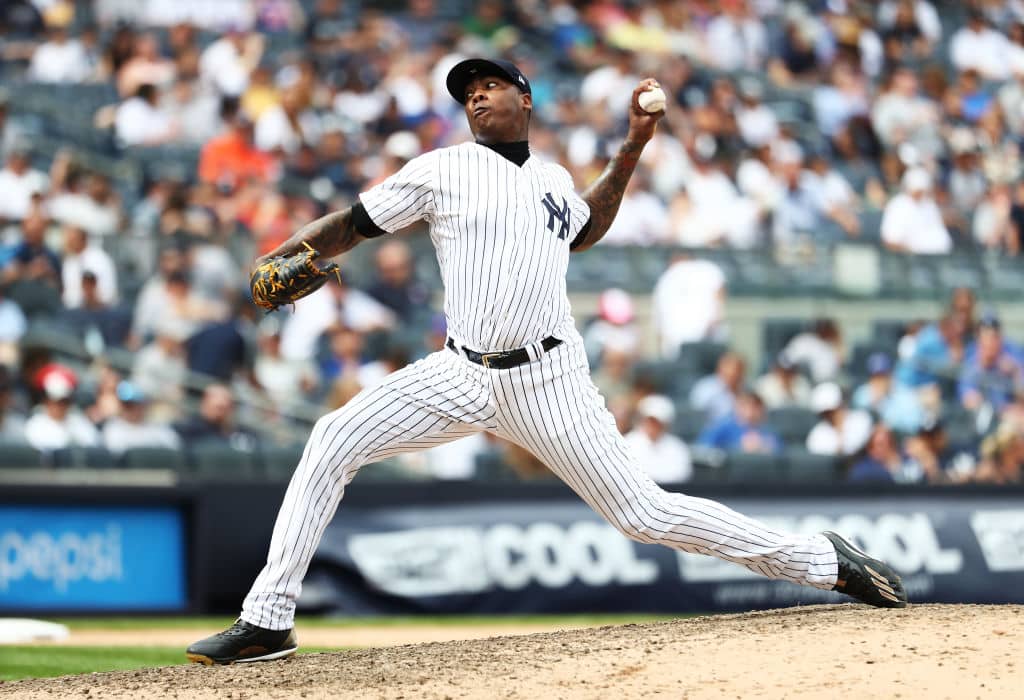 Locking Chapman into the ninth inning—and probably the eighth in some tight playoff games—also gives Boone the ability to mix and match the rest of his bullpen better.
Boone will have the luxury of avoiding whichever one of his setup men is struggling and roll with whoever is pitching best at that moment.
It also puts Betances back where he's comfortable. He has been fire in the seventh and eighth innings this year, so there's a legitimate reason to hope he can carry that over into the postseason.
Hopefully, this point is moot
Ideally, the Yankees will have both Chapman and Judge back and ready to go for October, and all this evaluation is for naught. Chapman is reportedly returning soon, and Judge is working his way back ever so slowly.
The point is that if for some reason Judge has to shut it down for the rest of 2018, Yankees fans shouldn't lose hope for the postseason. If Judge is ready to go, he's just an added bonus at this point.
Aroldis Chapman is the main piece the Yankees need back to have a good showing in the playoffs.