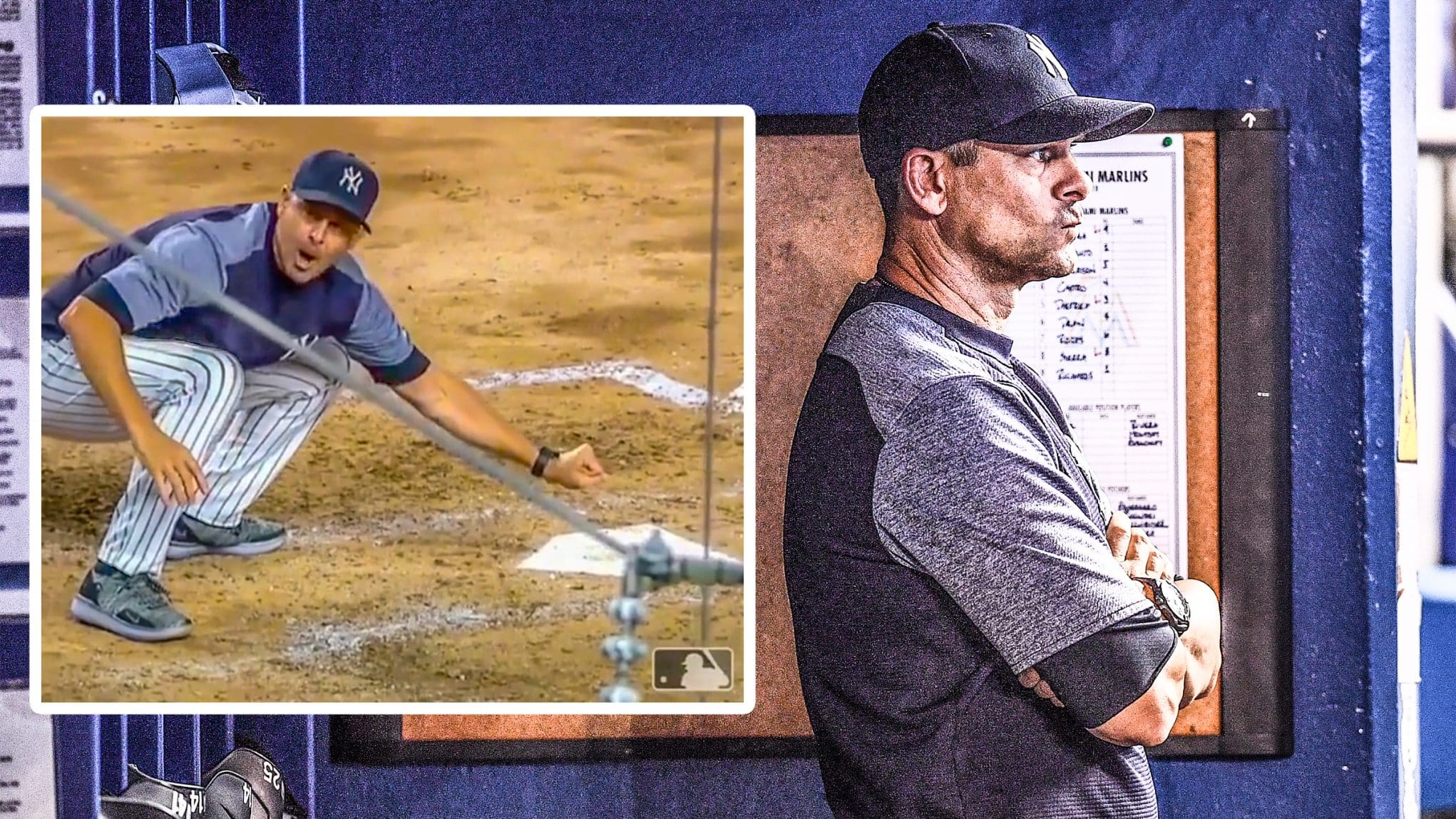 New York Yankees manager Aaron Boone got creative after getting ejected, and his club responded with a come-from-behind victory.
Some managers kick dust or throw water coolers when they get ejected.
New York Yankees manager Aaron Boone took a different approach in Friday night's game against the Detroit Tigers, getting down into a catcher's position to give home plate umpire Nic Lentz a hilariously patronizing lesson in balls and strikes.
Aaron Boone started the fire! AARON BOONE STARTED THE FIRE!!!! THE FIRE RISES! pic.twitter.com/L9Z0Et9azb

— Eric Hubbs (@BarstoolHubbs) September 1, 2018
The confrontation came while Gleyber Torres batted in the bottom of the fifth inning. After Lentz called a borderline low and inside pitch on Torres a strike, Boone snapped, uttering a magic word or two from the dugout and getting tossed.
Boone then charged out of the dugout and put on a show. He screamed in Lentz's face, demonstrated the difference between a ball and a strike from a catcher's perspective, and then screamed some more.
Lentz's applied a low strike zone to both teams, but his questionable calls off the plate on both corners made neither club happy.
The burst of passion from Boone had the intended effect on his ballclub, which has recently been criticized as lacking energy by the likes of former Yankees archenemy Pedro Martinez. The Bombers, who were down 3-0 when Boone went on his tirade, quickly put up four runs to take the lead in the bottom of the sixth inning, on home runs by Brett Gardner, Aaron Hicks and Miguel Andujar.
Detroit manager Ron Gardenhire also got thrown out of the game, although his beef was with first base umpire Paul Nauert over a check-swing call on Luke Voit. Gardenhire decided to forego the histrionics of his counterpart, but he did cause a bit of humor.
As he walked past Voit on his way back to the dugout, Gardenhire appeared to ask the Yankees' first baseman if he had swung. Voit's answer prompted a wry smile.
After a rough stretch against the Chicago White Sox and the heartbreaking loss to the Tigers on Thursday night, Yankees fans needed to see a reaction of some sort. Aaron Boone obliged, sparking a fire on Friday night that could burn long into October.