Entering his third season in Central New York, Orange head coach Dino Babers can ill afford another 4-8 posting.  
Team: Syracuse Orange
Conference: ACC (Atlantic Division)
Stadium: Carrier Dome (Syracuse, NY)
2017 Record: 4-8 (2-6 ACC)
Head Coach: Dino Babers (3rd season, 6-18)
Struggling to find consistency in their ACC incarnation, there have been plenty of would be, maybe even should be, turning points in recent Syracuse football history. There was a pair of Carrier Dome wins in the Dino Babers alone that should've turned the program's fortunes around. In his 2016 debut, the Orange picked up a win over #17 Virginia Tech, following it up with a downright jaw-dropping win over defending champion Clemson, ranked second, just under a calendar year later.
Unlike their basketball counterparts, however, the Orange have struggled in the latter stages of the ACC season. After those two victories, they've finished the two seasons a combined 1-9, including five straight losses to end last season's campaign.
Now in the proverbial third year, the season that makes or breaks the head coach's resume, Babers is in desperate need of progress after consecutive 4-8 campaigns. Ending the team's bowl drought, currently standing at four years, would be an ideal way to start trending in the right direction.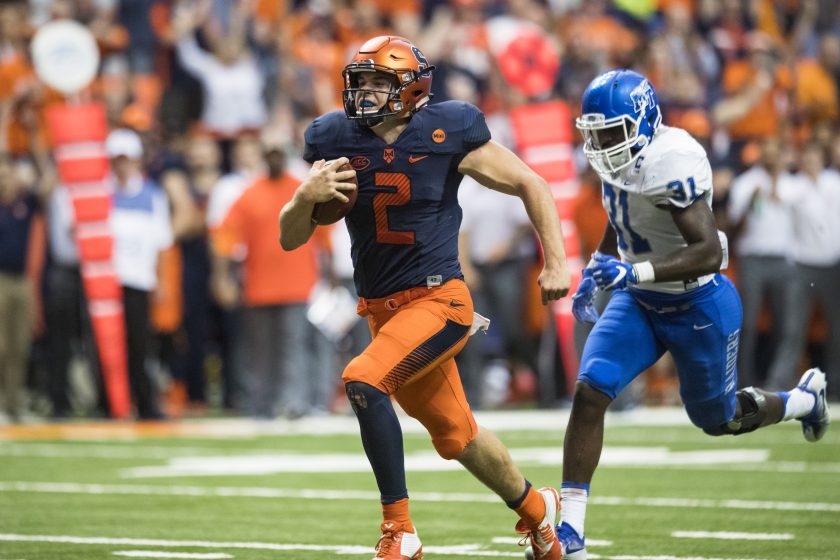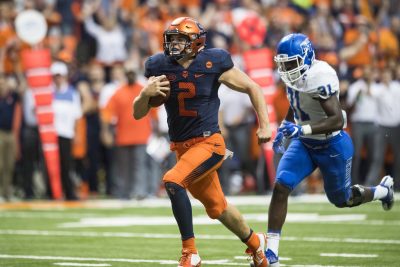 Offense
Senior quarterback Eric Dungey has made his mark on the Syracuse record books. His name dotted across the pages in the major passing categories. Prolific as his Syracuse resume may be, Dungey has yet to play a full season, missing six games over the past two seasons due to injury. Should he be victimized again, however, the Orange are very confident in their contingency options.
An alum of New Jersey's illustrious Don Bosco Prep, redshirt Tommy DeVito took starter reps over the spring while Dungey finished working off the effects of a leg injury, and responded well to his first taste of college ball, with Babers remarking he "closed ground" according to Stephen Bailey of Syracuse.com. Also in the running is a dual-threat option and true freshman Chance Amie. A three-star recruit from Texas who turned down local Houston to join up with the Orange.
The rushing situation is less certain. Their ineffectiveness forcing an over-reliance on the passing game. Dungey, in fact, was the team's leading rusher at 595 yards and nine touchdowns, and, remember, he missed the final three games of the season entirely. Junior Moe Neal, holder of a 5.3 average over his first two seasons, began to see increased responsibilities late in the year, picking up 272 yards over the final three games of the year. Both Neal and fellow back Dontae Stickland each found the start of a niche in receiving as well, picking up 30 receptions and 312 yards between them.
Whoever's throwing the ball this season, the receiving options are going to have to step up. Top catches Steve Ishmael and Ervin Phillips are gone, taking over 2,000 yards from scrimmage with them. Junior Devin Butler, the top returning receiver at 327 yards, has earned rave reviews for his speed but, may miss the season opener with an unspecified injury. The remaining returnees are inexperienced upperclassman, so senior tight end Ravian Pierce may be called upon to take a bigger role.
The quarterbacks will also need better protection in 2018, as the offensive let up an ACC-high 32 sacks last season, even with redshirt junior tackle Evan Adams earning second-team all-conference team honors. The Orange will get reinforcement both from within and elsewhere, as senior guard Aaron Roberts returns from an ACL tear, while graduate transfer tackle Koda Martin arrives from Texas A&M.
The growing pains on the line could pay off in terms of experience; six Syracuse blockers, including the incoming Martin, have at least one season's worth of starting experience.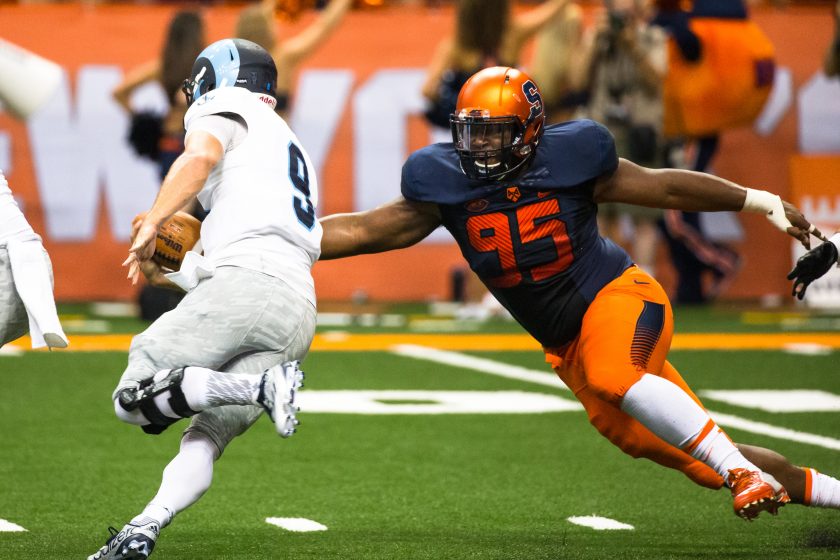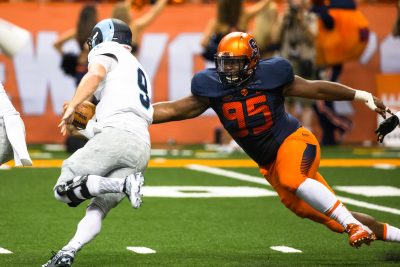 Defense
The Orange defense was shaky as is in 2017. Even with the crutch of a missing quarterback, the main culprit behind Syracuse's lost bowl bid was a defense that allowed an embarrassing 162 points over the final three games. The worst part is, that debauchery was before three of the top four tacklers departed, depleting the defense, all in the linebacking group.
Defenses in past Babers systems, including those at Bowling Green, have never been anything to write home about, but having a semblance of security is imperative in the explosive ACC. Improving a defense that allowed over 37 points per game in conference play begins with establishing pressure, as the Orange picked up just 16 sacks, dead last in the ACC.
There's potential in the unit, particularly on the front line. Top sacker Alton Robinson returns at end, as does 700-pound squatter Chris Slayton at the nose. Redshirt sophomore Josh Black also returns, heavier and more determined after a September injury cost him most of last season. The linebacker losses, including NFL seventh-round draft pick and two-time All-ACC nominee Zaire Franklin, however, are going to be a lot to overcome. Syracuse plans to plug the holes with junior college transfers, namely Ryan Guthrie and Lakiem Williams.
There's plenty of depth and experience returning to the secondary, with returning safety  Evan Foster tallying 64 tackles, while redshirt junior and doubling special teams stud Christopher Fredrick is poised for a breakout. As a whole, however, the pass defense unit had plenty of issues last season. There were turnovers in the first four games, mostly against mid-major competition, but the Orange forced no interceptions over the final eight games of the year.
Antwan Cordy has rededicated himself fully to defense after an injury-riddled experiment at slot receiver. Further help comes in the form of four-star recruit Atrilleon Williams, an athletic defender poached from Rutgers who can work in both the middle and secondary.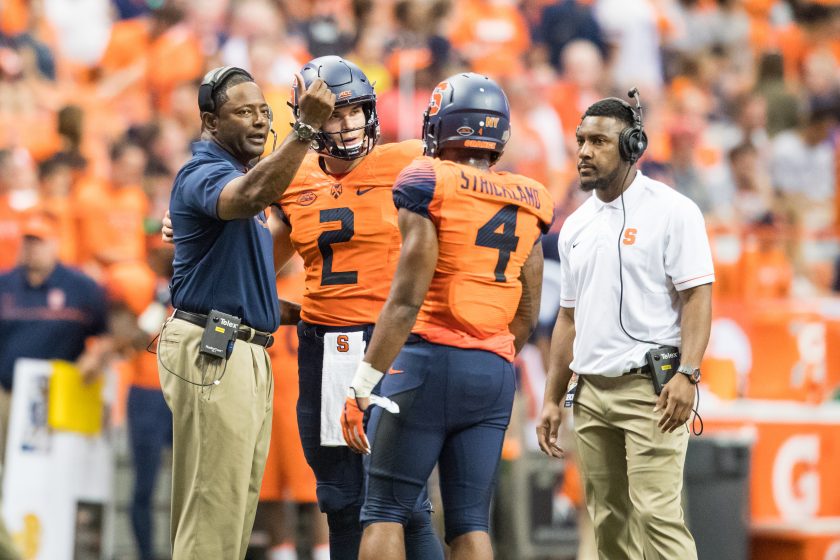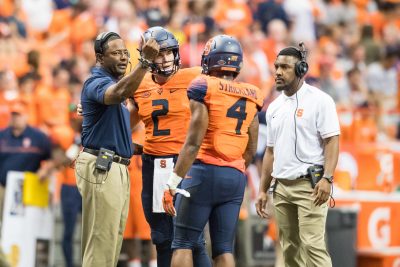 Outlook
The Orange have yet to win a game in November under Babers, and the quest to earn one doesn't get easier with games against Louisville and Boston College sandwiching a neutral site at Yankee Stadium against Notre Dame. The real key to ending the postseason drought, however, may be the opening portion, a stretch that does include a visit from Florida State, but nothing where the Orange shouldn't emerge 3-1.
Ending the stretch of bowl-free football won't be easy, especially with so much firepower departing. However, for the first time in quite a while, the Orange have the depth and young talent necessary to contend if not everything goes entirely right. That's not to say they should immediately rely on the names of DeVito and Williams, but it provides both immediate and future hope.
The fact remains, however, that Babers' situation firmly makes Syracuse a win-now team. Asking the Orange to contend with the ACC's top dogs, especially in the dangerous Atlantic division, is a bit too much to ask for, but six wins in entirely manageable with their schedule.
Prediction: 6-6 (Gasparilla Bowl)
Schedule
| | | | |
| --- | --- | --- | --- |
| Date | Opponent | Time (ET) | TV |
| August 31 | @ Western Michigan | 6:00 p.m. | CBSSN |
| September 8 | Wagner | 3:30 p.m. | ACC Network |
| September 15 | Florida State | 12:00 p.m. | ABC/ESPN/ESPN2 |
| September 22 | Connecticut | TBD | TBD |
| September 29 | @ Clemson | TBD | TBD |
| October 6 | @ Pittsburgh | TBD | TBD |
| October 20 | North Carolina (Homecoming) | TBD | TBD |
| October 27 | North Carolina State | TBD | TBD |
| November 3 | @ Wake Forest | TBD | TBD |
| November 9 | Louisville | 7:00 p.m. | ESPN2 |
| November 17 | vs. Notre Dame (@ The Bronx, NY) | 2:30 p.m. | NBC |
| November 24 | Boston College | TBD | TBD |
Follow Geoff Magliocchetti on TWITTER