Our experts see yet another Alabama-Clemson matchup coming this holiday season, but will come in the National Championship?
This Week's Voters: Geoff Magliocchetti, Justin Weiss, Louis Sklenarik
#1. Alabama
This Week: Saturday vs. Louisville (@ Orlando), 8 p.m., ABC
Another year, another poll, another top spot occupied by the Crimson Tide, whose weaponry has changed (primarily in the form of National Championship Game hero Tua Tagovailoa), but their dominance should remain unchanged until further notice.
#2. Clemson
This Week: Saturday vs. Furman, 12:20 p.m., ACC Network
The Tigers may have a quarterback battle to deal with in the near future, with incoming freshman and lauded pocket passer Trevor Lawrence bearing down on incumbent Kelly Bryant, but the return of several NFL hopefuls like defensive lineman Christian Wilkins ensure the Tigers will remain in the national title conversation.
#3. Wisconsin
This Week: Friday vs. Western Kentucky 9 p.m., ESPN
Jonathan Taylor took the world by storm as a freshman, coming just short of 2,000 yards in his debut, so the nation awaits what he can possibly do for an encore.
#4. Georgia
This Week: Saturday vs. Austin Peay, 3:30 p.m., ESPN
With so many starters missing from the national championship participating-squad, the Bulldogs will really a lot on underclassmen in their attempt to return, including sophomores Elijah Holyfield and D'Andre Swift, who can form the Bulldogs' latest explosive rushing tandem.
#5. Washington
This Week: Saturday vs. #11 Auburn (@Atlanta), 3:30 p.m., ABC
With the elite names of the PAC-12 passing class gone, including the California duo of Sam Darnold and Josh Rosen, Jake Browning becomes the conference's best quarterback, and he'll be assisted by a group of offensive starters returning from injury like receiver Chico McClatcher, tackle Trey Adams, and tight end Hunter Bryant.
#6. Ohio State
This Week: Saturday vs. Oregon State, 12:00 p.m., ABC
The controversies in Columbus have overshadowed a promising season for the Buckeyes, who will be eager to see what true sophomore J.K. Dobbins can do after ending the regular season with 174 yards in the Big Ten Championship Game.
#7. Penn State
This Week: Saturday vs. Appalachian State, 3:30 p.m., BTN
With a favorable schedule (the Nittany Lions are favored in all but one game in ESPN's Football Power Index) and the return of quarterback Trace McSorley, Penn State should be able to handle the loss of Saquon Barkley.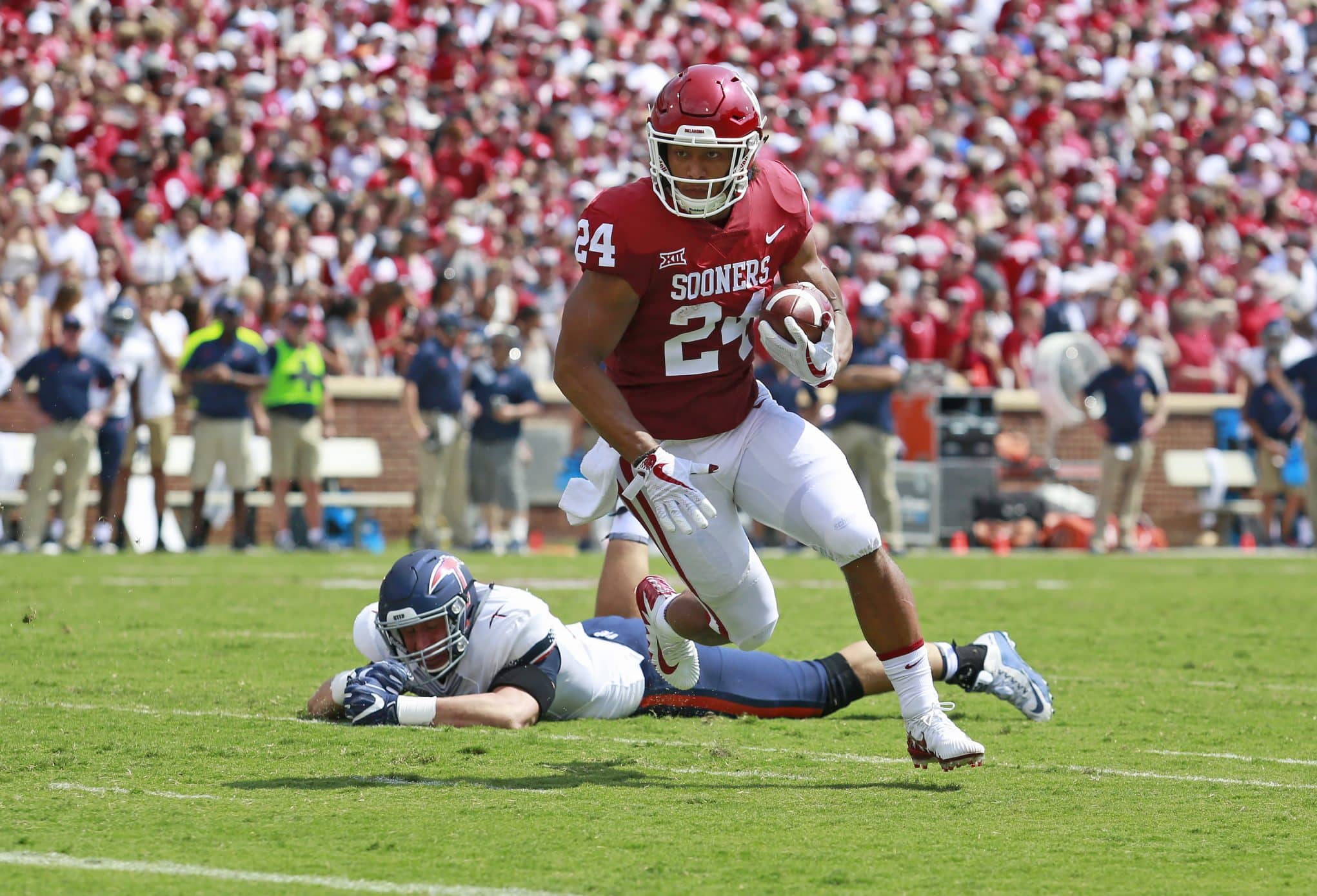 #8. Oklahoma
This Week: Saturday vs. Florida Atlantic, 12:00 p.m., FOX
Whoever wins out the quarterback battle in Norman, with Texas A&M transfer and ninth overall pick of the MLB Draft Kyler Murray set to be the favorite, they'll have a sizable arsenal to work with, featuring running back Rodney Anderson and dynamic sophomore CeeDee Lamb.
#9. Notre Dame
This Week: Saturday vs. #14 Michigan, 7:30 p.m., NBC
It'll be interesting to see if the Fighting Irish, whose recovery from a 4-8 year in 2016 finished with a 10-win campaign (including a Citrus Bowl win), can finally gain some semblance of consistency, but the return of quarterback Brandon Wimbush (30 total touchdowns) gives them a great chance to do so.
#10. Miami (FL)
This Week: Sunday vs. #17 LSU (@Arlington, TX), 7:30 p.m., ABC
Mark Richt's ability to maintain a strong defensive prescience, despite losing starters like defensive tackle RJ McIntosh to the New York Giants, gets a bit easier in the form of Florida transfer Gerald Willis III, while the offense welcomes back receiver Ahmmon Richards from injury.
#11. Auburn
This Week: Saturday vs. #5 Washington (@Atlanta), 3:30 p.m., ABC
Quarterback Jarrett Stidham succeeded in his first season as a Tiger but, will have to take on a bigger offensive responsibility with running back Kerryon Johnson's departure, as well as a travel-heavy schedule that features final chapters in both Georgia and Alabama.
#12. Stanford
This Week: Friday vs. San Diego State, 9:00 p.m., FS1
Running back Bryce Love will have plenty of running room in his senior year, as four of the Cardinal's five offensive linemen return from his 2,118-yard/19-touchdown campaign, which will be huge if the Cardinal want to survive their instant September tests, which include a visit from USC and trips to Oregon and Notre Dame.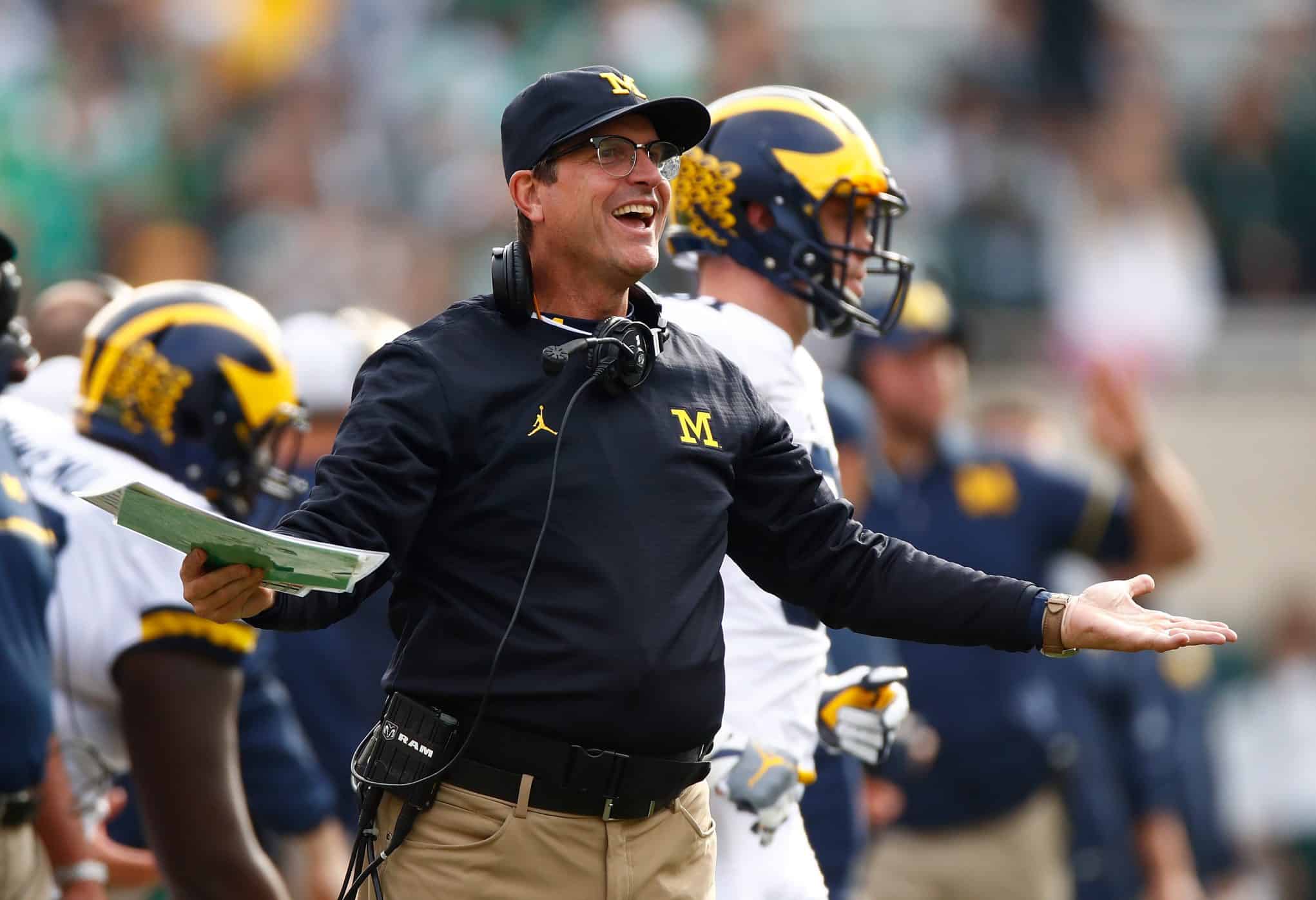 #13. Michigan
This Week: Saturday @ Notre Dame, 7:30 p.m., NBC
After a major setback in his third season, 8-5, and an Outback Bowl loss being completely unacceptable in Ann Arbor, few individuals in the sport are under more pressure than Jim Harbaugh.
#14. TCU
This Week: Saturday vs. Southern, 12:00 p.m.
There's a lot of change going on in Fort Worth, not least of which is Shawn Robinson taking over for Kenny Hill under center, but as long as the defense, keeps its pace (allowing 19.7 points per game) and head coach Gary Patterson is at the helm, the Horned Frogs should never be counted out.
#15. Florida State
This Week: Monday vs. #18 Virginia Tech, 8:00 p.m., ESPN
It might be a bit of a transition for the returning Deondre Francois to learn Willie Taggart's spread offense, but the Seminoles have one of the most potent run games in the nation with Cam Akers and Jaques Patrick.
#16. Michigan State
This Week: Friday vs. Utah State, 7:00 p.m., BTN
Back in the mainstream college football conversation after recovering from a 3-9 disaster in 2016, the Spartans return a whopping 19 starters from a squad that won 10 games last season.
#17. LSU
This Week: Sunday vs. #10 Miami (FL) (@Arlington, TX), 7:30 p.m., ABC
New offensive coordinator Steve Ensminger, promoted after eight years as the Tigers' tight ends coach, is looking to revitalize the passing game in Baton Rouge. A task that becomes somewhat easier with the arrival of former Texas Tech receiver Jonathan Giles (1,169 yards and 13 touchdowns in 2016).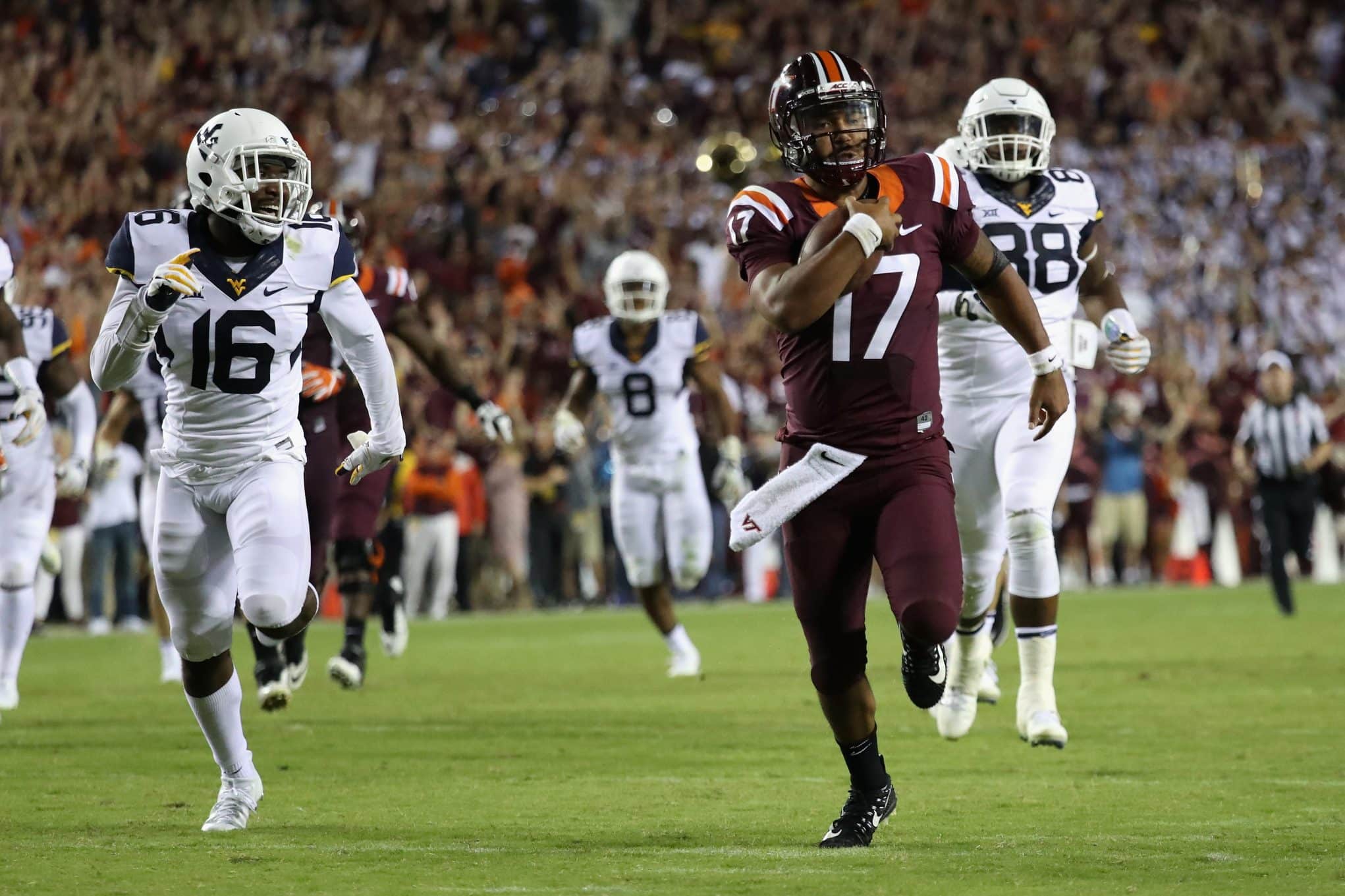 #18. Virginia Tech
This Week: Monday @ #15 Florida State, 8:00 p.m., ESPN
Despite the loss of a majority of their starting offensive line, the Hokies should be able to get by with quarterback Josh Jackson returning, alongside rushers Deshawn McClease and Steve Peoples in the backfield.
#19. Texas
This Week: Saturday vs. Maryland (@Landover, MD), 12:00 p.m., FS1
College football's most recurring meme is "Texas is back!!!", but with most starters returning to a strong defense, as well as reinforcements coming to a stagnant offense, we may be hearing it a lot more in a serious light.
#20. Boise State
This Week: Saturday @ Troy, 6:00 p.m., ESPNEWS
Armed with their most talented team since the 2014 Fiesta Bowl victory, an undefeated season, or at least representing the Group of Five in the New Year's celebrations, is not out of the question for the Broncos, whose biggest challenge will be a September 15 visit to Oklahoma State
#21. West Virginia
This Week: Saturday vs. Tennessee (@Charlotte), 3:30 p.m., CBS
While most of the Big 12 contenders have to worry about a new quarterback, the Mountaineers will instead welcome back Will Grier, who forms one of the most dangerous offensive tandems in the nation alongside David Sills.
#22. Mississippi State
This Week: Saturday vs. Stephen F. Austin, 7:30 p.m., ESPNU
Few incoming coaches in the nation will enter into a better situation than Joe Moorhead, as the former Penn State offensive coordinator inherits an offense that posted over 30 points a game and welcomes back a majority of his starters.
#23. Central Florida
This Week: Thursday @ Connecticut, 7:00 p.m., ESPNU
While there may be some issues rebuilding an offensive line that's losing a couple of starters and a defense losing five more, the defending "national champions" should remain an offensive showcase, especially with quarterback McKenzie Milton bringing back his 4,037 yards.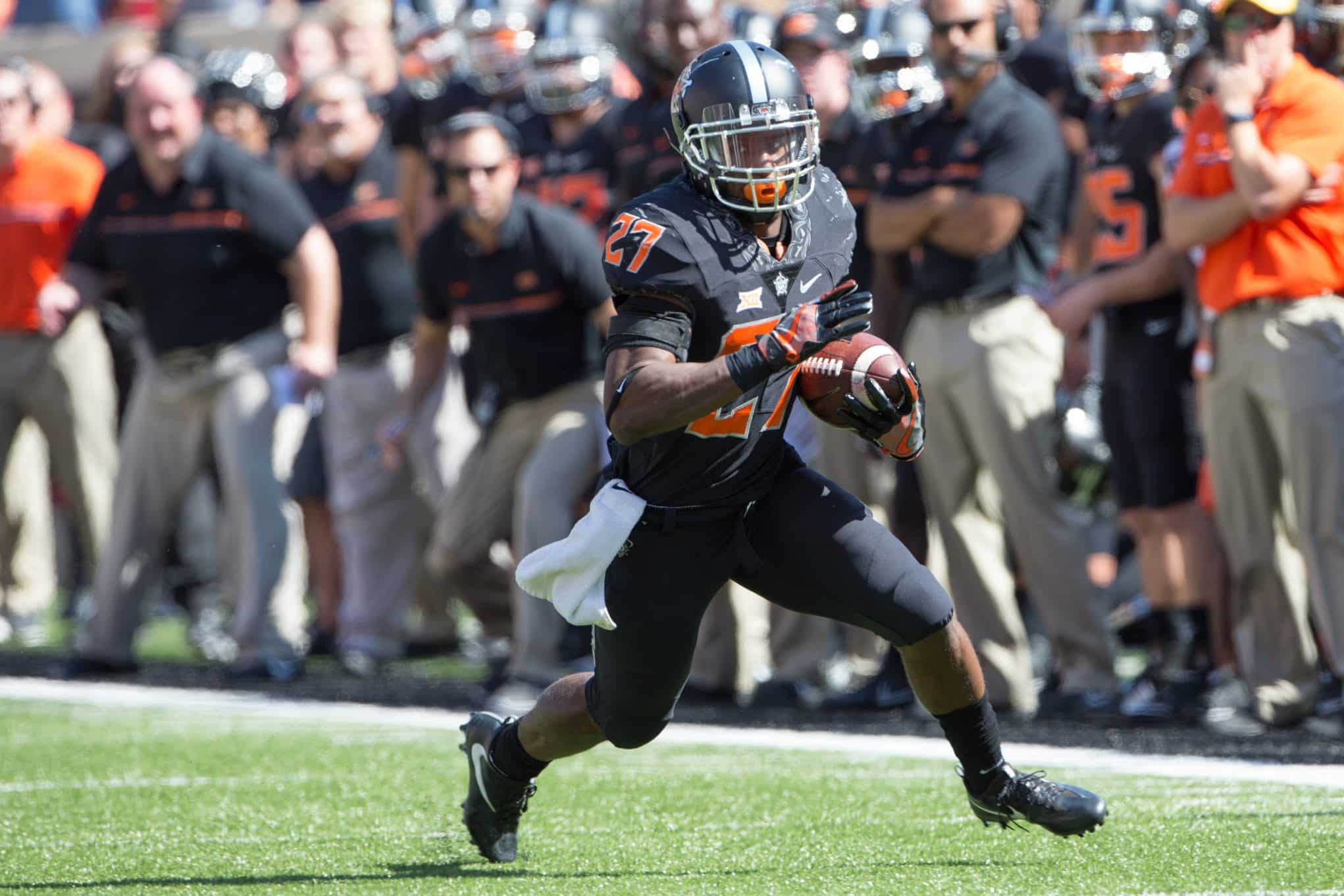 #24. Oklahoma State
This Week: Thursday vs. Missouri State, 8:00 p.m., FS1
Mike Gundy's mullet may be gone, but back for another year is running back Justice Hill, who proved to be a dual threat with 127.5 yards from scrimmage per game last season.
#25. South Carolina
This Week: Saturday vs. Coastal Carolina, 12:00 p.m., SEC Network
The Gamecocks were one of the most pleasant surprises in college football last season and can build on their 2017 promise with the return of receiver Deebo Samuel from injury, as he potentially forms one of the SEC's top groups with Bryan Edwards.
Also Received Votes: Oregon, Texas A&M, Florida, Florida Atlantic, Boston College, Utah