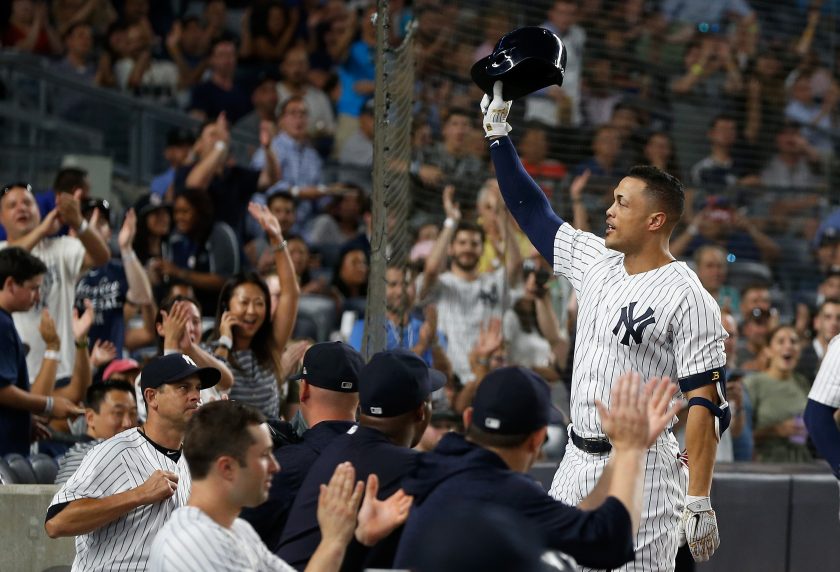 The waiting is over for New York Yankees' slugger Giancarlo Stanton as he crushed his 300th career home run.
The waiting is over for Giancarlo Stanton, he has finally joined the 300 home run club.
300 Club. pic.twitter.com/fpUguf4vwU

— New York Yankees (@Yankees) August 31, 2018
Stanton took an 87-miles-per-hour breaking ball and absolutely crushed it into the seats in right field. It was his 33rd long ball of the year, and it gave the Yankees a 2-1 lead for J.A. Happ to work with.
Prior to the at-bat it, Stanton was just 6-for-39 in 10 games after hitting career home run number 299.
Stanton has certainly had an interesting season, his first in New York. He went from getting booed in early April, to carrying the team throughout the month of August, to now home run number 300 and his first curtain call. He most certainly has had to carry the Bronx Bombers considering that the team has lost slugger Gary Sanchez and Aaron Judge to long-term injuries.
Outside of this home run, Stanton has not had many moments in a Yankee uniform this season. He had a walk-off home run earlier in the season against Seattle, but that has been it.
Milestone Mash. pic.twitter.com/MNKzcchN20

— New York Yankees (@Yankees) August 30, 2018
Stanton has hit .266 in the month of August, crushing nine home runs. Perhaps now that he has hit the milestone, he can go on one of those Stanton hot streaks where he can carry a team like no other.
With the news of reinforcements on the way, Stanton will no longer be the lone threat in the Yankee lineup. But, even as him being the biggest threat, he has not lost his touch. Sure he has his moments where he will strike out a lot, but that has just become what baseball is nowadays.
The Yankees and Tigers still have plenty of game left and perhaps Stanton can hit home run number 301 before this one is over. And right now, the Yankees need it trailing 3-2.
Follow Dominick on TWITTER