The New York Mets' Peter Alsonso and Yankees' Aaron Judge showcase very contrasting tales of minor-league call-ups to The Show.
Peter Alonso revealed his immaturity with one not-so-subtle Tweet on Tuesday—a message that relays his camp's clear and concise message to the entirety of the New York Mets Major League Baseball organization.
Why is that dumb? They're sticking up for me. That's what they are there for

— Peter Alonso (@PeterAlonso20) August 29, 2018
The kid's words in response to WFAN's Chris Carlin here did two things.
One, it revealed a certain level of sensitivity. But more importantly, it revealed how either he or his camp convinced him to move forward with the public cry and mission statement that is making sure displeasure was voiced about the non-call-up.
What's so rough about this situation is it's coming within the landscape of New York baseball. This reaction and course of action from the 23-year-old kid is a far cry from one of the city's recent stud prospects who quickly rose to stardom.
New York Yankees slugger Aaron Judge didn't say a peep while in the farm. Worse yet for Alonso: the Yankee big man wasn't called up for a cup of coffee until he was 24 years of age and didn't experience a real big-league season until 25.
Judge, 26, experienced a late start to his big league career. Though he, alongside Gary Sanchez, served as mega prospects within the Bombers farm, there were a couple of years for which the two became lost in the shuffle.
For example, Sanchez was the 40th ranked prospect back in 2012 by Baseball Prospectus. In 2013, he flew up to 27 (via MLB.com). From there on out, Sanchez fell out of favor in the prospect world. He didn't make the top 100 in 2015 while finishing only 92 in 2016.
Judge, on the other hand, flew all the way up to No. 18 in 2016, via Baseball Prospectus. (He was 49 in 2015.)
Guess how many at-bats Judge finished with in 2016? The answer is 84 in 27 games as a 24-year-old. Not until 2017, at 25, did Judge actually break camp with the team. Through it all, there was never one peep of noise coming from No. 99 or his camp, the employees that work for him. He simply continued to work on his game.
Sanchez was called up during that magical end of 2016 as a spry 23-year-old. Of course, he went bananas with 20 homers and 42 RBI while hitting .299 in 53 games.
Peter Alonso is 23-years-old, is ranked No. 61 by MLB.com (prior to the season) and won't shut up about not receiving the opportunity to play out September with the crummy Mets.
His camp did most of the talking, citing Alonso's numbers and terrific play on the field.
"It is disheartening for Peter after producing an historically great season and exceeding every request from the Mets player development staff," Karon and Johnson said in a statement to the New York Times. "I'm sure it is equally disheartening for Mets fans who would enjoy watching and getting to know one of the more talented and entertaining players they've developed in years."
Peter Alonso's agents Adam Karon and Tripper Johnson had this to say about Alonso, who has hit 33 homers and driven in 111 this season, not getting a major league call-up: pic.twitter.com/dTEVJZzebj

— James Wagner (@ByJamesWagner) August 28, 2018
The Mets, of course, threw cold water on the possibility while understanding the 40-man-roster expansion is only days away.
"He has had an unbelievable season, he has done everything we have asked, he had a great year in Double-A, moving up to Triple-A, he's having a real good year, but the way we see it, the lack of playing time is a big factor," Ricco said. "We are going to have Dom Smith, Jay Bruce and we'll have Wilmer all playing some first base and to have Pete come up and just sit when we looked at it didn't make a lot of sense."
Perhaps Alonso's and/or his camp's outrage was too much to overcome on their part. Either way, unless you live in an alternate reality, the bottom line from both perspectives is easy to identify.
Alsonso understands the MLB free agency system is out of whack. It takes an incredible six years of service to become a free agent. Pitchers, such as Alonso's future teammate, Jacob deGrom, get hit hardest with this reality when called up a little later in the development game.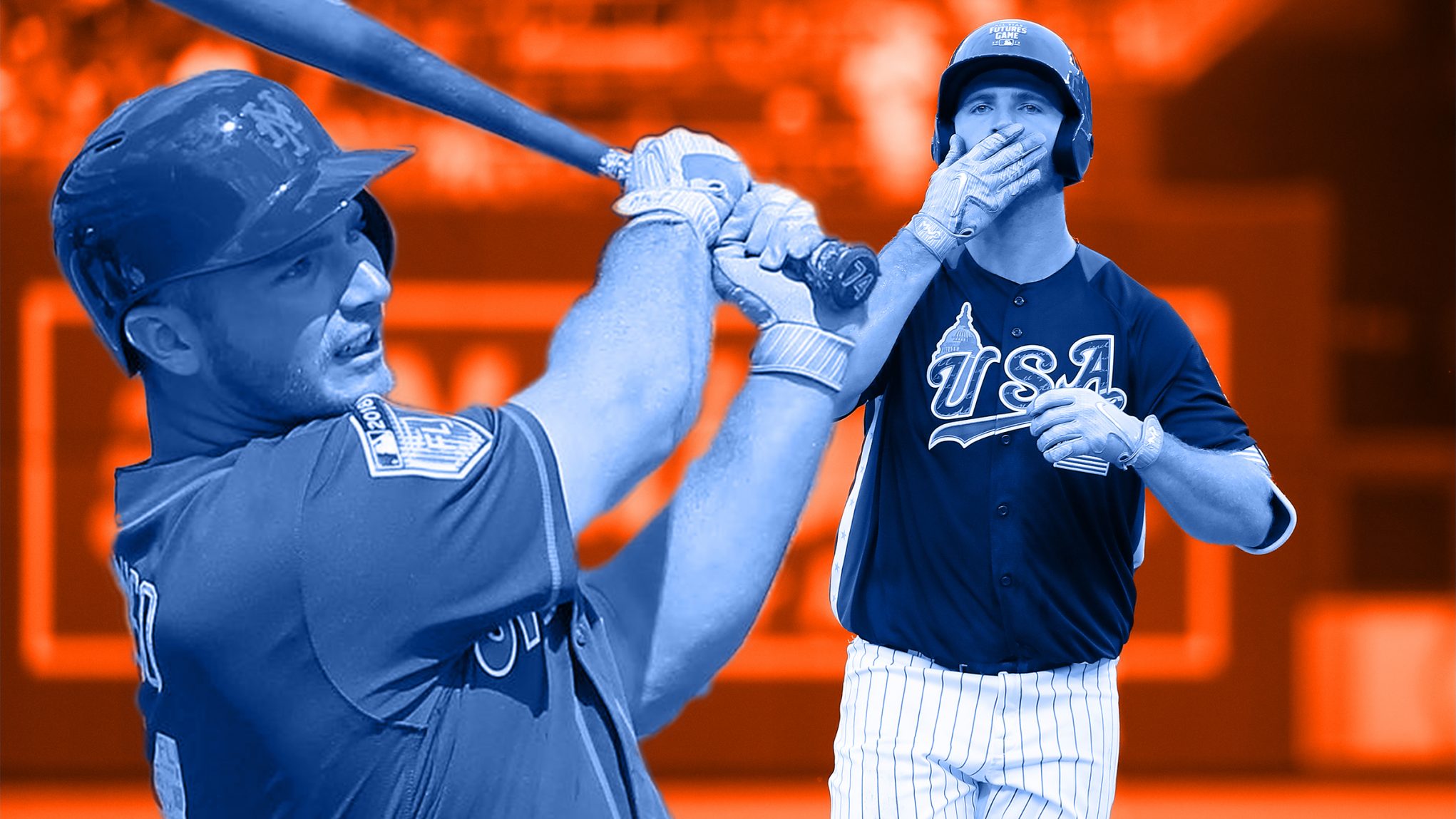 Therefore, using public words is the only ammo Alonso and his camp have in hoping the Mets start the clock on him now. The employer literally holds all of the cards in baseball.
At the same time, this team is 59-74 with nothing much to look forward to the rest of the way. Showcasing a talent such as Peter Alonso would go a long way for the franchise's fans.
It still doesn't matter. The kid is completely out of line in speaking out of school. It's OK to be "disappointed" about the non-call-up. It's not OK to allow your agents to go on the offensive while clashing with your employer.
Just take a glance at the Bronx and a larger-than-life kid who so subtly wears The Great One's number.
He literally didn't begin his baseball career until 25 and didn't say a peep the entire time. And, oh yeah, he was in Scranton/Wilkes-Barre—not exactly New York or even Las Vegas, for that matter. It's where the employees of Dunder Mifflin live out their boring, miserable lives and yet, not a word from Aaron Judge.
The Mets are probably wrong for not calling him up, but Peter Alonso stole their incorrect thunder by playing his cards in an incredibly entitled way.
Everything about the New York Mets and Yankees is contrasting and young Alonso reminded us of that very notion yet again.
Pipe down, Peter. This is the sport you chose. Head down, mouth closed, keep grinding. If your agency had your real interests at heart, they'd pipe down too and let your introduction to The Show come on the Mets time—right, wrong or indifferent.