If the season ended today, the New York Yankees would host a Wild Card Game. But who takes the mound for the Yankees is up for debate.
Even with this weekend's 3.5-game swing in the standings, the New York Yankees' chances of winning the Eastern Division are a mere 9 percent, according to FiveThirtyEight. That means it's time to start thinking about who will start the American League Wild Card Game.
Before the All-Star break, Luis Severino was the clear answer to this question. About a month later, his ERA has jumped by a run, and it's plausible to consider another option.
Aaron Boone will have to take a long look at each of his starters before he decides who to pencil in for the biggest game of the year.
Luis Severino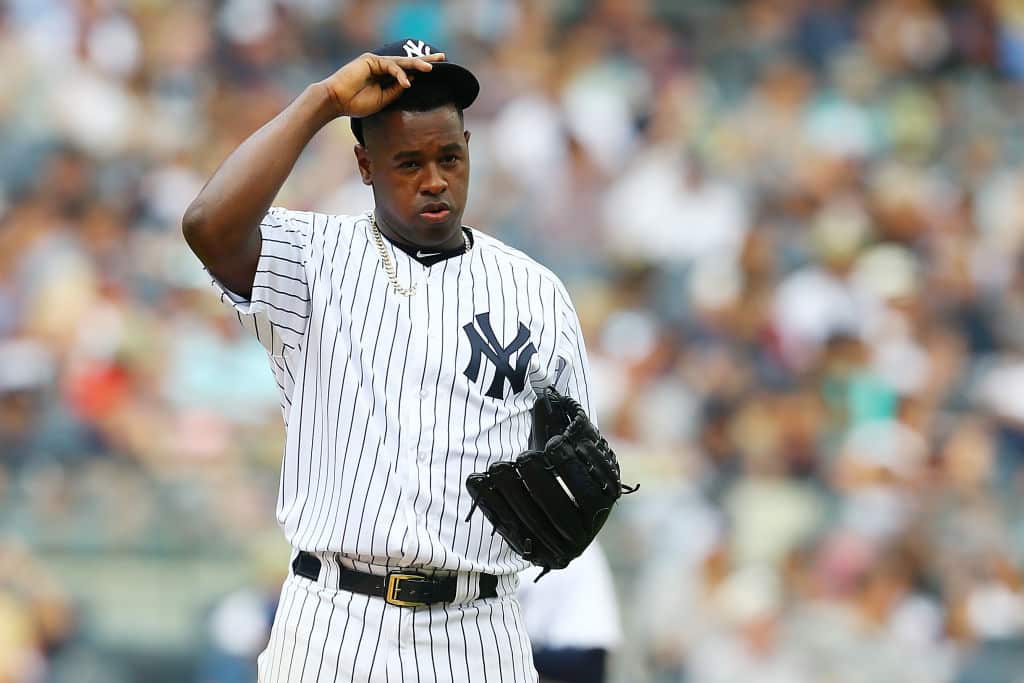 Why He Should Start
On paper, he's the obvious choice. He leads the Yankees in almost all the pitching metrics that matter. He leads the MLB in wins and has a fair chance to end the season with at least 20 victories.
Severino has been terrible since the second week of July, going from Cy Young candidate to middle-of-the-pack starter. But that could be the best thing for him.
Everyone goes through slumps, and it's good that he's getting that out of his system now, before the games that really matter. Severino's last two starts—16 strikeouts and just 4 earned runs in 10.2 innings—have been encouraging signs that he's back on the right track.
Also, he's got one more start against a bad team (Detroit) to get back to form before a possible Wild Card Game dry run against Oakland next month. He should pitch against Boston again, too, which will be another perfect chance to make his case.
But…
Luis Severino of 2018 poses the two scariest questions the Yankees have to answer: What if July and August aren't aberrations? What if he repeats his meltdown from the 2017 Wild Card Game?
The Yankees' ace has lost his slider, and if he doesn't find it quickly, he won't be the team's best chance in this game.
Opponents will sit on his fastball or wait for a hanging breaking ball to drive. The 50 hits he's allowed in his last 36.2 innings are proof of that.
Another red flag is his postseason performance last year. Severino put up a 5.63 ERA, walking 8 and allowing 5 home runs in 16 postseason innings last year.
He couldn't even record two outs against Minnesota. Sevy is a confident man, but that dud has to be in his psyche.
Masahiro Tanaka
Why He Should Start
Tanaka is the only other Yankees starter who has been in this situation before, in 2015. His five innings of two-run ball weren't perfect, but a repeat of that performance is monumentally preferable to a Severino repeat performance.
The main case for Tanaka is his intangibles. He has the heart of a warrior when it comes to the postseason—he's shown it since he played youth baseball in Japan.
When he got a chance to contribute to a playoff run last year, Tanaka demonstrated exactly how he can rise to the occasion. After pitching to a dismal 4.74 ERA and giving up way too many home runs in the regular season, he posted a 0.90 ERA with no home runs in 20 playoff innings.
But…
Tanaka has pitched much better on the road than at home in 2018. He's 3-4 at Yankee Stadium with a 4.27 ERA; in away games, he's 6-0 with a 3.67 ERA. As of right now, the Wild Card Game would be played in the Bronx.
Also, Tanaka's worst numbers have come with Gary Sanchez behind the plate. The Yankees' lineup is strongest with Sanchez at catcher, and it's not worth risking that by DH-ing him in the Wild Card Game just because he can't block Tanaka's splitter.
Boone should save Tanaka for Game 1 or Game 2 of a possible American League Division Series against Boston when he can put Austin Romine in for defense. That will give Tanaka confidence to throw his splitter and breaking ball in the dirt.
The risk/reward of weakening the lineup in favor of defense is much more manageable in a longer series.
J.A. Happ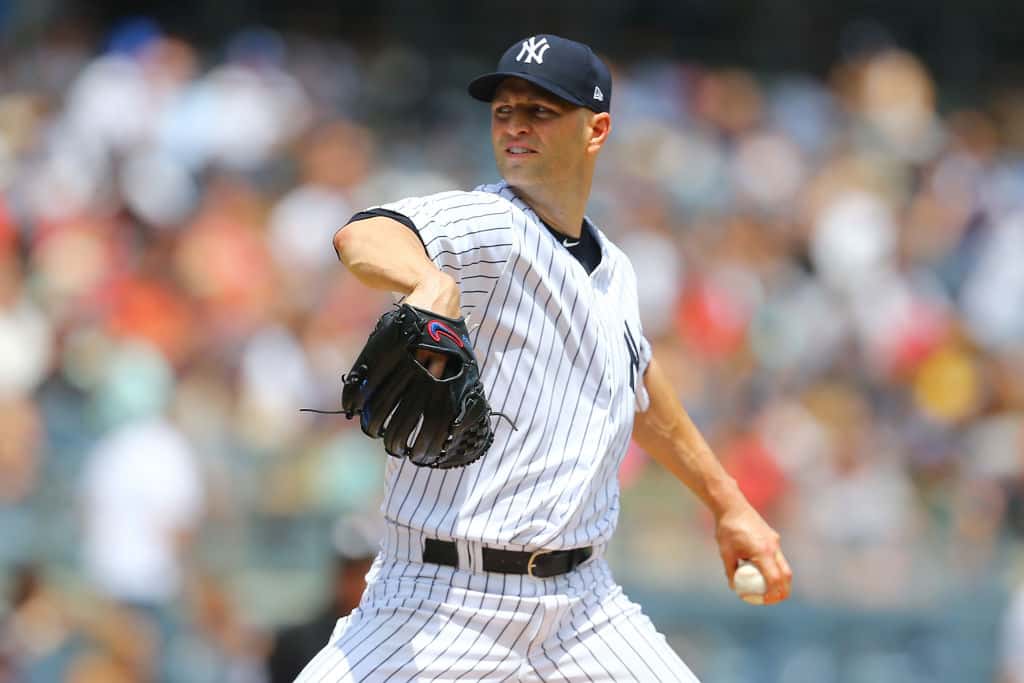 Why He Should Start
He's been the team's best starter in the month of August. In five starts since becoming a Yankee, Happ is 5-0 with a 2.37 ERA and a 0.92 WHIP.
Yes, it's a small sample size, possibly influenced by an uptick in adrenaline due to a change of scenery. However, Happ upping his game amid the pressure of the Bronx shows that he isn't afraid of a big moment.
Also, his first four wins in pinstripes came on the mound at Yankee Stadium. That gives him a leg up on Tanaka if the Yankees host the Wild Card Game.
But…
Happ is overachieving right now, and the Yankees really don't want him regressing to the mean in October. His 3.92 career ERA is respectable, but not the lights-out numbers of an elimination game starter.
Furthermore, while his body of postseason work isn't too bad, including a couple of decent starts in the 2016 playoffs for Toronto, he's allowed 35 baserunners in only 19.1 innings. That's a recipe for a short start, which means handing the ball over to the bullpen sooner than Aaron Boone might want.
CC Sabathia
Why He Should Start
Experience is what gives CC the edge over the rest of the rotation. He's started 22 postseason games, and last year he was the best Yankees starter in the playoffs not named Masahiro Tanaka.
He's not going to let nerves or a slow start completely derail him.
CC is also dominant at Yankee Stadium where he's 5-1 with a 2.44 ERA in 12 starts. Sabathia has only allowed 3 home runs in the Bronx, and only one of those came from a lefty (Baltimore's Chris Davis), so he can neutralize the lefty power threat posed by Oakland's Matt Olsen.
(Admittedly, canceling out the lefty home runs is a bit of a weak argument, because neither the Astros nor the A's are heavy on powerful left-handed batters.)
But…
Despite his extensive playoff experience, Sabathia has delivered mixed results overall. His postseason ERA is 4.20, well above his career average, because he's had some awful postseasons—particularly his 2007 campaign with Cleveland when he gave up 15 runs in 15 playoff innings.
Sabathia's 2018 inconsistency is also an issue. Take a look at his monthly game logs, and you'll see that he's been great one month, and bad the next.
If he continues that trend, he's due to be in a slump when the Wild Card game rolls around.
Lance Lynn/Sonny Gray/Everyone Else
Why One of Them Should Start
They shouldn't. Even if they put a heavy workload on the other four starters trying to win the division in the season-ending series against Boston, one of them will have enough rest to get the start.
If injury led to this worst-case scenario, Boone might be better served by copying Tampa Bay's game-opener strategy and starting Chad Green.
A lot can change in a month. Yankees fans hope someone steps up and makes Aaron Boone's decision the easiest one of his young managerial career.