The New York Yankees released the nicknames of the players participating in the Players' Weekend and there are a few gems.
It's nickname time again! The New York Yankees will don jerseys that feature names across the back in their series against Baltimore for MLB's Players' Weekend.
Some familiar monikers from last year showed up, as well as a few players who switched to new ones. Also, there are stars from last year's inaugural event that won't be on the field due to injury.
Without further ado, here are all of the nicknames you'll see this weekend per Brendan Kuty of NJ Advance Media.
The Derivatives
These guys mostly went with self-explanatory variations of their names. CC Sabathia's call out to his first two initials and Masahiro Tanaka's alliteration are standouts.
CC Sabathia: "Dub"
Masahiro Tanaka: "Tanaka Time"
Giancarlo Stanton: "G"
Neil Walker: "Walkie"
Luis Severino: "Sevy"
Gleyber Torres: "GT"
Austin Romine: "Ro"
Aaron Hicks: "Hicksie"
David Robertson: "D-Rob"
Jonathan Holder: "Holdy"
J.A. Happ: "Happer"
Chad Green: "Greeny"
A.J. Cole: "AJ"
The Last Names
Several Yankees just stuck with their family names.
Brett Gardner: "Gardner"
Shane Robinson: "Robinson"
Kyle Higashioka: "Higashioka"
Greg Bird: "Bird"
The Family Pride
A few Yankees decided to pay tribute to their families.
Lance Lynn will be showing off his daughter's name, and Miguel Andujar was given his nickname by his own papa. Zach Britton is honoring his Dominican roots by wearing his grandmother's maiden name.
Lance Lynn: "Mia"
Zach Britton: "Anglada"
Miguel Andujar: "Papa"
La Español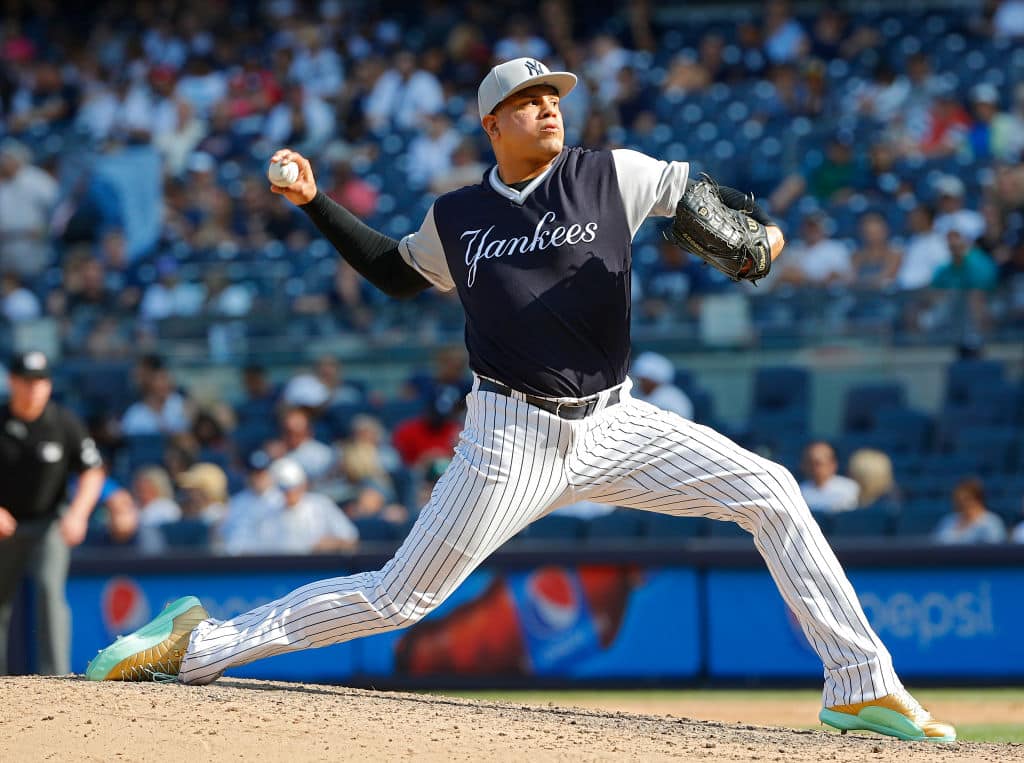 Dellin Betances: "El Acido"
Last year Betances was "D-Dawg," but he's switched to a nickname his family gave him based on his intensity as a child.
The Chipper Jones
Luke Voit: "Louis"
Remember when Mets fans tried to taunt Chipper Jones with his actual first name? Voit may regret giving opposing fans fodder for chanting by using his given first name.
The Random One
Sonny Gray: "Pickles"
Gray is recycling his nickname from last year. No one knows for sure whether it's a reference to an Oakland A's uniform color or his eating habits.
The No-Shows
You might see Judge sporting his Players' Weekend jersey in the dugout, but you won't see him or any of these guys on the field over the weekend because of injury or demotion.
Aaron Judge: "Judge"
Didi Gregorius: "The Knight"
Aroldis Chapman: "The Missile"
Clint Frazier: "El Rojo"
Gary Sanchez: "Kraken"
Jordan Montgomery: "Monty"
Chance Adams: "Adams"
Ben Heller: "Heller"
Jacoby Ellsbury: "Ellsbury"