With the Ryder Cup nearing and the Phil Mickelson pay-per-view confirmed, we take a look at Tiger Woods's year in review.
When Tiger Woods announced his comeback in 2017, the golf world was ecstatic. The man who brought the game of golf to where it is today was making a return in a search for more wins, more majors and more excitement.
However, his comeback in 2017 didn't live up to the expectations.
Tiger only played in two tournaments, Torrey Pines in which he missed the cut and a tournament over in Dubai in which he only played in the first round. He withdrew because of back spasms and just couldn't get healthy for the rest of 2017.
So when he announced his comeback circa 2018, his expectations were low because we've experienced this act before.
A lot of questions were raised. Can he last a full PGA Tour season? Can he still compete with these 20-something-year-olds taking over the Tour? Can he win?
Well, to say the least, Tiger has surpassed everyone's expectations in 2018.
Let's take a look at his comeback season as the regular season has come to a close.
Tiger can still compete
Every golf fan out there who followed the "Tiger" era can say that the competition wasn't nearly as competitive back then, then it is now. These young guys have taken the tour by storm by winning tournaments, majors, and even the Fed Ex Cup. Even though Tiger is much older than these guys, he proved to us early that he can still compete with this new generation of golf.
During the Florida swing at the beginning of the PGA Tour season, Tiger had a couple of top-five finishes. A T5 at the Arnold Palmer Invitational and a T2 and the Valspar Championship, we saw glimpses of vintage Tiger in these two events and we start to think, maybe he can actually win again.
Tiger in the big ones
If there is anything this man knows how to do, its win major championships. He has 14 of them for crying out loud. With all of Tiger's success early in the season, he was the clear favorite coming into the first major of the year, The Masters.  How could he not be the favorite? Playing great golf leading in, and winning at Augusta four times prior to 2018, he should be a lock, no? Well, he didn't end up a lock. Tiger finished T32 at the years, the first major. Tiger still has a lot of work to do.
Next major, the US Open. Definitely, a major Tiger wants to forget. Shooting +10 and missing the cut. Oh well, it happens … on to the next.
The Open. Now, this is where the Tiger story starts to get interesting.  Tiger Woods, in contention, in a major, on a Sunday. What else could you ask for as a golf fan?
Tiger teased the world of golf at Carnoustie, holding the solo lead for two holes with eleven to play. However, that short-lived thought of Tiger potentially breaking through and winning golfs oldest major was abruptly shut down by Francesco Molinari who ended up being crowned Champion golfer of the year. Tiger finished T6, and with that amazing Open performance, Tiger was placed in the top 50 in the world and earned a spot at the WGC Bridgestone Invitational, an event in which he has won eight times.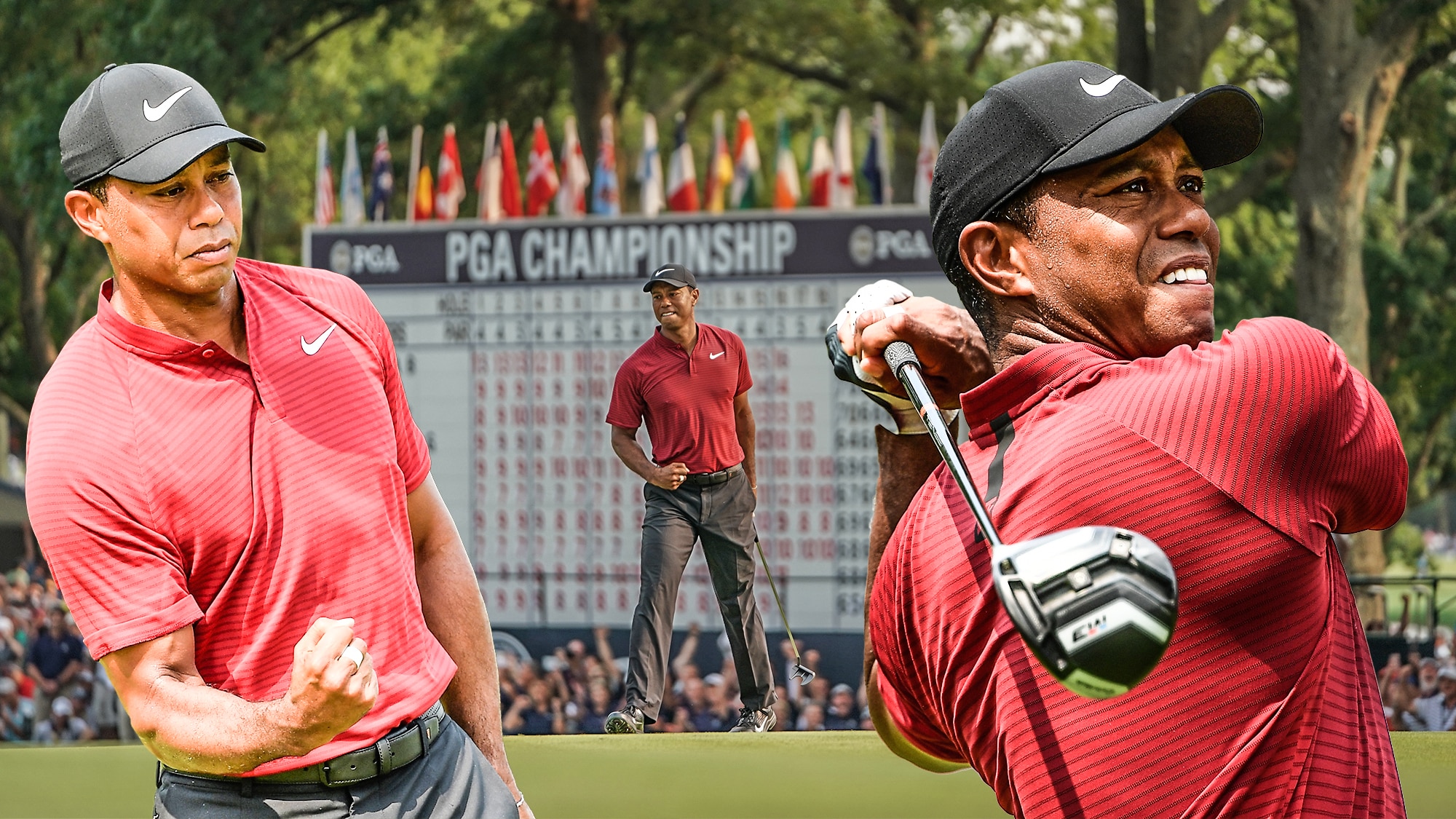 Tiger started off fairly well in the final WGC event of the year, posting scores of 66 and 68. However, he faded away come the weekend posting two 73s making him even par for the tournament, T31. After this event, Tiger got a lot of scrutiny following up on his weekend of golf. Is his back holding up? Is he getting too tired? What is the deal?
People were thinking too much after his poor outing at Firestone. The man had a bad couple of days, it happens! Some days the course is your friend, and some days the course is your worst enemy. Tiger is fine and moved on. And he moved on in such a way we could only imagine. At the PGA Championship.
The fourth and final major of the PGA Tour season was held and Bellerive Country Club. Once again, Tiger was in contention in a major on a Sunday and the crowds definitely let you know what was happening.  Shot after shot, Tiger was making things happen, the crowds were roaring, however, he just came up short from eventual winner, Brooks Kopeka, and secured the solo second position at 14 under. His best finish in a major all year.
Tigers regular season was something special. Even though he had no wins, he proved to the golfing world that he's not done yet. He's far from done. He has a lot left in the tank and will get back in the winners' circle.
Playoff Prediction
Right now Tiger is sitting pretty at 20th in the Fed Ex Cup standings, which almost guarantees him a spot in the Tour Championship in East Lake. With all of his electric performances throughout 2018, it won't surprise me if Tiger captures one event and get in the running for a Fed Ex Cup, which would be his third Fed Ex Cup in his historic career.
Ryder Cup
Now the conclusion to this Tiger story wouldn't be successful if Tiger didn't receive this final reward. And that is being picked for the 2018 Ryder Cup team—something every American wants to achieve at the end of the year and Tiger definitely has given himself a good chance to earn a spot.
After his performance in the Open Championship and the PGA Championship, Woods gave captain Jim Furyk a few offers he can't say no too. Furyk already offered Tiger a spot as Vice Captain at the beginning of the year, but Tiger has made it very clear that he wants to play.