Due to one crazy afternoon, the best New York Yankees seats in the world turned into the best I wish I never had. 
I had the tickets in an envelope for most of the season. They were in a safe place on a counter between our kitchen and dining room where I would normally leave any tickets for future games that my family and I would be going to.
Earlier this season, I had secured four tickets for the New York Yankees game on Aug. 18 against the Blue Jays and it was something I was very much looking forward to.
That was until July 15 when my family's world was turned upside down.
That was the night that I broke my right hip and going to a baseball game was the furthest thing in my mind. As I was lying on the ground in more pain that I could ever imagine, my initial thought, without knowing exactly what had happened, was that I have to be able to walk into my son Bradley's Bar Mitzvah this winter.
Walking into Yankee Stadium never even crossed my mind, especially with tickets that were at the top of the 400 level.
I spent two stints over the better part of three weeks in the hospital recovering from multiple surgeries and while I had made substantial progress with physical therapy and was getting around with a walker, the only way I was going to any type of sporting event was if I had handicap accessible tickets.
On Aug. 4, the day I was released from the hospital, I got right back into the swing of sporting events as I was able to obtain field tickets for my family and I for a New York Lizards lacrosse game which is always a great experience. Then on Sunday, Aug. 12, the Schwartz family made their way to see the Long Island Ducks minor league baseball game in handicap accessible seats.
And then on the way home, it dawned on me. We had those Yankees tickets for Aug. 18. I really didn't have many options so I decided to offer them around but nobody was able to use them. The choices were to find someone to take the tickets or just put a little salt and pepper on them and eat the tickets.
That was until my wife Sheryl suggested that I contact the Yankees to see if there was anything they could do. After thinking about it, I reached out to the Yankees to see if there was any way to upgrade the tickets to a handicap accessible location. After an exchange of a few emails, the Yankees provided an opportunity for my family and I relocate our tickets to a wheelchair accessible location on the field level.
This was our view of the game: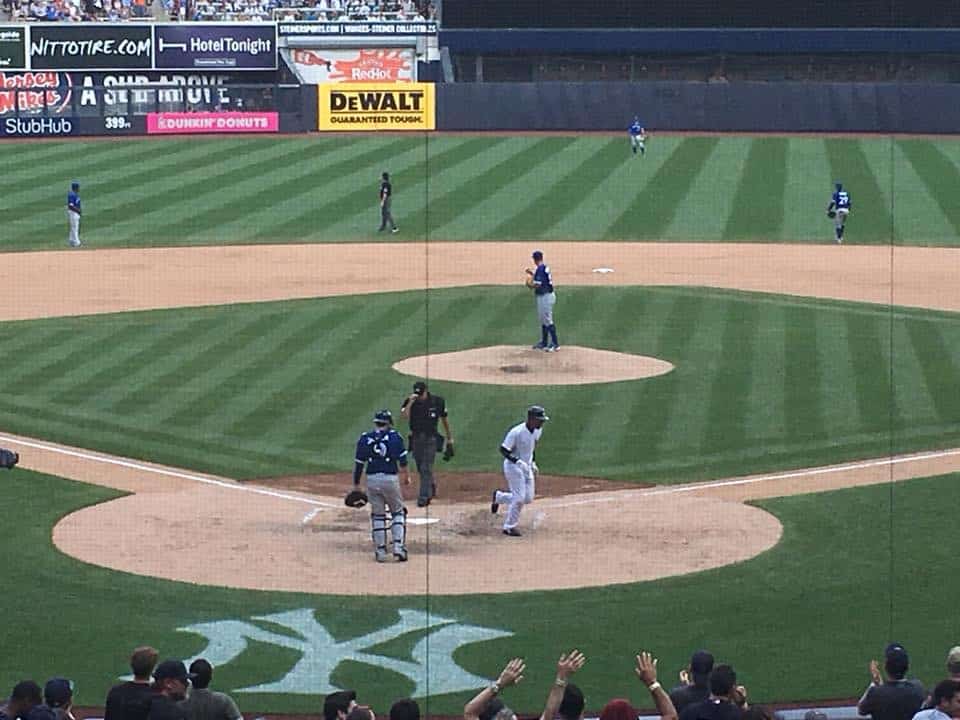 These were, beyond a shadow of a doubt, the best seats I ever had for a Major League Baseball game. I've sat a few rows from the field and dugout at minor league games which is a great experience, but I've never had a view like that for either a Yankees or Mets game.
The ironic thing is that they are the best seats I wish I never had. I would have traded in sitting there for sitting in the upper deck and watching the game from afar because that would have meant that I didn't get hurt. This last month has been a challenge for my family and I but we have been able to persevere and move forward. My wife Sheryl has been a blessing through this whole process caring for me and keeping our boys Bradley and Jared in line. She's the only driver in the house for the near future so she's been schlepping us all over the place.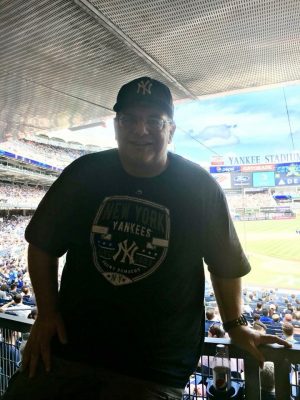 And this past Saturday, she picked me up from work at CBS Sports Radio/WCBS 880 in New York City at noon and drove us all right to Yankee Stadium in time for the first pitch. There would have been no getting through this month and no possibility of getting to that Yankee game without her.
We've still managed to do things as a family like going to sporting events and things like that, but what the Yankees were able to do for me, the only Yankee fan in our house was especially gratifying. There was no way I was leaving that game early because I wanted to soak in the view from those seats.
From a fan's standpoint, the Yankees owe me nothing as I've seen them win seven World Championships in my lifetime. I've been able to see two championships in person and watched on television as they beat the Mets in the 2000 Subway Series. I'd love to see them win a few more, but they owe me nothing.
But what they allowed me to do this past Saturday was a gift in of itself. When I got hurt, it never occurred to me that I would be spending any time at Yankee Stadium the rest of this season. I don't know how the paramedics got me into the ambulance that night so going to a sporting event seemed like something that was a long way away
Thank you to my wife Sheryl for doing the driving and thanks to the New York Yankees for making it possible to see my beloved Bronx Bombers at least one more time this season!
Now, if those seats are available in October …