Feisty outfielder Brett Gardner has had some great times in New York, but it may be time to move on from him.
Every New York Yankees fan worth their weight in gold appreciates Brett Gardner. The outfielder went from being a forgotten prospect to a staple not only in the lineup but in the clubhouse. Once he hangs up his cleats, he will be remembered as such for years to come.
And for all of the good Gardner has done in pinstripes, he still isn't immune to the effects of aging. His down performance in 2017 shows that. With some intriguing prospects down on the farm and a stacked free agent class looming, one thing is clear. While the New York Yankees' future as an AL East contender may be certain, Brett Gardner's future in the Bronx certainly is not.
A Cinderella story
Brett Gardner's path to putting on a New York Yankees uniform is a truly inspiring story. He went from being a walk-on at the College of Charleston to a third-round pick by New York in 2005. In the minors, he established himself as a strong contact hitter with blazing speed on the basepaths.
Gardner hit .291 with 157 stolen bases in the minors, not exactly numbers that screamed potential with the hard-hitting Yankees of the time. This was a team composed of bats known for power. Save for team captain Derek Jeter's contact swing, heavy hitters like Alex Rodriguez, Hideki Matsui, and Jason Giambi among others ruled the roost. Thus, when Gardner was called up in the middle of what turned out to be a forgettable 2008 season for New York, he looked like just that. He was minor league call-up to cover for an injured player. His speed was great, sure, but on the Yankees? He certainly seemed more like a pinch runner than a lineup staple.
Fortunately for Gardner, he managed to have a pair of shining moments that season. On top of scoring the final run in the history of the old Yankee Stadium, he notched a game-winning hit against the Boston Red Sox on July 6.
Now, as 22-year-old me watched this game in my parents' living room, I didn't even give Gardner's future with the team a second thought. I assumed this was his Rudy moment. I figured like another speedy outfield prospect, Bubba Crosby, Gardner would eventually fade into obscurity. Sure, he was fun to watch, but there didn't seem to be a regular place for him on the team going forward.
Silencing critics
Boy, how wrong I and probably tons of other Yankees fans were. Brett Gardner not only kept his speed but also turned into a reliable contact hitter and even improved his power. Don't let his modest career line of .262/.346/.391 fool you. The man is a one-time All-Star and Gold Glove-winning left fielder who has hit double-digit home runs in four of the last five seasons.
Gardner has also emerged as a voice of leadership in the clubhouse, and his excellent fielding is just the cherry on top. He owns a career DRS of 132 and his UZR is a respectable 91.9. His work with the Yankees speaks for itself and management should appreciate everything he's done for the franchise.
Oh, and let's not forget these clutch tidbits from last year:
Which is why as Brett Gardner approaches his 35th birthday in just a few days, reality has to be faced. For all the good he has done New York, it's time for him to ride off into his native South Carolina sunset.
Age catching up
Don't get me wrong. I don't think Brett Gardner and the Yankees should part ways because he is now a bad player. In fact, despite batting just .243 this season, he still does a good job of extending his at-bats and making pitchers work. He currently ranks ninth in the American League with 4.20 pitchers per at-bat, so his pesky nature hasn't abandoned him.
What has abandoned Gardner, however, is his bat speed. His line drive rate has dropped to 16.6% from 22.3% last season. His groundball rate has risen to 50.7% from 44.5% in 2017. His soft, medium, and hard contact percentages, however, have not dramatically changed. This isn't just bad luck on Gardner's end, folks. Though he still has his pesky streak, his speed is starting to abandon him on all ends.
With a $12.5 million option for next season, it's becoming clear picking that up would be a mistake.
The future
And even if Brett Gardner was having a better year at the plate, picking up his option would still be a bad idea. $12.5 million is a lot to pay any player, especially a 35-year-old outfielder whose greatest on-field asset is speed and defense. With few exceptions, speed is the part of a player's game that ages the worst. Just ask Jacoby Ellsbury, whose speed has come at the cost of multiple injuries.
Moreover, the Yankees have a pair of intriguing outfield prospects in both Clint Frazier and Estevan Florial. Frazier is more MLB-ready than Florial and could easily slot into left field in 2020, but he too has dealt with injury problems in his young career. Not only that but what if Gardner comes back next year and Florial tears it up in Spring Training? Fast forward to Gardner's bat speed continuing to hamper him in 2019, with Florial playing out of his mind in the minors. What's Brian Cashman to do?
There is also the upcoming free agent market to consider. Washington Nationals outfielder Bryce Harper is the headliner. His left-handed swing is tailor-made for Yankee Stadium's short porch in right field, and the Yankees have money to spend. If Cashman feels so inclined, he could offer Harper a lucrative contract. At this point, a multi-year investment of at least $300 million in Harper is better than spending $12.5 million for one more year of Brett Gardner. One is at least a former MVP and five-tool player, the other is someone who just isn't worth it despite what he's done for the team.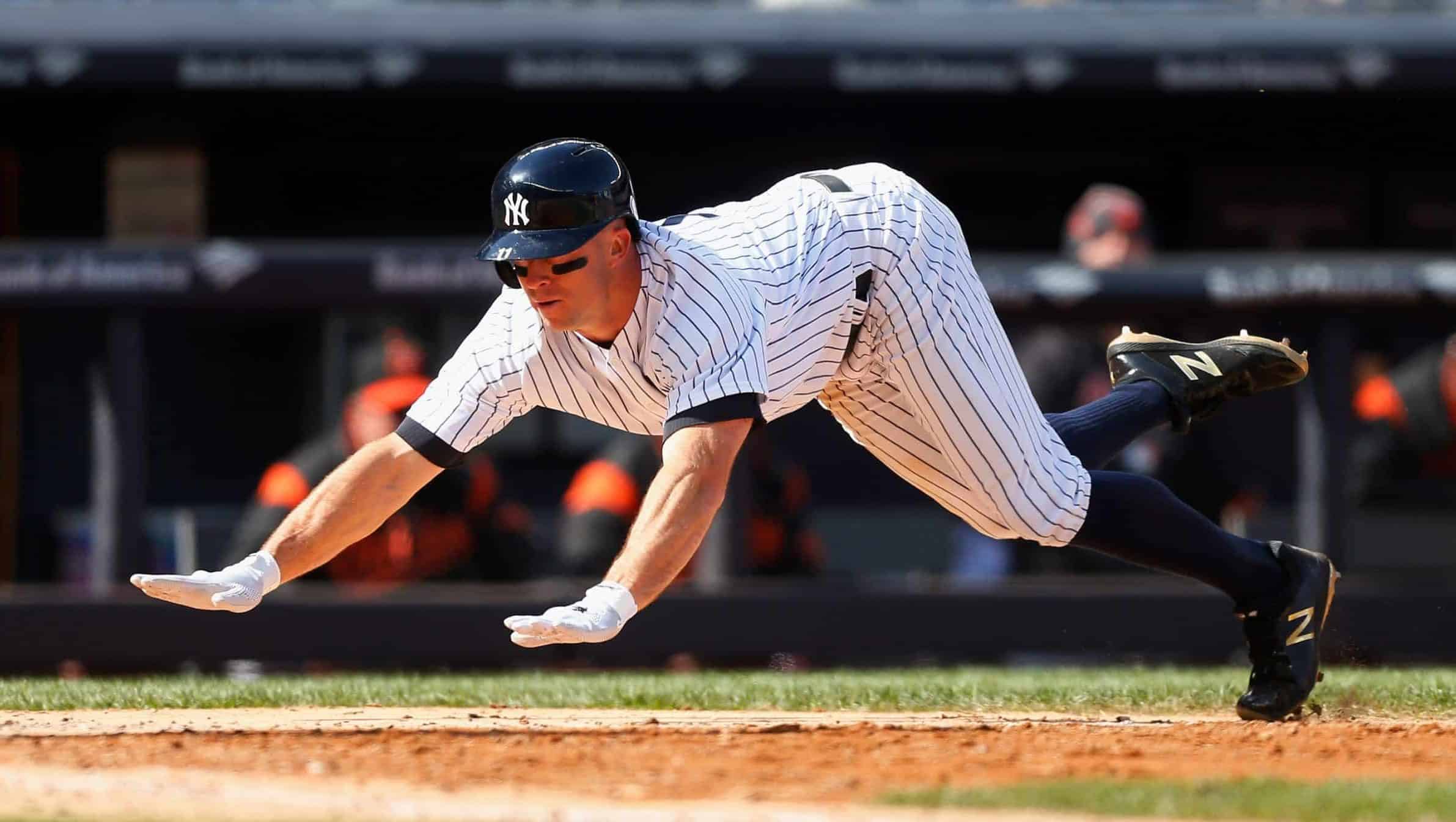 Final thoughts
Look, I've loved Brett Gardner's Yankees tenure. I even bought his T-shirt jersey at one point. Watching him get clutch hits for the team I love the most are memories I'll cherish forever. The man has earned his spot in Yankees history and fans will talk about him for generations to come.
And the sad truth is at some point, fan favorites' fires die out. We saw it happen with Nick Swisher. We saw it happen with Wade Boggs and Bernie Williams. We saw it happen with our own captain and future Hall of Famer, Derek Jeter. It wasn't reflective of how good or bad they were as players. It just got to a point where for all of their strengths, they just weren't what the team needed anymore.
Brett Gardner has sadly reached that point this season. He's still a great defender and leader, but his declining bat that has hit just .206 this month and just .223 since July 1 is not what the Yankees need to win now and for the foreseeable future. $12.5 million is a lot of money to pay someone just to be a voice of leadership despite declining skills. In the case of Brett Gardner, he sadly is not worth that anymore and management should move on accordingly this winter.