Seeking redemption, Tyrod Taylor and Teddy Bridgewater each had strong debuts. But they were victimized through the cruel world of pro quarterbacking.
Professional quarterback is perhaps the one job in the world where you can be one of the 32 best people at your job … and still have people clamoring for your dismissal. It's a profession in which you can lead your employer to the national level yet your boss will bring in your replacement
These are theories that Tyrod Taylor and Teddy Bridgewater, each coming off strong 2018 preseason debuts at MetLife Stadium last week, are experiencing the hard way, as their NFL careers are each at a potential turning point. They're both veterans who have had tasted NFL success, but a sustained diet of victory has been denied to them by factors of which they have varying degrees of control.
On one hand is Taylor, who, at first glance, should represent the quintessential NFL Draft success story. An afterthought on draft day in 2011, despite a relatively solid career at Virginia Tech, Taylor was chosen in sixth round purgatory by Baltimore, where he spent four years backing up Joe Flacco. He got his starting opportunity when the Buffalo Bills gave up on 2013 first rounder EJ Manuel and became perhaps the closest thing the Bills had to a franchise quarterback since the Jim Kelly glory years.
Granted, Taylor's stats weren't eye-popping, especially in today's fantasy football worshipping NFL. But in his 43 starts as a Bills quarterback, Taylor was one thing previous would-be Buffalo saviors weren't: effective. Yet, blessed with a quarterback that was leading their first realistic playoff push since the Clinton administration, the Bills seemed to do anything in their power to make him a scapegoat.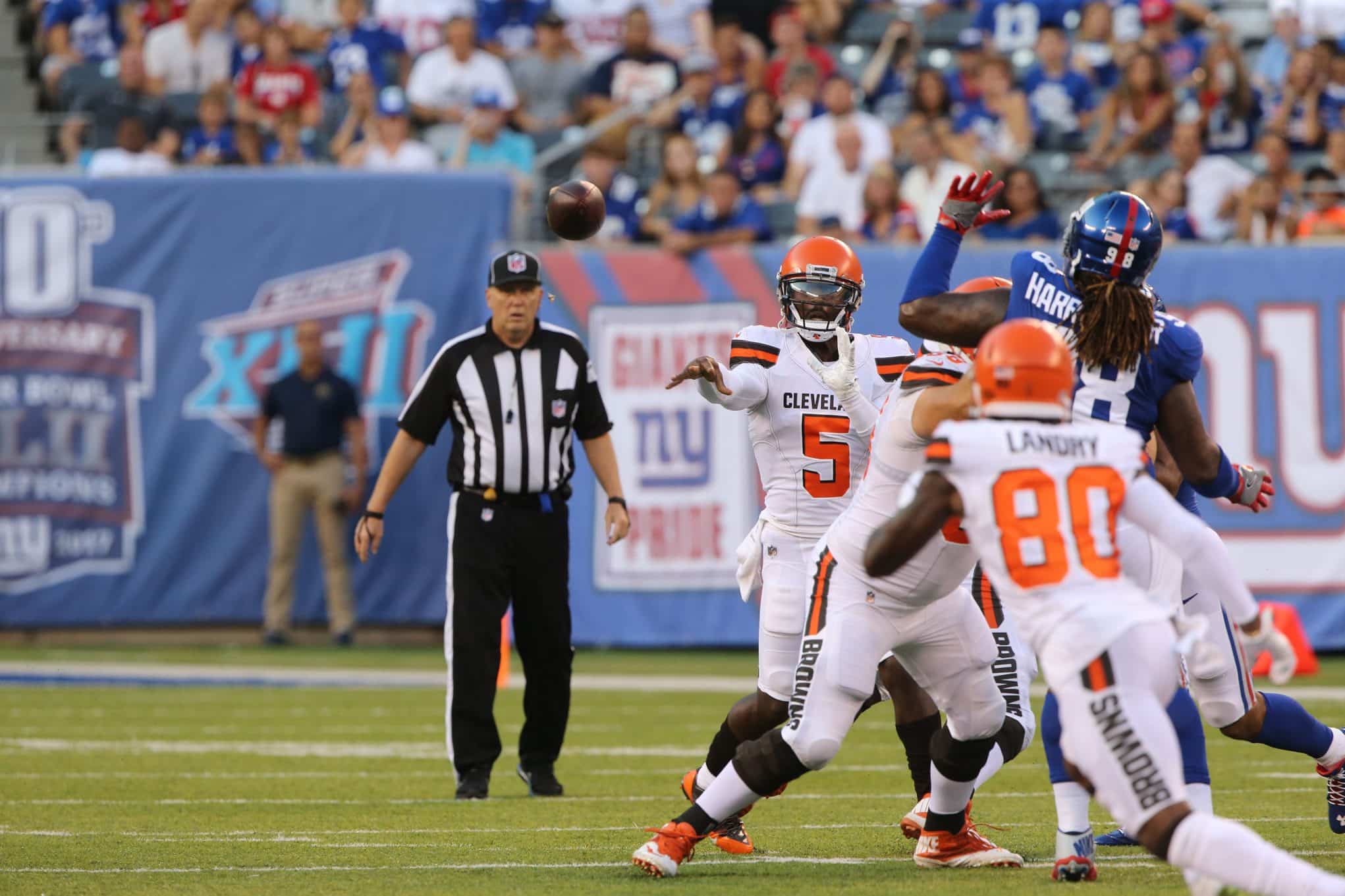 After a September 2016 loss to the Jets, one that saw the Bills score 31 points and put up 393 yards of offense, the team responded by firing offensive coordinator Greg Roman. Last season, with the team at 5-4 and in the thick of the AFC wild-card picture, the team benched him for Nathan Peterman, a fifth-rounder who went on to throw five interceptions on 14 attempts in what became a 54-24 loss to the Chargers. Taylor eventually returned to the starter's role and got the team to their first playoff game since 2000, but after he struggled in the wild-card game against eventual AFC finalist Jacksonville, he was traded to Cleveland in the offseason.
Meanwhile, Bridgewater is trying to avoid a bust label, albeit an unfair one. Drafted with the final pick of 2015's first round, Bridgewater was likewise the new solution to failed throwing savior, replacing Christian Ponder of the Minnesota Vikings. Thrown into an immediate fire after the injury fall of starter Matt Cassel, Bridgewater earned top rookie honors before leading Minnesota to their first division titles in six years in 2015.
A non-contact injury, suffered in the late stages of summer practice, was the beginning of the end of the Bridgewater's Minnesota career. The cancellation of his 2016 season wrote the opening chapters of that story, and the emergence of free agent pickup Case Keenum finished it off, but the Vikings ditched them both to break open the bank for Kirk Cousins. Though Bridgewater was able to enter a home game in garbage time, greeted with cheers from understanding Vikings fans, there's worry from fans and analysts alike that the next hit Bridgewater takes could be his last.
These new uniforms in Cleveland and New York could well become the final ones each one wears. Both the Browns and Jets are each seeking a franchise quarterback solution that has evaded them both for decades, but few truly believe that the unfortunate pair occupies those spots. Each spent a top three draft pick on a highly touted rookie, with Cleveland taking Baker Mayfield first overall, and the Jets taking Sam Darnold two pick later.
The days of letting a touted rookie mature behind an experienced starter are long gone. Mitchell Trubisky, last season's second overall pick from Chicago, was the Bears' full-time by Columbus Day. Deshaun Watson usurped the Houston Texans' starting job by halftime of Week 1. In this modern day society that is run on the concept of instant gratification, it stands to reason that neither Taylor or Bridgewater are long for Cleveland or New York.
The only thing they can do, cliche as it may sound, is control what they can control. Given a chance to do so with the eyes of their respective fanbases on them, each came through in their first chance against an opposing team.
Last Thursday, Taylor got the chance to start the game against a respectable New York Giants defense on the road. The ex-Hokie was literally perfect against the Giants' first unit, his 5-for-5, 98-yard day creating an immaculate 158.3 passer rating. His day concluded with a pass over newly acquired linebacker Alec Ogletree, landing in the arms of tight end David Njoku, who took it the rest of the way to complete a 36-yard score.
Just over 24 hours later, Bridgewater, who needs to prove to both the Jets and potential future employers that he's still able to handle the physicality of an NFL game atmosphere, looked calm, cool, and collected against an Atlanta Falcons unit still playing a good number of its starters. Though Josh McCown got the starting nod, Bridgewater entered in the first quarter, playing into the second frame. For a guy that has thrown two regular-season passes over the past 31 months, Bridgewater showed little signs of rust, methodically leading the Jets down the field. There were fourth-down conversions, 10 points scored, and, perhaps most importantly, chances downfield. Bridgewater's second drive featured two gains of 20+ yards, and each of his pair of trips led to the scoreboard updating. He would end the day 7-for-8 for 85 yards and a score, falling just short of a perfect rating at 150.5.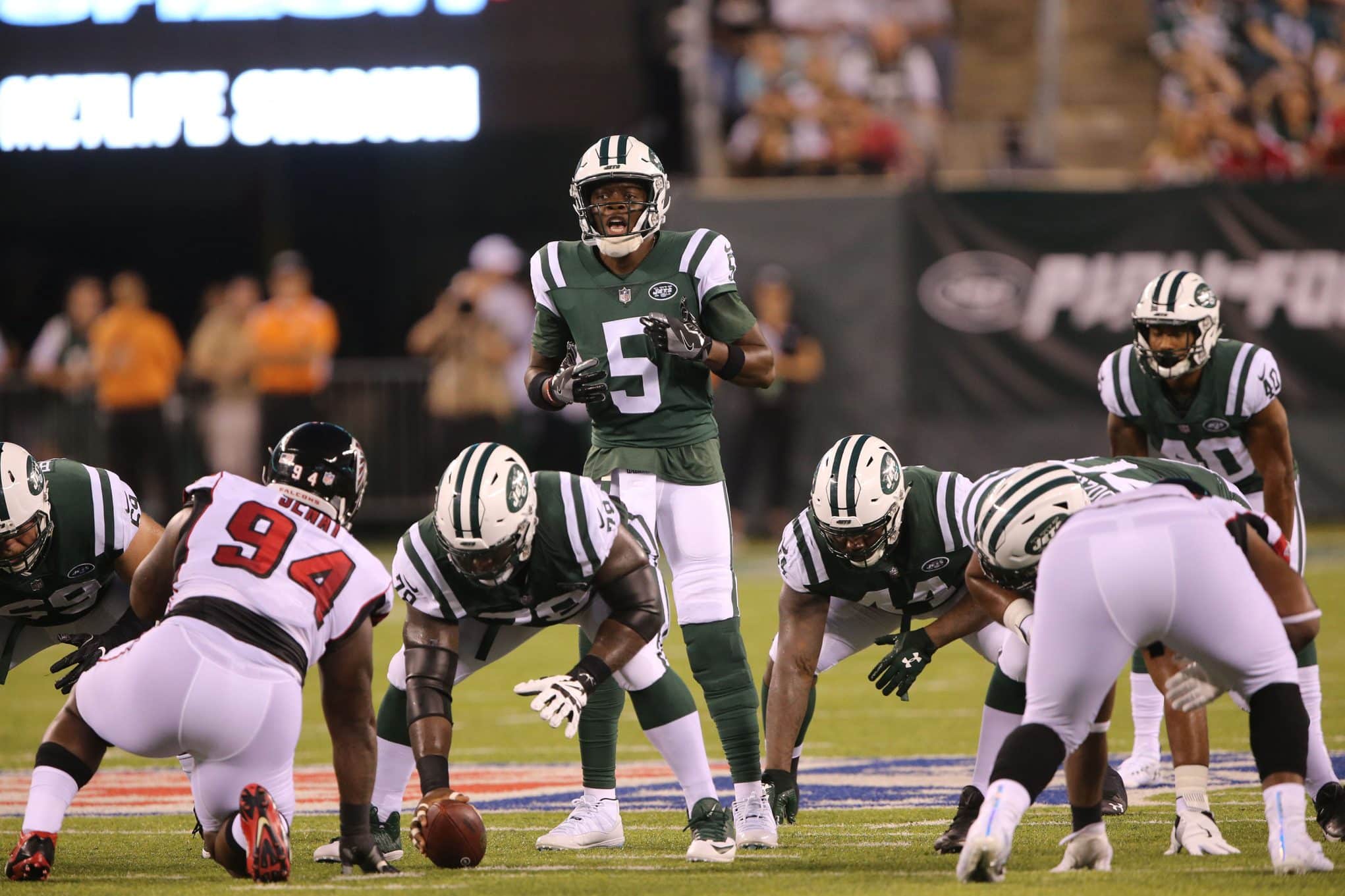 In short, both he and Taylor did their jobs, and did them well, at least putting the NFL on notice in their return to the spotlight. Alas, their antics were lost in the instant gratification of Mayfield and Darnold.
The NFL preseason is a cornucopia of overreaction. Peyton Manning was outdueled by Ryan Leaf in a preseason game in 1998, and people were ready to fit Leaf for Super Bowl rings. But the public's love of football is so deep, they're willing to spend summer nights watching fields full of players whose best-case scenarios regarding football involve the Arena League, Canada, or, perhaps this time next year, the XFL. When a touted prospect hits the field, especially one that provides something resembling hope for a long-suffering franchise, any sign of progress will trigger the most jovial fantasies. It doesn't matter if his competition will be scattered across practice squads in two weeks, a flashy new rookie doing flashy new things will dominate headlines.
Those headlines belonged to Mayfield and Darnold. Entering the game in the second quarter and playing into the fourth, Mayfield became Cleveland's salvation in a heartbeat, scrambling and slinging his way to 212 yards and two touchdowns. Cleveland and its constituents did everything short of replacing the famous LeBron James mural with Mayfield's likeness. Forgotten was Taylor's perfection, giving way to the declarations that Cleveland has finally found its man.
It was enough for The Score's Geoff Mosher to declare "Baker Mayfield should be starting for the Browns", even as Cleveland declared that Taylor would start the Browns' next preseason contest against Buffalo on Friday (7:30 p.m. ET, NFL Network). Browns media mainstay Mary Kay Cabot of Cleveland.com gave "6 reasons Browns fans should be excited" in the wake of Mayfield's unofficial debut. Even Mark Wahlberg boarded the Mayfield hype train, announcing on Instagram that "Cleveland got another star".
Mark Wahlberg is excited about Baker Mayfield pic.twitter.com/2qUWlZuVNp

— Alysha Tsuji (@AlyshaTsuji) August 10, 2018
Despite conservative, if not efficient, numbers from Darnold, completing 13-of-18 passes for 96 yards and a score, New York scribes and pundits immediately christened Darnold the Jets' man of the present and future, Bridgewater's goodwill eliminated. The New York Daily News held back on its "A Star Is Born" headline traditionally bestowed upon to would-be Jets saviors, but instead gave Darnold a new label: "The Jet-Siah". Even Mike Francesa, New York's most polarizing radio host, declared the competition over on Twitter.
Obviously, there's nothing wrong with Mayfield and Darnold doing their jobs, either. No one should deny them the opportunity to kickstart their own NFL careers. But to discount what Taylor and Bridgewater's performances in the process is unfair and unproductive.
Alas, it's part of the unforgiving world of NFL quarterbacking. It's not a new trend, and it's not going away any time soon. The so-called boring, yet effective, Alex Smith, for example, found himself a victim of the phenomenon twice, subbed out for a flashy new thrower in both San Francisco and Kansas City. Two fumbles away from going to the Super Bowl, Smith's concussion in 2012 allowed them to insert Colin Kaepernick, a multi-faceted quarter who could produce from the air and ground. Smith found redemption in Kansas City, but the Chiefs were seduced by the massive numbers of Patrick Mahomes, trading up to take him in the first round of last year's draft, vanquishing Smith to Washington.
The cruel world of NFL quarterbacking appears to be taking two more with them in the form of Taylor and Bridgewater. But in the words of the infamous Michael Corleone: It's not personal, it's strictly business.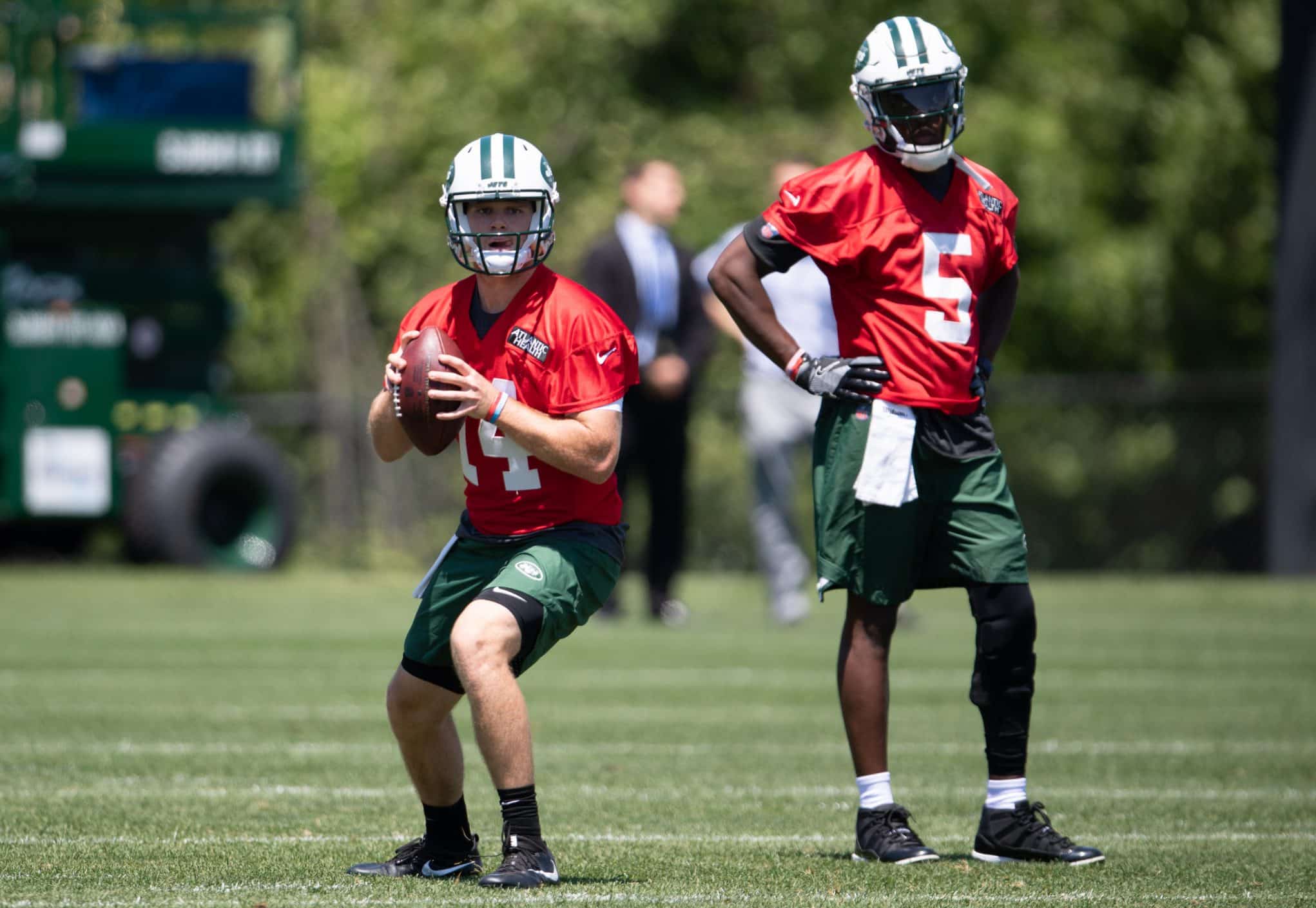 Today's NFL requires not just victories, but victories with style, ones that sell jerseys and make highlight reels. Not every story can feature a Hollywood ending, and that's potentially where Taylor and Bridgewater can find themselves in the near future.
The best part, however, lies in the individual reactions of Taylor and Bridgewater. Competitors all their lives, they've handled these awkward situations with class and gusto, even if it means the potential end of their starting days.
"There's no harder worker on our team than Tyrod," Browns owner Jimmy Haslem remarked to CantonRep.com's Steve Doerschuk. "I knew we were getting a good football player, I didn't understand what a great person we're getting … (Taylor and Mayfield's relationship) takes the pressure off Baker. It allows Baker to develop. The two of them have the right relationship."
"At the end of the day, it's not about Teddy Bridgewater, Sam Darnold, Josh McCown, it's about the New York Jets," Bridgewater said, according to Luis Tirado Jr. of The Jet Press. "All of us have that mindset that we're going to continue to make each other better every day, we're going to lean on each other. At the end of the day, we have the best interest at heart for this team. We're excited about the room that we're in. Talk about three guys who play in the National Football League, it's a unique situation, and I'm glad to be a part of it."
For that reason, even if they don't emerge as Week 1 starters, Taylor and Bridgewater will go down as winners in their NFL careers.
Follow Geoff Magliocchetti on TWITTER