New York Yankees third baseman Miguel Andujar is having an excellent season. This is only the beginning.
Sorry, Gleyber Torres, but Miguel Andujar is the new favorite for AL Rookie of the Year. The 23-year-old New York Yankees third baseman had a strong weekend against the Texas Rangers. A clutch two-run home run in Saturday's 5-3 victory highlighted Andujar's performance.
? #Yankees BACK ON TOP ?

Miguel Andujar bashes a CLUTCH home run the other way to take back the lead for New York.#YANKSonYES LIVE stream:https://t.co/9EHb1RwSXE pic.twitter.com/xjGLeKbaO2

— YES Network (@YESNetwork) August 11, 2018
Granted, Torres may have the higher overall ceiling as a player, but Andujar has been performing much better in the here and now. His level has so far exceeded Torres' that, at season's end, he should be named the American League Rookie of the Year.
The Bare Numbers
Andujar has posted a fine slash line of .293/.326/.506 this season, and his batting average leads all AL rookies. Andujar's 17 homers also rank second among AL rookies, and his 56 RBI lead the way.
Andujar also has an eye-popping 50 extra base hits on the year, 31 of which are doubles. His isolated power (ISO) sits at .216 and ranks 40th among all players. That number may not seem that impressive but consider this. That puts the Dominican youngster ahead of stars like Freddie Freeman and Justin Upton, plus many others.
The deeper numbers only build Andujar's case for the trophy. His wRC+ sits at a fine 126. His hard contact rate is at 36%. He just has a knack for getting the good part of the bat on the ball despite a wonky-looking swing.
Throw in that Andujar only became a fixture in the Yankee lineup after an injury to Brandon Drury, and his case is only strengthened. This is a player who was only meant to be a temporary stopgap at the hot corner, at least this year, and now he's helping carry the team in Aaron Judge's absence. No disrespect to Torres, but Miguel Andujar is just the better rookie right now.
Torres' Downward Trend
Speaking of Torres, don't think Andujar's rise takes anything away from the 21-year-old's first MLB season. Ranked a Top 5 prospect in MLB at the start of the season, Torres debuted on April 22 and hit .323 for the rest of the month. He continued his upward trajectory when he hit .325 with nine home runs in May.
Torres came back to Earth with a .245 average in June, and then a hip injury sent him to the disabled list in early July. Since his return on July 25, he has not looked like himself. He has three homers with 10 RBI since then but is batting just .163. In August alone, he's batting an atrocious .146. He has 18 strikeouts to just 10 walks since returning.
Granted, Torres is still hitting .265 with 18 homers and 52 RBI on the year, but his slump has been just as discouraging as his team's second-half struggles. To get back in the AL Rookie of the Year race, not to mention boost his team, he has to turn things around soon.
Second Half Success
Andujar, on the other hand, has been playing out of his mind in the second half. Entering today's game, he was batting .363 with five homers and 16 RBI in his last 21 games. He has hit .318 since July 1. He is batting .326 in August after hitting .330 last month. The man is heating up at the perfect time as New York looks to stay competitive in the AL East race.
Sure, Andujar is a weak defensive third baseman with a DRS of -15 and a UZR of -9.2. That's valid, especially in this new age of analytics. But the numbers don't lie, Andujar is simply the best rookie in the American League right now.
Ready for the best part? He's only going to get better.
The future
On top of his defense, the weakest part of Miguel Andujar's game is his ugly swing. He will swing and turn the bat at the strangest-looking angles just to get the meatiest part of the barrel on the ball. It's worked for him throughout 2018, but teams will eventually become wise to that and adjustments will have to be made on Andujar's end. His strikeout rate currently sits at 18% compared to a walk rate of 4.3%, so the risk of a big dropoff does exist.
Consider this though. Andujar's swing and ability to hit balls in the weirdest way is very reminiscent of newly enshrined Hall of Famer Vladimir Guerrero. ESPN currently has Andujar on pace for 24 home runs and 78 RBI, both highly respectable totals for a rookie.
Now, imagine if Andujar works on his swing ever so slightly in the offseason. If he can keep his gap power and level his swing to where he has 30 home run potential, then he goes from being a poor man's Guerrero to possibly being in the same league. Considering Guerrero was a .318 career hitter with 449 homers, Andujar would be in phenomenal company.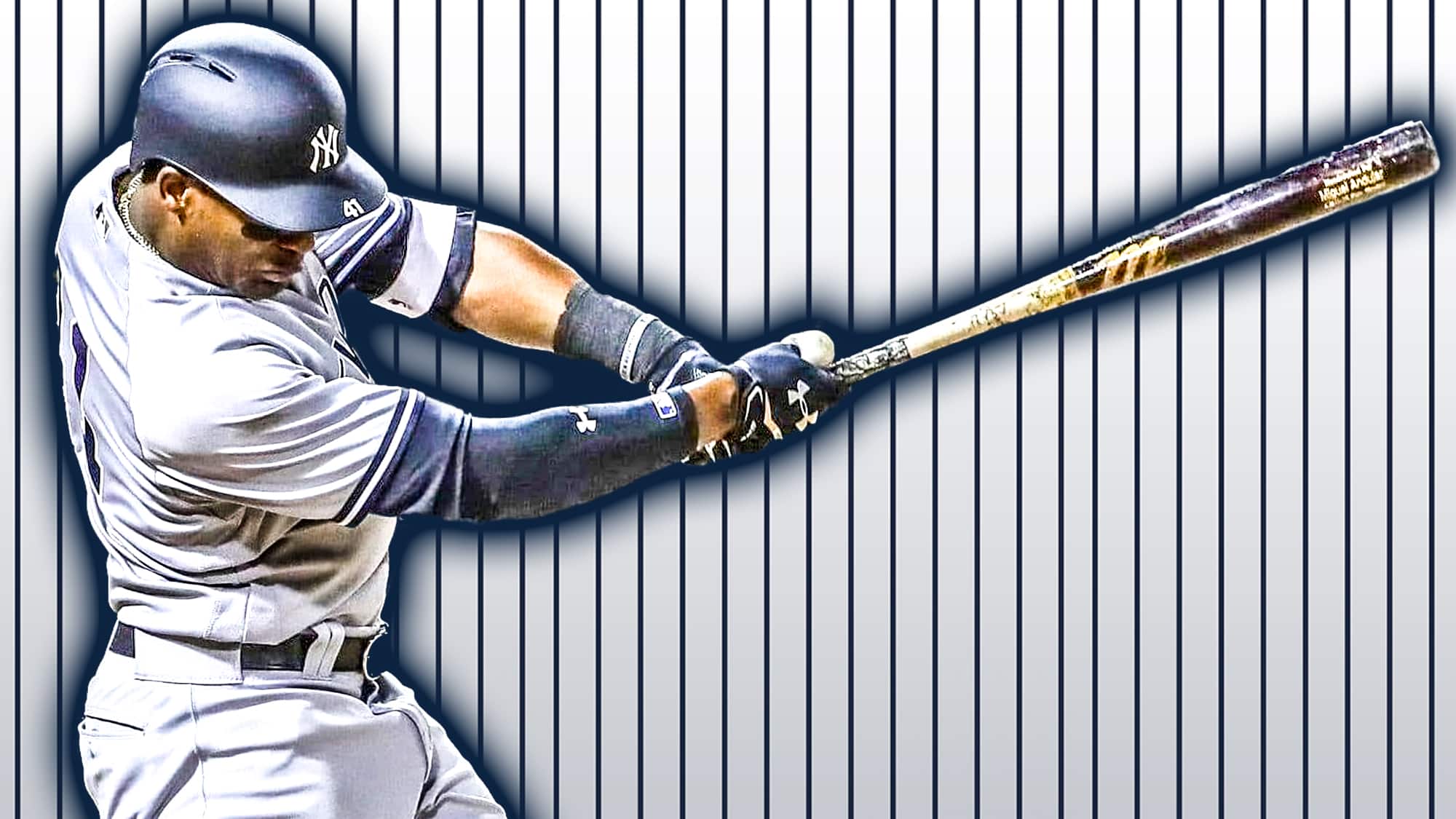 Final Thoughts
Don't get me wrong. Gleyber Torres is the better prospect than Miguel Andujar, hands down. He can play multiple positions, is a better-rounded hitter, and the Yankees are hyping him up as a future featured member of its young core. Not only that, but he is just a hot streak away from getting right back into the AL Rookie of the Year conversation. His power this year has exceeded expectations, and he deserves tons of credit for adjusting accordingly.
But Andujar has proven to be a special player in his own right. This is someone who hit .315 with a career-best 16 home runs and 82 RBI across Double and Triple-A last year, so the Yankees always had faith in his bat. He had a great performance in the first half of Spring Training this year and were it not for Drury, he probably would have been the team's Opening Day third baseman.
Will Torres shake off the slump and return to being a dynamic and feared hitter at some point? Of course. Every youngster goes through growing pains and he is no exception.
Andujar, on the other hand, has not slowed down. The low point of his season so far, at least from a hitting standpoint, was batting .264 in June. Unlike Torres, who has been overcompensating as of late and is just a great all-around hitter, Andujar's goal is simple. Put himself in a position to score or drive in runs.
Miguel Andujar is now playing his best baseball of the season and is the odds-on favorite for Rookie of the Year. If he keeps up his current pace and improves with time, don't be shocked to hear him in the MVP conversation in a couple of years.