It's finally his time to shine! After years on a roller coaster in the Bronx, Chasen Shreve is finally working towards earning respect for his work out of the 'pen.
For the past two years, there has only been one reliable lefty arm in the bullpen for the New York Yankees bullpen. Aroldis Chapman owned that role while Chasen Shreve spent time shuffling between Triple-A and the majors for a good part of his career.
If you dare go on Twitter, fans were constantly at Shreve's throat, blaming him for anything and everything. He turned into a primary scapegoat for the bullpen, especially with regular struggles earlier this season.
Aaron Boone gave him confidence and gave him opportunities to prove his worth and Saturday afternoon against the Mets, fans started to see him in a new light. However, those who haven't been truly paying attention have been missing out on just how effective he can be during this time frame.
For a while, Shreve was used as a last resort, bringing him in during blowout games where the Yankees would have to literally implode in order to have him cost them the game. Now, in the month of July, Shreve has made an incredible impact in his seven games. This is the type of momentum he needs to carry forward in order to win over the hearts of the Yankee faithful.
Besides Shreve's closing performance against the Mets on Saturday, he also has only allowed one run in his limited innings of work. And no, these games weren't just against lackluster teams. He shut down the Atlanta Braves in the beginning of the month with 0.2 strong innings of work and one strikeout. He also shut down the Cleveland Indians for two innings back on July 13, helping keep the Bombers in the game.
Shreve seems to be more in line with Stephen Drew when it comes to the fanbase than Aaron Judge and it has a lot to do with his inconsistency. Shreve has been an enigma for a while but it seems like he might be trending in the right direction.
According to Brooksbaseball.net, Shreve's month of July has shown an uptick in his usage of his four-seam fastball at 62 percent of the time and his slider at 8.4 percent of the time. He's also cut down on the use of his splitter.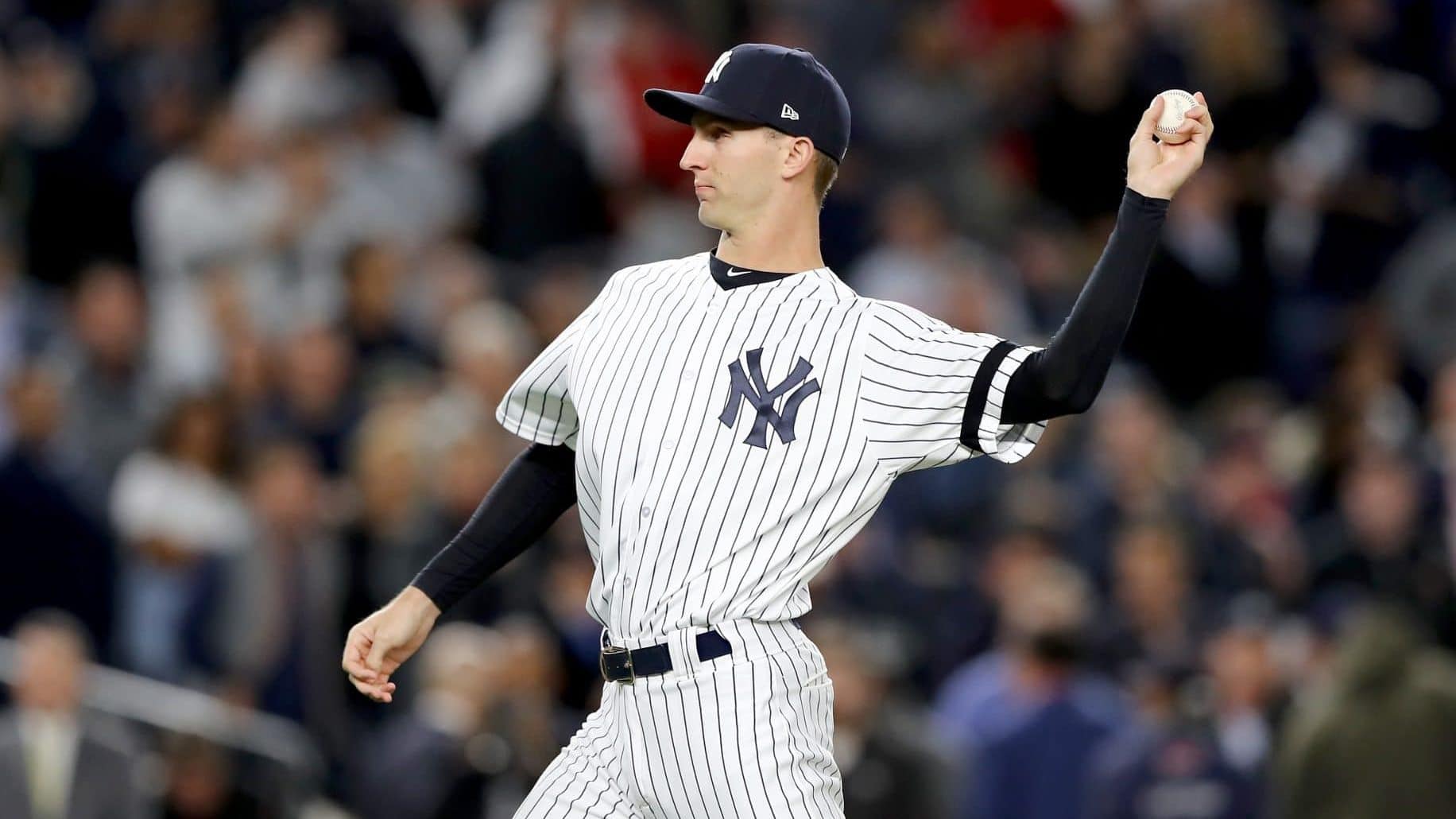 While that means nothing on the surface, he's also generating more whiffs with each of these pitches as he's thrown them this month. One month may be a tiny sample but it also gives us hope into the potential of what Shreve can do when he's on point. And this month, he's done nothing but prove that he has that potential to perform when called upon.
In his career, Shreve has never been given a full season of work to play around with. The most games he's pitched in the majors were 59 games back in 2015, his best season with the Bombers so far. So far this year, the numbers aren't the greatest but he's rising back through Boone's ranks and seems to be the strongest he's been in a while.
July is drawing to a close and Shreve's August numbers are not the best. However, if he continues to follow the patterns he's been exhibiting this month, that could change.
The Yankees need another reliable lefty in the 'pen and with Chapman going down with injury, the time is now for Chasen Shreve to figure it out. He's got the fans on his side at the moment. Time to use that as extra motivation to get this ship right.
July Chasen Shreve is a gift. What will the months of August, September and October bring?