Toronto Blue Jays lefty J.A. Happ isn't as solid an acquisition for the New York Yankees as one may think he is.
Jon Heyman of Fancred reported yesterday that the New York Yankees were the "main player" for Toronto Blue Jays lefty starter J.A. Happ. Simply put, though the team could use an extra arm for the playoff push after the July 31 deadline, the Bronx Bombers acquiring him is actually a terrible idea.
Don't get me wrong. The 35-year-old Happ has pitched well for Toronto in 2018, posting a respectable 10-4 record and 1.11 WHIP on the year. Happ's ERA is 4.03, but that can be attributed to playing in the hard-hitting AL East with both the Yankees and Boston Red Sox. Happ also has 110 strikeouts in 102.2 innings, and opposing hitters are batting just .223 against him. On the whole, he has had a fine season despite Toronto's known struggles.
Oh, and let's not forget Happ went 20-4 for Toronto in 2016 and finished sixth in AL Cy Young voting, so it's not as though the Yankees should avoid him because he's an awful pitcher.
Rather, the Yankees should avoid trading for J.A. Happ because his metrics point to him struggling mightily in Yankee Stadium, which won't do since the point of trading for him would be to provide balance to the rotation ahead of the playoffs.
Happ + Yankee Stadium = trouble
Looking at Happ's pitching metrics, there are a few distinct statistics that suggest he could have a big problem at Yankee Stadium. The first is his groundball rate (GB%), which currently sits at 44.4%. Granted, that is above his career mark of 40.4%, but he still ranks 48th in MLB in ground balls allowed. Happ also isn't exactly known for his ability to get hitters out via the ground ball, and that will be a problem in hitter-friendly Yankee Stadium.
That brings the conversation to the next Happ statistic that could work against him in the Bronx, his fly ball rate (FB%). Happ's FB% in 2016 was 33.7%, well below his career mark of 39.4%. In 2018, however, that rate has spiked up to 40.7%. It is the highest FB% Happ has posted since the first full season of his first stint with Toronto back in 2013. This probably accounts for his small increase in hard contact allowed this year, up to 28.9% from 26.7% in 2017.
Finally, from a sabermetric standpoint, the New York Yankees should not acquire J.A. Happ from the Toronto Blue Jays because he uses his fastball too much. Per FanGraphs, he throws that pitch 73.6% of the time at an average velocity of 91.7 miles per hour. Given how much of a hitter's park Yankee Stadium is with the short porch in right field and only 318 feet down the left field line, his over-reliance on his fastball could prove to be his undoing in pinstripes. Oh, and let's not forget how the Yankees have famously moved away from fastball use in 2018, as Joel Sherman of The New York Post pointed out in May.
History repeating itself
Granted, the good news for the Yankees is that if a trade for Happ did happen, GM Brian Cashman is smart enough that he would surely give up no more than some low-level prospects. After all, Happ is 35 years old and would only be a rental, so New York won't break the bank to land him.
However, another thing to consider is that the Yankees have many times before traded for highly touted pitchers that just couldn't handle playing in New York. Fans are witnessing it right now with Sonny Gray, who is 2-3 with an 8.25 ERA in the Bronx this year compared to 3-3 with a 3.28 ERA on the road. Yes, Cashman did a good job of not giving up too much for Gray, and perhaps the scrappy righty could be the centerpiece of a deal for Happ, but he wants to avoid making the same mistake again.
Also, let's not forget the 2004 MLB Trade Deadline, when Cashman traded struggling Cuban righty Jose Contreras to the Chicago White Sox for another struggling right-hander in Esteban Loaiza. The thinking was the struggling Loaiza, who had won 21 games for Chicago the year before, could turn things around on a Yankees team looking to win its second consecutive AL Pennant.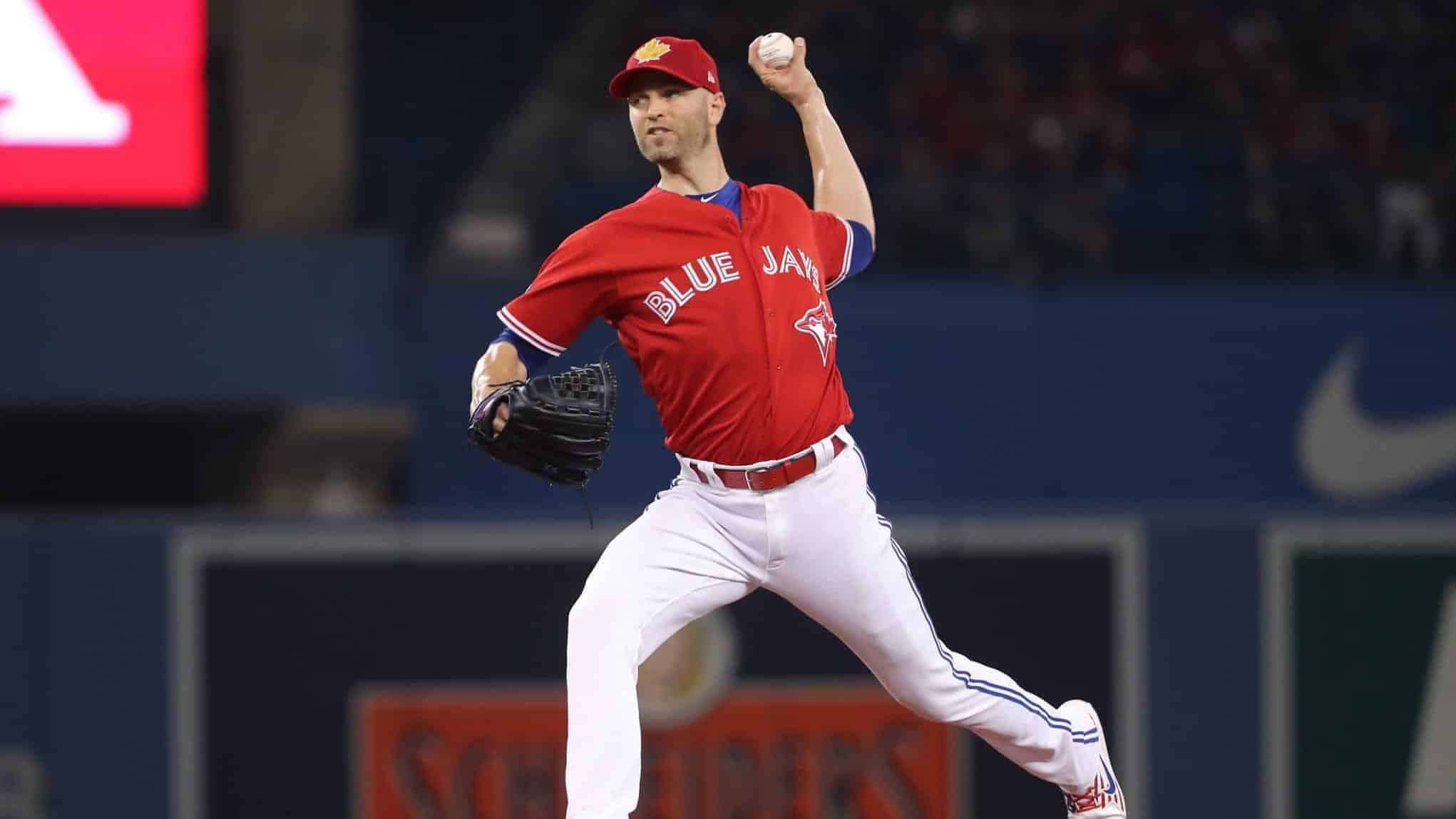 As fans remember all too well, the exact opposite happened. Loaiza went 1-2 with a horrific 8.50 ERA in 10 games (six starts) for the Yankees and took the loss in Game 5 of the ALCS, during which New York blew a 3-0 series lead. Contreras, on the other hand, became an integral member of Chicago's rotation and won a World Series the following year.
And what does Loaiza have to do with Happ in this situation? Well, just like Happ has this year, Loaiza's 2004 season saw him experience a jump in FB%, from 31.3% in 2003 to 39.4% the following year, and that includes time with both Chicago and New York. Loaiza's hard contact allowed also jumped to 29.9% from 22.7%, though he only threw his fastball 51.9% of the time in 2004.
Final thoughts
Despite all of the numbers that show why Happ could wind up being an awful fit for the Yankees, there is one key reason the team should not trade for him and that is a simple truth that they don't really need him! New York currently ranks second in all MLB with a staff ERA of 3.40, trailing only the freakishly good Houston Astros and their 2.85 team ERA.
Luis Severino is the ace of the staff, CC Sabathia is continuing to pitch at a high level, and Masahiro Tanaka had not recorded a loss since April 17 prior to going on the DL with hamstring strains. Guys like Gray and Domingo German have to right their respective ships eventually and even if they don't, guys like Jonathan "Johnny Lasagna" Loaisiga and the deepest bullpen on the planet can help carry the load.
The Yankees don't need J.A. Happ, and he certainly doesn't need to risk tanking his value in Yankee Stadium ahead of free agency.