Luis Severino's career with the New York Yankees was not always this bright and the Dominican flamethrower is quietly one of baseball's best.
The loud pop of the catcher's mitt belies the nice and easy delivery of Luis Severino. Severino makes 98-99 mph fastballs look effortless even in the seventh or eighth inning. Matched with a diving 90 mph slider and much improved but still, a work-in-progress changeup, Severino's arsenal is amongst the best in baseball. But where exactly does the 24-year-old ace rank amongst the game's elite pitchers? Is he the best pitcher in baseball?
Make no mistake, Severino is the Yankees' ace. In 48 starts since the beginning of the 2017 season, the Dominican flamethrower is 26-8 with a 2.54 ERA. In 304.3 innings he's yielded 231 hits, struck out 362 batters who've hit for a paltry .205 batting average against him and he possesses a 1.00 WHIP. Eye-popping numbers, no doubt. The only blemish on Severino's record over this period has been his postseason performances.
In last year's Wild Card game against the Minnesota Twins, Severino only pitched a third of an inning and yielded three runs before he was pulled. He pitched well against Cleveland in the Division series (7 IP, 3 ER, 4 H, 9 SO) and so-so against Houston in the LCS (8.2 IP, 4 ER, 5H, 3 SO). Overall not terrible but not what a team wants from their ace come the Fall. Given his age, the Yankees expect Severino to flip the October monkey off his back and be his usual dominant self as he matures.
Let's dive into some metrics. Below are some top 10 tables sorted from MLB.com which show where Severino slots amongst all pitchers thus far in 2018 as of June 28: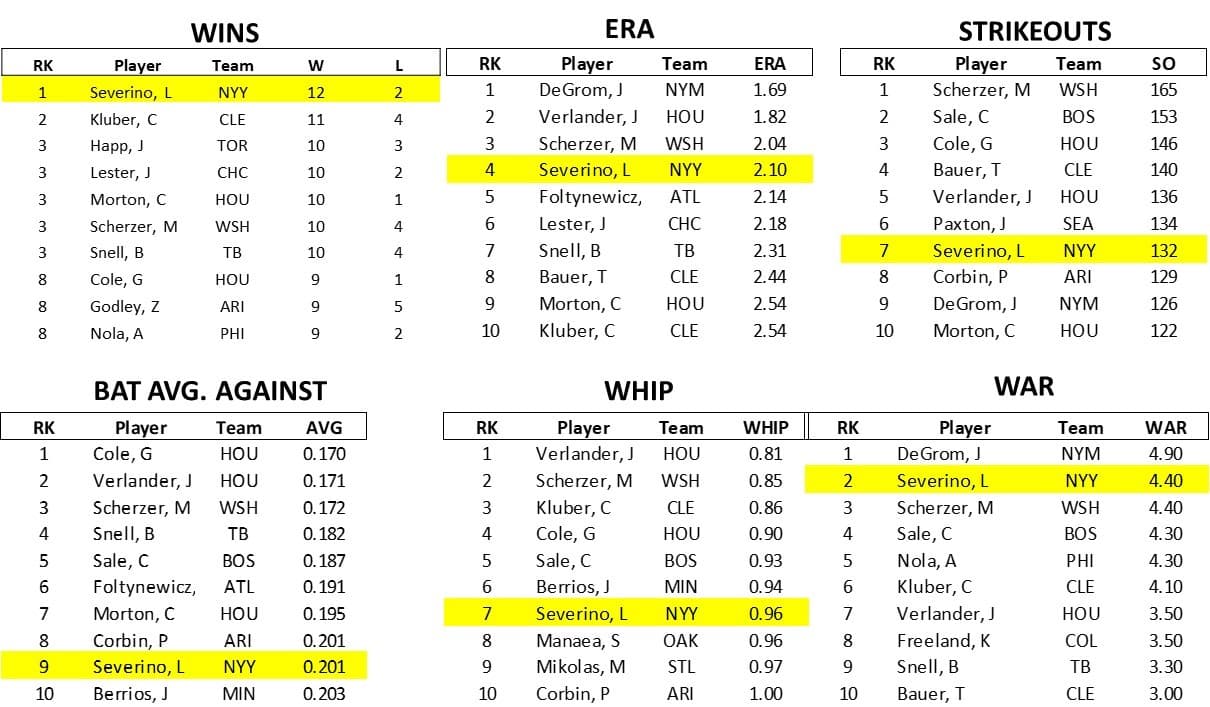 As you can see, Severino leads only in wins, which is a more traditional stat reviled by the sabermetric community. The only pitchers that place above him in all categories but WAR (wins above replacement) are ex-Tigers, Justin Verlander and Max Scherzer.
WAR for pitchers is derived based on various sabermetrics including fielding, park adjustment, dynamic wins, etc. It attempts to estimate a player's total value relative to a free available player, such as a minor league free agent. Essentially, it is the number of wins a player provides his team above, or sometimes below, a generic replacement player. Severino places second here only to Jacob deGrom.
Across all the tables except wins, Scherzer and Verlander consistently are amongst the top five—I'll spare Tigers' fans any stupid comments. So, from a statistical standpoint, Severino has not been THE best so far this season. But with still more than half a season left to play, these stats will likely look fairly, if not very, different by the end of the season.
However, at 24-years old, Severino is the only pitcher under age 25 to place in the top 10 across all the categories above. In terms of promise or building the staff of a team around a pitcher, you can't do much better than Severino.
Yet somehow, in the media capital of the world, Luis Severino is not yet a superstar. Amongst teammates like Aaron Judge, Gleyber Torres, Giancarlo Stanton, Gary Sanchez and Didi Gregorius, Severino flies under the radar. It's not that his electrifying stuff goes unnoticed, but today's game and certainly today's Yankees are all about the long ball. Real fans know great pitching beats great hitting almost every time. But what arouses casual fans and dominates the highlight reels are home run distances and exit velocities.
Another factor keeping Severino somewhat inconspicuous is his pleasant, non-wave making demeanor. He does his work, he cheers on his teammates and shuts down opposing offenses every fifth day, period. No back-page drama or Twitter storms. Just smiles on his off days and pure nastiness on his pitching days.
Interestingly, Severino's mentor and idol is someone well known to Yankee fans, Pedro Martinez. Growing up in the Dominican Republic in the 90s and dreaming of a better life as a baseball player in the U.S., Severino naturally idolized fellow Dominican Pedro, who was at the height of his career in Boston. Severino keeps Pedro's baseball card in his locker and credits him with adjusting his mechanics.
Perhaps as part of his penance for throwing 72-year-old coach Don Zimmer to the ground in the 2003 ALCS brawl between his Red Sox and the Yankees, the baseball gods made Pedro help Severino? Not that this will help Red Sox fans rationalize it any better when they face a fire-breathing Severino.
Regardless of statistical rankings, it's safe to say the NY Yankees would not trade Luis Severino for anyone. Both on and off the field he's been everything they could possibly dream of and more.