New England Patriots QB Tom Brady hinted at when he will retire with a comment on an ESPN Instagram post Monday night.
Now we can confirm Tom Brady won't be retiring for at least a little while.
An ESPN Instagram post on Sunday night showed Brady's response to a retirement question in an interview with Oprah Winfrey. "I think about it more now than I used to," he said. "I think I'm seeing that there's definitely an end coming, soon rather than later."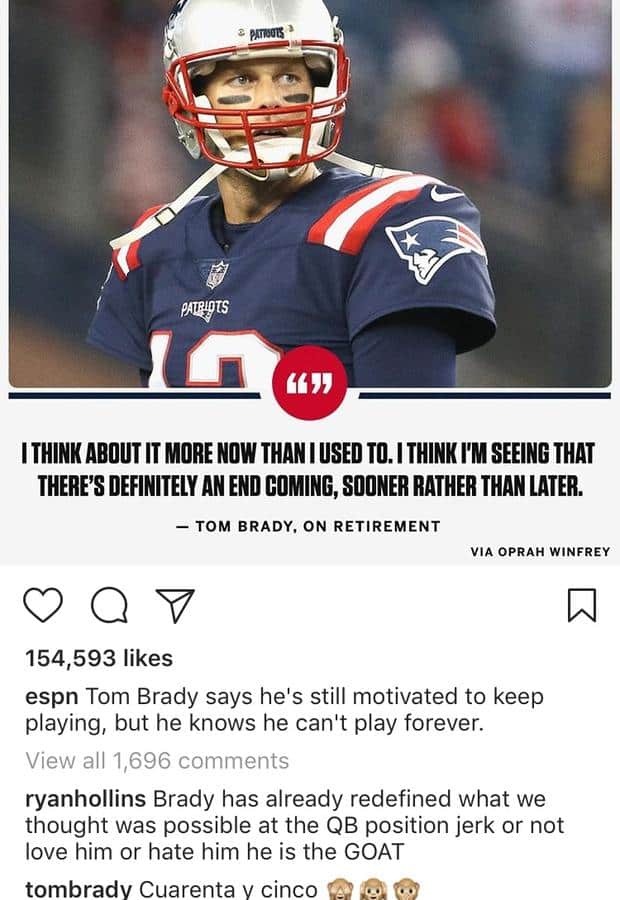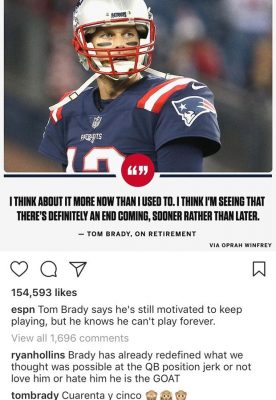 More than a day after the picture was posted, the five-time Super Bowl-winning quarterback took to the comments. Brady posted the comment "Cuarenta y cinco," which translates to "45" in Spanish. Many now believe this is a cryptic response for the exact age Brady will hang it up.
Brady is now 40-years-old and will be 41 by the time this upcoming season begins. Meaning he believes he has another five seasons before it calls it quits.
This isn't the first time Brady has mentioned this certain time-frame either. In July 2017, Sports Illustrated's Greg Bishop reported that Brady "plans to play until age 45 and isn't ruling out playing at 50."
With the performance the long-time New England quarterback has given us in most recent years, at least five more seasons might seem very possible. He won his third MVP of his career this past season, at 40 years old. He's also taken the Patriots to the Super Bowl three of the last four seasons, winning two in the process.
Brady is still very much in the prime of his career, regardless of his age. And with the confidence he has to say it on social media shows just how prepared he is to make it happen.
It will be exciting to see if the dominance in New England continues for much of the next decade.