Dustin Johnson is red-hot after Round 2 while heading into moving day at the 2018 U.S. Open at Shinnecock Hills.
Dustin Johnson, the man of few emotions navigated himself across the tenacious Shinnecock Hills Golf Course on Friday morning with ease while others still could not figure out the ups and downs of the South Hampton "beast."
DJ holds the solo lead coming into the weekend after shooting a 67 (-3) in round two. Johnson is four under on the tournament and is the only player in the field to be in red figures.
But what makes DJ so good this week?
Other than the fact that he drives the ball a mile, DJ is in total control of all parts of his game this week and the numbers are certainly showing.
Through his first two rounds of the tournament, Johnson has only missed six fairways which is key at Shinnecock if you want to get a decent look at the pin on your approach shot. And with Dustin Johnson's length, it's normally a short iron into this tight greens.
Also, DJ is having stress free putts when 10 of his 14 par putts have been from five feet or less.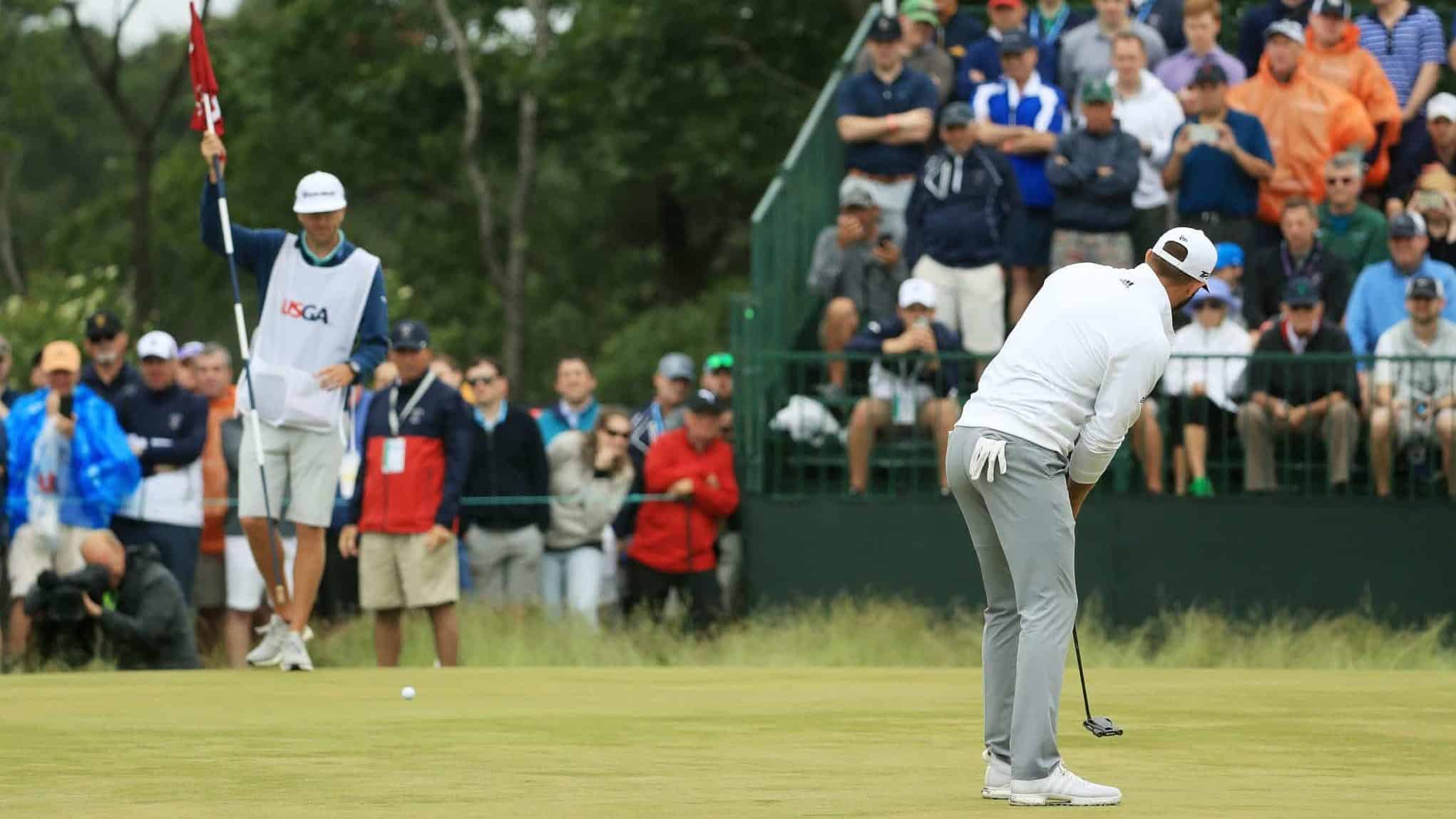 DJ heads into moving day with a four-shot advantage over Scott Piercy (Even) and Charley Hoffman (Even) and looks to keep putting up red numbers as the weekend goes on.
Even though Dustin Johnson is tearing apart Shinnecock Hills, anything can happen in the U.S. Open, especially come moving day.
Brooks Koepka, the 2017 U.S. Open Champion, and Tommy Fleetwood, both shot the low scores of the day (-4), bringing both of them at +1 for the tournament and in clear contention. They are tied along with a few other major champions including Justing Rose and Henrick Stenson, all of whom can make a push towards DJ.
But wait a second, "Where is Tiger Woods in all of this …?"
Well, to answer that Tiger (+10) is somewhere on his yacht heading home along with some other notable superstars such as Jordan Spieth (+9), Rory McIlroy (+10), Jason Day (+12) and Bubba Watson (+11) as they all failed to make the cut. Shinnecock Hills did not sit well in their stomachs and they will watch the last two days of the tournament at home.
As the cliche saying goes, it's not over till its over, is 100 percent true when talking about the U.S. Open. We have seen players choke under pressure on the weekend and seen miraculous comebacks from players who never give up.
Moving day starts on Saturday. It's anyone's game from here.