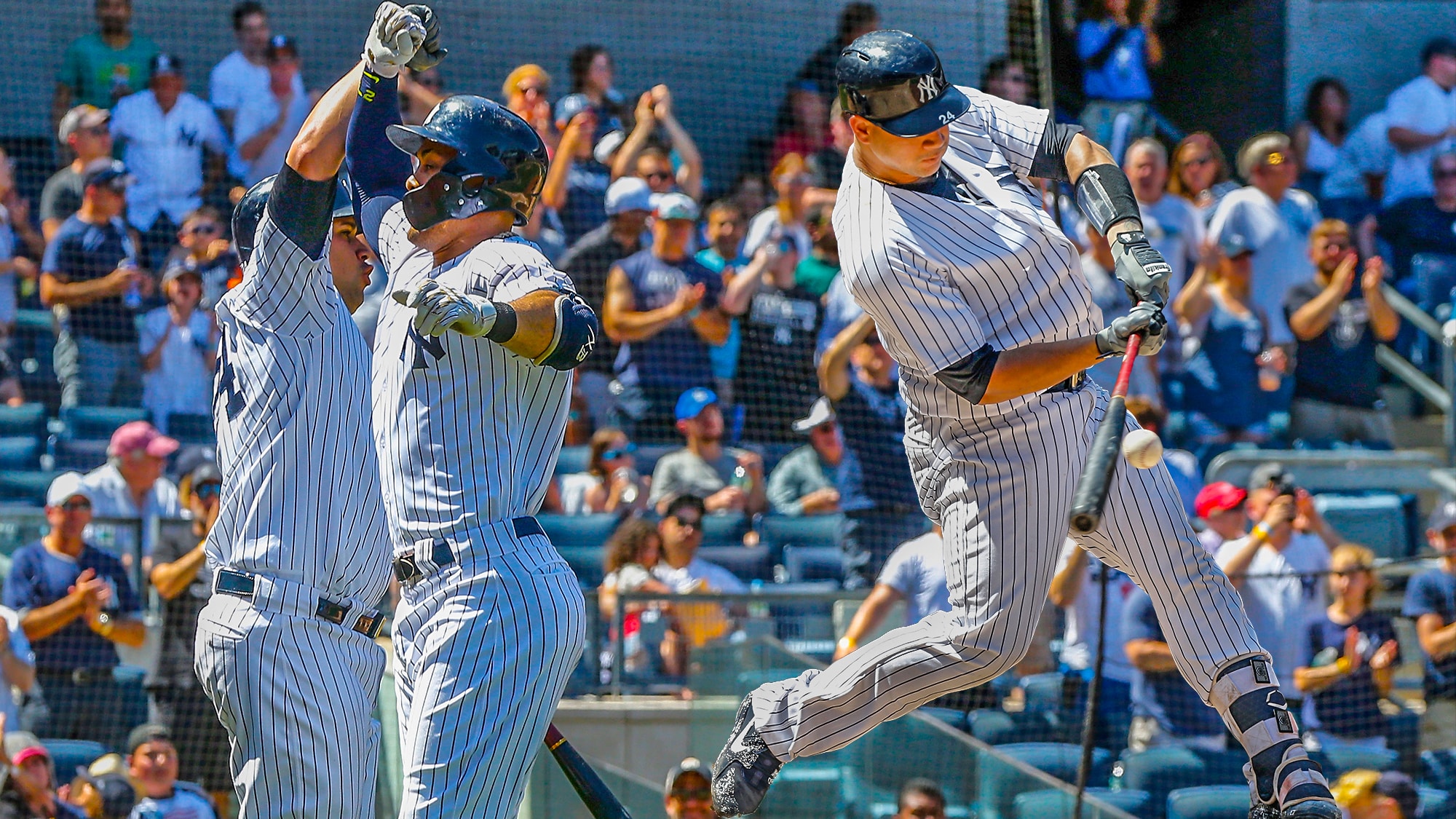 All is right in the world when Gary Sanchez and Giancarlo Stanton hit home runs for the New York Yankees. Today, they did it back-to-back.
For the longest time, New York Yankee fans were worried about the power (or lack of) coming from Giancarlo Stanton and Gary Sanchez.
Stanton came up to the plate with the Yankees up 2-0 over the Tampa Bay Rays. He would take a 2-2 breaking ball and absolutely destroy it into the seats in left field.
Buckle up, baseball. pic.twitter.com/U9fMTyWvcA

— New York Yankees (@Yankees) June 16, 2018
The exit velocity on Stanton's home run was relatively low, for Stanton, at 104 mph off the bat, while traveling 403 feet. It was his 16th home run of the season and his first since June 8 against the Mets.
But, perhaps the more important home run for the Yankees came to the next batter, Gary Sanchez.
FIRST STANTON.

NOW SANCHEZ.

? #YANKSonYES
? https://t.co/J0tSSvgLER pic.twitter.com/RUsMs5H8Dy

— YES Network (@YESNetwork) June 16, 2018
Friday night, Sanchez finally broke his hitless streak delivering a three-run double. Saturday afternoon, Sanchez went back to doing what he does best…hitting long home runs.
The home run was Sanchez's 13th of the season, his first since May 19 when he hit two against the Kansas City Royals. What's more impressive, is that he hit to center field. During this slump, the 25-year-old slugger seemed like he couldn't get the ball out of the infield, particularly ground balls to short and third. This time he got in the air and into Monument Park in center-field.
Perhaps this is the start of one of the Gary Sanchez hot streaks. The type of streaks where he puts the Yankees on his backs and starts destroying baseballs. It only takes a few hits for a hitter to get hot, and Sanchez appears to be hot.
This Yankee lineup has had no problem scoring runs this year, but with Sanchez and Stanton hitting long home runs like they did today, they are showing that they can only get even better.
Update:
The Yanks used the back-to-back to power their way to a 4-1 victory. Luis Severino picked up another win while pitching spectacularly.
Next up will be these very same Rays on Sunday afternoon.
Follow Dominick on TWITTER