The New York Yankees announced their annual Old-Timers' Day roster and Yankees legend Jim Leyritz certainly had something to say about it on his favorite platform: Twitter.
They will seriously give anyone a Twitter account these days. That is the case with former New York Yankees catcher Jim Leyritz.
As the names were announced for the New York Yankees upcoming Old-Timers' Day on June 17, one significant name was missing from the list. With some newcomers joining the squad (Nick Swisher, Andy Pettitte and Aaron Boone, to name a few), Leyritz found his name off the list.
Safe to say, he wasn't exactly thrilled about the exclusion from this historical event, as he posted on Twitter.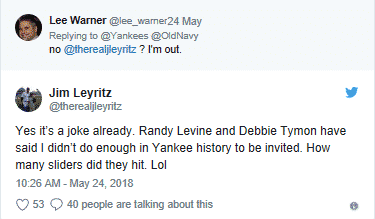 The since-deleted tweet attracted a lot of attention on social media. His response to the situation? In the following tweet, Leyritz claimed that it was due to his lack of knowledge about the social media site.
I made the comment thought it was sent as a private tweet. Haven't figured this social media stuff out yet. The Yankees have been good to me in every way except an invitation to OTD. All I've asked for is a reason why ?? Never been told but do feel like I belong. 13yrs w/ them

— Jim Leyritz (@therealjleyritz) May 24, 2018
I mean, he definitely is new to this stuff and he's 54-years0old. However, he still said it. Now his image is not looking so good.
Leyritz is known as a solid piece for the Bombers in the early 1990s.
In his nine seasons with the Yankees over his career, he posted a .263/.359/.413 line with 58 home runs. Perhaps one of his most memorable blasts came in the 1996 World Series, where he launched a three-run home run in the top of the eighth inning to tie the game and eventually help them secure the victory in Game 4.
Leyritz last participated in the event in 2015 and since has not received an invite again. That is definitely something that is nagging in the back of his head.
So, it was supposed to be a private message. Instead, it was posted on social media and caused a ruckus. Well, you can't predict baseball, Suzyn.