After showing vulnerability in his last two fights Gennady Golovkin needs an impressive win against Vanes Martirosyan on Saturday night.
Unified middleweight champion Gennady "GGG" Golovkin (37-0-1, 33 KOs) will defend his titles Saturday night against Vanes "The Nightmare" Martirosyan (36-3-1, 21 KOs) at the StubHub Center in Carson, California. The fight will be broadcast on HBO's World Championship Boxing 11 PM ET/PT.
Although Golovkin is defending his middleweight crown for a record-tying 20th consecutive time on Saturday, he has not been dominant in his last two fights.
In March of 2017, he saw his streak of 23 consecutive wins by knockout snapped when he narrowly defeated Daniel Jacobs by unanimous decision 115–112, 115–112, and 114–113 in front of a packed house at Madison Square Garden.
Then in September, he fought Canelo Alvarez to a draw (118–110 Alvarez, 115–113 Golovkin, and 114–114) at the T-Mobile Arena in Las Vegas. Most ringside observers felt Golovkin should have won by close decision, but the fight was too close to vehemently complain that the fight was ruled a draw.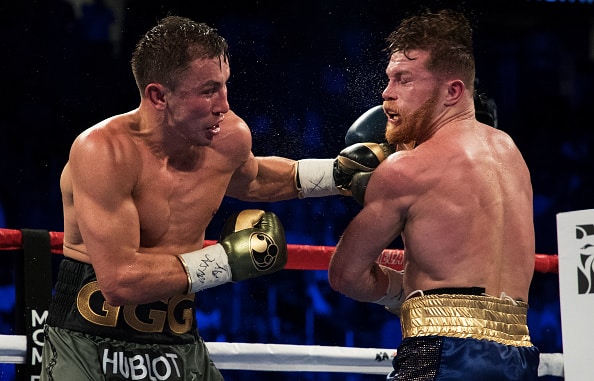 Although he kept his titles, the fights were too close for comfort for Golovkin. He was hit more often than usual in his fights with Jacobs and Alvarez, and his hand speed has slowed down dramatically. Worst of all, he was unable to sustain his attacks to the body which helped make him the best middleweight of his era.
Originally, the 36-year-old Golovkin was supposed to have a rematch with Alvarez on Saturday. But after Alvarez failed two drug tests in February for the performance-enhancing drug clenbuterol, Alvarez was suspended for six months. So Martirosyan took the fight of his life on short notice.
SATURDAY: Middleweight champ @GGGBoxing takes on @VanesBoxing for his record-tying 20th title defense. Plus, Cecilia Braekhus defends her welterweight belts against Kali Reis.

Watch #GGGVanes and #BraekhusReis May 5 at 11 pm ET/PT on HBO World Championship Boxing. #CincoDeMayo pic.twitter.com/k7dQcvmFj5

— HBOboxing (@HBOboxing) April 30, 2018

Many feel the 32-year-old Martirosyan, who represented the United States in the 2004 Olympics, doesn't stand a chance against Golovkin especially since he's taking the fight on short notice and has been inactive.
The last time we saw Martirosyan in the ring was May of 2016 when he lost a unanimous decision to Erislandy Lara for the WBA and IBO junior middleweight titles.
When you factor in that Martirosyan took the fight on short notice, hasn't fought in two years, and is fighting at middleweight as oppose to junior middleweight, Golovkin needs to win this fight in impressive fashion.
Prior to his last two fights, Golovkin was viewed as one of the most feared boxers in the world. Now it seems every middleweight in the world wants to fight him.
So Golovkin needs to show the world and maybe prove to himself that he is still the best middleweight in the world and the best way to do that would be to knockout Martirosyan.
Should Golovkin win impressively, he can look towards having a rematch with Jacobs. Then perhaps he could fight Alvarez once his suspension is over to make right on two fights that were too close for GGG's liking.
But if he doesn't win impressively or is somehow upset by Martirosyan, then it's safe to say his era of dominance over the middleweight division is over.