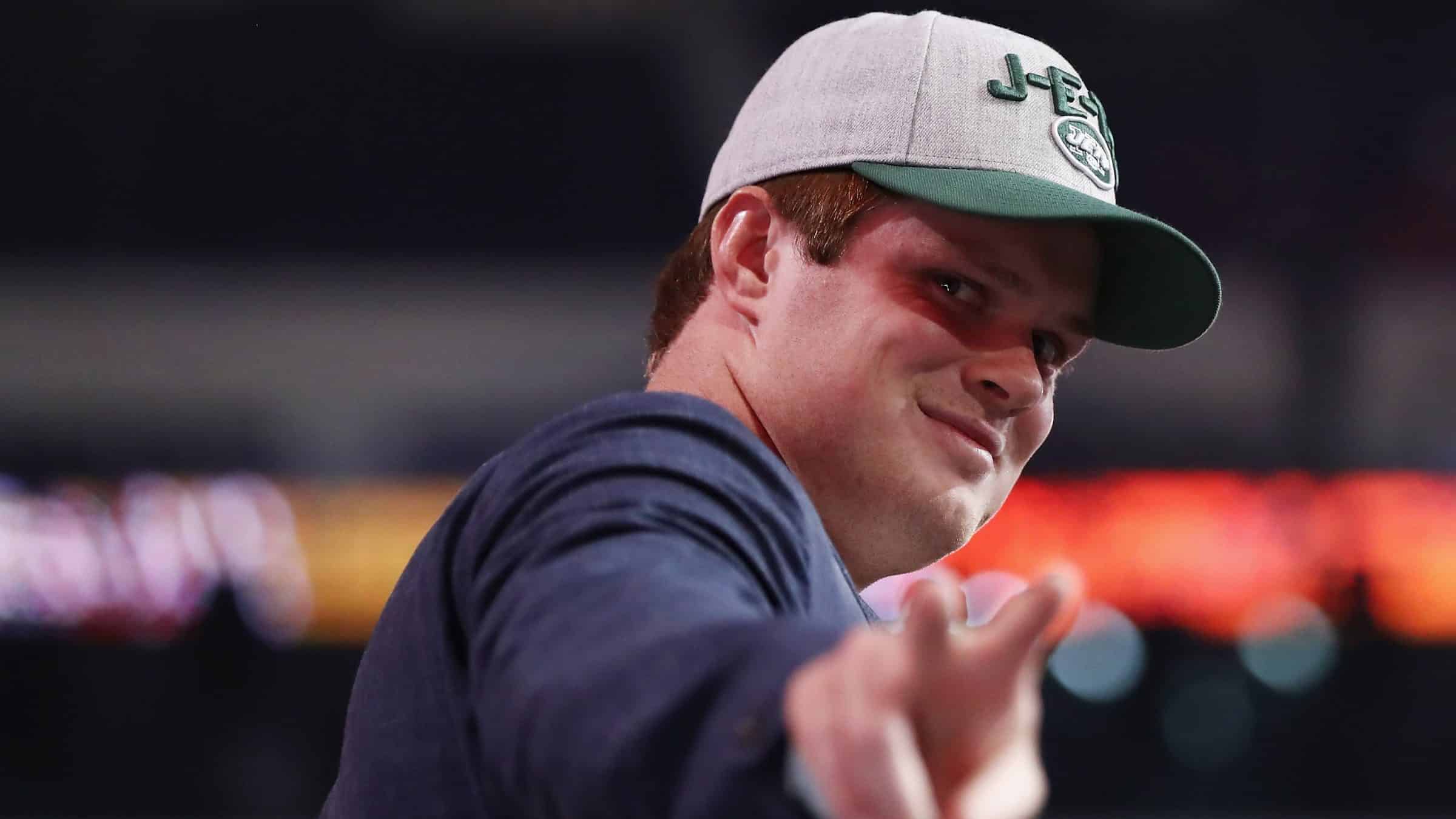 New York Jets franchise quarterback and No. 3 pick in the 2018 NFL Draft, Sam Darnold, greets the fanbase as reactions come pouring in.
It's officially on. For the first time in nearly a decade, the New York Jets feel as though their franchise quarterback and face is under the roof and in-house at Florham Park, New Jersey.
Sam Darnold is that man after he was bypassed by the Cleveland Browns in favor of Baker Mayfield and Mike Maccagnan swooped in at No. 3.
With ecstasy as the overriding narrative, the new Jets signal-caller greeted the fanbase:
The smile says it all.

We can't wait either, Sam. #1T1G pic.twitter.com/Ndtn7jjwTt

— New York Jets (@nyjets) April 27, 2018
The Jets organization itself is hyped as well, as they should be. Darnold has long been considered the best QB in the draft since he took out the Penn State Nittany Lions two Rose Bowl's ago, the instant offensive classic.
Toughness, durability, size, mobility, leadership…

Sam Darnold's got it all. ? pic.twitter.com/LfeTsxnWdt

— New York Jets (@nyjets) April 27, 2018
Of course, reactions from the outside looking in were terrific as well. Everybody from teammates to fellow NFL players to fans were on high-alert once Roger Goodell spit out the name of Mr. Darnold in the three-hole.
Sam Darnold!!!! Lets goooo!! Welcome to the fam!! Fight on

— Leonard Williams (@leonardwilliams) April 27, 2018
This is the day everything begins to change. The franchise that always gets it wrong got it exactly right. Welcome Sam Darnold. We've been waiting a long time for you. #Jets pic.twitter.com/Tyijb4pRnr

— Mike Greenberg (@Espngreeny) April 27, 2018
The @nyjets get their franchise QB in Sam Darnold from #USC! #Jets #NFLDraft pic.twitter.com/HuVnynZDGW

— #WeAreMadden (@EAMaddenNFL) April 27, 2018
From Southern California to New York!

Jets select QB Sam Darnold with the No. 3 pick pic.twitter.com/LTkHnTS5wW

— Bleacher Report (@BleacherReport) April 27, 2018
The newest member of the @nyjets… Sam Darnold! ?#NFLDraft pic.twitter.com/nuwO10PWns

— NFL (@NFL) April 27, 2018
YES!! Sam Darnold…now don't suck Sam!

— Evan Roberts (@EvanRobertsWFAN) April 27, 2018
For the Jets' sake, I hope Sam Darnold isn't the turnover machine he was at USC. I doubt Tom Brady won't lose any sleep tonight.

— Skip Bayless (@RealSkipBayless) April 27, 2018
Wow what a surprise. I'm a huge Josh Rosen fan!!! Guess Sam Darnold will have to show what he capable of.

— Darrelle Revis (@Revis24) April 27, 2018
Welcome to New York!! pic.twitter.com/VGh2oUOnqj

— Jamal Adams (@TheAdamsEra) April 27, 2018
During the immediate post-selection interview, Darnold provided one hell of an answer to the question of what Jets fans can expect from him.
"A lot of wins."
That's one tremendous answer and exactly what anybody loves to hear coming from a 20-year-old quarterback stud. All he has to do now is put the work in and get it done.
Sam Darnold is the new face of the New York Jets.