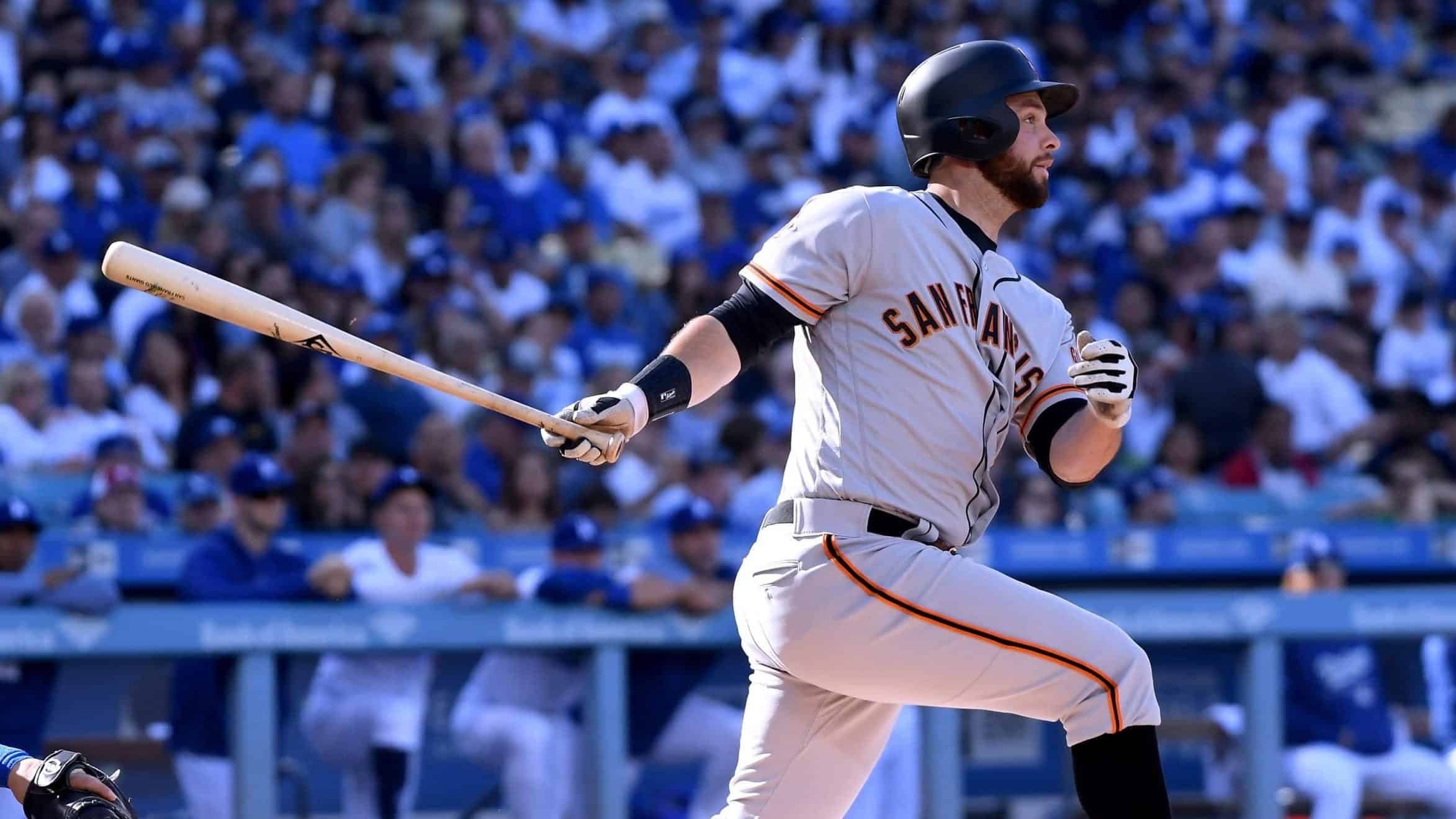 San Francisco Giants' Brandon Belt and Los Angeles Angels pitcher Jaime Barria team up for the longest at-bat in MLB history on Sunday as it took 21 pitches to record the out.
Twelve minutes, 35 seconds. That was the time elapsed in the 21-pitch history-making at-bat in Sunday's game between the San Francisco Giants and Los Angeles Angels.
With a runner on first and no one out the historic battle began for both Brandon Belt and Jaime Barria.
Brandon Belt set the MLB record with a 21-pitch at-bat that lasted nearly 13 minutes.

We got it down to 50 seconds for you. pic.twitter.com/hwfb6S1qzM

— SportsCenter (@SportsCenter) April 22, 2018
At one point, with the count 3-2 on Belt, he went on to foul off 11 consecutive pitches before flying out to the right fielder Kole Calhoun.
Barria went on to throw 49 pitches in the first inning, allowing no runs to cross the plate. He only lasted two innings, giving up two earned runs, as his record is now 1-1 on the season.
Here is how the pitches were thrown to Belt in verbal form.
Brandon Belt just had a TWENTY-ONE pitch at-bat…

Foul
Ball
Swinging Strike
Foul
Foul
Ball
Foul
Foul
Ball
Foul
Foul
Foul
Foul
Foul
Foul
Foul
Foul
Foul
Foul
Foul
Flyout

— Baseball Nation™ (@BasebaIINation) April 22, 2018
"I wasn't going to give up and the pitcher wasn't either. It made for a good battle," belt told the New York Post Sports Desk.
The at-bat was the longest in the Major Leagues since 1988 when Ricky Gutierrez of the Houston Astros struck out on the 20th pitch thrown by Cleveland Indians pitcher Bartolo Colon.
A fun fact about the first inning at-bat by Darren Rovell of ESPN was the at-bat cost the home team Angels $133.28. That was the expense of the total number of balls used in the at-bat.
$133.28: What Brandon Belt cost the Angels by fouling off 16 balls in one at bat. Home teams pay a wholesale rate of about $8.33 per ball. pic.twitter.com/lrmRkplKQ7

— Darren Rovell (@darrenrovell) April 22, 2018
In the end, the Giants and Brandon Belt got in the last word. Belt hit a home run later in the game, his fourth in four games, a two-run shot in the top of the 10th inning, and the Giants went on to defeat the Angels 4-2 in Anaheim.
Here is the pitch count and location for all 21 pitches Belt faced in the at-bat. For the game, Belt averaged 8.0 pitches per at-bat.
Pitch chart for Brandon Belt's at-bat, which lasted 12 minutes, 45 seconds ⏳

#SFGiants pic.twitter.com/GsrkeJGvPj

— San Francisco Giants (@SFGiants) April 22, 2018