The 2018 New York Yankees are ready and raring to go on Opening Day in Toronto. With a full season of baseball ahead, it's time to look at ESNY's predictions for this season.
The hype is incredible. The lineup is stacked. And right now, the New York Yankees and their fans are expecting to win that 28th championship in 2018.
But how did the Yankees get to this point? Let's do a brief recap of last year's magical season which began with less than high hopes.
2017 was a year in which the Yankees were predicted prior to the season to finish in fourth place in the stacked American League East. While less than ideal, the Yankees were ripe with young, inexperienced players who were looking to make their mark in the major leagues.
Well, safe to say that they did just that. 2017 saw the emergence of the American League Rookie of the Year in Aaron Judge and the miraculous transformation of Luis Severino from struggling starter to Cy Young candidate. Didi Gregorius and Brett Gardner suddenly became huge power threats from the left side and Chris Carter horrifically underwhelmed in his short stint in the Bronx.
Finishing with a 91-71 record, good for second place in the AL East behind the rival Boston Red Sox, the Yankees proved to be a dominant force in their home ballpark, going 51-30 in the Bronx. Starting off the season strong, the Yankees suffered through down months of June and August but recovered enough to earn that Wild Card spot.
Of course, then comes the magical playoff run that was both unexpected and inspiring. Although it's been talked to death, need I remind you that the Yankees clobbered Corey Kluber en route to a spectacular comeback over the Cleveland Indians in the ALDS? Or what about another incredible comeback, this time against the Houston Astros before falling one game short of the World Series?
Yup, last season was nothing short of extraordinary. The underdogs came to play and they shocked the entire world. Not bad for a rebuilding season, huh?
So, now that we're all caught up on last year, let's take a look at this offseason and what the squad looks like heading into Thursday afternoon at 3:37 p.m. ET.
Key Subtractions
Starlin Castro
While many fans were adamant that Castro was not a part of the Yankees long-term future, he did a stellar job holding down a second base position that had been vacant of a full-time replacement since the untimely departure of Robinson Cano.
Castro, on the other hand, wasn't chasing down the money. He was packaged in a trade deal with minor league prospects Jorge Guzman and Jorge Devers for the Yankees to get the other home run king, Giancarlo Stanton, for the Miami Marlins.
For Castro, this move means he'll be joining yet another rebuilding team without reaping the benefits of staying for the championship part of it. For the Yankees, it means moving on from the second baseman who batted .300 last season and made history with Gregorius being the only Yankees double-play duo in history to each hit 20 or more home runs in a season.
Chase Headley
The hot staple at the hot corner has moved back home. Chase Headley was traded on Dec. 12 to the San Diego Padres, where he's spent eight years in his career. The 33-year-old's departure marked the first trade for the Yankees during the Winter Meetings in December.
Headley held down the for the Yanks at third base of almost four full seasons, batting a combined .262 with 43 home runs. Headley's loss is less about the stats and more about the leadership he brought to the field. With an infield consisting of Gregorius, Greg Bird and young prospects making their way up, that leadership was invaluable.
Well, Headley's back home and the Yankees have found their replacement at third base. However, they will miss Headley's clutch bat, which came alive during July and August to help propel the Yankees to their first playoff appearance since 2015.
Todd Frazier
Todd Frazier became a free agent and while many assumed he would re-sign with the Yankees, he ultimately ended up inking a two-year, $17 million contract with the crosstown rival New York Mets. Although Frazier only had a short stint with the Yankees, his presence was incredibly infectious and a key component to their playoff run.
Frazier brought a joy and child-like enthusiasm to the game of baseball and to a Yankees team that was desperately seeking a spark. Frazier also played a solid third base for the Yankees, allowing Headley to rest and, when slumping, get his head screwed on straight.
But, alas, Mr. Thumbs Down is gone. Frazier has taken his talents to Citi Field but the Yankees and their fans will certainly miss Frazier's presence both on the field and in the clubhouse.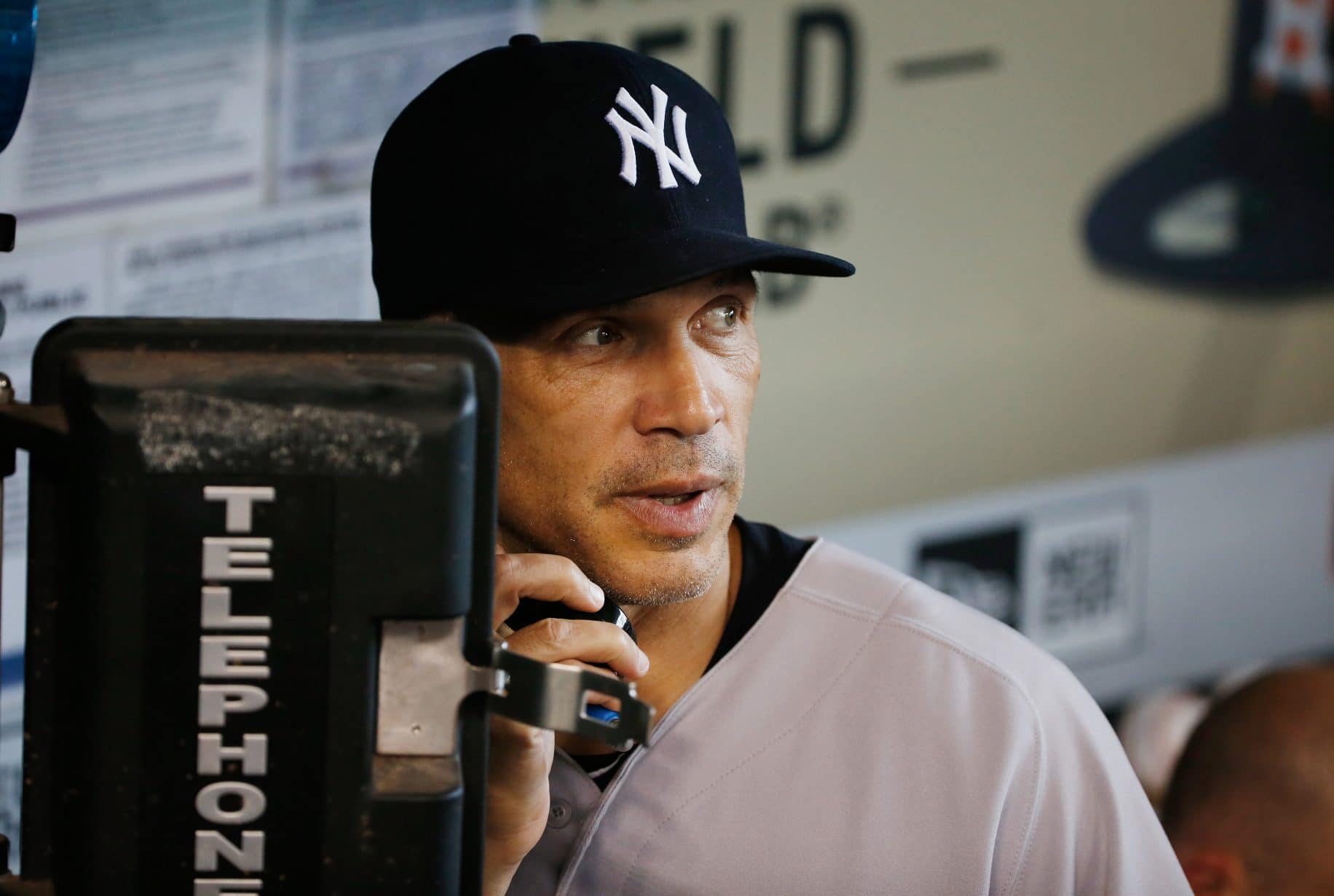 Joe Girardi
While not a player, Joe Girardi was a huge member of the New York Yankees, serving as their manager from 2008 up until the end of the 2017 season, when his contract expired. Girardi recorded a 910-710 record during his time with the Yankees and gave them one World Series title during his reign.
With Girardi gone, the Yankees will go through growing pains with their new hire, Aaron Boone, when it comes to getting used to his style of managing. Where Girardi had managerial experience, Bone does not and therein lies the struggle.
So, yes, while he may not be fielding grounders or pimping home runs, but Girardi is a huge loss for a Yankees team that is on the verge of opening the door on a new dynasty.
Key Additions
Giancarlo Stanton
Well, DUH! The trade that brought Giancarlo Stanton to the Bronx was fast and furious, being heard around the world. In acquiring Stanton, the Yankees get yet another power bat who will enjoy the splendors of all Yankee Stadium has to offer.
The reigning NL MVP brings to the Bronx his .281 BA from last season, as well as his league-leading 59 home runs. With his addition, the Yankees now have the top two home run hitters in the sport from last season. Clearly, the Yankees are hoping to replicate that this season and once again reclaim the powerhouse status that was typically a mainstay in New York.
Stanton is here in a lineup that consists of Judge, Bird, Sanchez and Gregorius. If that doesn't have pitchers shaking in their boots, they'll soon learn.
Yet another three-team trade completed by Brian Cashman featuring the Arizona Diamondbacks. The first time, Cashman netted Gregorius. This time? He got some reassurance in the infield by bringing over Brandon Drury.
The 25-year-old infielder brings with him experience in both the regular season and the playoffs, which is something that the other option at third (Miguel Andujar) doesn't have just yet.
Drury has already shown his skills off this spring for the Yankees, making stellar diving plays. It seems as though Drury will be the starter at third next to another former Diamondback in the guise of Didi Gregorius. Snagging him this offseason was a sneaky genius move by Cashman.
Neil Walker
The former New York Met decided to switch side, even though it was reported that he was hoping for a reunion with the team from Queens. Instead, he finds himself in the Bronx with a real shot at making a difference this season for the Yankees.
Walker inked a one-year, $4 million deal to don the pinstripes and entered into a competition for the second base position. However, it seems as though this switch hitter will get ample playing time for the Bombers.
A low-risk signing for the Yankees, they might have hit the jackpot with this veteran. We'll see how it all plays out come the regular season.
Aaron Boone
Because we included Joe Girardi on subtractions, we have to include Aaron Boone. The new manager has absolutely no managerial experience but that didn't stop the Bombers from bringing him aboard.
Boone was signed onto the manager's position on Dec. 4, 2017 and was blessed with a pretty stellar lineup. Time to see what he does with it in 2018.
Players to Watch
Greg Bird
For the second season in a row, Greg Bird is a player to watch. When will he not be a player to watch? Well, the answer is once he completes a full season without missing significant time due to injury.
After missing the entirety of the 2016 season with a torn labrum, Bird started the 2017 season poorly, batting .100 in just 19 games played before another injury took hold. With lingering issues with his right foot and finally a diagnosis of an injury to the os trigonum, surgery was the answer and Bird returned to the field on August 26.
Upon his return, Bird batted .253 with eight home runs and 25 RBIs in the final 29 games of the regular season. The postseason was where he came alive, hitting .244 with three HUGE home runs and six RBIs.
So why watch him? Because he's capable in small spurts of some great things but if he gets it going and participates in a whole season, he has the sweet swing and the talent to be something incredible.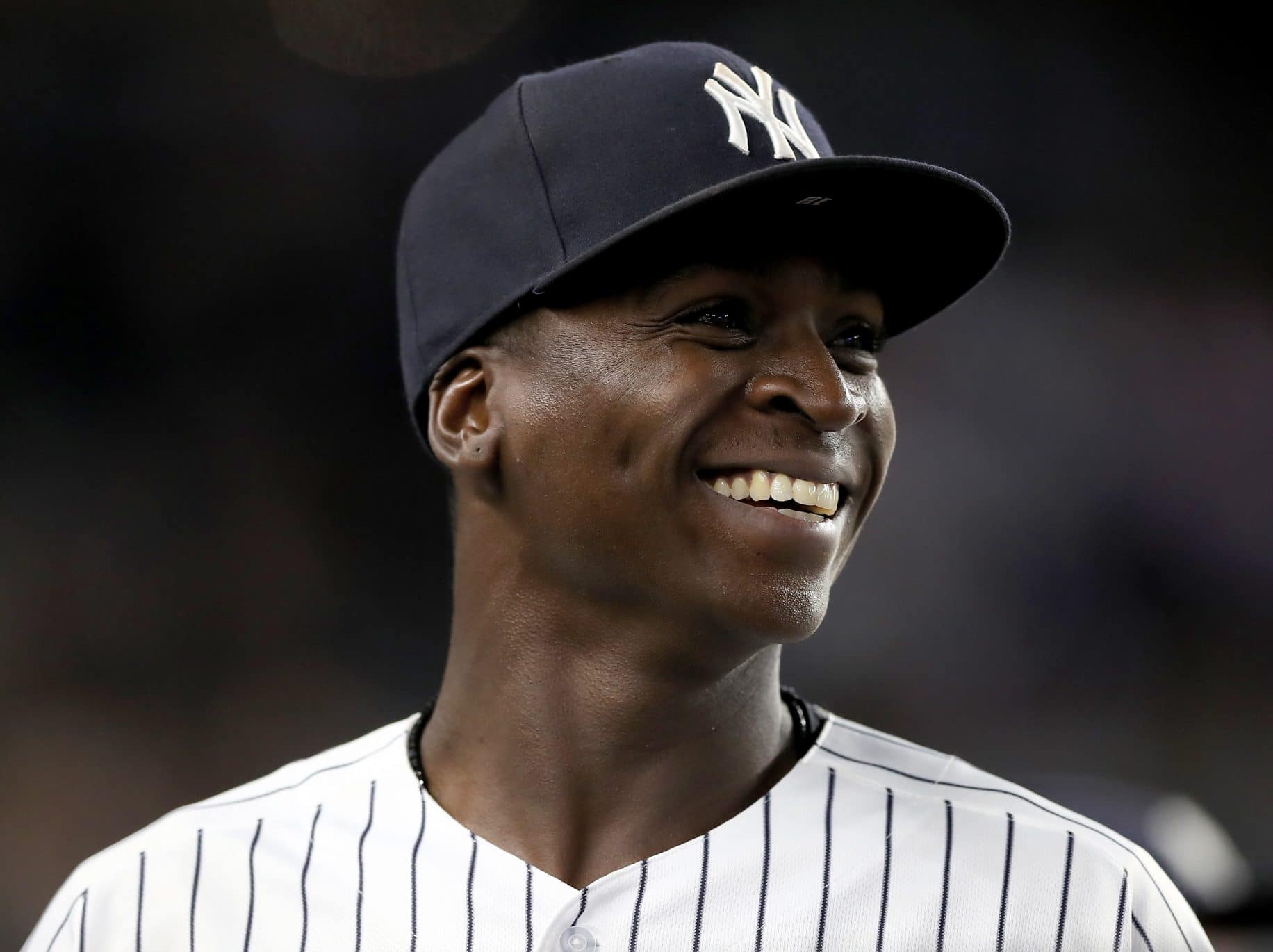 Didi Gregorius
If you weren't watching him last season, take a good look this season. Didi Gregorius is going to go to the next level for the Yankees.
His power game has emerged, as he smashed 25 home runs during the regular season last year, and each year he has steadily improved. Time to see what he can do now that he is officially comfortable in the Bronx.
Breakout Candidate
Sonny Gray
Sonny Gray was only in the Bronx for half of the season but what we saw from him wasn't the greatest. The lack of run support turned out to be his downfall, as he posted a 4-7 record with a 3.72 ERA.
However, he has the stuff to be an ace, depending on the cast behind him. With this year's powerhouse lineup, run support should no longer be an issue for Gray. And if he gets good movement on his sinker and smart pitch placement, Gray will become a threat to be reckoned with in the middle of the rotation.
Strengths
Stacked Bullpen
Once again, the biggest strength of this squad is the versatile bullpen. Featuring the hard-throwing superstars in Aroldis Chapman and Dellin Betances, the Yankees also have the benefit of having David Robertson, Tommy Kahnle, Chad Green and Adam Warren waiting in the wings.
Now THAT is a terrifying bullpen. Last season, it was their biggest strength. This year, it will remain much of the same, as these pitchers have more than enough talent and firepower to shut the door on those close games.
Power, Power, Power
The entire lineup is a huge strength, mainly because of their power. By adding Stanton to the mix, they send out a lineup daily that is threatening to hit multiple home runs on any given day. In fact, between Judge, Stanton and Sanchez, they combined for 144 home runs last year. And with a full season of Sanchez? It could be even more.
But besides those three, you have Greg Bird ready to hit a long ball. Gregorius and Brett Gardner also showcased some insane power last season. Then you've got Hicks, who pimps home runs like he's on another planet. Basically, batters one through nine could easily jack a ball out of the park.
Weaknesses
Starting rotation
I'm hoping that as the season wears on, we'll see an improvement in the starting pitching. As of right now, it is all too inconsistent to properly gauge.
Luis Severino is the bona fide ace of the squad while Masahiro Tanaka has fallen off the map quite a bit from his earlier days in pinstripes. CC Sabathia is an incredible veteran presence but with his knee, we never know how he'll do throughout the season. Gray has the ability to be a top starter once again, if given the right support, and Jordan Montgomery is going into only his second season. Will it be a sophomore slump?
There are too many questions here but the hope is that as the season goes on, this weakness will turn into a huge strength for the Yankees.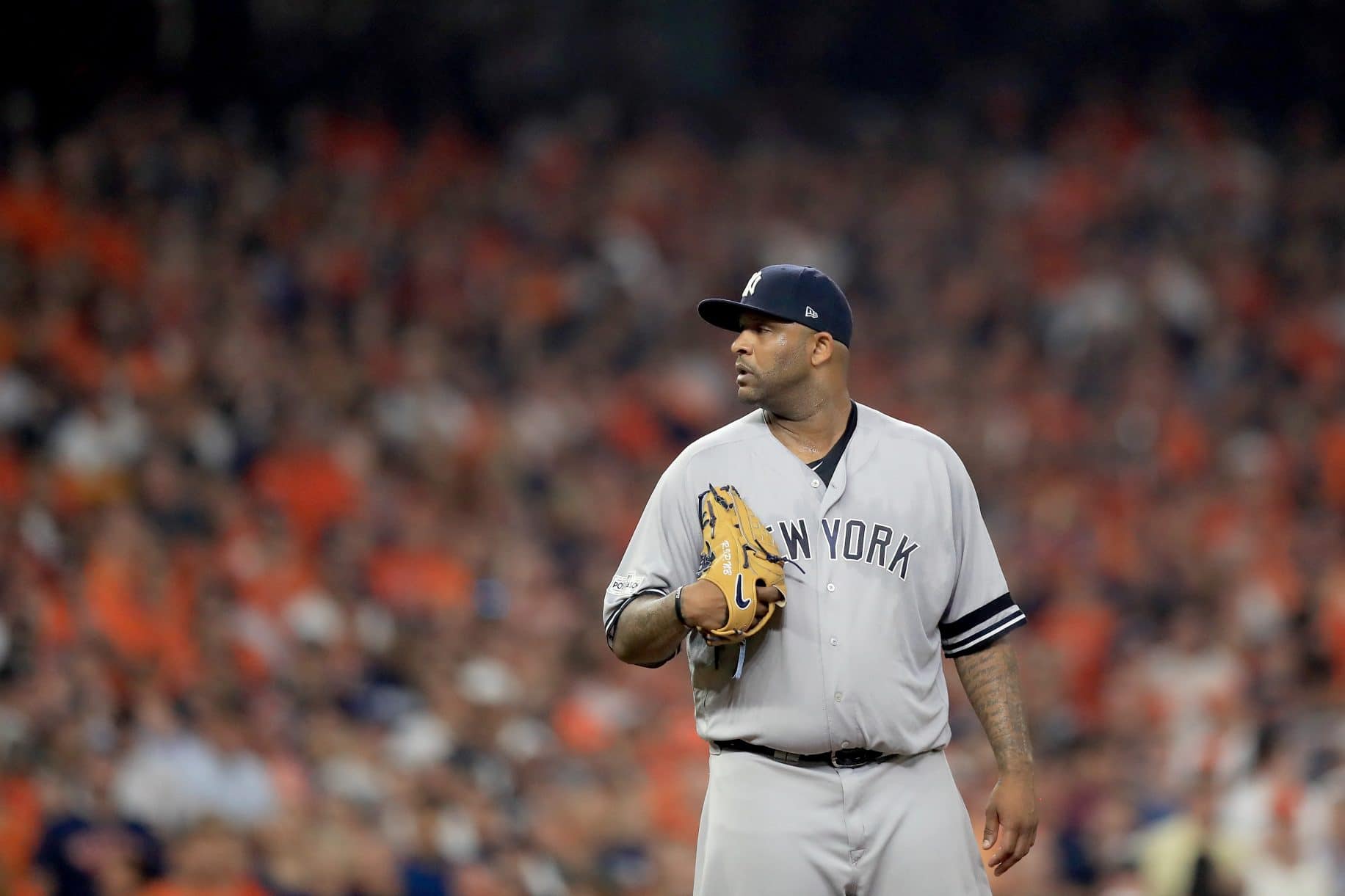 Strikeouts
While the Yankees have those giants guys in their lineup, with all that power usually comes a lot of strikeouts. Judge led the sport in strikeouts with 208 last season and Stanton himself struck out 163 times last year.
The power is there but so are the strikeouts and that is something the Yankees will have to watch out for this season. They need to be careful at the plate and change their approach, something that Judge has already started to do this offseason.
Prediction
Yankees 93-69, First Place in the AL East, World Series runner-up
The Yankees are making a run for it. They have no choice after how last season ended up, falling just shy of the World Series. This year they will continue their magical run. However, this time, they will fall in the World Series.
It's just not time yet. They are still working it up and have to prove that they can compete with the best teams in the game. While they have a great team, so do several of their opponents. If they can get out of their own heads, they will be able to make it far this season.
What are your thoughts and your predictions? Where do you have the Yankees landing in the standings? Share with us your own predictions and tell us what you think!
The season is just about to start and we are ready to go. Join us for another season of Yankees baseball here at ESNY!