If anything has become clear going into Aaron Judge's second full year in the Bronx, it's that he was always destined to be an integral part of the New York Yankees.
Class, hard work, talent, and a winning attitude. These are the pillars upon which the New York Yankees organization has built countless dynasties. It's clearly a recipe for success given the fact that the team has won 27 World Championships highlighting the most prestigious history in all of sports. 
Those same pillars are those upon which Aaron Judge is building his career. It's why he was always destined to become a Yankee.
Other than absolute moonshot dingers, class is the first thing that comes to mind when thinking about Judge.
He's only entering his second full season in the Bronx he's already drawing comparisons to Derek Jeter through the way he carries himself on and off the field. He treats everyone in the organization with respect, he says all the right things to the media, and he allows his play do the talking. Even though reporters may not appreciate it as much, fans greatly admire a player who shows up every day, does his job, and goes home without stirring up any drama.
There's no question about Judge's work ethic either.
After being a highly touted prospect for years, Judge finally made it to the Major Leagues in 2016, where he struggled mightily. In 27 games, he only hit for a .179 batting average with a .608 OPS. Not exactly the numbers you want to see out of one of your top prospects.
Then in 2017, Judge hit .284 with an OPS of 1.049. That kind of change doesn't just happen. A side-by-side comparison of Judge's swing would show that he drastically altered it, improving how long he was able to keep the bat in the zone, allowing him more time to identify pitches and turn on inside fastballs. At his size, making major adjustments like that is extremely difficult and the fact that he made the switch look so effortless is a testament to how hard he worked at it.
Another testament to his work ethic is the change in his on-base percentage.
In 2016, Judge had just a .263 OBP. In 2017, Judge had a .422 OBP. The key thing about this is the difference in on-base percentage and batting average between 2016 and 2017. In 2016, Judge's OBP was .84 points higher than his average. In 2017, Judge's OBP was .138 points higher than his average. That nearly double jump in the difference means that Judge was and still is improving in the area of drawing walks and choosing better pitches to hit.
If he continues to improve in that department, Giancarlo Stanton will be the beneficiary as pitchers will be forced to throw him more strikes with Aaron Judge on base rather than nibble at the corners.
Judge's talent speaks for itself. His ability to square up a baseball and hit it three miles is simply incredible. His frame lends itself to belief that he was actually created in a baseball laboratory by scientists with the sole intention of creating an absolute monster of a ballplayer.
The most intriguing part of his talent, however, is his phenomenal athleticism.
While some larger players may look out of place or awkward sprinting around in the outfield, Aaron Judge is as smooth as teammate Aaron Hicks. He has a cannon for an arm and can throw the ball accurately with ease. He's a great baserunner—not necessarily a base-stealer, but someone who can stretch a single to a double easily. That's part of the reason he scored the most runs on the Yankees in 2017, crossing the plate 128 times.
The element of Aaron Judge that truly proves that he was meant to be a New York Yankee is his winning attitude. As fans know, the only way to play in New York City is to play to win.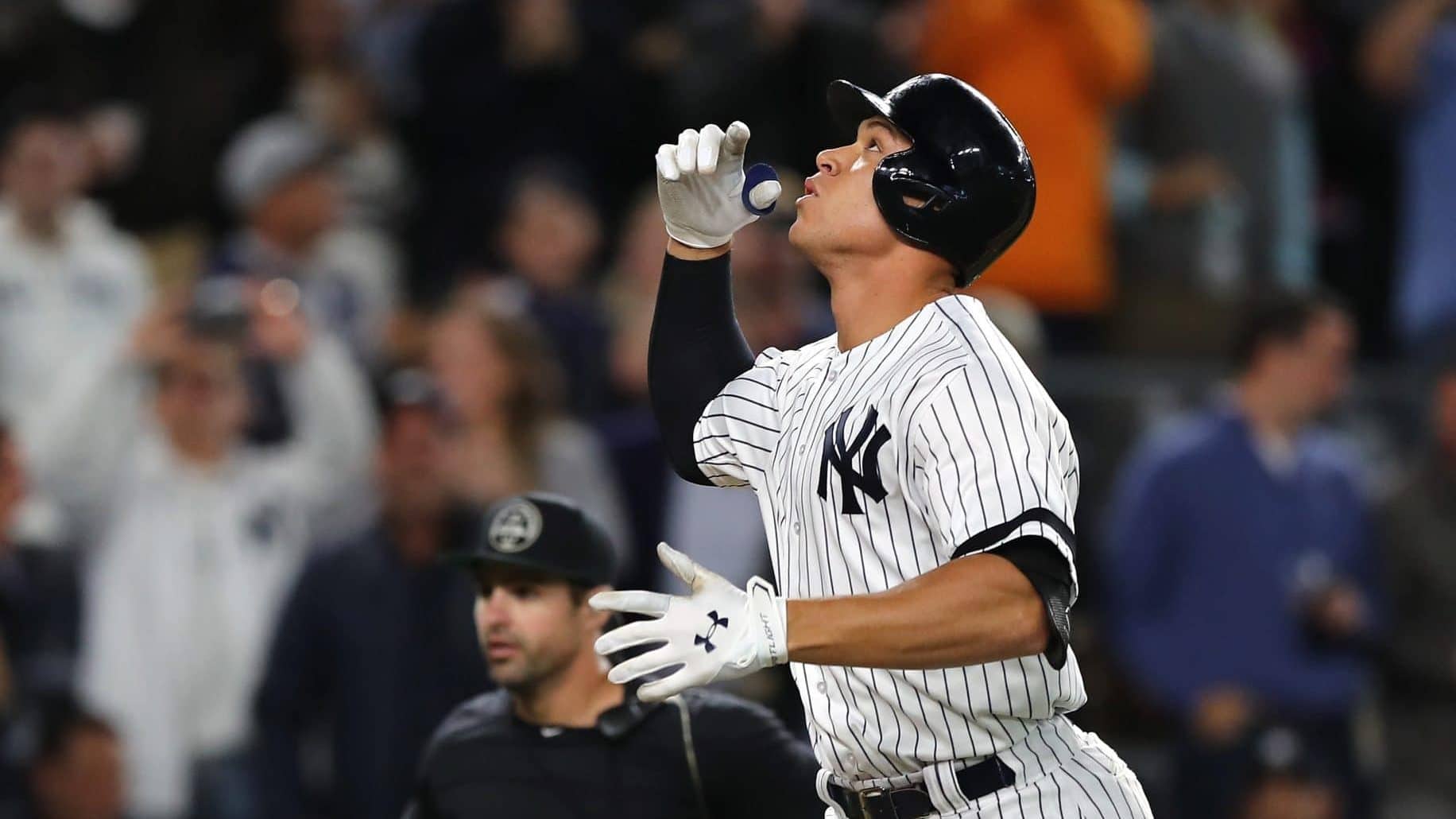 Judge got off to a pretty good start in that regard, leading the team to within one game of the World Series in his rookie season. He won the Rookie of the Year award by an overwhelming margin, he finished second in MVP voting behind Jose Altuve, and he won a silver slugger award. That is plenty for a player to go into the offseason thinking "man if I can just do that again I would be thrilled."
Not Aaron Judge, though. Aaron Judge wants to get even better. He's treating Spring Training like he's still trying to make the team.
In an interview with Brett Gardner on Ryan Ruocco and CC Sabathia's podcast, R2C2, the veteran left fielder revealed that Judge told him "there's been a lot of one-hit wonders. And I'm not going to be one of them." Judge showcases a winner's mentality. He is refusing to settle for what he's accomplished already, he wants to do even more.
As New York-based President Theodore Roosevelt once said, "Speak softly and carry a big stick."
While that clearly wasn't meant to be applied to baseball players, the Yankees have had a plethora of star players that spoke softly to the media and carried a big stick on the field. Aaron Judge is the next name that will be etched into Yankee sluggers lore, and he'll do it with class, hard work and talent mixed with an uncoachable winning attitude.