NHL players are superstitious individuals. From pregame meals to the way they tape their sticks, it's all done the same way every game. This includes in what order they put their equipment on.
From Connor McDavid to Roman Josi and James van Riemsdyk, the players in the National Hockey League all have one thing in common. The crazy, superstitious ways they suit up prior to every game.
The gang over at Bardown brought up a poll that was conducted by the NHL YouTube channel called Puck Personalities.
The poll asked the very simple question, "How do you put on your equipment?"
Players have their routines down to a science when it comes to pregame activity. From meals to how they get to the rink on game days, everything is done pretty much the same way—especially when winning or point streaks or the playoffs are on the line.
It's not just about the beards anymore.
Puck Personalities asked many players such as Roman Josi, Vladimir Tarasenko, Taylor Hall, Max Domi, Jeff Skinner, Tyler Seguin, Jack Eichel, Shayne Gostisbehere and Johnny Gaudreau this intriguing question.
Their answers ranged from shins, pants, skates to any other combination imaginable. As the video begins, some of the players are a little surprised by the question and have to think about it at first.
As the poll takes shape, players' answers are fun and deeply honest. They even asked a goaltender how he suits up.
Boston Bruins goalie Tuukka Rask, when asked how he suits up every game, answered this question with his own question, "You're talking to a goalie right now, you know that?"
#NHL superstars reveal the different ways of how they put their equipment on. WATCH @ https://t.co/1YjnuWXN2K pic.twitter.com/hcQjhEo1tq

— BarDown (@BarDown) March 22, 2018
The final poll results were interesting as these great players of the National Hockey League all do the same thing in a somewhat different way.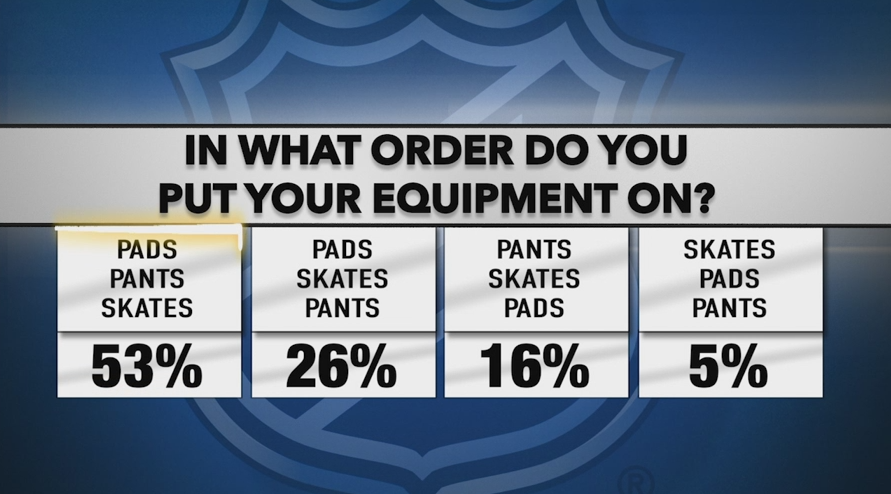 Follow Follow Frank Curto on TWITTER