Once a limited player in a limited offense, guard DeMar DeRozan and the Toronto Raptors have NBA Canada prepared for the playoffs like never before.
We've all seen the memes. We've all watched the Toronto Raptors play some of the best basketball through 82 games.
And we've all been there for a crash-and-burn so consistent it should be a national holiday.
Toronto consistently displays dominance throughout the regular season but has fallen to LeBron James and company in consecutive postseasons.
This year, franchise star DeMar DeRozan is amidst an MVP campaign, with no signs of slowing down.
The Raptors are responding to his drive, and look ready to upgrade from the NBA's playoff punch line. Why is it, that this team is so different from those of years past?
How can I confidently that the Raptors will be in their second Eastern Conference Finals in three years?
It starts with DeMar DeRozan.
After "going back to the drawing board" religiously the last two summers, Toronto has failed to find the appropriate medicine for their "BRONchitis" (trademark pending).
After taking the wrong end of a broomstick in last year's Eastern Conference Semi-Finals, a need for new direction became clear.
Something had to change, and change big. Big enough to surprise Cleveland and the rest of the NBA in unison.
The coaching staff made some adjustments with DeMar DeRozan specifically, which translated directly to their style of play.
---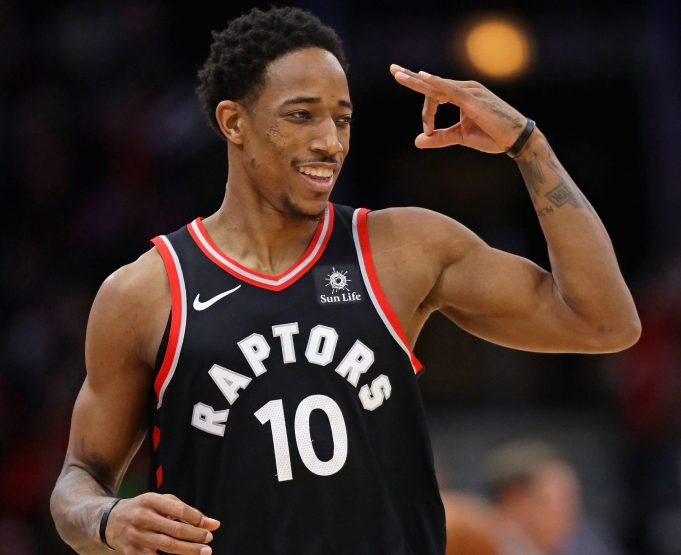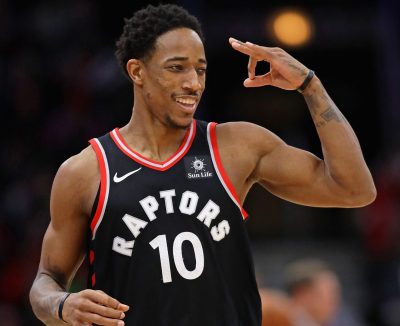 The largest area of DeRozan's improvement? His three-point shot.
Among other stats, he's averaging a career-high in three-pointers made per game (1.2).
His shooting percentage from behind the arc (.321) is second to his career-high (.338) in 2015-16, but the shot is falling nonetheless.
The result?
Toronto, per NBA.com, is making 11.5 three-pointers per game, which is a big jump from an 8.7 average the last two years. Additionally, the Raptors are scoring 112.2 points per game, which is yet another deep improvement from their 104.8 average since 2015.
Dating back to his draft year (2009), Toronto's Kobe has connected on a total of 312 shots from deep.
Nearly a quarter of them (76) have come this season. It took time, but once he found his stroke from three, the Raptors offense immediately evolved into fluidity.
Teams have to pay more attention to DeRozan behind the arc, whereas in the past he was treated similarly to the likes of Timofey Mozgov and Tony Allen.
Nowadays, he's pulling up shots like these with no hesitation, and nailing them. 
#ProveEm! pic.twitter.com/hwxp0JE6PE

— Toronto Raptors (@Raptors) March 10, 2018
So, why is this so important?
Well first of all, over the last two seasons, DeRozan has hit five three-pointers in the playoffs. In two series against the Cavaliers? He's gone 0-7.
Furthermore, spacing is no longer an issue. Players can put the ball down comfortably within the range of the basket, and DeRozan is often waiting eagerly along the wing for an outlet pass.
In that, Toronto's MVP-candidate developed yet another facet to his game, and likely the most underrated. His passing.
Though he's always been a capable passer, DeRozan's averaging a career-high 5.2 assists and 24.8 assist percentage. A healthy leap from 3.9 and 20.6 last season.
As far as the Toronto Raptors 50-17 record, it's not just the shooting guard leading the way. Even LeBron limits himself to 41 minutes per game in the playoffs.
Cue the supporting cast.
Per NBA.com, the Raptors bench ranks as follows among the league.
1st in (plus/minus).
1st in steals per game.
2nd in blocks per game.
3rd in minutes per game.
3rd in assists per game.
6th in points and rebounds per game.
They're led by backup point guard Fred VanVleet, who's averaging 8.2 points and 3.1 assists per game.
He hit a game-winning shot in overtime against the Detroit Pistons. Courtesy of this pass from DeRozan.
GAME. SET. MATCH. #BetOnYourSelf pic.twitter.com/KOROQcQGHX

— Toronto Raptors (@Raptors) March 8, 2018
Averaging a .394 clip from deep, VanVleet has been one of the Raptors better defenders, earning him minutes in crunch time.
DeRozan's decision to pass here, rather than finish with a tentative dunk of the year candidate, says enough about the Raptors development.
We've seen the ball continuously fed to the backcourt too much in the past. An open book is harder to read than their prior offensive scheme.
Having an active, young, and fast-paced bench their stars can trust may just boost the Raptors come April, May, and (hopefully) June.
Of course, there are still plenty of concerns.
Who's going to guard LeBron? DeRozan did a fantastic job with James Harden in the Raptors win over the Rockets, but can he handle James for a seven-game series?
On top of that, can Toronto remain committed to what's new?It's too easy to go back to isolation sets and a staggered offense once a playoff series turns against them.
Should the Raptors find themselves down after two games, we may watch a reversion in the offense, in DeRozan and Lowry.
---
For now, Toronto will keep rolling with what works, hoping to find themselves competing for a championship come June.
If this postseason doesn't go their way, it may be the last we see of this core. So, enjoy it until you can't.
You're watching the best Raptors team in franchise history.