With the first round of the NCAA Tournament beginning today, here are my picks for the Final Four and who will cut down the nets in San Antonio.
After the First Four games took place in Dayton the last two nights, the unofficial start to the NCAA Tournament begins today and people around the world are hoping that they have the perfect combination of picks on their bracket.
If the regular season ends up being an indication of what happens this March, then this could be one of the most wide-open tournaments in recent memory.
While my predictions aren't always correct, here are my thoughts on who will be in the Final Four. Plus, you can hear more thoughts on the NCAA Tournament on our latest episode of St. John's B-Ball Breakdown with Anthony Gallo and I:
South Region
All season long, Virginia has been seen as one of the best teams in college basketball. Their defense under Tony Bennett has seemed impossible at times for opposing offenses to crack. However, the top overall seed has the toughest draw in the tournament and has a big injury they have to figure out.
On Tuesday, the Cavaliers ruled out ACC Sixth Man of the Year De'Andre Hunter due to a broken wrist. He was one of five players on Virginia to play 19 or more minutes per game (19.9). With the depth now being tested, they will have to hope that their defense can carry the day.
As for the best first-round game in this region, it is the (6) Miami (FL) Hurricanes against the (11) Loyola-Chicago Ramblers (Thursday, 3:10 p.m ET, TRUTV). Loyola-Chicago, who won the Missouri Valley, did win at Florida earlier in the year, so they have a chance to pull the upset.
This season, the Ramblers gave up 62.2 points game, which was the fifth-fewest points allowed in college basketball. They have not allowed more than 70 points in each of their last six games. While their leading scorer, Clayton Custer, scored just 23 points in his last four games, they're my upset pick to beat a Miami team that will be without Bruce Brown Jr. (foot injury).
Prediction: In my Elite Eight, I don't have the top two seeds (Virginia or Cincinnati). If the Cavaliers don't bring enough offense, their run could end early against either Kentucky or Arizona in the Sweet 16. Meanwhile, in Cincinnati's case, they have a great defense, but their best win out of the conference was UCLA, so the Bearcats are a team I don't trust just yet.
My pick is going to be (4) Arizona over (3) Tennessee in this region. The Wildcats have one of the best NBA Draft prospects in center DeAndre Ayton (20.3 points, 11.5 rebounds per game) and having junior guard Allonzo Trier back in the lineup is a big boost to Sean Miller's team. While Miller has yet to get to a Final Four as a coach, Arizona has the talent to get there this year in this tough region.
West Region
Out of the four number one seeds, Xavier is probably the team that people don't have the most trust in. Chris Mack's squad won the Big East in the regular season and they seem to find their way into the second weekend frequently (Elite Eight last year).
The difference this time around is that the Musketeers are no longer the hunters. Instead, they are the hunted. They did have two losses to Villanova this year, but this is a Xavier team that has depth in their frontcourt and a player that can take over games in senior guard Trevon Bluiett (19.5 points per game).
While Bluiett and J.P. Macura will get the attention in the backcourt, the key to a deep run for Xavier is point guard Quentin Goodin and his ability to distribute the basketball. Goodin had a team-high 4.9 assists per game and had almost one steal a night (0.9).
For the upset specials in Round 1, I have three double-digit seeds getting an upset. This includes (10) Providence over (7) Texas A&M, (11) San Diego State over (6) Houston, and the big one being (12) South Dakota State over (5) Ohio State.
If you are watching the Jackrabbits take on the Buckeyes in Boise on Thursday (4 p.m, TNT), Mike Daum is a name you should know on South Dakota State. The junior forward averaged 23.8 points and 10.4 rebounds per game in the regular season and he had 31 points in a game against Wichita State on December 5. Plus, he shoots 42.1 percent from downtown and 85.6 percent from the charity stripe.
The Buckeyes were one of the surprises in college basketball this year and they have the Big Ten Player of the Year in forward Keita Bates-Diop. However, this could be where playing the conference tournament a week early hurts the Big Ten. If the Buckeyes get off to a slow start, it could be a quick NCAA Tournament for Ohio State.
Prediction: So, while I think Xavier makes a return trip to the Elite Eight with a win over (4) Gonzaga in the Sweet 16, they are not my prediction to head to San Antonio. Instead, give me the reigning national champions, (2) North Carolina, to get to their third straight Final Four.
This is a different UNC team compared to last year's title team, but they still have two glue guys in forward Theo Pinson and point guard Joel Berry II. Berry has a knack for making the clutch shot and Pinson always seems to find a way to get to the loose ball as we saw in the ACC Tournament.
If UNC can get past a red-hot Michigan team in the Sweet 16, they have enough experience to get to the Final Four. The key will be how quickly Cam Johnson is back in the lineup. Johnson scored in double figures in four of his last five games, but the forward will likely miss Friday's first round game against Lipscomb (2:45 p.m, CBS) due to a back injury.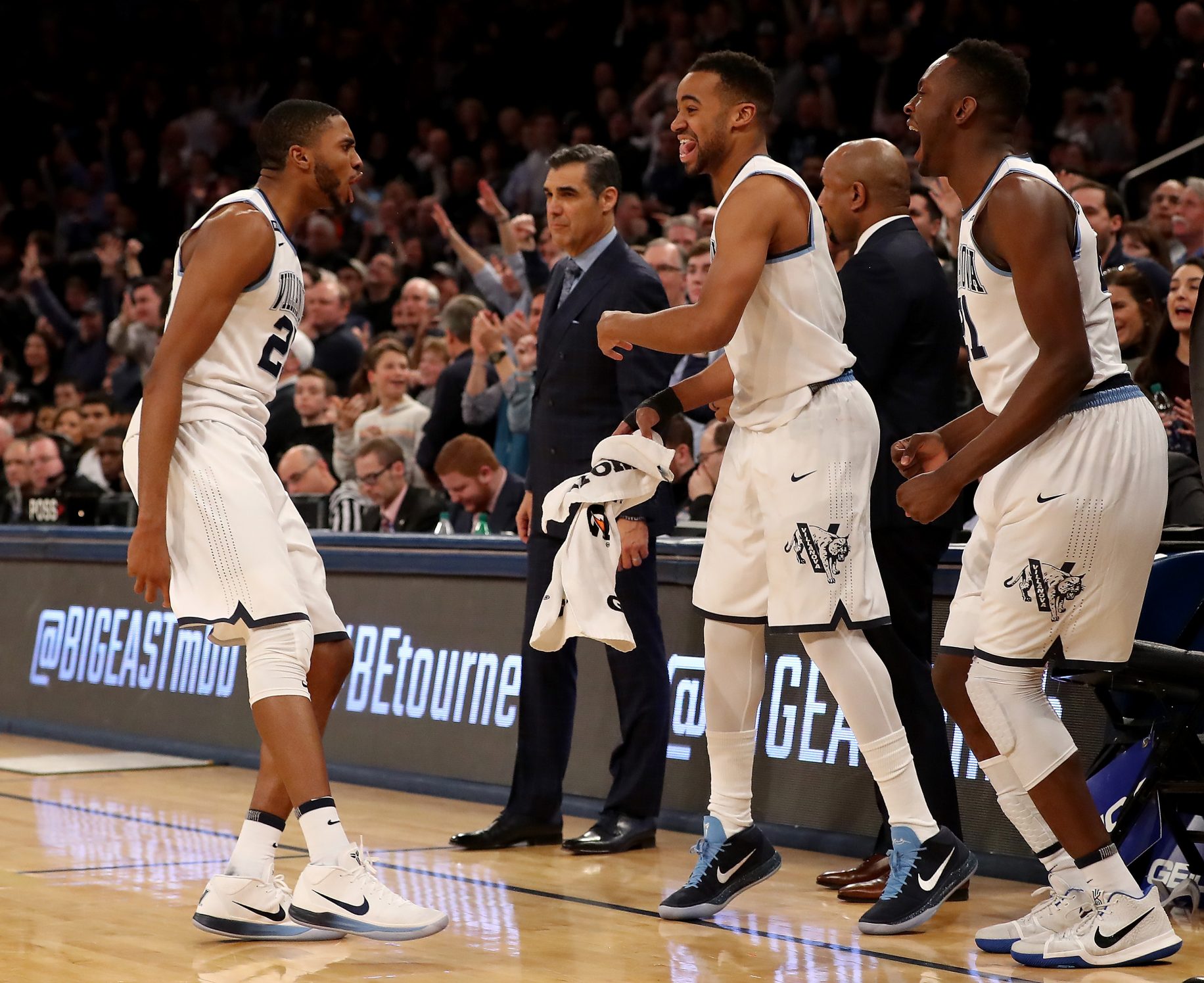 East Region
The number one seed in this region is the Villanova Wildcats. While 'Nova did not win the Big East regular-season title, they still were able to win the conference tournament behind a great performance in the title game from Mikal Bridges (25 points in the overtime win over Providence).
When you talk about 'Nova, the conversation starts with point guard Jalen Brunson. Brunson would be my pick for Naismith Player of the Year because he can score (31 against Providence), he can pass (4.7 assists per game), and he's always in the right place at the right time down the stretch.
Jay Wright does have a national championship on his resume, but Villanova has had a track record in the past of not making it past the first weekend like they did last year against Wisconsin. That could happen again this year if the Wildcats run into Colin Sexton and Alabama or a Virginia Tech team that beat Duke, North Carolina, and Virginia in the regular season.
If you are looking for an upset in this region, keep an eye on either (11) St. Bonaventure and point guard Jaylen Adams upsetting (6) Florida or the 12-5 matchup with (12) Murray State taking on (5) West Virginia.
While Murray State didn't get a great win out of the Ohio Valley, they nearly beat Auburn in the regular season and they haven't allowed more than 70 points in a game since February 1. If they can avoid turning the ball over against West Virginia's defense, they can win a low-scoring game with senior guard Jonathan Stark (21.8 points per game).
Prediction: For my Elite Eight, I have Villanova defeating (2) Purdue in a close game. Purdue has the size down low with Isaac Haas and the guard duo of Vincent and Carsen Edwards that can keep this game competitive. In a battle of two experienced teams, 'Nova finds a way to get back to the Final Four.
Midwest Region
The top seed in this region is another familiar one in the Kansas Jayhawks. While this isn't the best Jayhawks team compared to previous season, Bill Self's squad still found a way to win the Big 12, which wasn't easy this season.
For the Jayhawks, keep an eye on Devonte' Graham. The senior point guard is back in the Player of the Year conversation after averaging 17.3 points and 7.5 assists per game this year. He will be looking for a bounceback tournament after he only had three points in the Elite Eight last year against Oregon.
The Jayhawks have always had great guard play with Graham and Sviatoslav Mykhailiuk (15.1 points per game), but the frontcourt is going to be a key if Kansas wants to make a run to San Antonio. Their center, Udoka Azubuike, missed the Big 12 tournament with a left knee injury. Since he was the only player that averaged over five rebounds per game on the team (7.1), his injury status will be something to monitor.
By far, the most intriguing first round game of the tournament is the 7-10 matchup between (7) Rhode Island and (10) Oklahoma (Thursday, 12:15 p.m, CBS). Of course, the nation will be talking about Trae Young for the Sooners and his ability to drop 30 points on any given day. However, Oklahoma's defense has not been good to say the least (81.6 points per game allowed).
As for Rhode Island, Dan Hurley is one of the best mid-major coaches in the country. The Rams did lose three out of their last five games, so there is some concern. However, they have a good backcourt duo in Jared Terrell and E.C. Matthews. Plus, their defense averaged 7.65 steals per game (second in the Atlantic 10).
Prediction: In a region loaded with premiere program, I am going to go with (2) Duke to beat (1) Kansas. The Blue Devils have a young team, but they have a tough post threat down low in Marvin Bagley III and their zone defense has helped them towards the tail end of the season.
Grayson Allen has the tournament experience and a national championship on his resume, but he might not be the most important player on the Blue Devils. That could be Trevon Duval. The freshman had 18 assists in the two ACC Championship games he played in and averaged 5.5 assists per game.
Final Four
(4) Arizona over (2) UNC
(2) Duke over (1) Villanova
National Championship: (4) Arizona over (2) Duke
In the rematch of the 2001 National Championship game, Arizona finds a way to get the win in the battle of possibly the top two picks in this June's NBA draft (Ayton and Bagley III).