Step up, ladies and gentleman! It's time to take a closer look at who exactly should be the Opening Day starter for the New York Yankees.
With all the fun and games in spring training, shouldn't we get to play some games along with the New York Yankees?
Today we'll play a rousing edition of the popular game show, "Who Wants To Be A Millionaire?" Except this time, we'll put our own baseball twist on it for the sake of Opening Day looming ever closer. So just for today, the game is "Who Wants To Be Your Opening Day Starter?"
Right now, it's up in the air as to who will secure the coveted Opening Day gig. For the past three seasons, Masahiro Tanaka earned the honor. Before that, CC Sabathia stole the role for six straight seasons. But this year, there are options.
Without further adieu, let's meet the contestants who are battling it out for the starting role on March 29.
Masahiro Tanaka, RHP
Here we have the three-time winner of this competition for three consecutive seasons. Tanaka is back for blood and, despite having a rough year last year, he's ready to make it known that he's not going down without a fight.
Tanaka finished 2017 with a 13-12 record and a 4.74 ERA and essentially came back from the depths of hell to salvage his season. Will he be the winner or will his perchance for poor stretches be enough to end his three-year streak?
CC Sabathia, LHP
The hefty lefty is here to win back the coveted spot he owned for six seasons in pinstripes. Sabathia rocked it last year between injuries, going 14-5 in the regular season.
But can he return to former glory? I guarantee you, he didn't sign on for one more year in pinstripes to watch from the bench on Opening Day. He wants one last shot at that spot.
He finished last season in the Cy Young conversation and now he wants to be an Opening Day starter. The young hurler has done wonderful things for the Yankees and wants to be rewarded for his stellar year.
Severino's 14-6 season skyrocketed him to fame and he's looking for more of the same this year. When was the last time a young and exciting pitcher was given a starting opportunity on Opening Day? Severino hopes to be just that.
Sonny Gray, RHP
Sonny days are here again! With the Yankees claiming Sonny Gray halfway through 2017, they instantly became favorites come playoff time.
Gray has gotten two Opening Day starts in his career, both with the Oakland A's. Maybe he wants those again after a brief hiatus. After all, what better way to get yourself to be seen as someone other than the new guy in the rotation?
Jordan Montgomery, LHP
Finally, let's look at the kid. Jordan Montgomery put together an impressive freshman campaign last year, going 9-7 and anchoring the rotation.
He may be young but he is certainly hungry. Besides, having a sophomore take the mound for the Yankees really emphasizes the fact that they're looking for the future. It's worth a shot for JoMo to fight for this position.
So, now that all the contestants have been introduced, let's look at the possibility for each of them and select our Opening Day starter.
The nice thing about this rotation is that four of the five pitchers are under the age of 30. However, age shouldn't matter when it comes to selecting the Opening Day starter. In fact, the decision should be solely based on talent alone.
While Gray, Tanaka, and Sabathia have each had more than one start on Opening Day, that doesn't guarantee that they'll get that opportunity again. Maybe it'll be time for the young guns to make their presence known while the aging veterans get to sit back and wait for a few games before making their season debuts.
However, the veterans have more experience in this position and have the stats for Aaron Boone and the Yankees to look into prior to making their decision. Tanaka is 0-2 in three Opening Day starts, surrendering 13 earned runs in 12.1 innings pitched. Sabathia hasn't fared much better, going 0-3 in pinstripes for his Opening Day starts. Then again, the Yankees are 1-8 in Opening Day games started by these two.
Gray has a different record but he also did so in Oakland instead of the Bronx. Gray's two Opening Day starts in 2014 and 2015 resulted in a 1-0 record while giving up no runs in 15 innings pitched. Maybe Gray didn't do so well in the second half of the season (4-7, 3.72 ERA with the Yankees), but he seems to start the season pretty strong.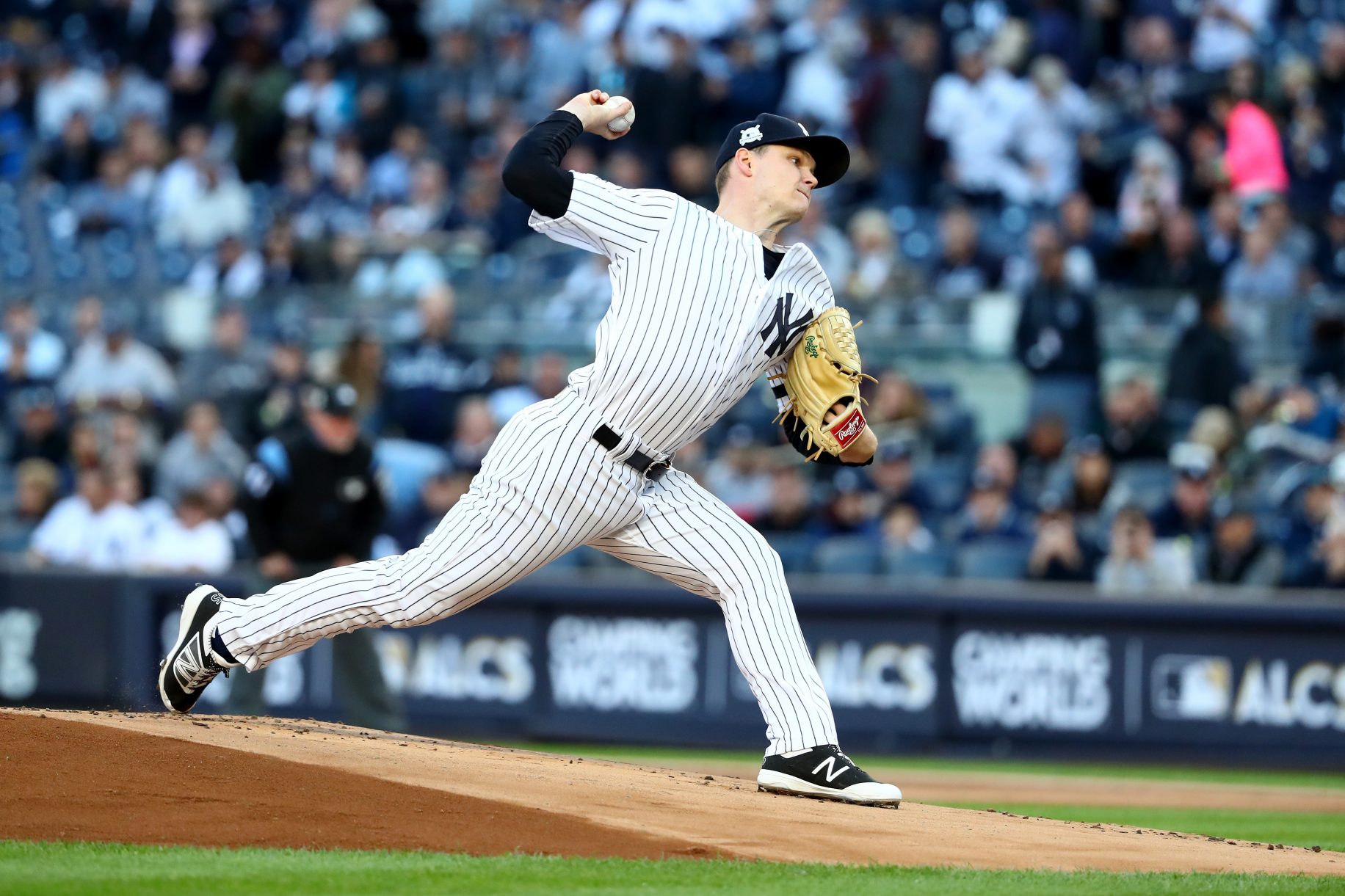 It seems Sabathia and Tanaka should be out of the running, based on their previous performances. But what about the young kids?
Severino is coming off a third-place finish in the American League Cy Young race but he also fell apart when on the big stage against the Minnesota Twins during the Wild Card game. Opening Day vs. the Wild Card game…the pressure is different but it is still there.
Even so, his performance during the regular season can't be ignored. Severino arguably had his best season and is threatening to repeat this stellar performance in 2018.
Montgomery is 25 and doesn't have much of a case for him, as he is coming off his first full season. However, last season he had better performances against the Toronto Blue Jays, this year's Opening Day opponent, than any of the other four starters. Monty went 1-0 with a 0.79 ERA in two games pitched.
And the winner is…
With much deliberation, the winner and the Opening Day starter should be Luis Severino!
Forget about the veterans…it's all about the young superstars, the new core. Severino represents the future of this organization and deserves to redeem himself after last year's Wild Card debacle. Besides, it wouldn't be hard to put a 14-game winner out to start the season off on a great note.
In other words, what have they got to lose? The Yankees have lost their last six Opening Day games. Let's reverse the trend…Luis Severino is the guy to do just that.