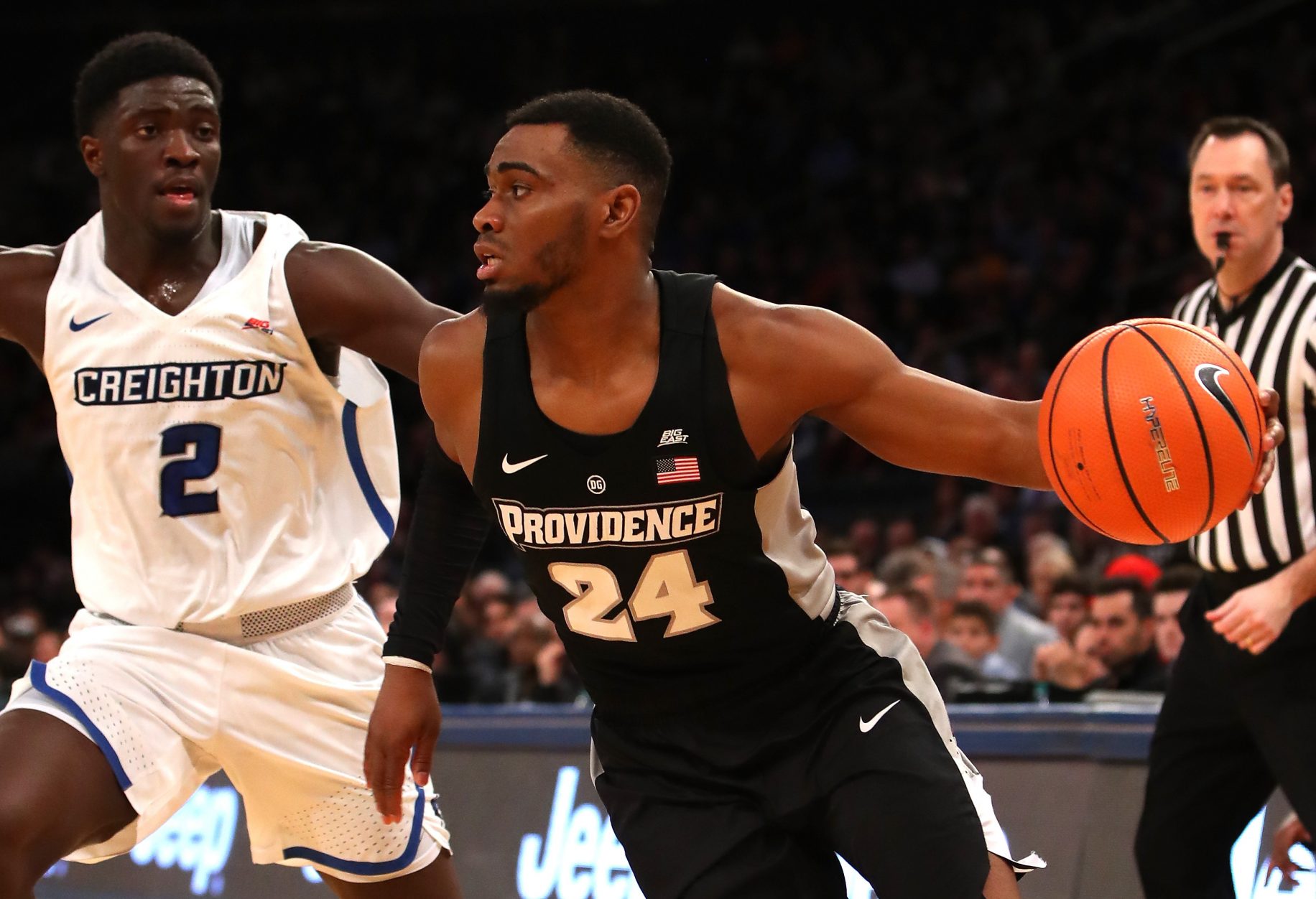 With the bracket now officially revealed for the NCAA Tournament, we look at the Big East teams that have the best chance to win their first-round games.
The time is finally here as the NCAA Tournament begins tonight in Dayton. While the Big East doesn't have anyone playing in the First Four in Dayton, the conference did get six teams into the NCAA Tournament, including a pair of number one seeds in Xavier (West) and Villanova (East).
The six bids by the Big East tied last year's total as Seton Hall, Providence, Creighton, and Butler also joined the Big Dance this year. Since the Musketeers and Wildcats are top seeds and are awaiting First Four winners, we will not talk about their first-round games in this particular piece.
As you are filling out your brackets this week, there are always those tough first-round games that get your brain spinning over who to pick. The four Big East teams I mentioned earlier are all seven seeds or lower, which are usually toss-up games.
So, let us try to help you as we breakdown the matchups for Seton Hall, Creighton, Butler, and Providence and we will pick some winners too.
(8) Seton Hall vs. (9) NC State (Thursday, 4:30 p.m ET, TBS)
The first of the four Big East matchups in the first round takes place in Wichita, Kansas and it's a big one for the Pirates. Seton Hall is in the NCAA Tournament for the third straight year, but they have not won a first-round game in each of the two prior years.
Fortunately, for Kevin Willard's club, they should be healthier in this game with Desi Rodriguez and Ismael Sanogo each having time to rest the injuries that affected them down the stretch. On Monday, Zach Braziller of the New York Post talked with Rodriguez about his ankle injury.
Desi Rodriguez said he's 70-80 percent. Practiced more today than yesterday. #shbb

— Zach Braziller (@NYPost_Brazille) March 12, 2018
For Seton Hall, their challenge will be to stop a Wolfpack offense that averaged 81.2 points per game in the regular season. They are a tough team to figure out because they had great wins against Arizona, Duke, and North Carolina. However, they also could lose to anyone (losses to Boston College and Georgia Tech).
While NC State has a strong offense, their defense gave up 76.8 points per game in conference play (third most in the ACC). Also, keep an eye on the number of second-chance points the Wolfpack get. They averaged 11.3 offensive boards per game in the ACC, so Angel Delgado will be a key in trying to limit that number.
The Wolfpack's leading scorer, senior guard Allerik Freeman, had 15.4 points per game in the regular season and scored at least 16 points in each of the final eight games of the regular season.
As for my prediction in this game, I will take Seton Hall in a close win. The third time should be the charm for the Pirates and I think it is because of their senior leadership. If Khadeen Carrington can play a clean game in terms of turnovers at the point guard position, Seton Hall should win and get their chance to play most likely Kansas on Saturday.
(7) Texas A&M vs. (10) Providence (Friday, 12:15 p.m ET, CBS)
While Villanova ended up winning the Big East conference tournament, Providence might have been the biggest story of the week at Madison Square Garden. Their seed line showed that the Friars needed the win over Creighton to secure not playing in Dayton for the First Four at the very least.
When watching the Friars, Kyron Cartwright seems to find a way to make big plays happen. He scored 20 or more points four times this year. That may seem to be a low number for a top player, but the senior can either hit the clutch shot or make the key pass to players such as Rodney Bullock and Alpha Diallo.
Kyron Cartwright- FEELING IT at @TheGarden!@PCFriarsmbb guard now with 15 points. #BEtourney pic.twitter.com/HXBsdsWy8q

— #BIGEASThoops (@BIGEASTMBB) March 11, 2018
As for the Aggies, they finished 9-9 in the SEC. That may seem like a mediocre record, but remember that the conference got nine teams in the tournament and this same Texas A&M team did beat West Virginia in the first game of the year by 23 out in Germany.
Billy Kennedy's squad has an offense that has four players who average in double figures led by junior center Tyler Davis (14.5 points per game). They are not the greatest three-point shooting team (32.7 percent), but they are a dominant team on the glass.
This season, Texas A&M had 41.3 rebounds per game, which was the fifth most of any team in the country. Davis (8.8 boards per game) and sophomore forward Rodney Williams (10.3 points, nine rebounds a game). It will be a tough task for Providence, but the Friars were fourth in conference play in offensive rebounds (10.7).
For this matchup out in Charlotte, A&M has the talent to make a run, but they haven't been consistent this season. The Friars had a great run at MSG and that momentum should carry them in this matchup. It is tough to trust the Aggies as to which team will show up and Cartwright has the ability to steal a game with his playmaking ability. Friars move on and potentially face North Carolina.
(7) Arkansas vs. (10) Butler (Friday, 3:10 p.m ET, TRUTV)
This season, Butler has been a tough team to figure out because they showed they could beat Villanova, but the Bulldogs did lose five of their final eight games, including a double-overtime loss to St. John's at the end of February.
With that being said, Butler has a strong duo in Kelan Martin and Kamar Baldwin that can put points on the board. Baldwin had 32 points in the Big East quarterfinal win over Seton Hall, which was the Bulldogs' first-ever win in the conference tournament.
As for Martin, he had 20.8 points per game in the regular season. The only player who averaged more points in the Big East than the senior forward was Shamorie Ponds from St. John's (21.6). Martin has been a part of seven NCAA tournament games and he averaged 15 points per game in last year's run to the Sweet 16.
Arkansas did win four of their last six games coming into the big dance, which included a win over then-14th ranked Auburn. They are a team that can hit three-pointers with the best of them as they led the SEC in that category (40.1 percent).
The Razorbacks are led by senior guard Jaylen Barford, who averaged 18 points per game this year, shot 47.2 percent from the floor, and hit 43 percent of his trifectas. While Arkansas can score, their 34.8 rebounds per game were the third fewest in the SEC and the lowest of any NCAA Tournament team in that conference.
Butler does have somewhat of a home-court advantage with this game being in Detroit. This is a pick that is tough to have much confidence since the Razorbacks are only favored by 1.5 points. But, Arkansas has too much firepower on offense. If Barford and senior guard Daryl Macon (42.9 percent from downtown) can hit their three-pointers, then it will be a long night for Butler. Razorbacks win a close one and get a potential second-round matchup with Purdue.
(8) Creighton vs. (9) Kansas State (Friday, 6:50 p.m ET, TNT)
The early storyline from this game has to be the revenge storyline for Creighton senior guard Marcus Foster. Foster played his first two seasons with the Wildcats before being dismissed by the program. He would go to the Blue Jays, where he's played the last two years.
If there's anyone Creighton wants with the ball in their hands at the end of the game, it is Foster. He shot 49 percent from the floor this season and has shown the tendency to excel in the big moments (28 points against Villanova back on February 24).
On defense, fans will get to see one of the best defenders in the country in junior guard Khyri Thomas. Thomas averaged 1.7 steals per game in the regular season, but he had 13 combined steals in his last three games (four or more in each).
However, with the ACL injury to Martin Krampelj back in January, the Wildcats have a chance to take advantage of that with the play of junior forward Dean Wade. Wade not only leads Kansas State in points per game (16.5), but he also shot 44 percent from beyond the arc (third best in the Big 12). However, despite that absence of Krampelj, Creighton had 29 boards per game in the Big East (best in the conference).
This game should be a low-scoring one if you off the fact that Kansas State has only allowed over 80 points twice since February 3. The two teams that scored over 80 against Bruce Weber's team were West Virginia (89 on February 3) and Kansas (83 on March 9).
As for the prediction, in a low-scoring game, go with the player that has the best chance to steal a game. With Foster likely being the lead story in this game, expect him to rise to the occasion and get the Blue Jays the win in Charlotte. A Creighton win would set up a likely matchup with the number one seed, Virginia, on Sunday.
So, if the predictions hold true, the Big East would go 5-1 in the first round if Xavier and Villanova win their games against the play-in winners. What are your thoughts on how the Big East will do in the NCAA Tournament?