The frantic fifth-starter question in the land of the New York Yankees actually already has a sound answer and his name is Jordan Montgomery.
The New York Yankees fifth starter should be …
I've had enough. Why doesn't anyone want Jordan Montgomery to be the fifth starter? Everyone seems to want the team to go out and get another starter. Fans were clamoring for the Yankees to go out and sign Yu Darvish or trade for Gerrit Cole. They begged Brian Cashman to make a move to "shore up" the back end of the rotation.
Not many have given Jordan Montgomery the respect that he deserves. Therefore, I will be taking it upon myself to explain why Jordan Montgomery is the best possible option for the fifth starting spot the Yankees have had all off-season.
Let's start with the classic statistics.
Per ESPN, in 2017, Jordan Montgomery's rookie year, he pitched to a 9-7 record. That isn't a statistic that truly jumps off the screen but when you consider that Montgomery's innings limit shortened his starts late in the season and even forced him back down to triple-A for a time, it becomes clear that Montgomery could have had 4-5 more wins.
The best statistic, in my opinion, is the 3.88 ERA that Montgomery pitched his way to over 155.1 innings. That is roughly the same ERA as Yu Darvish pitched to and almost half a run better than Gerrit Cole's ERA. 
Where Montgomery really shines statistically, however, is hard contact percentage.
Per Fangraphs, Montgomery's hard contact percentage is 26.5 percent as compared to Gerrit Cole at 31.3 percent and Yu Darvish at 33.1 percent. That is a key statistic for a pitcher fighting the short porch in right field, as it shows that batters don't hit hard enough off Montgomery to take advantage of right field. Montgomery also gives up fewer home runs per nine innings than both Darvish and Cole and batters only hit at a .235 average against him.
The majority of these statistics paint the picture of a rookie starter that had similar relative production to two established and highly-desired starters. That itself should be enough to please Yankee fans and breed confidence in the team's current starting rotation. But for the most stubborn fans who demand a bigger name, I have a more important point.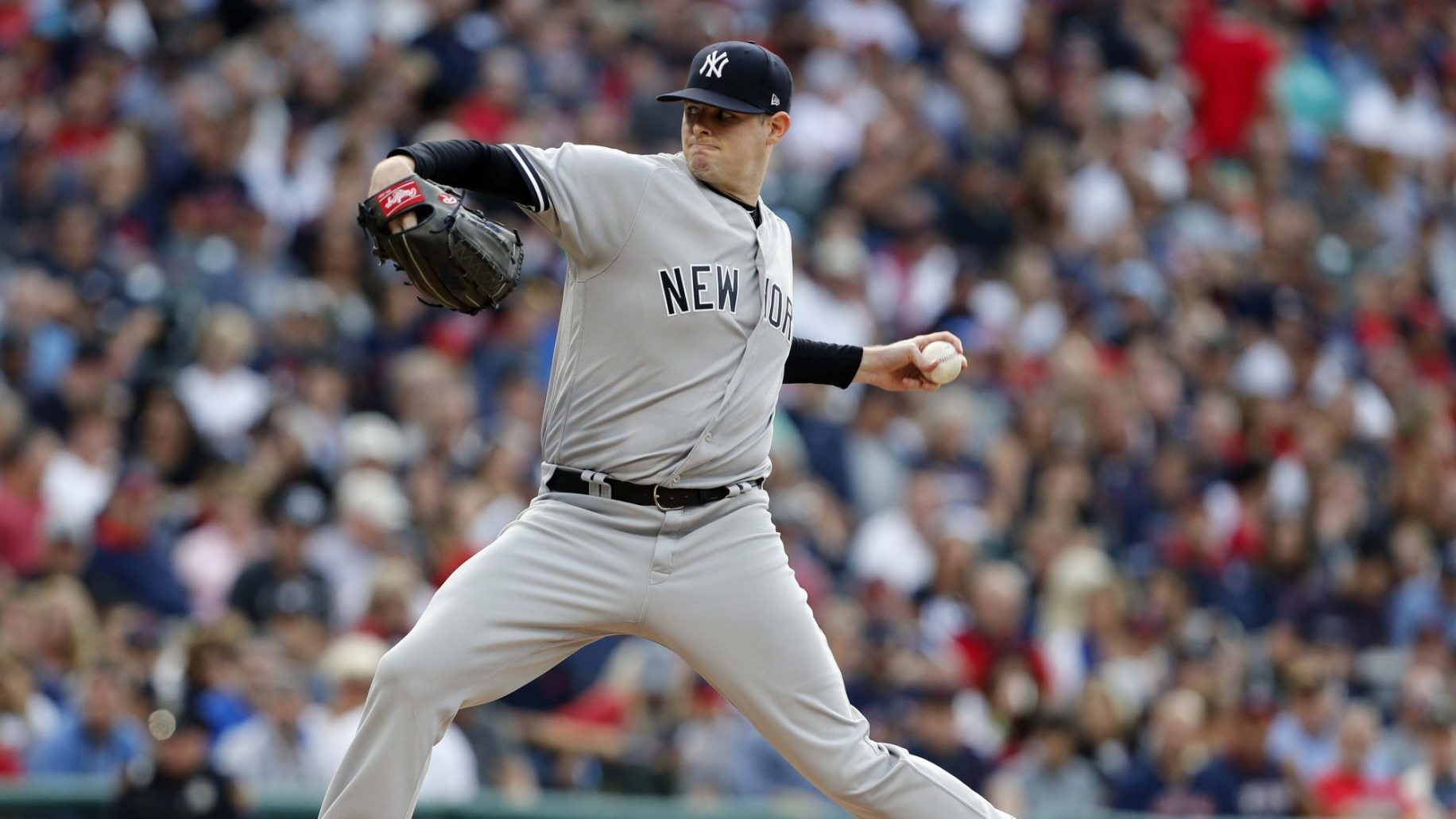 Jordan Montgomery doesn't throw very hard. His fastball lives in the 88-92 range which in today's game, is just not a viable weapon. He lives and dies with his breaking balls and precision pitching.
These statistics, per Fangraph again, show that Montgomery uses his fastball only 41.9 percent of the time. His curveball is the pitch that he uses the most effectively, dealing it 26.1 percent of the time. His changeup, however, is the best pitch Montgomery has for getting strikeouts. He uses the changeup 19.3 percent of the time and it is an extremely effective pitch against right handed batters.
But why does Montgomery's less than overpowering pitching lead some to believe in him so strongly? It's because his average velocity and slightly above average breaking stuff have forced him to learn how to pitch while many rookie pitchers with more electric arms are just throwing.
Montgomery has learned at an extremely young age how to use his pitches to set batters up, changing speed and eye level as well as mixing his pitches well. That is a skill that will help him be an effective pitcher deep into his career where other young pitchers struggle to adjust to decrease in power stuff on the back end of their careers.
Jordan Montgomery deserves to be the fifth starter. He produced in that role at a fantastic level in his rookie year, with comparable numbers to both big name arms that fans were clamoring for.
His style of pitching will lead to a long, consistent, and effective career. He may never be the prototypical ace, but Jordan Montgomery will be a solid pitcher in the Yankees organization for years.