Manny Machado is great, but Miguel Andújar has the ability at the plate to be next star player for the New York Yankees.
New York Yankees fans envision Manny Machado manning the hot corner for the Bronx Bombers in the spring of 2019. That dream, which may not come to fruition, is at best a year away. For the 2018 season, the third baseman for the Yankees is still a mystery in the early parts of spring training. That player could very well end up being homegrown Miguel Andújar, who may turn out to be the Yanks' everyday third baseman for years to come.
The 22-year-old Dominican-born player burst onto the scene in 2017, rising up the minor league ranks in the Yankees farm system by tearing it up at the plate.
Andújar began 2017 at Double-A Trenton, where he batted .312 with seven home runs and 52 RBI through the first 67 games of the season.
When he moved up to Triple-A Scranton, Andújar continued to blossom at the plate, batting .317 in just 58 games played.
During his breakout 2017 season, Yankees fans remember Andújar making team history in a 12-3 win over the Chicago White Sox, going 3-for-4 at the plate with a game-high four RBI in his major league debut. It was the last time Andújar would start for the Yankees in 2017, but his performance made a great impression on general manager Brian Cashman.
"He's a very exciting talent," Cashman said of Andújar on Sirius XM Radio in January, per MLB.com's Bryan Hoch. "One that's being insisted upon, it seems like, in every conversation I'm having with anything that's high-end out there. There's a recognition of Clint Frazier and Miguel  Andújar as the next level of guys right below Gleyber Torres and it's understandable why, with what these guys have done coming through our system."
Earlier this offseason, Cashman said that Andújar, who ESPN's Keith Law ranks as baseball's 54th best prospect heading into 2018, is in the mix for the third base job.
His bat is ready for the major league level and he has a strong arm to play the hot corner. His footwork needs some work in the field, but he undoubtedly has the tools to be the guy and has earned a shot to start the season as the Yankees' third baseman.
The Yankees don't have to panic and make a deal in free agency. Yes, Mike Moustakas is still available, but it's a "long shot" the Bronx Bombers will sign him, reports Jon Heyman of FanRag Sports.
folks are calling it a long shot, but yanks and mike moustakas havent lost touch. could make great lineup better (and more balanced). https://t.co/Whg0pELrLH

— Jon Heyman (@JonHeyman) February 14, 2018
As one Yankees source told Heyman in regards to Moustakas, "It has nothing to do with the player, it's the money." With Moustakas believed to be seeking a multi-year deal averaging between $15-to-$20 million annually and the Yankees believed to have roughly that amount available—though they want to keep some wiggle room—Moustakas isn't a likely addition.
If the Yankees stick to their plan to use their money carefully, then they should look to spend it on pitching and not on a second or third baseman. Also, with the Yankees having a strong farm system, you can believe they will try to acquire a front-line starter come the July 31 trade deadline. That pitcher's contract would play into the Yankees' payroll for this season too.
Andújar's development over the last year is also a factor for not needing to sign a guy like Moustakas. He's not a proven veteran, but with his superb talent, Andújar can give the Yankees the same amount of production as Moustakas would, maybe even more.
From 2016 to 2017, Andújar raised his batting average from .276 to .315. He hit four more home runs. Biggest stat of all, Andújar has knocked in a combined 165 runs over the past two seasons, 83 RBI in 2016 and 82 RBI in 2017.
Machado was only hitting .256 in 109 games played at Double-A when the Baltimore Orioles brought him to the majors in 2012. Andújar hit .266 with 42 RBI in just 72 games played in his first stint at Double-A in 2016.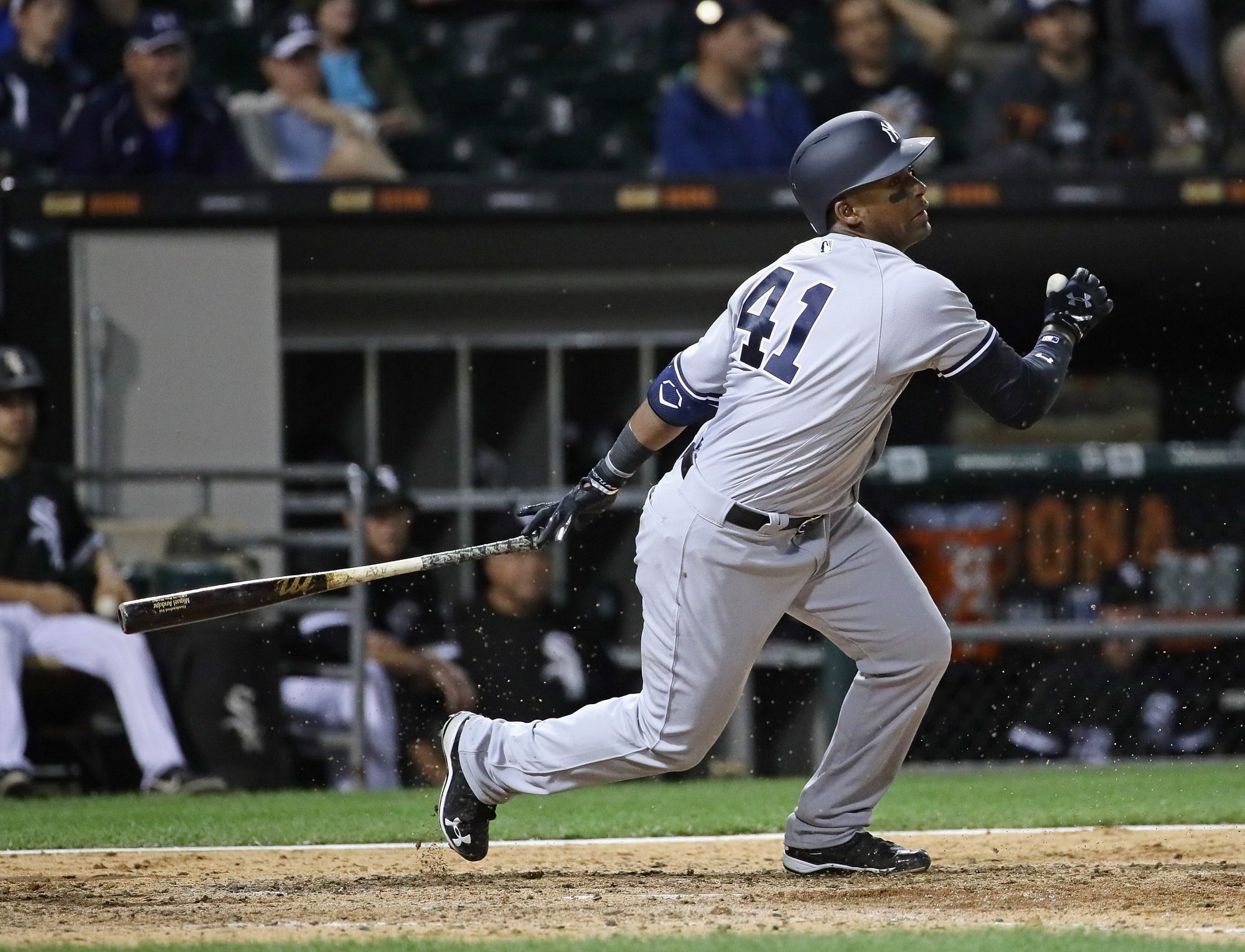 Andújar's ability to hit, especially with runners in scoring position, is why he has a chance to be the Yankees third baseman for years to come.
When the Yankees open up the season against Toronto Blue Jays on March 29, the guy manning third base for the Yankees should be Miguel Andújar.
He's ready for his shot to be the guy in New York.