The New York Yankees have a unique opportunity to try again with Chad Green what once failed with Joba Chamberlain. And, once again, they are likely to make the same mistake.
I never thought I would see this day again. "They'll never make this mistake again!," I said. "They'll learn from what they did to the best reliever on the team not named Mariano Rivera." Yet here we go again.  Trying to turn an electric bullpen arm into a borderline 5th starter.
Why?
The New York Yankees tried Chad Green as a starter. It didn't work. His stuff was good but it wasn't good enough to find success in that role. In 2016, Green appeared in 12 games with eight starts and pitched to a 2-4 record and 4.73 ERA. Those statistics don't warrant putting Chad Green in the conversation to be the Yankee's fifth starter in 2018. They paint a picture of someone who can come up and provide a spot start when injuries strike.
Fast forward to 2017, however, and Chad Green became one of the most dominant arms on the team. After losing the battle for the last starting spot to Jordan Montgomery, Green was converted to a bullpen pitcher and he absolutely dominated. He appeared in 40 games with only one start and his ERA dropped from 4.73 to 1.83. His K/9 jumped from 10.2 to 13.4. His H/9 dropped by 1.9. Most importantly, his WAR as a starter was .2, and his WAR as a reliever was 2.7.
There's absolutely no doubt that Green was far better coming out of the bullpen than starting on the rubber. The main reason for his increased success out of the bullpen was that the shortened innings allowed him to dial up his fastball from the 93-94 range to 98 with great life. The more experience he got in late-game situations, the more often he rose to the occasion and locked games down.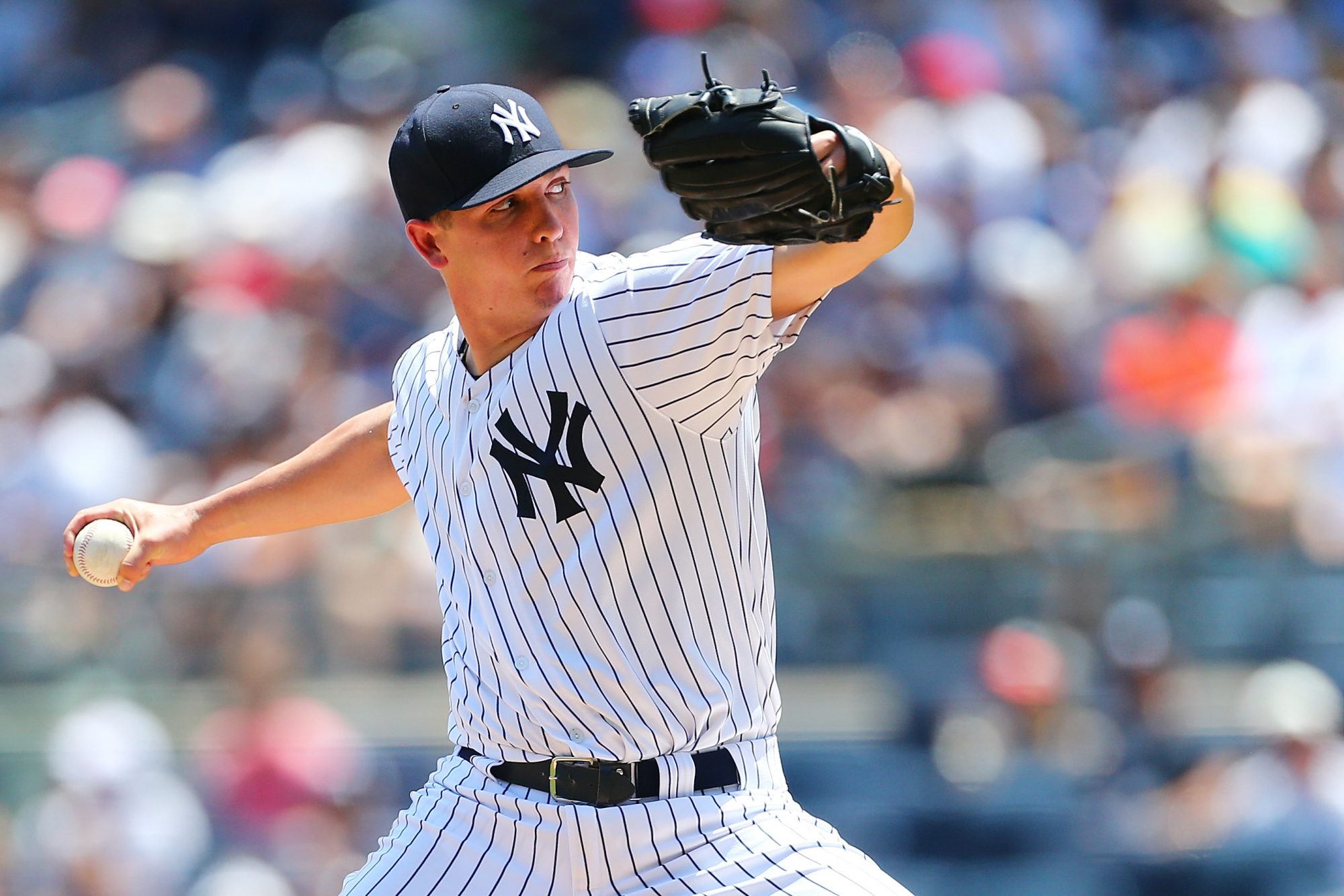 His history as a starter allowed him to be peddled out in high-leverage situations and keep games from getting out of hand for two or three innings. He earned Girardi's trust to be utilized in the most important situations. He was more effective than Dellin Betances and became the perfect bridge from a strong starter to a deadly bullpen.
So why are the Yankees even entertaining the idea of stretching Green out to be a starter again? His success directly correlated to his ability to dial up his fastball without needing to worry about maintaining it through five or six innings. So naturally, the best way to utilize that level of elite talent is to try to stretch him back out so his fastball is maxing out at 93 in the fifth inning.  
Additionally, and excuse me because I feel like this has been said before, Jordan Montgomery is the fifth starter. He's earned that spot. He pitched great all 2017. He originally snagged the fifth spot from, you guessed it, Chad Green. The Yankees chose to go with Montgomery and were rewarded with a promising rookie and a well-above-average fifth starter. It makes no logical sense as to why the Yankees are trying so hard to replace someone who gave them a 3.88 ERA over 155.1 innings in his first season.
There is no benefit to having Chad Green training to be a starter again. He proved without a doubt that he is best utilized as a phenomenal bullpen arm. The Yankees starting rotation is great the way it is. If the Yankees continue down this path with Chad Green, they risk repeating the mistakes they made with Joba Chamberlain several years ago.
Chad Green has found his calling as the high-leverage bullpen arm the Yankees rely on to bridge the gap between the solid starters and phenomenal bullpen. In an age where good relief pitchers are valued more than ever, Chad Green belongs in the role he flourished in during the 2017 season.