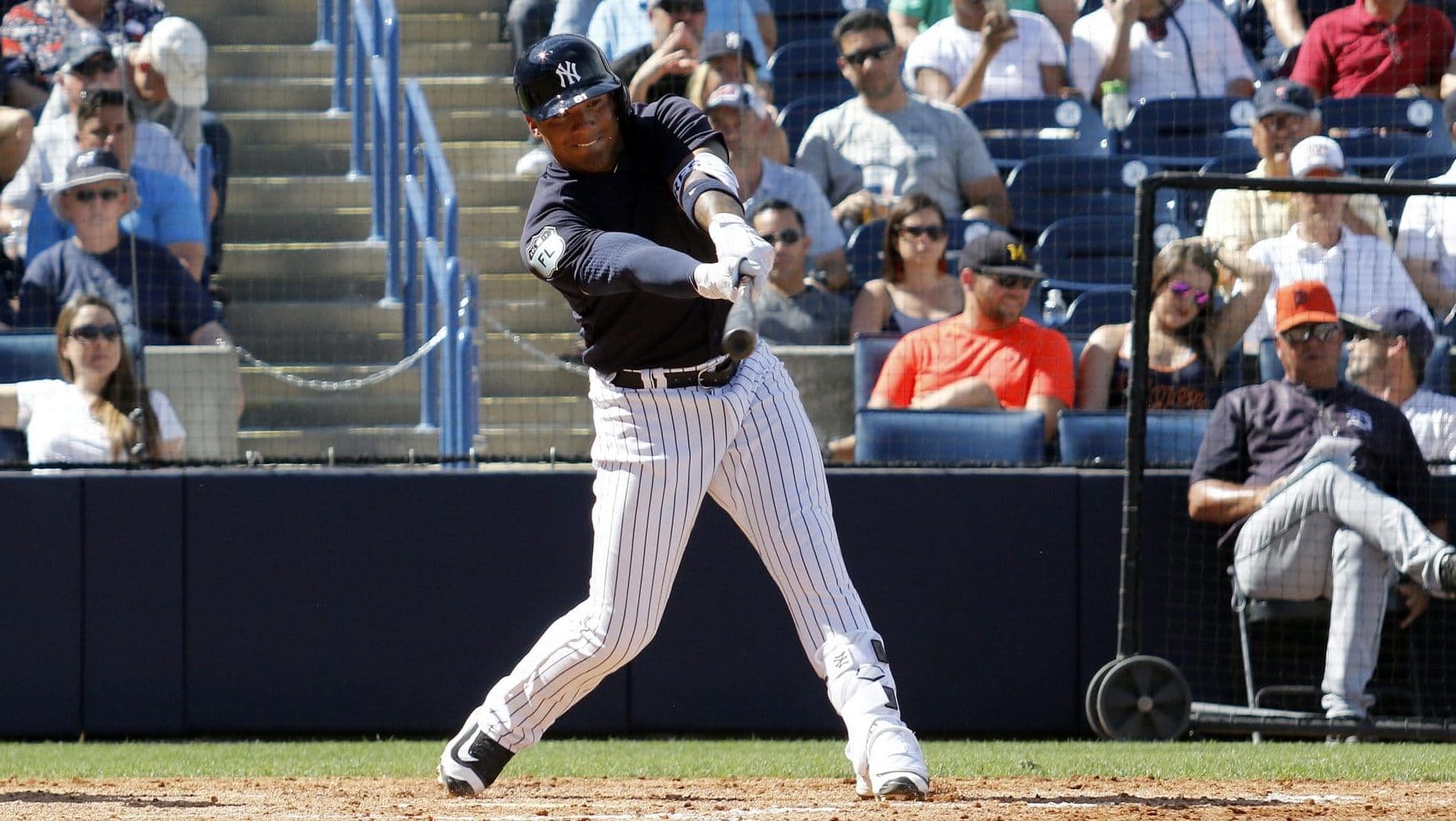 Fully recovered from Tommy John surgery on his non-throwing arm, New York Yankees super-prospect Gleyber Torres says he's ready to play ball … just in time for Spring Training. 
As we inch a little closer every day to the start of the 2018 season, one of the biggest questions in the minds of New York Yankees' fans everywhere is how are the Yanks planning on filling the opening at second base? Another way to pose that question is to ask, is top prospect Gleyber Torres ready to take the reigns at the keystone?
According to the YES Network, the 21-year old is absolutely ready and raring to go.
Good news, @Yankees fans … @TorresGleyber says he's at 100% pic.twitter.com/DlK55mw1sW

— YES Network (@YESNetwork) February 9, 2018
To hear Yankees hitting coach Marcus Thames speak so highly of Torres' abilities at the plate while still being so young is not only encouraging but rather refreshing. When considering Torres' non-roster competition Danny Espinosa and Jace Peterson are underwhelming at best on the offensive side of the ball, Thames' confidence gives reason to have excitement over the young prospect.
The most memorable part of the video is hearing Carlos Mendoza speak to how intelligent Torres is. As everyone knows, New York is a tough market to play in and having a smart and level head on your shoulders is paramount. Torres appears to have all the tools to make second base all but his (following the April 14 projected call-up date, of course.)
Torres has gone through a rigorous rehabilitation to get back to this point, and listening to him speak to the good standing of his own health and arm all but solidifies the fact that all of us Yankees fans will be glued to the television whenever the seemingly can't-miss prospect takes the diamond this spring.
No Place Like Home
While every player has a different approach as to the design and routine of their own offseason, third-ranked left-handed pitching prospect Justus Sheffield makes his way back to Tullahoma, TN for some familiar faces and home cooking for his offseason work.
We spent a day with @TopSheff42 and learned how the #3 LHP prospect in all of baseball stays in shape while eating his grandparents' home-cooked meals. ? ? pic.twitter.com/kTNZXZembW

— New York Yankees (@Yankees) February 9, 2018
Sheffield makes it nearly impossible not to pull for someone with such class and charisma as the young lefty displays. Not only does Sheffield possess all the necessary tools in his left arm to have a long and successful career in The Show, the humility and intelligence he displays will help him to handle all the pressure that a place like New York brings.
Definitely look for Justus to make an impact on the big club in 2018, whether it be right out of camp or as a September call-up. Write it down.
Boone Docks in Tampa
While everyone is looking forward to Aaron Judge and Giancarlo Stanton's sure-to-be-epic batting practice displays, the competitions for the available infield spots and who will take the reigns for the fifth and final spot in the rotation and more, no one is really talking about the arrival of the new chief of the tribe. Well, thanks to Aaron Boone's Twitter feed, we now know.
Off to Tampa ✈️ #Yankees #SpringTraining

— Aaron Boone (@AaronBoone) February 9, 2018
After such an impressive 10-year run by Joe Girardi, it's going to be very interesting to see how Boone handles the lofty expectations of being the manager of the New York Yankees. From dealing with the myriad of reporters to answer to on a daily basis; to the "win now" mantra found in his job description, Boone will be under the largest microscope he has ever and will ever know. And that includes the pressure attached to being the son of the highly regarded Bob Boone.
Here's to hoping that Boone successfully silences all the nay-sayers and brings No. 28 back to the Bronx.
That's all for now from the Boogie Down, but be sure to stay locked in right here at Elite Sports NY for all of your need-to-know Yankees news and updates.