Tom Brady and the New England Patriots are preparing for their eighth Super Bowl appearance in 17 years. Here's a ranking of the quarterback's seven previous performances.
In seven prior appearances in the NFL's "Big Game," New England Patriots' quarterback Tom Brady has combined to throw three times as many touchdown passes (15) as interceptions (five). His team has won five times and the 18-year pro has been named Super Bowl MVP four times. So how do his previous showings on Super Sunday stack up from No. 7 to No. 1? And where will his performance against the Philadelphia Eagles this weekend eventually stack up?
7. Super Bowl 46: Giants 21, Patriots 17
It began badly and, despite the fact that the Patriots once owned a 17-9 third-quarter lead, there would be no championship for the Pats. Brady drew a penalty for intentional grounding in the end zone midway in the first quarter, resulting in a safety. He threw for 276 yards and two touchdowns but also threw an interception deep downfield early in the fourth quarter. All told, the Patriots had the ball for just 22:55 that afternoon in Indianapolis. It proved to be an unusual off-day for the brilliant quarterback.
6. Super Bowl 36: Patriots 20, Rams 17
Yes, it was the team's first NFL title and Brady orchestrated a memorable drive in the closing moments to put Adam Vinatieri in position to boot that game-winning 48-yard field goal at the gun. For the game, the then-second-year pro threw for just 145 yards, hitting on 16 of his 27 throws without an interception. He also led a team that didn't turn over the football and won a game in which the Pats gained only 267 total yards. Still, not bad for a young player making his Super Bowl debut after beginning the year on the bench behind Drew Bledsoe.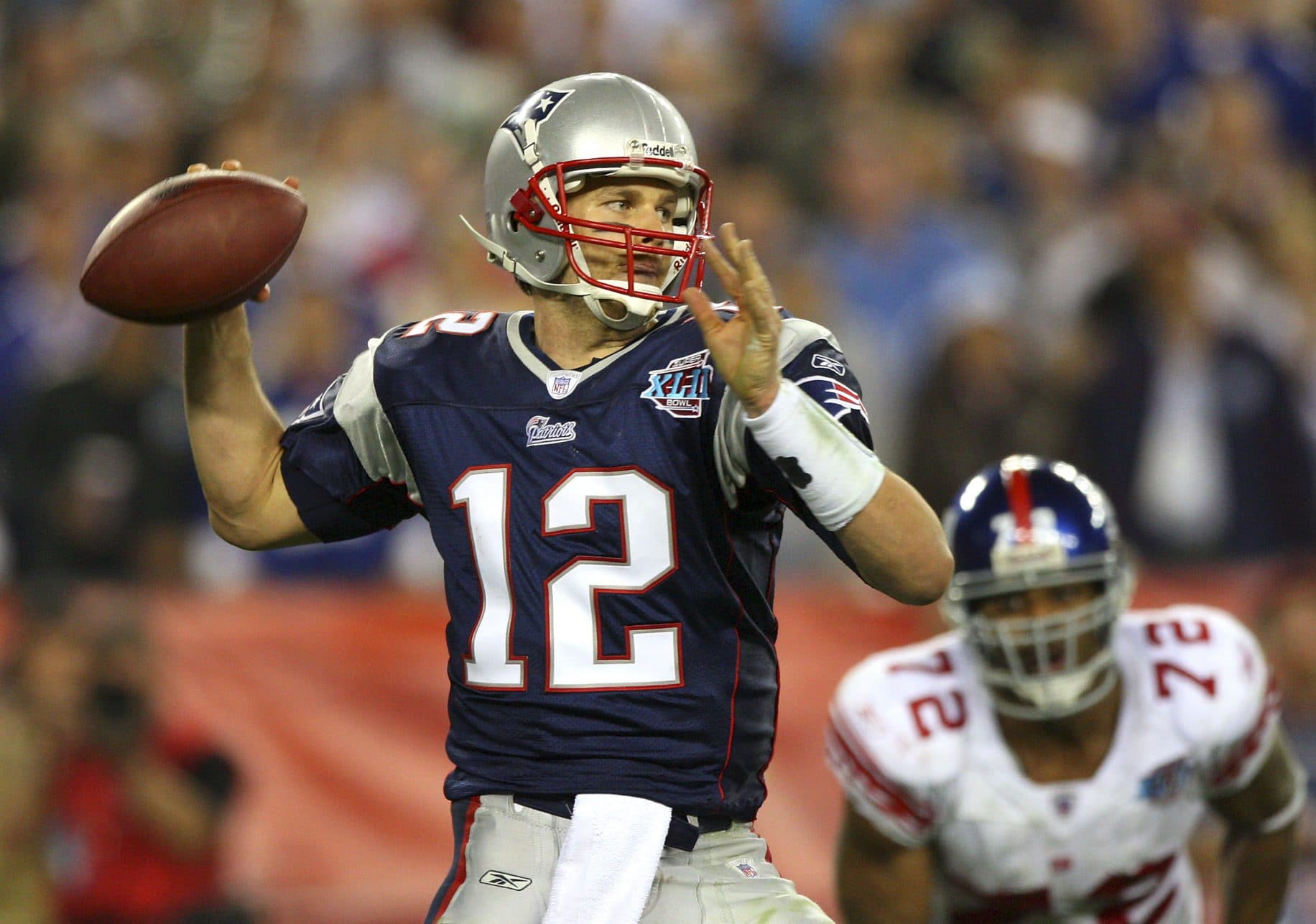 5. Super Bowl 42: Giants 17, Patriots 14
Enough said. Winners of 18 straight games heading into Super Sunday, the Patriots were upset by a Giants' team that had given them their best shot in Week 17 at Giants Stadium. That 38-35 win over Tom Coughlin's club was in stark contrast to this tilt in Arizona. But while Brady was sacked five times and lost a fumble late in the first half, he helped keep his team in the game and led a scoring drive to give his club a 14-10 lead with 2:42 remaining. Despite constant pressure from the likes of Michael Strahan and Justin Tuck, the Patriots' quarterback threw for 266 yards and one score (to Randy Moss) in the losing effort.
4. Super Bowl 39: Patriots 24, Eagles 21
Brady's performance against Andy Reid's club is a bit underappreciated, perhaps because teammate/wide receiver Deion Branch wound up capturing Most Valuable Player honors in Jacksonville. Understandable, because he did haul in 11 passes (nearly half of Brady's 23 completions) for 133 yards. But the still-young quarterback did hit on 23-of-33 throws in the game, good for 236 yards and two scores without an interception (although he did lose a fumble in the second quarter). All told, it was a game in which New England came up with four takeaways on the way to another three-point victory.
3. Super Bowl 49: Patriots 28, Seahawks 24
Down by 10 points in the fourth quarter, the veteran quarterback rallied his team with a pair of fourth-quarter touchdown passes. He finished the game with 328 yards through the air and four scores. And he did save his best for when his team needed him most. But Brady also had his early issues against the Seattle defense and was picked off twice in the first three quarters. The clutch performer earned MVP honors and rightfully so, although a case could have been made for wideout Julian Edelman as well. Brady's TD passes did go to four different receivers and he wound up completing an impressive 74 percent of his passes (37-of-50) in the team's thrilling win.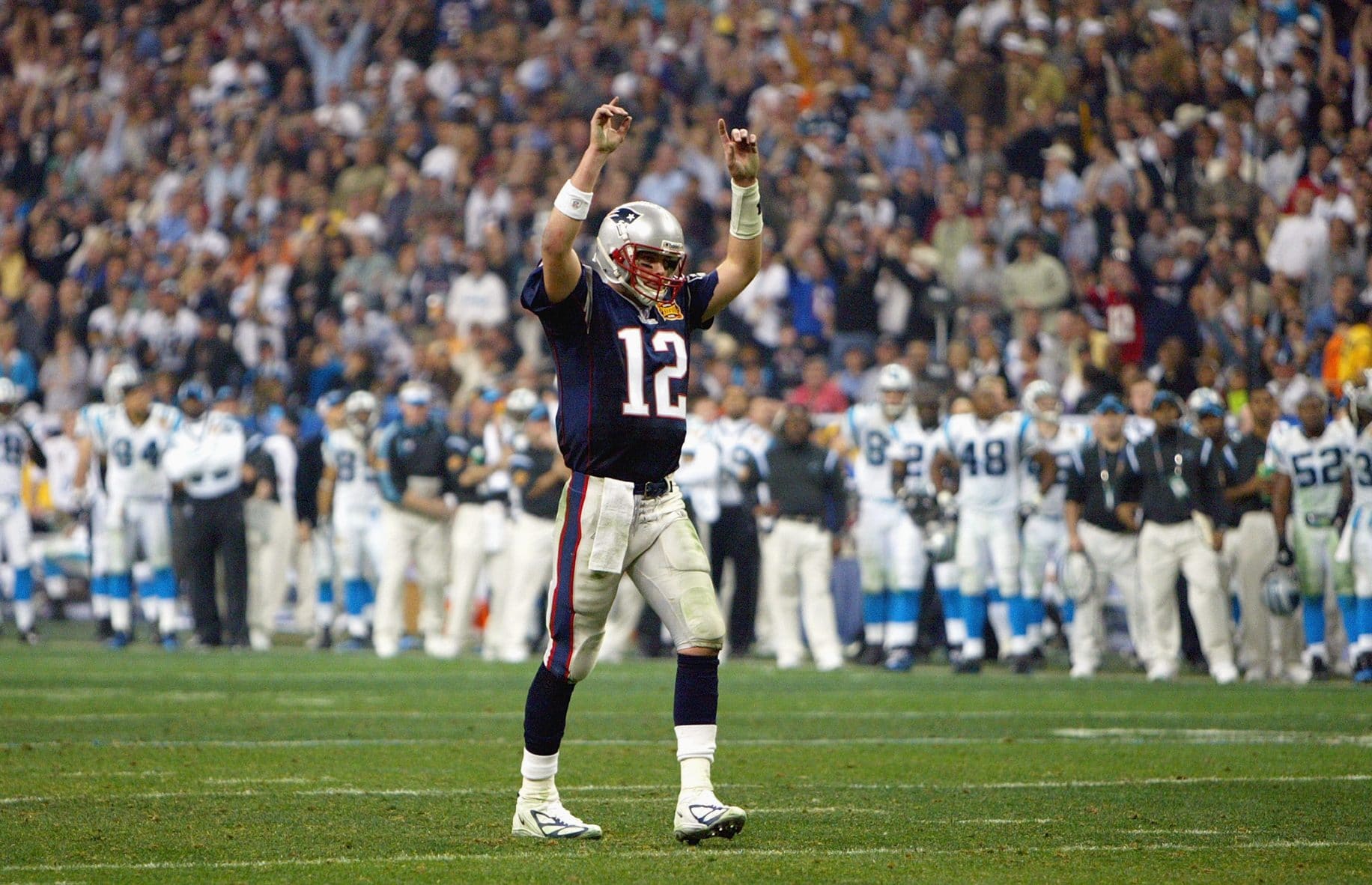 2. Super Bowl 38: Patriots 32, Panthers 29
It was an odd game when it was all said and done. It was also one of the more underappreciated Super Bowls and it came down to another Adam Vinatieri field goal. The clutch performer banged a 41-yard field goal with four seconds to play, this after missing on tires of 31 (wide right) and 36 yards (blocked) earlier in the game.
There was no scoring by either the Patriots or Panthers in the first and third quarters. Yet we had a 14-10 halftime score and a combination of 61 points by game's end in Houston. Brady did throw an interception in his team's 32-29 victory. But he also connected on 32-of-48 passes (66.7 percent) for 354 yards and three touchdowns. After Carolina took a 22-21 lead with 6:53 to play, he responded with one scoring drive to take the lead. After the Panthers knotted the score with 1:08 remaining, he moved his club into field goal range (with a big assist from Panthers' kicker John Kasay mishandled kickoff) and New England won its second Super Bowl in three years.
1. Super Bowl 51: Patriots 34, Falcons 28 (OT)
Given all the circumstances, it has to be Brady's best performance. And not just because he set a new Super Bowl record for passing yards in one game. From the 25-point comeback to overcoming a pick-six in the first quarter to win the game (which had never been done in any of the previous 50 Super Bowls). Down 28-3 midway through the third quarter, New England responded with 31 unanswered points on the way to the most "lopsided" Super win of the Belichick/Brady Era.
The veteran signal-caller hit on 43 of his 62 throws for a whopping 466 yards and two touchdowns, along with that aforementioned interception. For the fourth time, Brady was named the game's MVP. And that epic comeback is why we're talking about the Patriots having a chance to repeat as Super Bowl champions on Sunday at Minnesota.