While the offseason has been ripe with new signings and rumors galore, there is still one major question that is begging to be answered by the New York Yankees: where is Matt Holliday?
Thirty-eight-year-old slugger Matt Holliday is familiar with bouncing between teams. He has spent much of his successful career in a variety of places, with his latest landing spot being the 2017 season with the New York Yankees.
Among the offseason rumblings, Holliday's name has been noticeably absent. After signing a one-year, $13 million deal to don the pinstripes in 2017, Holliday has vanished.
And it wasn't just to hide from his lackluster season. Holliday came into the Bronx in the full-time designated hitter position to miss the end of June, beginning of July and all but three games in August due to illness and then injury. In total, he finished the year with career-lows in batting average (.231) and on-base percentage (.316) and a total of 19 home runs.
While they Yankees weren't expecting an incredibly dominant output from the 38-year-old, they were certainly hoping to have a reliable, consistent DH to help welcome in a young lineup. Unfortunately, Holliday didn't have the greatest season.
But ever since the final game of the season finished, Holliday completely disappeared. So where did he go? Why did he go? Here are some potential answers.
At the doctor's office
Where, oh where, is Matt Holliday? Well, we can start our search at his primary care physician's office.
It's no surprise that Holliday's mysterious illness in the end of June was a big blow to the lineup. As written in August, the DH dilemma took a big blow with Holliday out, forcing other players to take over his position, a position many players were not familiar with.
After he came down with a virus in Oakland on June 17 (ironically, the same place where he had listed in his contract as the one team he refused to be traded to), Holliday was zapped of all his energy. Epstein-Barr virus, a virus associated with mononucleosis, takes a lot out of you and, trust me, that isn't something that Holliday wants to ever get again.
So check his doctor's office. He's probably there either battling another illness or working to prevent another one for next season.
At the hairdresser 
NO, this is not to make fun of the fact that he has perhaps the shiniest head east of the Mississippi River. Anyone remember a little bet that he made with Brett Gardner last year?
The Bald Brothers, as they were so perfectly dubbed last season, were in the midst of a home run contest. With Gardner's newly corralled power, he was matching Holliday, the heavy hitter, in home runs. So, naturally, it was determined in May that the loser of the home run contest would have to grow out his hair for a month, per NJ.com's Randy Miller.
And guess who lost? Holliday took the L and probably has been growing his hair out since Game 7 in Houston. With newly found locks, he's got to get that hair trimmed.
Time to check out the local barbershops in the Bronx. Chances are, Holliday is hiding out in one until Gardner determines it's safe to shave it all off.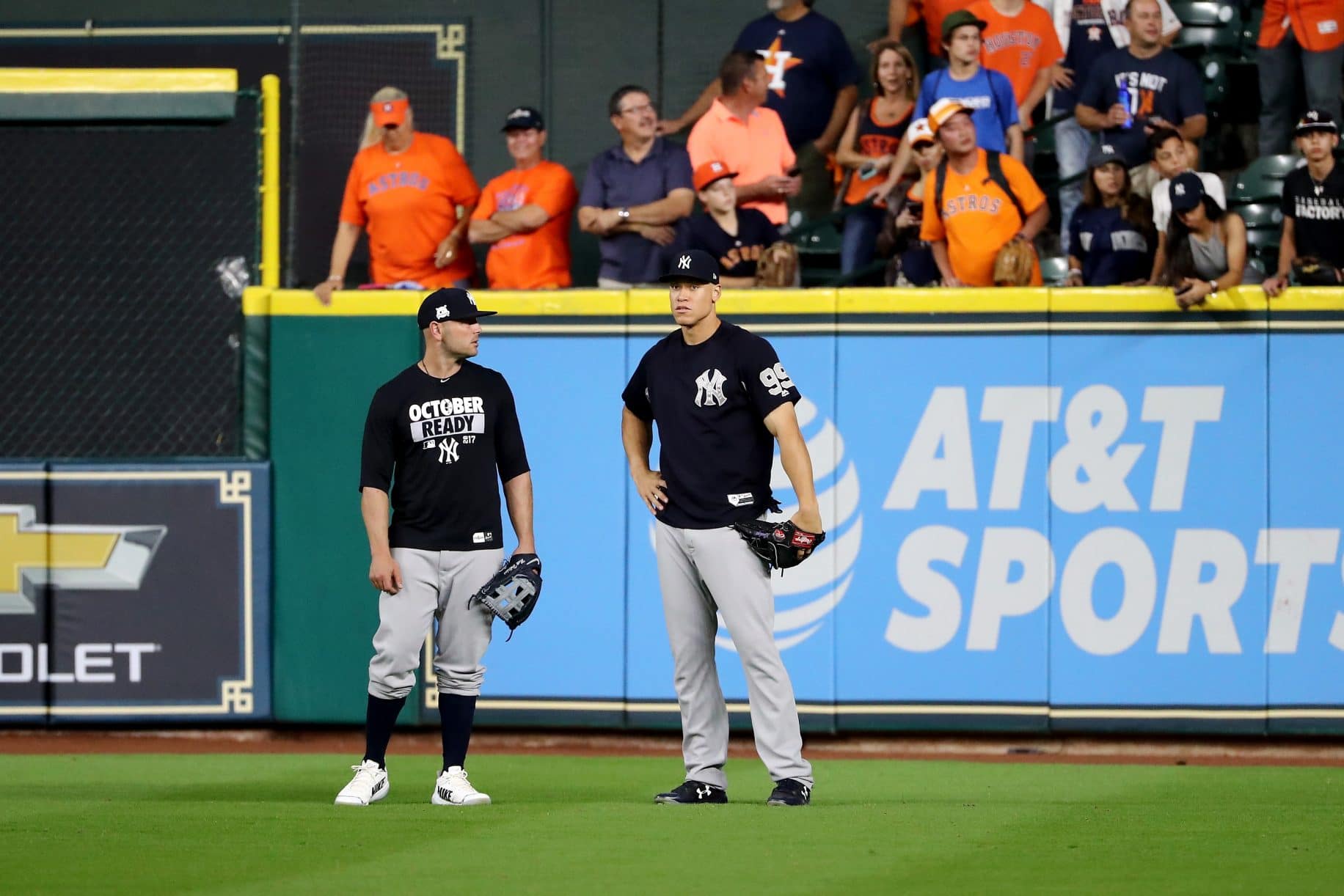 Hiding out at Yankee Stadium
Listen, Matt Holliday is no fool. While he may not be under contract with the Yankees anymore, he would be an absolute moron to want to leave the Bronx, right as they are undergoing one of their most promising seasons in years.
I wouldn't be surprised if Holliday is hiding out in the Yankees clubhouse, being an ever-present figured at the Stadium to remind the Yankees that, yes, he's still here. And yes, he's still dedicated to the team.
Watching the Yankees pick up Giancarlo Stanton, keep their dominant playoff rotation and generate excitement for this upcoming season has to have Holliday wishing he could be back there in some capacity. How can they kick him out if he's hanging out there all the time?
The truth is, we have absolutely no clue where Matt Holliday is. Hey, he could even be traveling the world with his wife and kids, living it up with his millions of dollars made from his career. But it's far more fun to speculate, right?
Wherever Matt Holliday is, we wish him the very best in his next endeavor. He likely will not be with the Yankees in 2018 but we can still cheer for him…as long as it's outside of the AL East.