Good guy Errol Spence demonstrates everything a fighter needs to showcase in terms of title defense which should serve him well against Lamont Peterson at Barclays Center. 
F
or many years, the welterweight division has been boxing's most glamorous—it's this weight class that's produced a majority of the sport's highest-profile fights. The good guy versus bad guy was common.
It can be argued that today's 147-pound division remains boxing's most talent-rich. And the pattern isn't expected to change in 2018 as most of boxing's must-see fights are likely to be fought at welterweight. But there is one thing about today's welterweight division that differs from many of its predecessors: The top fighters don't possess the bad-guy image.
Leading the way is IBF welterweight champion Errol Spence Jr. Yelling, boasting or calling potential opponents derogatory names isn't in Spence's DNA. He's soft-spoken, a man who expresses respect for anyone slated to step in the ring with him.
Spence is the perfect example for anyone scheduled to fight him not to take kindness for weakness. There is, however, a limit to Spence's gentleman persona: It does not follow him into the ring.
Each time the bell rings signaling it's time to exchange punches, Spence transforms into the meanest, most-talented, best overall 147-pounder in the world. And this is the side of Spence's personality boxing fans will see Saturday night [Showtime at 9 p.m. ET/6 p.m. PT] when he makes the first defense of his title against former champion Lamont Peterson at Barclays Center in Brooklyn, NY.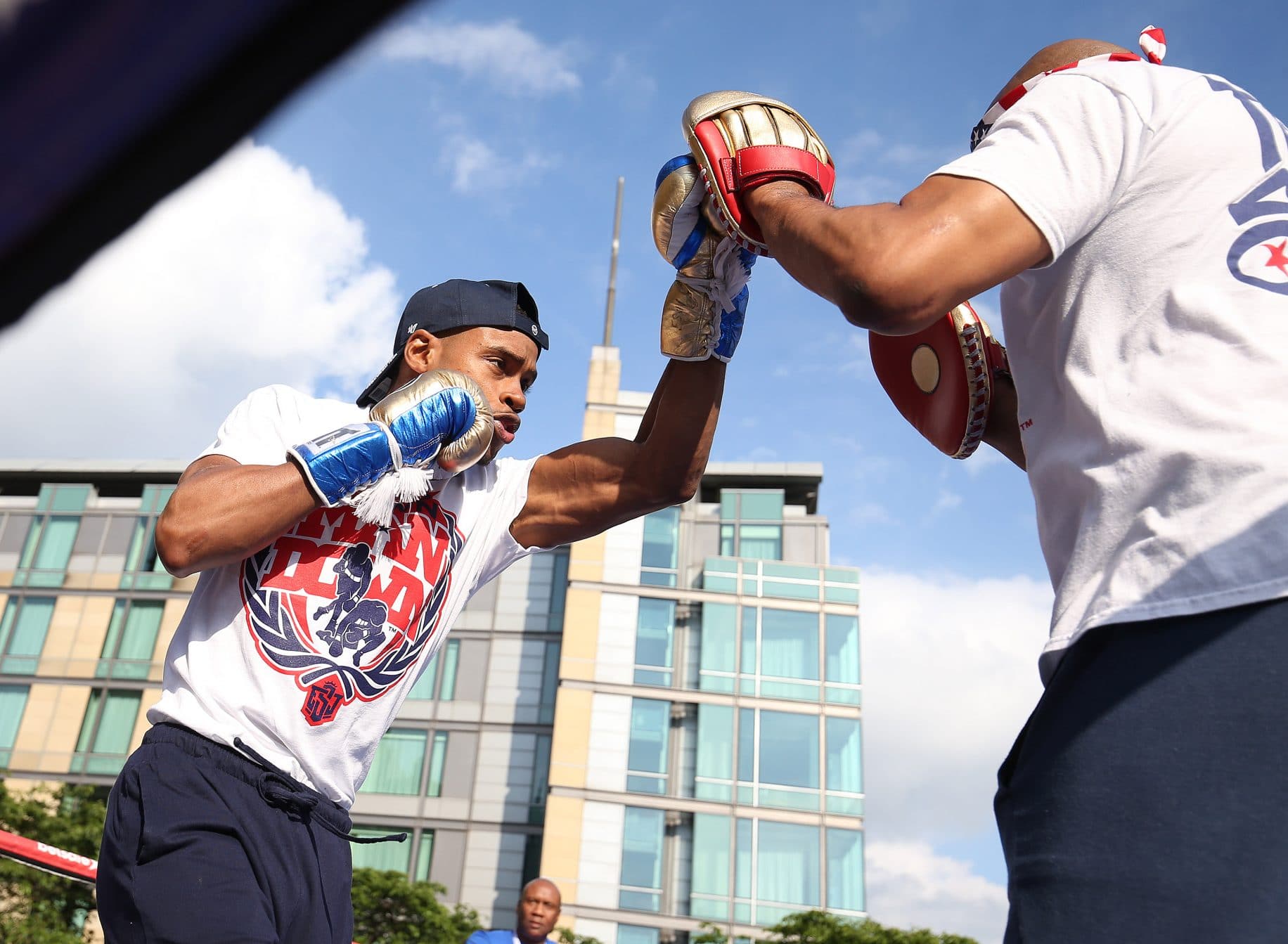 This is the type of bout Spence [22-0-0, 19 knockouts] seeks these days: A fight against tough, rugged, dangerous opponents. And Peterson [35-3-1, 17 KOs] fits the bill in every way. But he wasn't the fighter Spence had atop his list for this showdown.
His intent is to become undisputed welterweight champion and the road to that goal goes through WBC/WBA belt holder Keith Thurman. But according to Spence, Thurman doesn't yet share that goal.
During an appearance recently on ESPN, Spence stated that he reached out to Thurman to make a unification fight, but all he received in return was silence.
"He didn't answer the call," Spence said. "The super fight right now is me and Keith Thurman. I have a belt; he has two belts, so why not unify. I feel like he's the best fight right now. That's the easiest fight to be made. We have the same manager and we fight on the same network. What can I do?"
What Spence must do Saturday night is bring his A-game into the ring against Peterson. According to everything Spence has said, thus far, that's exactly what he intends to do.
#TBT to 5.27.17 when @ErrolSpenceJr became a World Champion!

READ how "The Truth's" laid-back personality outside the ring balances the Texas southpaw's killer persona inside the ropes ⬇️⬇️⬇️

?: https://t.co/8V9gtNsjlW pic.twitter.com/UysK1MeMzK

— PBC (@premierboxing) January 18, 2018
While Peterson doesn't currently possess a 147-pound title belt, he remains one of the best fighters in the division. Peterson will enter the ring confident and determined to reclaim a championship belt. And despite the friendship he has for his former sparring partner, Peterson will do everything in his power to dethrone Spence.
No one knows this better than Spence and he will be putting friendship aside and seek to hurt his pal.
"It's going to be a dogfight," Spence said during a media conference. "We both have big hearts. I've never known Lamont to turn down any fight. Not a lot of people wanted to fight me. The big names shied away from me but Lamont stood up and said he'd fight me. This is going to be a hard fight."
It has to be this way. Spence vows to let no fighter prevent him from becoming undisputed welterweight champion, and an impressive victory will over the tough, highly skilled Peterson will put more pressure on Thurman to accept a unification showdown.
"The top spot in the sport is really up for grabs now and I'm coming for it," Spence said. "I don't care who I have to face or where; I'm going to be the last man standing. That's why we all get into this sport. I'm extremely confident in myself."
He better be. All eyes will be on the good guy when he steps into the Barclays Center ring the night of Jan. 20, 2018.