`A quick glance at the Yankees active roster indicates the team is pretty much set with players whose history tells us what we will get from them. But there are three players the team will look at to have breakout seasons that will solidify the 28th World Championship coming to the Bronx.
When you look at the New York Yankees probable lineup and starting pitching for the 2018 season, it would be fair to say that we pretty much know what we're going to get from players like Didi Gregorius, Giancarlo Stanton, Luis Severino, Brett Gardner, Aaron Judge, and a few others.
After that group, though, there are the holes at both second and third base that might not be holes after all if Gleyber Torres and Miguel Andujar can win the jobs during Spring Training. If either or both heads north with the team, they'll be tested severely in their first big league season, and question marks will surround their play throughout the year as the pennant race heats up and on into the playoffs.
But there are three "regulars" whom the Yankees will be counting on heavily to produce consistency, durability and the kind of numbers that stand out as the best they've ever put together in a major league uniform.
In each case, the Yankees won pretty much without them last season. But the ante up is more significant this season, and if the team is going to win big, which in Yankees language means winning the World Series, these player are going to need to step up big-time as well.
Aaron Hicks, Centerfield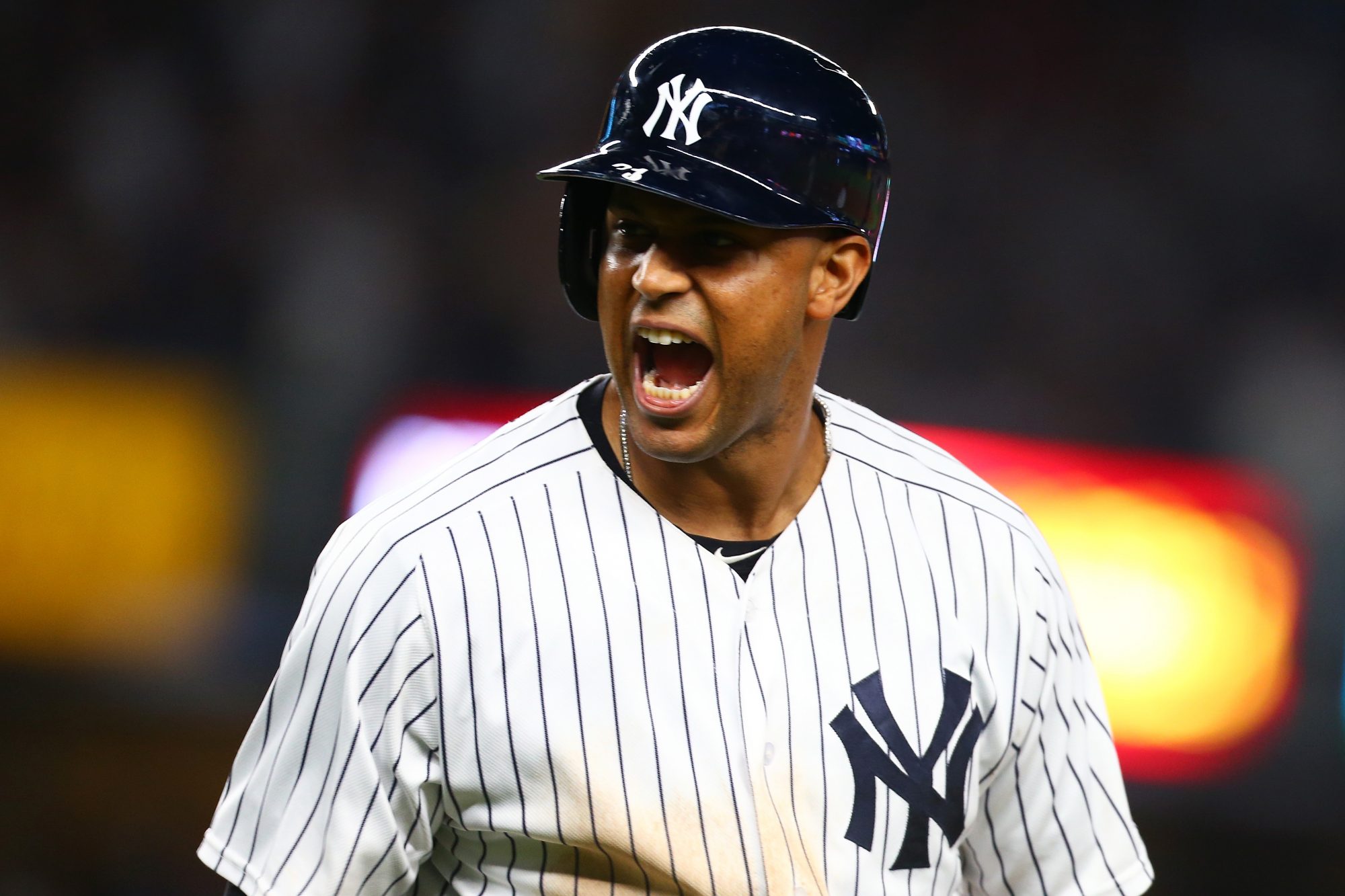 Aaron Hicks is penciled in as the regular centerfielder for the Yankees, supplanting Jacoby Ellsbury who, if he's with the team at all, will be Hicks' understudy.
Hicks was delivered to the Yankees in November 2015 when he was virtually handed to the Bombers for nothing in a deal that sent catcher John Ryan Murphy to the Twins. A perennial favorite of Joe Girardi, Hicks appeared in 123 unspectacular games, hitting .217 with only eight home runs and 31 driven in.
Last spring, he was locked in a well-publicized battle for the job in right field with Aaron Judge. A decision in favor of Judge was made by the Yankees brass in the last two days before the team broke camp. And the rest, as they say, is history.
With no position to claim as his own last season, Hicks took advantage of every opportunity coming his way, raising his numbers considerably (.266 BA, 15 HR, 52 RBI in only 88 games).
That performance probably won him the job that is now his to lose. Projecting those numbers out over a full season puts Hicks at around 28 home runs and 95 RBI. Any team, including the Yankees, would take that kind of production, coupled with a better than average on-base percentage (.372), from their center fielder any time.
Hicks has always been known for his solid defense, and he held his own again last season making only three errors in 157 chances while playing all three outfield positions. Hicks also had two assists to his credit.
In brief, the Yankees need 2017 and not 2016 from Hicks. He doesn't need to carry the team as much as he needs to be a contributor to the totality of the team effort.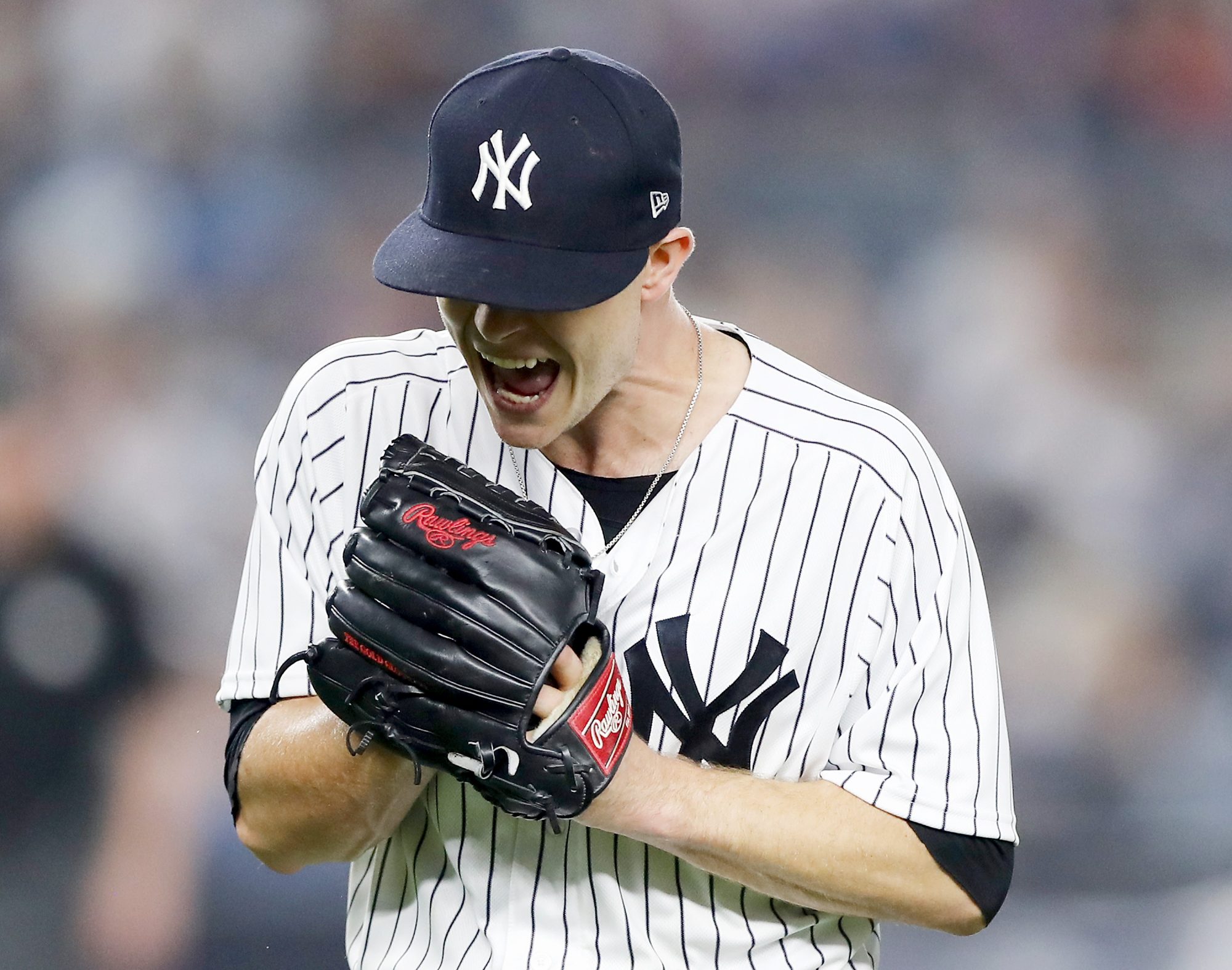 Sonny Gray, Starting Pitcher
When the Yankees won the Sonny Gray sweepstakes at the trade deadline last season, the feeling was the Yankees finally had the ace who would drive them home and into the playoffs.
At the time, you'll recall that Masahiro Tanaka was again not pitching like Masahiro Tanaka, Luis Severino still had not proved he had the durability and mental framework to finish out what was looking like a Cy Young season. CC Sabathia was still pitching on a wounded knee, and Jordan Montgomery was struggling to find his second wind.
As it turned out, all of these starters recovered from what ailed them and the arrival of Gray did not have the impact that was projected. Gray indeed wasn't the ace he was when he pitched for the Oakland A's. Instead, he was just so-so.
Throughout August and into September, Gray had four starts of seven innings or more, culminating with a heartbreaking complete-game loss to the Tampa Bay Rays on September 12. His overall record of 4-7, 3.72 ERA was not something to write home about.
In the postseason, Gray was shelled by Cleveland in his only start in the ALDS and given a quick hook in the fourth inning by Girardi. He faired a little better against Houston in the ALCS allowing only one earned run, but he was all over the place hitting a batter and walking two over five innings.
If the projection of Baseball Reference is anywhere near correct (9-10, 4.06 ERA 1.275 WHIP) as the season Gray will have for the Yankees in 2018, that will not cut it, especially when you consider he was dealt for coveted prospects.
Not to worry though. Sonny Gray has one of the best makeups in baseball for a pitcher. He is fearless, and he makes stuff up on the mound as he goes along, coming up with pitches on the fly using slightly different grips, keeping the hitter off-balance and unaware of what may be coming his way.
Gray's upside points to the fact that coming from baseball Nowheresville in Oakland, he should be fully adjusted to playing in New York and on a team designed to not only win, but to win big.
Nevertheless, the Yankees will be looking for and will need the kind of season Gray had three short years ago when he went 14-7 with a 2.73 ERA and two shutouts, finishing third in the Cy Young voting.
That's what the Yankees thought they were buying. Now, they need Gray to deliver on that promise.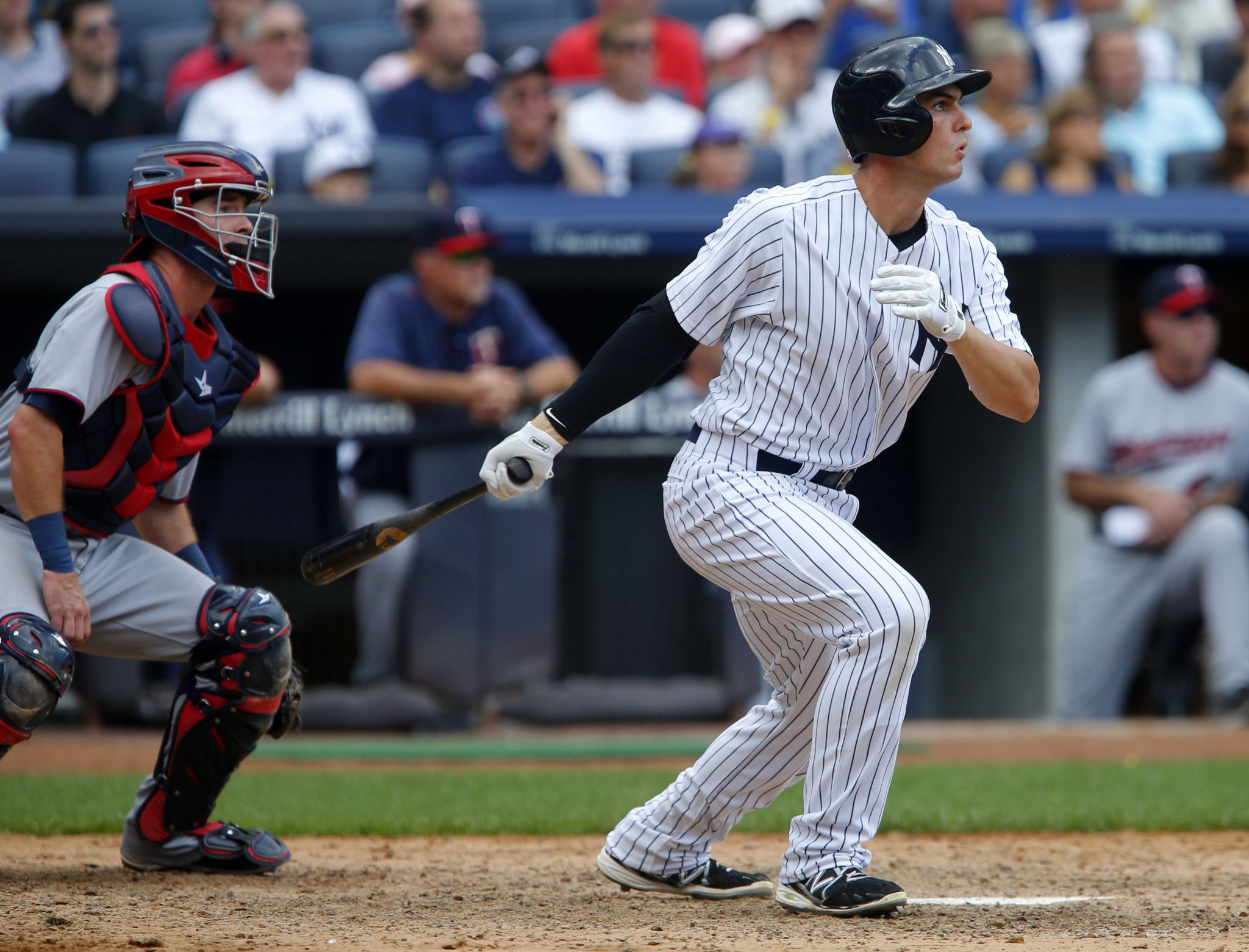 Greg Bird, First Base
The "best pure hitter in the Yankees organization" is what Brian Cashman said about Greg Bird. Shackled by injuries, though, Bird has yet to be given the opportunity to prove Cashman correct. He will get that chance in 2018.
Greg Bird, in his brief career, has always been about flashes that appear, then disappear and reappear. Over three seasons on the Yankees roster with most of the time spent on the DL, Bird has still managed to hit 20 home runs and drive in 50 runs over the equivalent (roughly) of a half-season (304 at-bats). Project those numbers out, and you can see why the Yankees think so highly of this young man and talent.
If Bird can learn to cut down on his strikeouts while maintaining a propensity to have a high on-base percentage (18 K's .421 OBP in last year's postseason), together with that sweet swing, by season's end he could find himself moved into the coveted three-hole by Aaron Boone.
A second ankle surgery performed mid-season last year convinced Bird that this was as good as it's gonna get. His doctors supported that and Bird went out playing fearlessly from that point forward.
The Yankees struggled mightily at first base during Bird's absence. Cashman brought Chris Carter in, but failure after failure led to Carter being mercifully released. Chase Headley was thrust into the job and filled in admirably until Bird returned. But noticeably, Cashman has not made any move to trade for or sign a backup for Bird coming into this season.
Bird has all the tools, and it should just be a matter of getting him the at-bats he needs to shake off the dust that's been accumulating for the past two seasons.
Reminding of Paul O'Neill as a hitter, Bird can easily follow in the Yankee warrior's footsteps and win a batting title. The team doesn't necessarily need that to happen this year, but something close to it is required, and Bird needs to deliver on his promise.