River Avenue & E.161st St, Bronx, New York. Is there an address more well known than that of Yankee Stadium? The old stadium, new stadium, it doesn't matter. There's a lure about the place which draws baseball fans from around the world. It's the Mecca of baseball, and there are good reasons why.
Yankee Stadium is one of the last vestiges of inner city ballparks.
The Atlanta Braves moved to suburbia, 10 miles northwest of downtown Atlanta in the Cumberland neighborhood of Cobb County. The Miami Marlins build a brand new stadium only to find it sits in the middle of nowhere with no supporting infrastructure (restaurants, bars, hotels, etc.). The Milwaukee Brewers have one of the best venues in all of baseball in Miller Park. But again, it sits in the middle of nowhere, which is probably the reason why tailgating is so necessarily popular at Miller Park.
And the list goes on.
In my travels, I've visited all but five of the 30 major league ballparks. It was a summer hobby of mine at one time. From those experiences, I can tell you there are only two places where I felt at home, Wrigley Field and Fenway Park.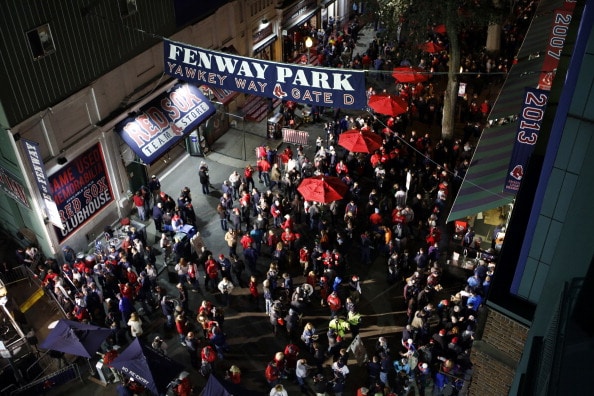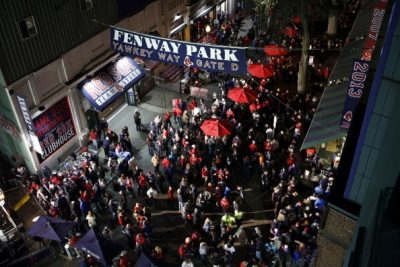 And while venues like the ones in Kansas City, Arlington TX, Anaheim, and even Dodger Stadium each have their respective cultures and features, they are all far removed from the center of any activity other than a baseball game. The new thing seems to be sports parks as in Kansas City and Arlington where the Chiefs and Cowboys stadiums are adjacent to the ballparks of the Royals and Chiefs.
And that's it. That's all you get, save for sprawling concrete parking lots and a half-mile walk from your car to the gates.
Fenway and Wrigley are without a doubt the two most uncomfortable ballparks in the major leagues, but also most enjoyable to visit. At Fenway Park, a good portion of the seats doesn't even face home plate causing one to put up with a stiff neck by the fourth inning. But they do have Yawkey Way filled with the sights and aromas of baseball on a warm afternoon in June, and that makes up for everything.
Likewise, Wrigley Field offers the ambiance of a million bars surrounding the ballpark. Take your pick or hop around. Each has their distinctive "feel." Meet the real Cubs fans, buy them a beer. Talk baseball. It's a lot better than sitting in your vehicle in Kansas City waiting for the gates to open.
Lest I forget, there's Camden Yards, where you can take a short walk to the home Babe Ruth grew up in before he was taken in by the nuns to a home also visible from the ballpark. Or, you can stroll along Eutaw Street where there's a mark on the warehouse which Ken Griffey Jr. hit during the 1993 Home Run Derby.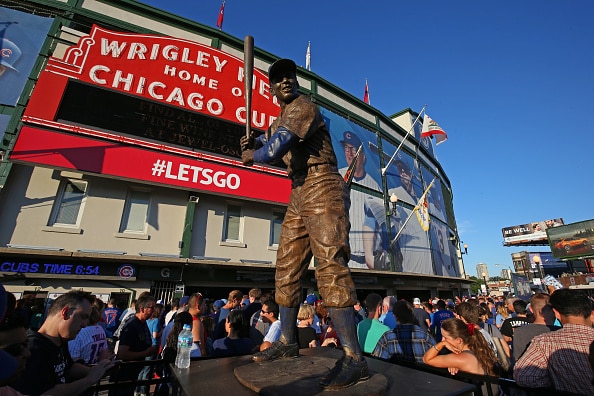 Or, you can grab some barbeque at Boog Powell's food stand and say hello to the big man himself. Or, you can wander further on down to get a free autograph from one of the old-time Orioles.
But it's Yankee Stadium that beats all. The hustle and bustle of New York City come alive. The roar of the el above River Avenue drowns out all conversation as the subway screeches to a halt and passengers disembark charging down the stairway to be among the first in line to visit Monument Park.
There's the McDonalds across the street where if you stand for a mere ten minutes, you'll see the full assortment of world cultures pass you buy. There's Stan's Sports Bar, a pre-game and post-game fixture for Yankees fans. It's the one place, in fact, Derek Jeter made a point of visiting in the days just before his retirement, just because. And there's stickball still played in the shadows of Yankee Stadium.
And just so you don't forget you are in New York City, there's a sea of blue keeping everyone safe and away from being prey for the scalpers who hawk their counterfeit tickets. So much so that Yankee Stadium becomes a haven within reach of neighborhoods infested with drugs and crime. It's inner city, and it's all real. The concrete here is where people live and work. It is where you'll see mothers walking their babies in strollers and father's stopping at the local deli to pick up a sandwich to take to work.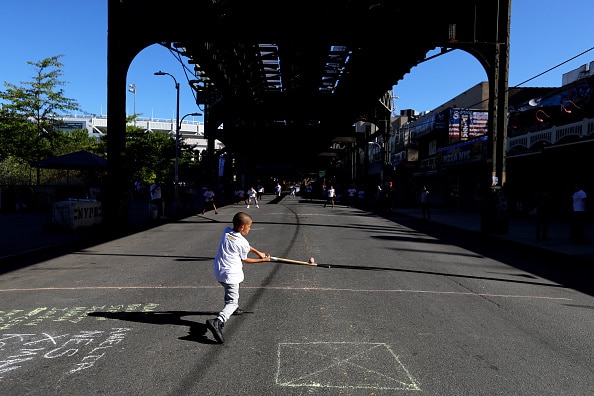 And Yankee Stadium is right smack in the middle of it. Those big gold letters that adorn the top of the stadium at Gate 4 seem, at first glance, to be in odd contrast to the Bronx. And maybe they are, and perhaps that's the whole point. The Yankees and their billions would seem to be out of place, but instead, they are welcomed and treasured.
And you are reminded of those billions once you are inside the ballpark. Everything you hear is right. But then again, any form of entertainment in New York City is expensive. Who cares? I'll nurse that $15 beer and survive on one $8 hot dog, as long as Aaron Judge, Giancarlo Stanton, and Gary Sanchez all come to bat at least once in the same inning.
There's no Bob Sheppard, the "Voice of God," as Reggie Jackson once dubbed him, introducing each batter any longer. But the traditions of the Yankees remain intact when they can.
And the voice of Frank Sinatra is forever etched on vinyl, and "New York, New York" will serenade fans as they leave the ballpark. And they'll be on their way home with memories and stories that will capture the water fountain at work the next day, living forever as they have with this fan, and so many others who journey to Yankee Stadium.