Offseason to Christmas season! These New York Yankees can expect some unique gifts under their trees this year.
It's that time of year again, folks! We never will know what the New York Yankees have on their Christmas lists but we can certainly imagine some hilarious gifts that they will be getting tomorrow morning.
Essentially this entire offseason has been like Christmas eve for Yankees fans. We've woken up to exciting news multiple times, especially when the Giancarlo Stanton trade was made. We've already gotten all of our gifts. What about these players?
They work hard all season long to keep us happy and hopefully Santa can return the favor for them under the tree on Christmas morning.
Here comes the speculations. Here's what these Yankees are going to be finding under the tree tomorrow morning.
Sonny Gray:
The baby-faced starter should be expecting a big present that doesn't necessarily come in a physical package.
No, Gray likely asked for this and will (hopefully) receive it. Sonny Gray wants some run support.
The poor guy came over from Oakland to this high-powered lineup expecting to finally get some run support to help his record. Unfortunately, the Yankees failed him practically every single time he stepped on the mound.
Poor, poor Sonny. The guy deserves a break. Santa, bring him what he wants and needs. He already brought the lineup Stanton…let's hope for a Christmas miracle for Gray's sake.
Ronald Torreyes:
Ronald Torreyes is the shortest guy on the team. Luckily, Santa will be bringing him some height insoles for his shoes.
I mean, come on. Torreyes has had to stand next to Aaron Judge all season long and now he'll likely find himself between Judge and Stanton. The little guy needs a boost.
Just an inch or two would be perfectly fine. The height difference is laughable at this point…he deserves a chance to be the big man on the field for once in his life.
Didi Gregorius:
Gregorius has given the Yankees so much in his short time on the Yankees. Just recently, he lost his best friend Starlin Castro to the Miami Marlins.
Gregorius deserves something to remind him of his best friend. Santa should bring by a personalized pillow with a picture of Gregorius and Castro hugging it out.
How cute was their relationship? They were a perfect double-play duo and an awesome plane buddy so he'll definitely need that pillow for his lonely plane rides between series.
Brett Gardner:
Brett Gardner manned left field this season and was absolutely perfect. Santa should be bringing him by his second Gold Glove award.
Let's face it; Gardner was robbed of his second straight Gold Glove this year. He deserves some sort of recognition for his stellar defense this season.
And if Alex Gordon wakes up and realizes his Gold Glove award is missing Christmas morning, we'll know the reason why. Gordon played well but Gardner was perfect. Sorry, Gordon.
Gary Sanchez:
The catcher played well offensively this past year. However, Sanchez did struggle defensively, leading all American League catchers in passed balls. More so, he's had a few incidents behind the plate. That's why this Christmas, Santa is giving him a little something that might help with that.
How about a new, heavy-duty cup for Sanchez? We all saw him get drilled by a David Robertson fastball that was tipped in the playoffs. It was a horrible moment for men everywhere and specifically for Sanchez. Plus, we all saw Robertson's reaction.
We can't have Sanchez missing games due to injuries from foul tips. He must be protected at all costs! Santa knows the drill, so he'll get his gift tomorrow morning to protect him for the entire season.
Dellin Betances:
Dellin Betances had a rough year last year. That's why Santa is just trying to help him out by giving him a few sessions with a behavioral therapist.
No, this is not a knock against therapists. But whenever Betances comes into the game, his adrenaline kicks in and makes him go absolutely wild. Wild as in, throwing the ball behind the batter and walking multiple to people to make it a save situation.
Maybe he needs some calming techniques before he comes to the mound. We still have faith in Betances and this might be the gift that keeps on giving all season long for Betances and the Yankees.
Austin Romine:
The backup catcher made headlines earlier this year by filling in for Sanchez when he was out due to injury. Santa has a special present for him this year.
Romine will be receiving a full set of armor under the tree to help him in his next run-in with Miguel Cabrera.
We all remember the massive fight that broke out in August against the Detroit Tigers and Romine stood up to Cabrera without fear. However, maybe he would be able to fight back with a little reinforcement for protection.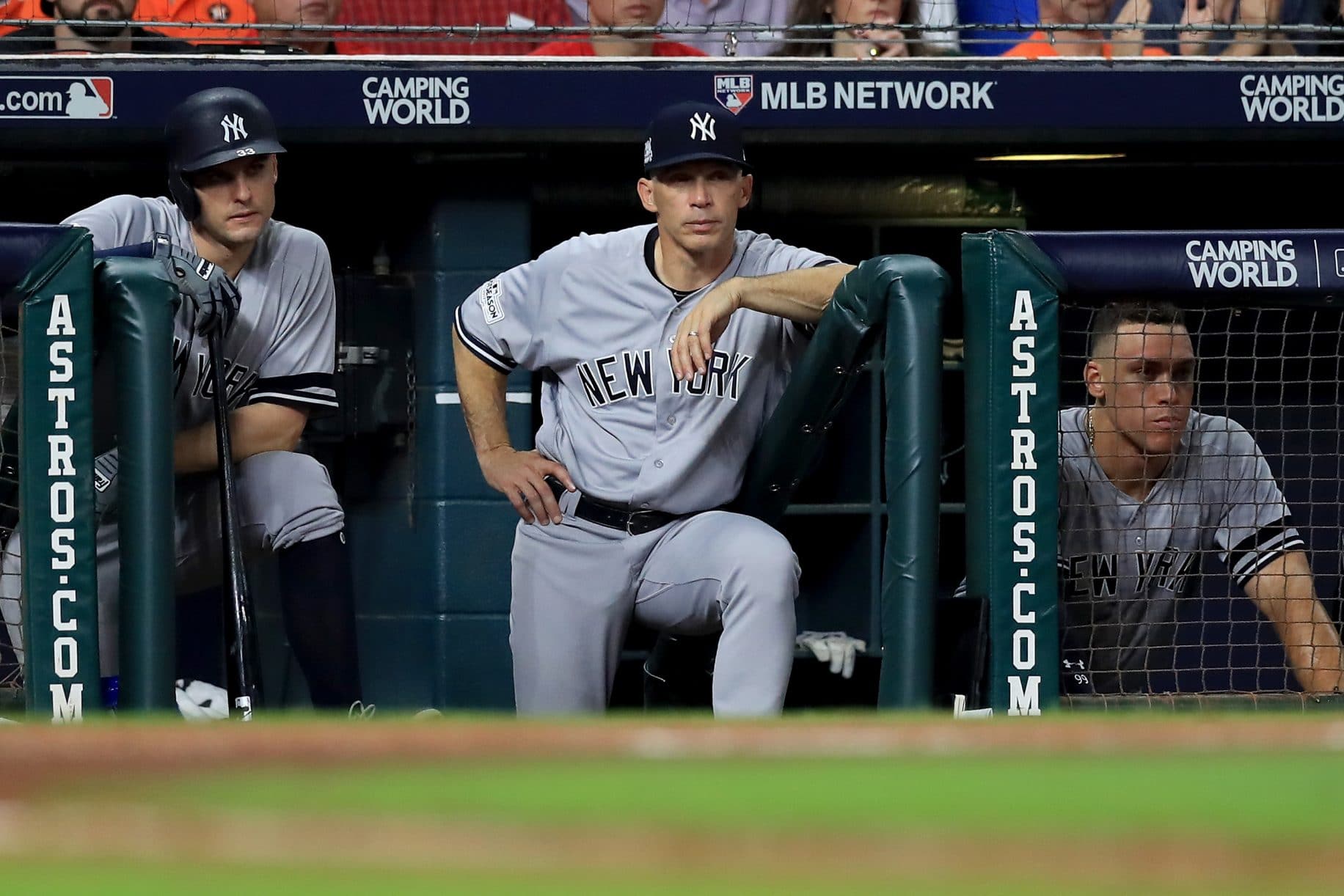 Joe Girardi:
While Joe Girardi is no longer with the team, Santa still visits his household. This year, he'll be bringing by a massive apology letter from the Yankees front office and the fan base.
It was not the cleanest break for Girardi and the Yankees even though he did some incredible things during his time as manager. He deserves all the respect in the world from this organization.
This is likely a pipe dream but hey, Christmas is all about miracles. Maybe the Steinbrenners and Brian Cashman will have a change of heart and decide to finally write an apology letter.
Merry Christmas, Yankees fans! Hopefully next Christmas a present under every one of our trees will be a 2018 World Series ring. Never too early to start asking!