ESNY's Zack Martino is handing out New York Yankees 2017 report cards. Next on the list is enigmatic relief pitcher Dellin Betances.
With the offseason here, it's time to break down this past season for Yankees relief pitcher Dellin Betances by his first half, second half, playoffs and overall season performance. How will his grades fare in his 2017 Report Card?
Coming into 2017, expectations for New York Yankees reliever Dellin Betances were at an all-time high. After three straight all-star seasons seasons, Betances went into a highly publicized arbitration battle with team president Randy Levine prior to the start of spring training.
This left Betances with something to prove.
He needed to show that he was worth the extra $2 million per year and had the perfect opportunity to do so. The Yankees had minimal expectations, Aroldis Chapman was returning to be the closer and there was no more Andrew Miller. Betances could just slide right into his eighth inning role, strike a bunch of guys out, and show he deserved more than $3 million after his first year of arbitration eligibility.
Betances started the year off strong. In April, he tossed eight innings, struck out 14, walked five and had a 1.13 ERA. The good times kept rolling for Betances when the calendar turned to May. In the month, he threw 9.1 innings, struck out 18, walked four and had a 0.00 ERA.
When the spring ended and summertime began, something seemingly changed in Betances. In the month of June he had a jaw dropping 4.50 ERA, 15 strikeouts and nine walks all in eight innings pitched. Despite this uncharacteristically poor month, Betances was named to his fourth consecutive all-star game.
While his June numbers were not up to his standard, Betances had a pretty good first half before the MLB All-Star game. It looked at first like he was proving he was still one of the most dominate relief pitchers in recent memory. However, he ended the half on a fairly low note.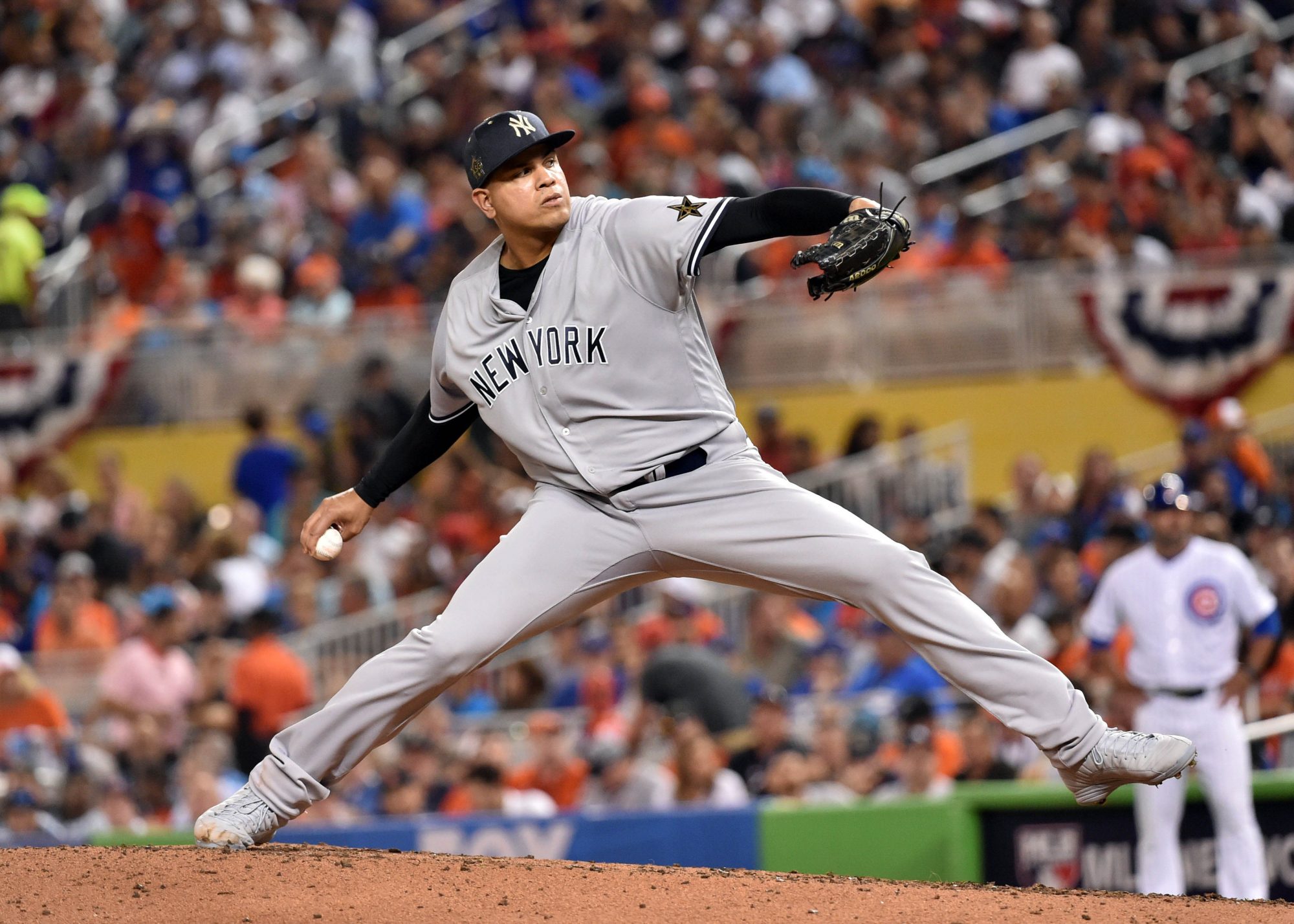 First Half Grade: B+
The month of July was another one that was not kind to Betances. First off, he was embarrassed publicly during the All-Star Game by Washington Nationals star Bryce Harper. Harper walked against Betances and was caught on camera saying "I feel like he's a guy you can go up there and just take. He'll walk you."
Harper had a point. Betances allowed a season high 13 walks in July while also striking out a season high 21 in 12.2 innings pitched. For the second straight month, his ERA was north of four (4.26).
In the middle of the month, the Yankees received some reinforcements for the bullpen. After a blockbuster trade with the Chicago White Sox, the Bombers added relievers David Robertson and Tommy Kahnle.  
With a bit less pressure and more help out of the 'pen, Betances seemingly turned a corner in August and looked like his old self. In 12.0 innings of work, he had a 1.50 ERA, walked six and struck out 17. But this didn't last for long.
Robertson and Kahnle continued to thrive. Chad Greene emerged as a serious threat at the end of games. Even after a rough patch, Chapman found his way back. Everything seemed to be positive in the Yankees bullpen for everyone but Betances.
In a crucial September for the team, he had a season worst 5.59 ERA, walked seven and still managed to reel in 15 strikeouts. Betances left a lot of batters on base this month and seemingly lost his control. He also lost then manager Joe Girardi's trust. Girardi only gave Betances a short leash with batter in big spots and would avoid using the tall righty during important games down the stretch.
Despite a good August, the second half was a chore for Betances. He couldn't locate pitches, left too many men on and he just struggled too much in big time situations. This was not the Betances fans had grown used to and is why they booed him off the mound on a pretty often basis.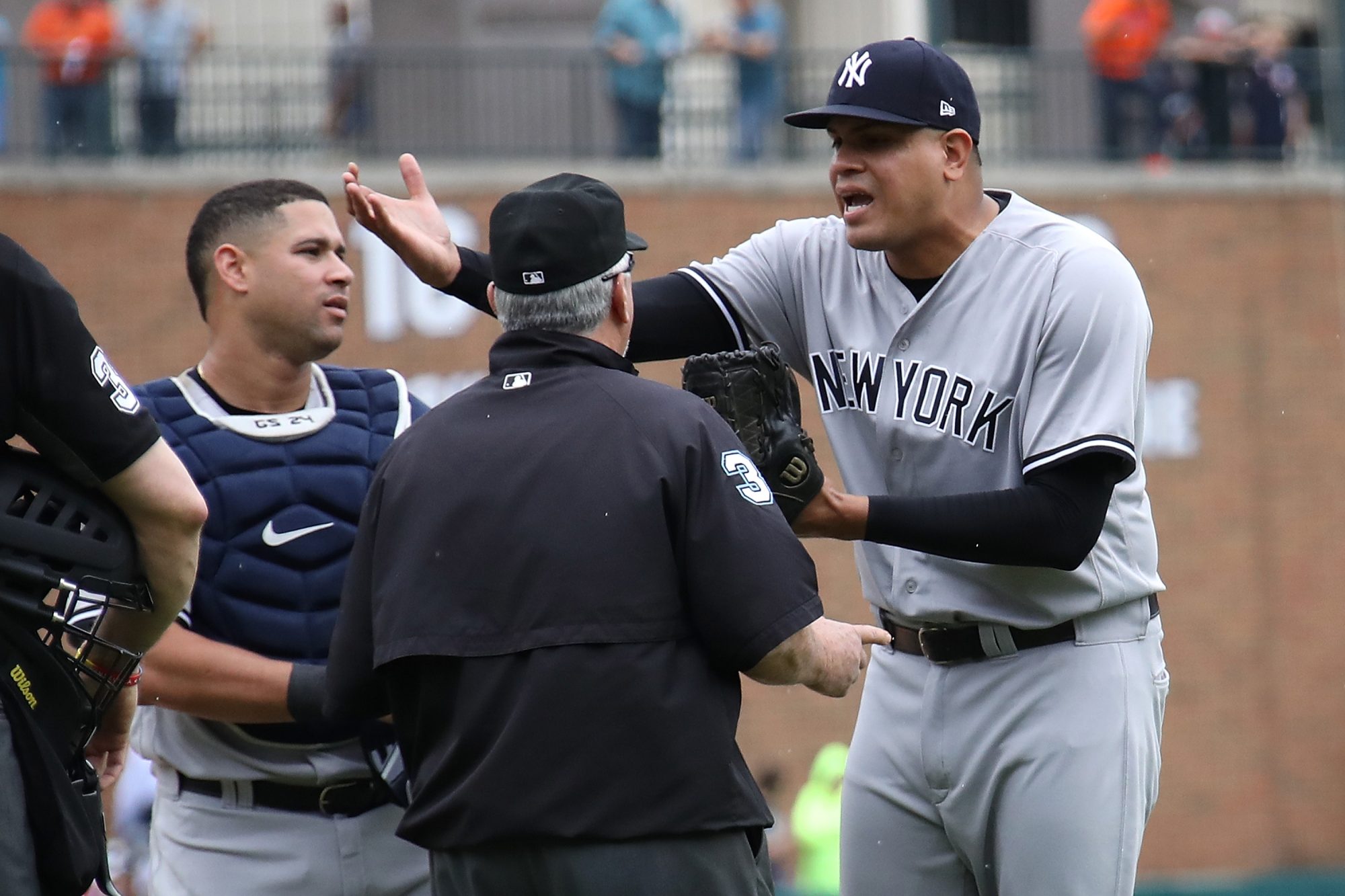 Second Half Grade: D
When it came time for the American League Wild Card Game, Betances made the roster but wasn't used. In a do-or-die type of game, Girardi couldn't let him try to figure things out and most people saw it as the correct choice.
As the playoffs continued, Betances started to see a bit more action. In the American League Divisional Series against the Cleveland Indians, he appeared in three games, threw three innings, walked three, struck out five and allowed one earned run. In the American League Championship Series against the Houston Astros, he appeared in two games, threw only one total inning, struck one batter out, walked two and gave up one earned run.
He was essentially used in a mop up role during the postseason didn't do anything to standout. Betances' decent outings in the ALDS gave fans hope but his struggles in the ALCS again left much to be desired. The Yankees disheartening loss in game seven mercilessly ended Betances' season.  
Postseason Grade: C-
This was not the 2017 fans wanted or the one Betances needed. In a year where he had to show he was elite, Betances turned in something that was not. The season he had wouldn't be as scrutinized if he had a worse track record. But he doesn't. Betances has had a really good career. Fans and the team expect more from him at this point and he just didn't deliver when it counted this year. While his season wasn't awful, it wasn't anywhere near great either. It was just average.
Overall Grade: C