There were so many highlights from the 2017 New York Yankees' season that it was easy to forget about these hilarious, forgotten moments in between.
If you fell off the New York Yankees' bandwagon, you were likely right back on this season. After seeing Aaron Judge make a run for MVP, Greg Bird make a phenomenal comeback and Didi Gregorius turn into a power hitter, who wouldn't want to be a Yankees fan? They are set for the future.
With every game came a new surprise for fans. The Yankees gave their fans a show that was actually enjoyable to watch because they were never once out of it.
But let's look beyond the obvious exciting moments of the season and dig a little deeper. In between the Judge home runs and thrilling walk-off victories, there were moments that reminded us just how insane this game of baseball is.
Who can call baseball boring after this season? These moments certainly help make watching the games that much more exciting.
Take a peek at some of the moments that fell off the radar yet served as some of the most entertaining parts of the 2017 season.
When it's chicken nugget day and the lunch bell rings pic.twitter.com/75azckyc4B

— Brian J. Manzullo (@BrianManzullo) August 24, 2017
David Robertson's Sprint To History
David Robertson was a new addition to this team but he knew exactly what the Yankees were all about from earlier in his career. That's why when it came to defending his teammates, he knew just what to do.
When Miguel Cabrera and Austin Romine got into it at home plate, the fight began. However, who knew the most entertaining part of the melee was literally sprinting in from the bullpen at an alarming rate.
Just watching him make this sprint was incredible but it became even more epic when Yankees nation decided to take this moment and turn it into a fantastic meme.
Who knew that one tiny moment would turn into a viral video that would showcase the most hustle we saw from the Yankees all season long? Also, who knew that one brief moment that had nothing to do with baseball would make us love Robertson even more?
Thank you's go to Romine and Cabrera for starting the brawl and ultimately giving us this epic moment we'll never forget.
Todd Frazier's 1st at-bat for the Yankees ended in a triple play. ??pic.twitter.com/o3Gu5h6b8p

— Dugout Nation (@DugoutNation) July 26, 2017
Todd Frazier's Epic First At-Bat
Tom's River's finest, Todd Frazier, had always dreamed of playing a game in pinstripes. This year, he got that chance.
His first at-bat for the Yankees, however, was not all he dreamed it would be. He grounded into an easy double play, which was quickly turned into a triple play by an unfortunate base running error by Didi Gregorius.
You really can't help but laugh. There's no way this should happen but it did. In front of a crowd full of his hometown fans.
And it only went up from there. Frazier turned into one of the Yankees' biggest sparkplugs in their magical playoff run. Everyone forgot about the triple play but it was truly a unique way to start his time in pinstripes. For that, we can now laugh it off.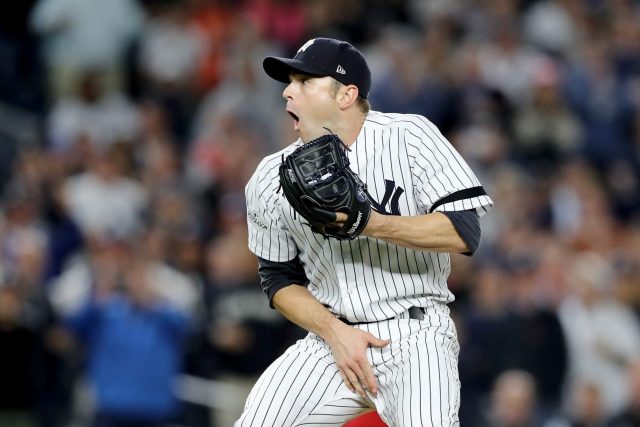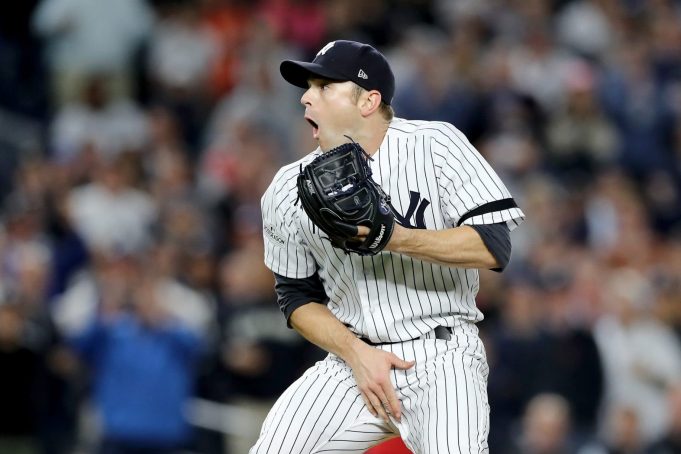 Robertson AGAIN
In all honesty, did we really deserve David Robertson and all that he brings to the team? Because life got so much better once Robertson was back on the roster.
The Yankees didn't just get to see his goofy side but also his caring side. When his teammates hurt, he hurts. And when Gary Sanchez got absolutely drilled by a foul ball when Robertson was on the mound, Robertson felt it all. And showed it.
Once again, this Robertson moment turned into an incredible meme. The reaction was just so animated that you couldn't help but laugh. While Sanchez is writhing in pain, Robertson is right there with him.
Now THAT is a good teammate. Next time, we'll just name this article "Reasons why we don't deserve David Robertson."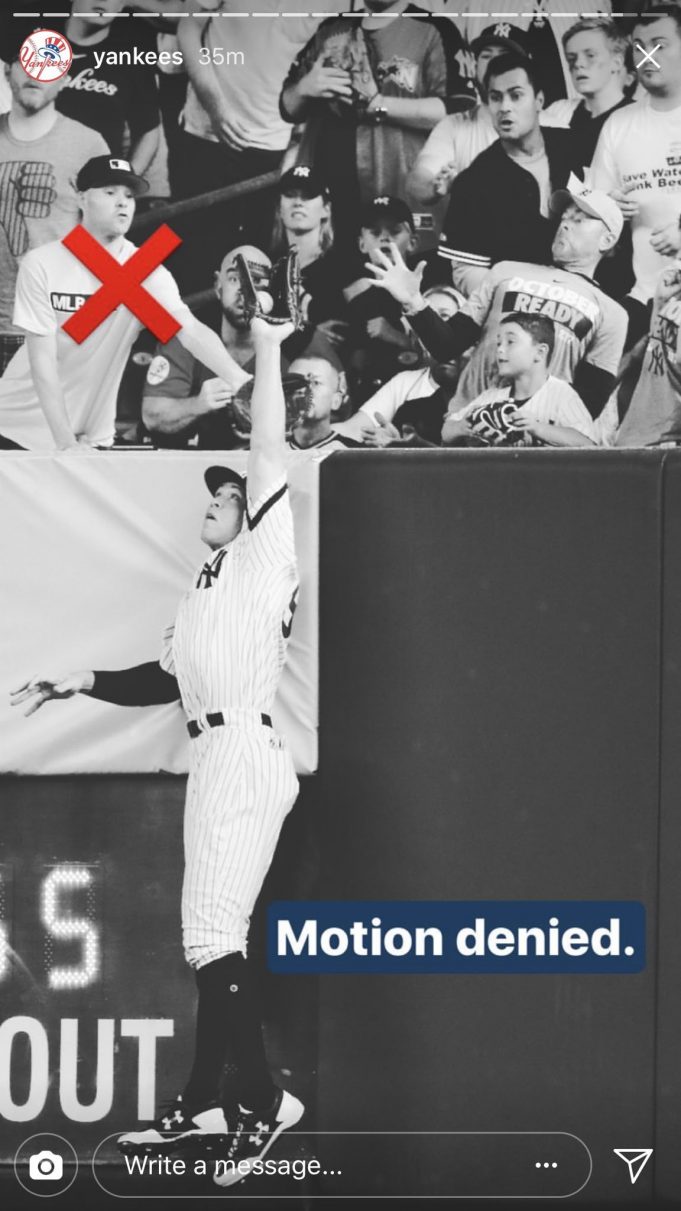 Trashin' Zack
Social media savagery is at an all-time high. If you are ballhawk Zack Hample, typically you get slammed by no-names who have access to the internet.
Well, when you mess with the Yankees, you get the Instagram treatment. And that's exactly what the Yankees did when Hample was caught on camera attempting to catch an almost home run during the playoffs.
Good thing big, bad Aaron Judge was there to deny that motion, as the Instagram states. The Yankees promptly x-ed him out of their picture, showing their distaste for Hample.
It's one thing to silently stew over Hample and what he does at the ballpark. It's another to put him on blast on the Yankees' Instagram story. Savagery is now the Baby Bombers' middle name.
There were so many more memorable moments this season but did any truly make you laugh out loud? The Yankees blessed us with some incredibly epic times. Trust me, we'll remember these long after the Yankees win their next championship.