On Sunday night Dale Earnhardt, Jr. will have driven in his final Nascar Monster Energy race. His final ride at Homestead-Miami Speedway closes the door on a journey that started in his daddy's garage years earlier.
For the past 42 years, there has been an Earnhar-t racing full time in the Nascar Premier racing series. At Homestead-Miami Speedway on Sunday, that streak will end.
Dale Earnhardt, Jr. will fire up his Axalta Chevrolet for the last time. Jr., as he is known by all of NASCAR, is retiring after 18 full years of full-time racing with the best stock car drivers in the world.
Dale Earnahrdt, Jr. has been around the NASCAR circuit since he was a little kid. His world-famous dad was the great Dale Earnhardt, driver of the most recognizable car in the world, The #3 Goodwrench Chevrolet. Jr. got to watch the seven-time NASCAR Champion battle the competition with passion and aggression.
Dale Jr. started his NASCAR career by driving the AC Delco #3 Chevy in what was then called the NASCAR Busch series. He went on to win two championships there before coming up to the premier series to drive for his dad 's race team, Dale Earnhardt Incorporated. An 18-year journey was set to begin with the third-generation driver.
Dale's first ride is still his most popular: The #8 Chevy Budweiser. The number had special meaning for Dale, Jr. because it was driven by his grandfather, Ralph Earnhardt in the mid-1960s. The red Chevy, with white lettering and number and "Bud- King of Beers" across the hood, stood out among all of the other competitors' cars. In 2000, at the NASCAR race in Fort Worth, TX, Dale Jr. won the first of his 26 career races. Of course, the first one to his car in Victory Lane was dear ol' dad.
Dale Jr. was somewhat of a rebel early in his career. He was a kid with a dad everyone knew. The one thing that would drive his dad nuts was the way he wore his hat: backwards. For every interview, even while in the garage area or signing autographs for fans, he wore his hat backwards. Dale Sr. would always remind him that his sponsor's name could not be seen when he wore it that way. So Budweiser helped out the situation; on the back of their hats the teams wore and that were sold to the fans, the words Budweiser appeared. Now whenever he wore his hat backward, everyone saw the Budweiser name.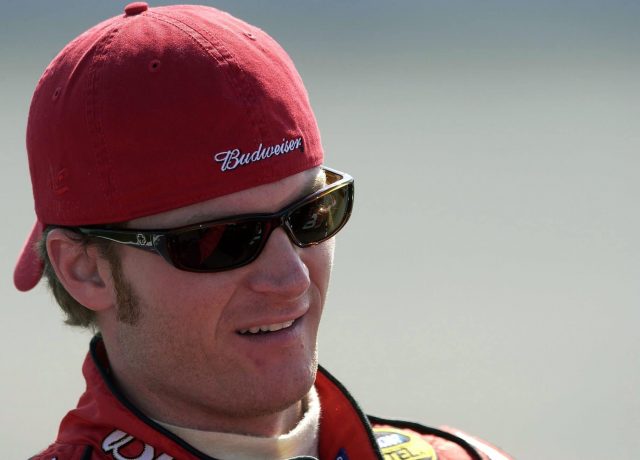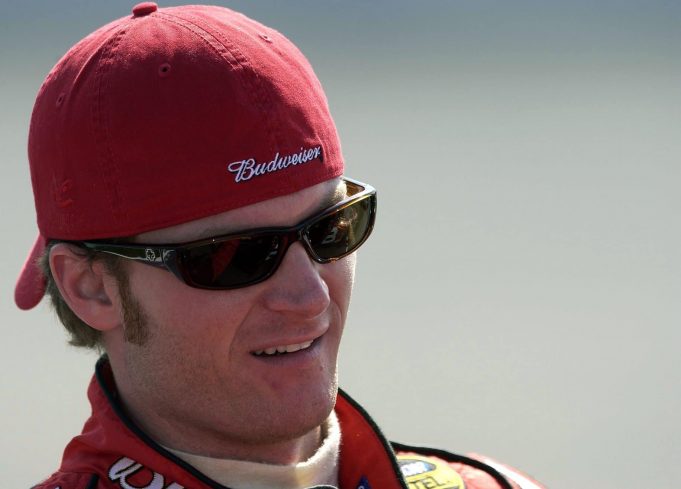 Unfortunately, less than a year later, at the 2001 Daytona 500, Dale Sr. would no longer be here for his son. On the final lap of the race, Dale Earnhardt was in the driver's seat. Literally. He had two of his cars in front of him, Michael Waltrip and Dale Jr.'s. As Dale Sr. blocked everyone behind him, he was involved in a hard wreck and died, in turn number four of the track. "We've lost Dale Earnhardt," Mike Helton, President Of NASCAR, announced that night. Dale, Jr. went through this tragedy with his family and fans.
That July, Dale finally got some closure in the Pepsi 400 at Daytona. He drove his MLB Fox Chevrolet, at times with help from no other cars, to Victory Lane. His burnouts on the grass with fellow teammate Michael Waltrip made memories that no fan of NASCAR will ever forget. Dale Sr. was smiling down on Jr. that night. If you closed your eyes, you could see that big hand grabbing his son's shoulder to congratulate him again.
From this point forward in his career, Dale Jr. has been the most popular driver in NASCAR to all of the fans. To some, Dale Jr. underachieved because he never won a NASCAR Monster Series Championship, but to his peers, Dale Jr. was a tough and fair competitor on the track. In 2008, Dale signed a deal to race for Hendricks Motor Sports in the #88 Nationwide Chevrolet.
Dale did suffer a few concussions in his career, most recently last year, when he only raced in 18 races. Dale was patient in his return, making sure he was ready both mentally and physically to return. However, Dale decided it was time to begin a different chapter in his life so he announced he would be retiring at the end of this racing season. He will be in the broadcast booth next year working for NBC Sports alongside his former crew chief Steve Letarte.
Dale has had a racing career full of achievements. Some of which include:
Two Daytona 500 wins, his first in 2004 and the second 10 years later. The 2004 win was dramatic because it was his first and it came just three years after his father's death in the 2001 Daytona 500.
Two tracks where Jr. has had his most success are Daytona (four wins) and Talladega (six). From the second race in 2001 until the first race of 2003, he won four straight races at Talladega, leading 290 laps.
He became a free agent and locked up a deal with Hendrick Motorsports in 2008. He had his best season since 2006 with a win, 10 top-five finishes, and 16 top-10s.
He has qualified for the NASCAR playoffs, The Chase, eight times.
From 2003 until this past season, he has been named the Most Popular Driver after each season. That's 14 years in a row, the most for any driver.
Off the track, things have been going very well for Dale Jr. In addition to his successful stint as a car owner, Jr. also has a good business sense going for him. He opened Whiskey River, a successful bar and nightclub, in uptown Charlotte in 2008. The business has since expanded to include a location at the Charlotte Douglas International Airport in Charlotte, NC.
Earnhardt started the year marrying his long-time fiancee, Amy Reimann, on New Year's Eve.
The driver from Kannapolis, NC, has come a long way, most of it right in front of our eyes. From his first win right down to his final ride, Dale Earnhardt, Jr. will forever be a fan favorite, both on and off the track.
In a testament to the relationship that Dale has with not only his fans but his sponsors, Axalta decided to have Dales final car detailed the same way as his first car. It will have the same look and color scheme as when he drove the Budweiser #8 Chevy.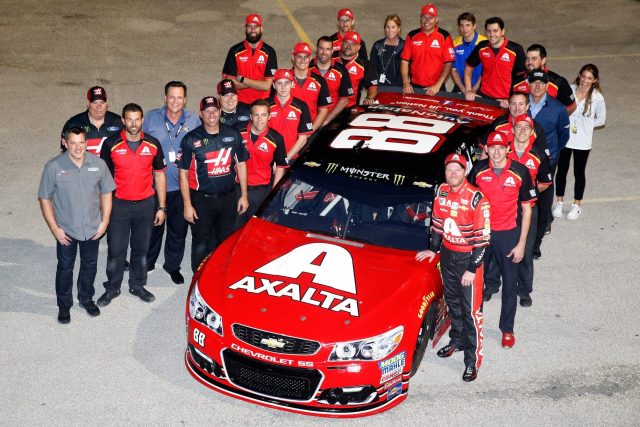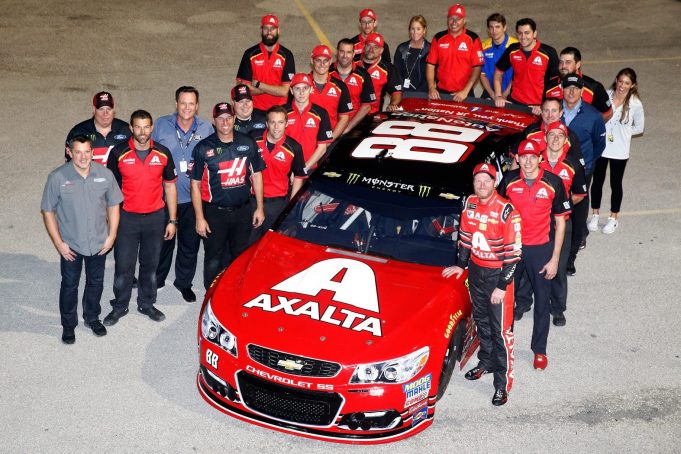 To add to the many "Thank You Dale" acknowledgments he will receive this Sunday, Budweiser came out with a video earlier in the week. It covers most of Jr.'s journey while with Budweiser, a brilliant job done as it brings you back to the year 2000 where his ride began.
One last lap and the memories come racing back. Thank you for sharing your journey with us, @DaleJr #ThisBudsForYou pic.twitter.com/SdDckH7oxV

— BudweiserUSA (@budweiserusa) November 14, 2017
It's not about the wins or loses, but the journey you take. Dale Jr. has had some ride. I along, with the millions of Dale Jr. fans, have thoroughly enjoyed watching him drive every weekend and will miss seeing him race around the corners of Daytona and the other tracks in the circuit. I will be sitting on the couch Sunday afternoon, a Budweiser in hand, enjoying the final ride with everyone else.
Dale Earnhardt Jr., this Bud's for you!