ESNY's John DaSilva was on the scene when Gun Runner took home the $6 million 2017 Breeders' Cup Classic on Saturday. 
It was supposed to be a Battle by the Beach at Del Mar for 2017 Horse of the Year between reigning Horse of the Year Arrogate and Gun Runner in the $6 million Breeders' Cup Classic. But only one ran his race as Gun Runner proved himself to be the best thoroughbred in North America. He drew away in the stretch to defeat Collected and win the Breeders' Cup Classic by 2 and 1/4 lengths.
Ridden by Florent Geroux, The Steve Asmussen trainee won for the fifth time in six starts this year. His only loss came in Dubai in the Dubai World Cup when he finished second to Arrogate. In the Classic, Arrogate went off as the favorite but never seriously threatened and ended up dead-heating with Gunnevera for fifth.
At the start, Gun Runner broke sharply and went straight to the lead. Collected then came up and pressured Gun Runner on the outside. While some were surprised Geroux let Gun Runner go to the lead, Geroux wasn't worried.
Gun Runner puts on a superb performance to bring home the win in a thrilling Breeders' Cup Classic pic.twitter.com/HZJHakRkjx

— Del Mar Racetrack (@DelMarRacing) November 5, 2017
Epic. #BC17 #GunRunner pic.twitter.com/1E1mIois0x

— Breeders' Cup (@BreedersCup) November 5, 2017
"I was feeling pretty good, honestly. My horse was very comfortable right there, and flopping his hair back and forth, it shows a sign that he was relaxing nicely for me while going quick. But he's just a fast horse."
Turning for home, Gun Runner started to edge away from Collected and was never pressured the rest of the way as he crossed the wire in 2:01.29 for the mile and a quarter. According to the DRF's Jay Privman tweet later in the evening, the early Beyer fig Gun Runner earned for the victory was 117.
The Winchell Thoroughbreds LLC and Three Chimneys Farm-owned colt by Candy Ride earned $3,300,000 with the win. Gun Runner now has a lifetime record of 18-11-3-2 with earnings of 8,988,500, which puts him tenth on the all-time earnings list for North American horses.
Arrogate was never a serious threat at any point of the race. "Arrogate … I don't know. He just can't find the plate." said his trainer Bob Baffert. "I hate to make any excuses for the big horse (Arrogate), but he's just not the horse he was. He struggles over this track, but when I got him up to Santa Anita, I thought maybe …"
Gun Runner says, how you like me now?? ? pic.twitter.com/Zua1Y9J8fA

— Claudia Lorena (@Claudia_WMS) November 5, 2017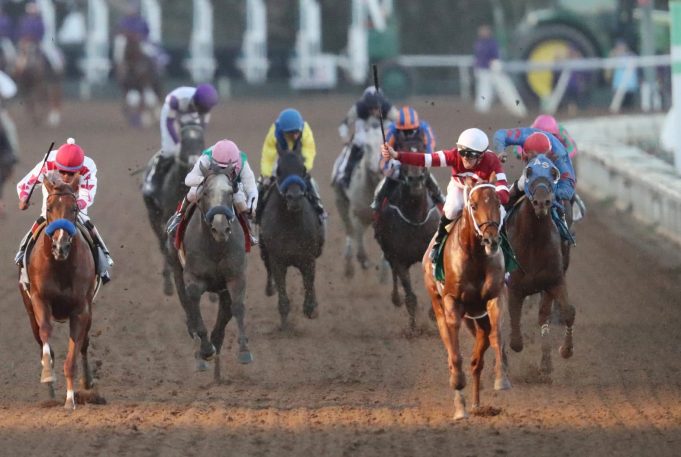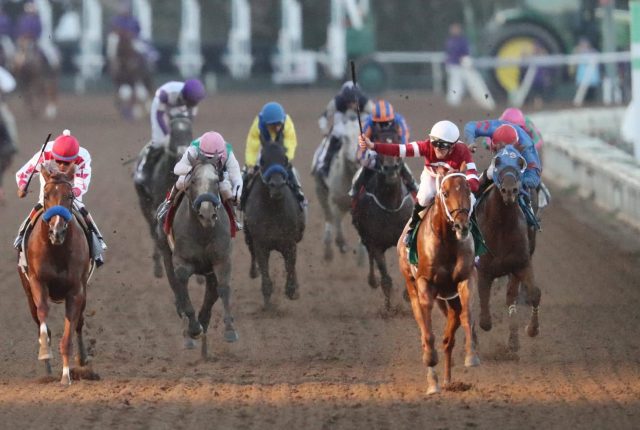 As for future plans, Gun Runner and Arrogate are going in different directions.
"I really think he's just losing interest. That's what it is. It's time (for him to retire)" said Baffert.
Gun Runner is flying home to Louisville on Monday. When asked about making a decision about a potential stud career or a full racing schedule next year, co-owner Borges Torrealba said "We meant after the party"
When pressed about the $16 million Pegasus World Cup, Asmussen said "I'm looking forward to the party right now, I really am. I am. Very much so."
If Gun Runner returns and wins the Pegasus in 2018, he could potentially pass Arrogate as the top earner in thoroughbred racing history. if he skips the Dubai World Cup but races in North America with a final race in the Breeders' Cup Classic, Gun Runner would easily go over the $20 million mark and become the top thoroughbred earner in the world, overtaking Japan's Orfevre, who earned $19,005,276 in his career.